1940's Glamour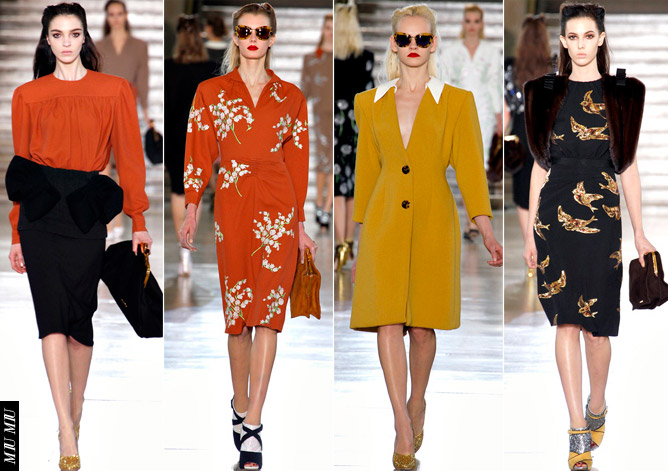 For the coming Fall season, designers were feeling 1940's glamour in the air. From Gucci to Miu Miu and Donna Karan – 40's refined feminine allure was back with a vengeance.
Be transported into the World War II-era, where skirts and dresses were worn to the knee and striking scarlet red lips made for a sensational pout.
Across many collections the 40's influence could be seen in the sharp pencil skirts; matte red lipstick; and the sophisticatedly sexy accent of accessories – think of those decedent fur shrugs, statement hats, slim belts and elegant gloves.
1940's silhouettes featured broad shoulders that gracefully tapered into a tailored waist. Almost every outfit contained shoulder pads and looks were finished off with a hat. The strong shoulder gave women a sense of purpose and strength – traits that were considered essential to survive the war. The fashion had to be practical, allow movement and comply within strict rationing. The long decedent beaded gowns of the 1930's were now considered gaudy and unpatriotic. The 40's lead the way for minimal, boxy dresses; shorter skirts and neatly belted waists.
1940's fashion was elegant, refined and authoritative – reflecting the strong sense of purpose as women rolled up their sleeves and did their part on the home front…
– – – – – – – – – – – – – –
Gucci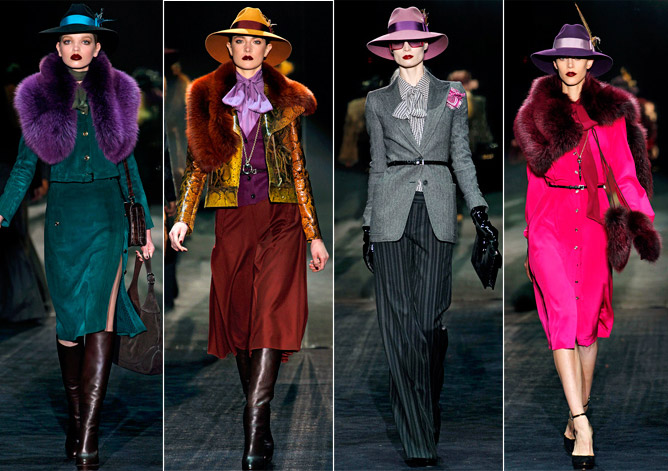 – – – – – – – – – – – – – –
Marc Jacobs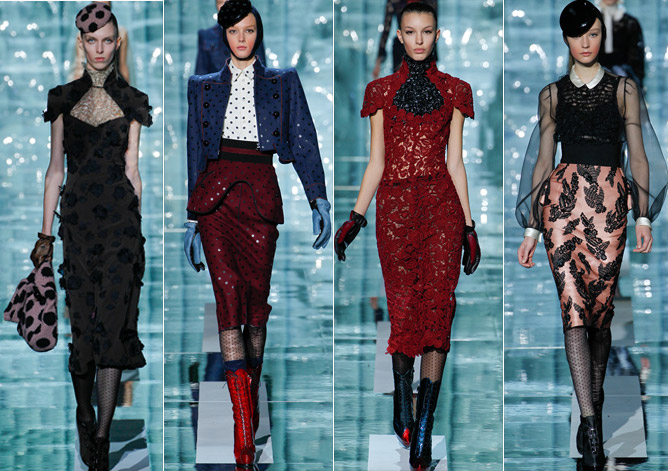 – – – – – – – – – – – – – –
Louis Vuitton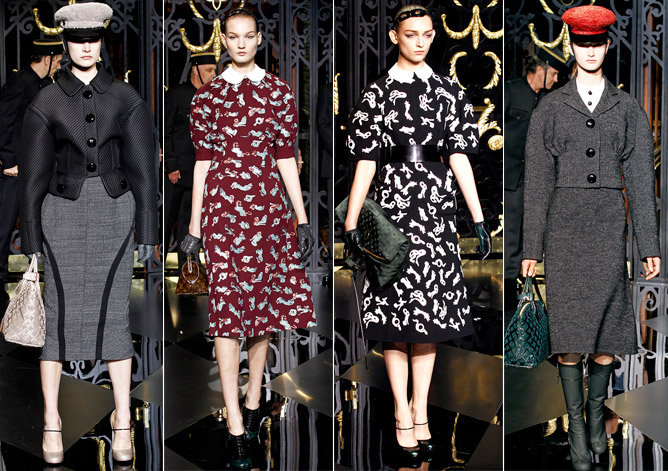 – – – – – – – – – – – – – –
Donna Karan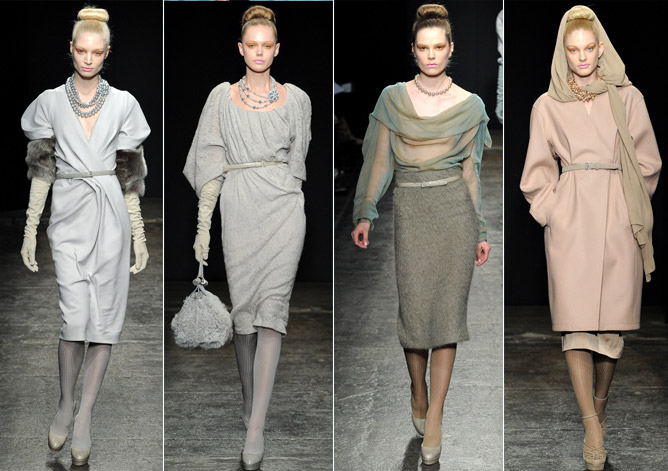 Kate Moss channels 40's glam for the cover & feature editorial of Vogue UK, August 2011 issue…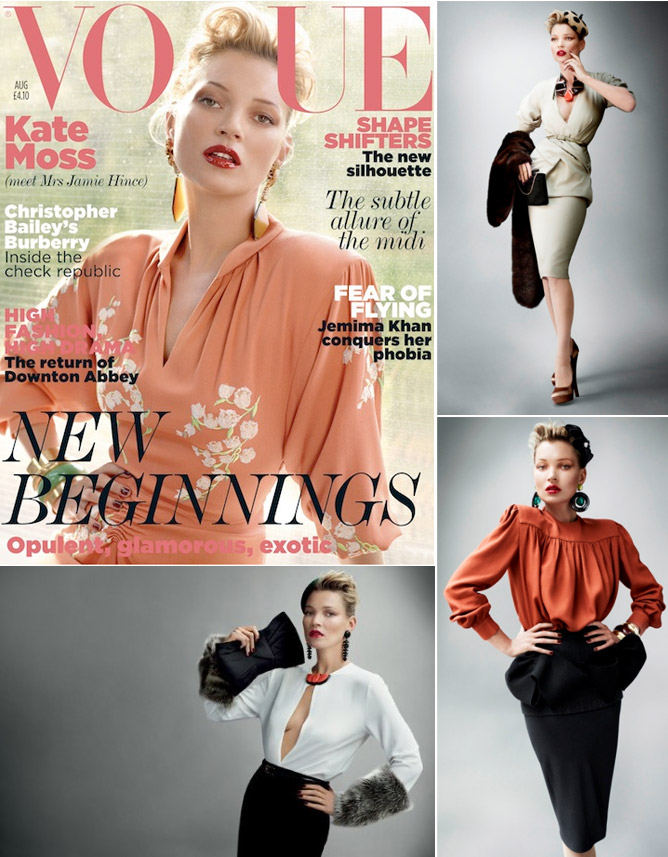 LOVE, LOVE, LOVE the whimsically romantic nostalgia of the 1940's trend. I am ready to do my hair in pin curls and wear red lipstick day & night!
Will you embrace the timeless chic of the 1940's for Fall? xx
Photos from style.com / vogue.co.uk / google images
Weekend Fashion Shot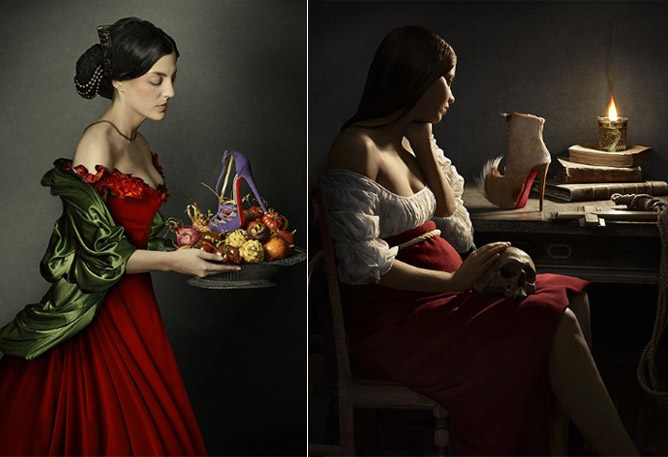 The Art Of Beautiful Accessories
Exquisitely handmade, unbelievably gorgeous heels are themselves works of art. However, Christian Louboutin has taken this concept to the next level. A selection of heels and accessories  from Christian Louboutin's Autumn / Winter 2011 collection, have been transported into some of the world's most iconic paintings.
Collaborating with photographer Peter Lipmann, well known portraits have been given a Louboutin makeover. A leopard-print shoulder bag has appeared under the arm of Jean-Marc Nattier's 'Marquise de Pompadour' (pictured below left); while Francisco de Zurbaran's 'Santa Dorotea' holds her fruit platter with a carefully balanced '8 Mignon' strappy sandal (pictured above left).
What a brilliant Autumn / Winter campaign… love, love, love this!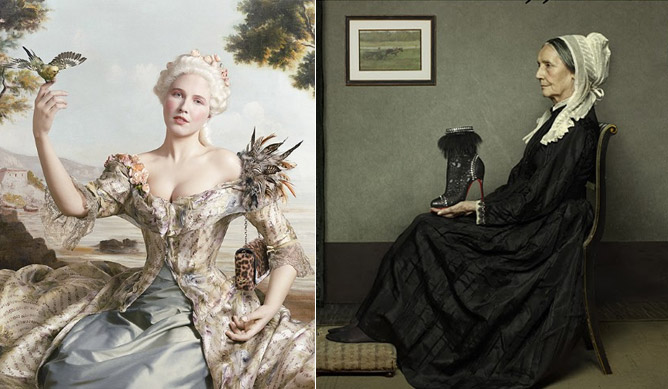 – – – – – – – – – – – – – – – – – – – – – – – – – – – – – – – – – – – – – – – – – – – –
Ralph Lauren For Wimbledon
This year marks the 125th Wimbledon Championship. It also sees Ralph Lauren involved to re-design the official ball boy and girl outfits (pictured below). In chic Ralph Lauren style, the polo shirt in Wimbledon colours features both the signature big pony on the chest along with the Wimbledon logo on the opposite sleeve. Seriously sophisticated…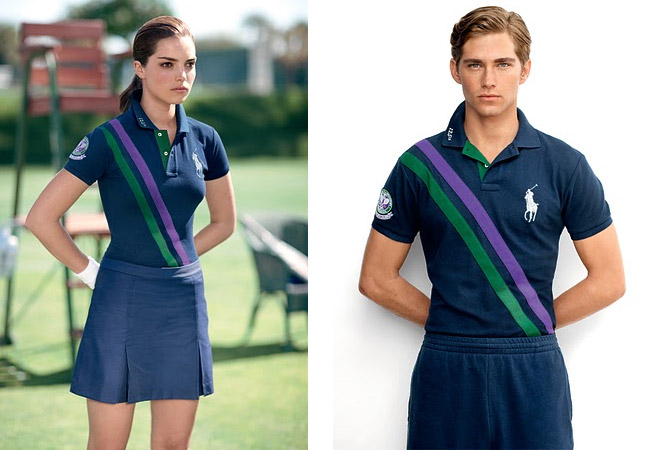 – – – – – – – – – – – – – – – – – – – – – – – – – – – – – – – – – – – – – – – – – – – –
Lily Allen's Wedding Gowns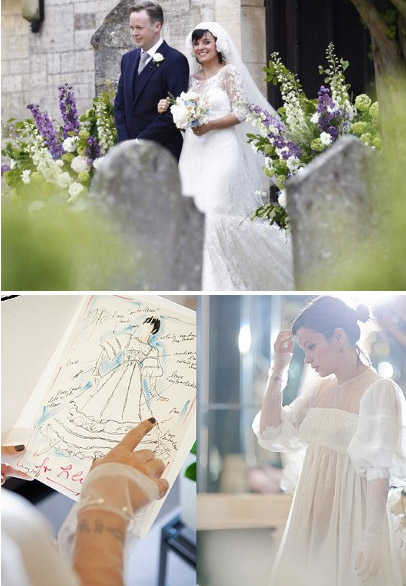 When Lily Allen (now Lily Cooper) married last week, she wore two gowns. First up for the church service she chose French designer, Delphine Manivet (pictured top right). This was the image that was beamed around the world – with many Allen fans disappointed she hadn't gone with Chanel. However, it was then later reported, Allen had changed her gown for the reception. And that second dress has just been revealed…
Designed by Karl Lagerfeld, Allen's second Wedding gown (pictured below right), was uploaded to the Chanel website. The photo shows Allen during the fitting as well as Lagerfeld's original design sketch.
The Chanel gown featured voluminous bell sleeves and an empire-line cut in sheer white chiffon, staying true to Allen's love of vintage fashion…
– – – – – – – – – – – – – – – – – –
Happy Weekend! xx
Your Fabulous Fashion Scoop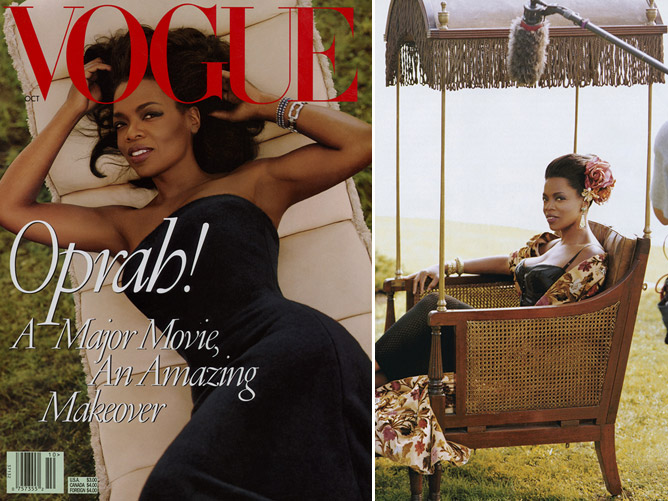 Oprah, Michelle Obama & Diane von Furstenberg… Power-Women Espresso News
Fashion Flashback – Oprah Covers Vogue
After 25 years of life-changing television, the finale of The Oprah Winfrey Show will air today. Oprah has touched so many hearts with her kindness, inspiration and extraordinary enthusiasm and passion for life.
In 1998, Oprah covered American Vogue. Oprah looked exquisitely radiant wearing looks by Valentino, Dolce & Gabbana and Giorgio Armani, among others. Thandie Newton is also pictured with Oprah below right. Vogue.com has republished their interview with Oprah from this feature and you can read it here…
In the article, Oprah is quoted as saying: "What I have decided, is that with fame, notoriety, credibility—if you can't have the courage to stand up and speak out for what you truly believe in, then it means nothing."… I miss Oprah already!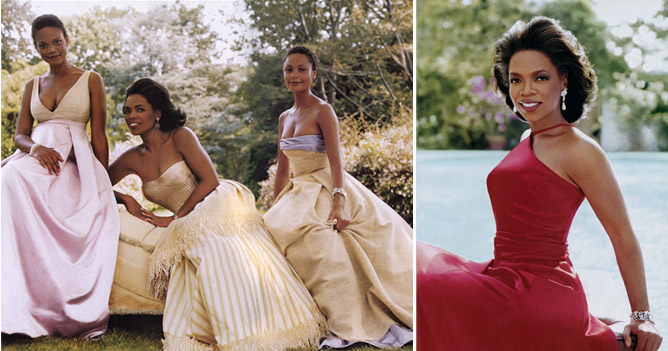 Diane von Furstenberg's
New Fragrance
Diane von Furstenberg is launching a new fragrance, 'Diane'. The fashion dynamo will be releasing the fragrance this October. It features two primary scents – frangipani and violet – which combine to create a woody floral fragrance. Of the scent, von Furstenberg has said, "I wanted to put the power of women in a bottle. I wanted a perfume that reflected womanhood — what I know, what I feel about being a woman — and the power that we all have that we can be the woman we want to be."
Michelle Obama – A Fashion Icon
Since Michelle Obama arrived in England, wearing a two-piece purple Preen skirt suit from the fall 2011 collection, her fashion statements have been getting more and more exquisitely iconic. From a Roksanda Ilincic purple drape neck dress; to a Ralph Lauren fall 2011 elegant black evening gown; not to mention a divine ivory Tom Ford number with elbow length gloves – Mrs. Obama a radiant, fashion savvy, extraordinarily beautiful First Lady!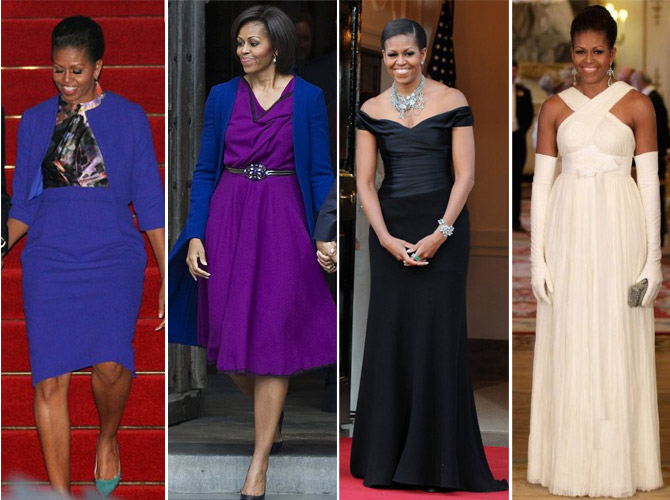 Will you be suffering from Oprah withdrawals like me? xx
Photos from vogue.com / vogue.co.uk / wwd.com