Favourite Pieces…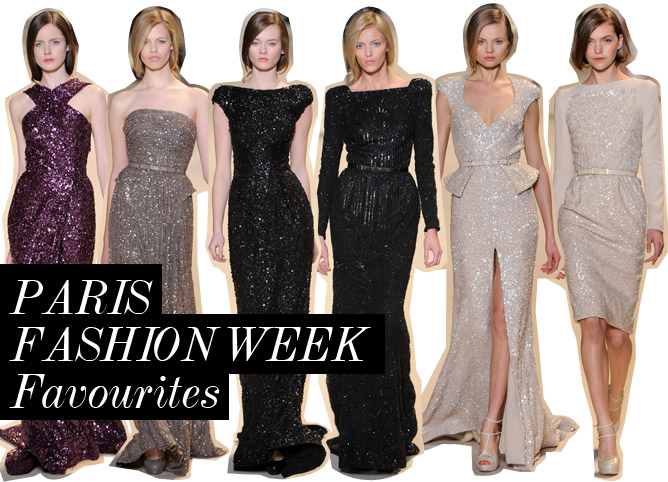 Paris Fashion Week – Fall 2011
Miu Miu and Louis Vuitton brought the month long fashion festivities to a close in Paris this week. Paris the city of light and love was, as to be expected, bursting with pieces so perfect words are often inadequate to describe their innate beauty.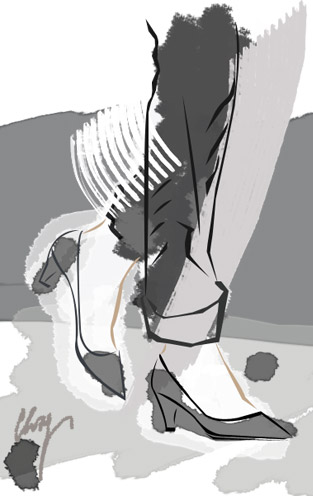 From Chanel to Lanvin, the Parisian Couture Houses brought forth a tirade of divine silhouettes, texture and colour palettes. From the delicate tones of beige and cream at Chloé, to striking black and white at Chanel, not forgetting the pops of colour at Lanvin; the Parisian Fall will be a much more simplistic, monochromatic affair than the streets of Milan or London.  
While Paris Fashion Week was filled with exquisite collections, it wasn't without its controversy (cough*John Galliano*) then more with Kate Moss smoking down the Louis Vuitton catwalk. There were the rumours of a boycott of the Dior show, but instead much love and support was the agenda of the day. Before the collection began, Dior CEO Sidney Toledano appeared to address attendees (and the world) with a heartening speech about the values that Christian Dior have represented for more than six decades, "the heart of the House of Dior, which beats unseen… is made up of its teams and studios, of its seamstresses and craftsmen". And the finale, as the lights dimmed those 30-strong members of the Dior ateliers mentioned by Toledano appeared on the catwalk.
From the apocalyptic tones at Chanel, to the tree inspiration at Lanvin – Paris brought the Fall fashion week calendar to its spectacular conclusion.
p.s. Loved the classic black kitten heels at Chanel (illustrated right) & the sparkling sequined gowns at Elie Saab (pictured above)…
Some Of My Favourite Pieces…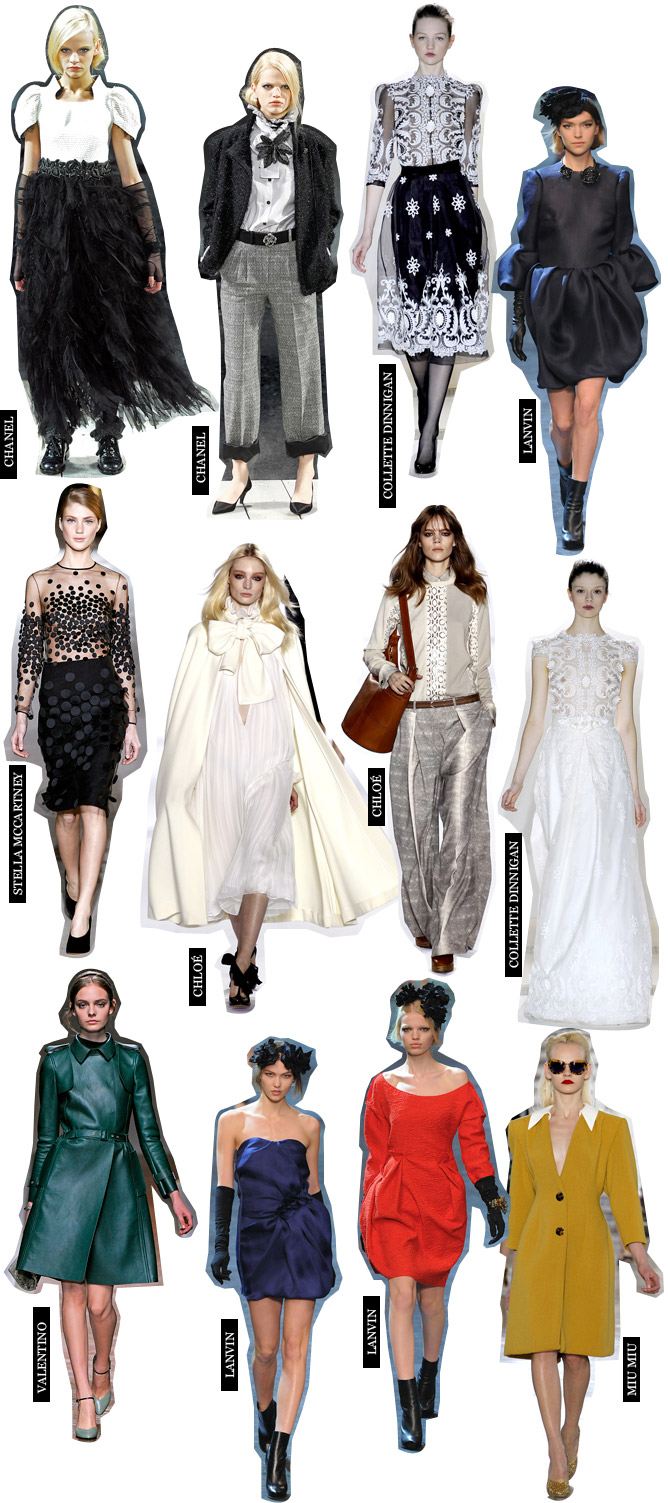 What were your favourite shows from Paris Fashion Week? xx
'Viva La Revolucion' – Vogue Australia

Bold, Vibrant Colour; Eccentric Prints & Patterns; Incredible Location…
'Viva La Revolucion' is a feast for the eyes of some of the most exquisite looks from the Spring / Summer 2011 collections.
Today I brought the March issue of Vogue Australia and instantly fell in love with the feature editorial – 'Viva La Revolucion'.  And that cover! This gorgeous cover is one of my favourite Vogue Australia covers of all time! I love the model; the pose; the use of colour; and how there are no words advertising the contents – just the bold image and 'Vogue' title. So strikingly beautiful!
Featuring Alina Baikova, the editorial was shot on location in Mexico by Nicole Bentley. With looks from Prada, Stella McCartney, Gucci, Giambattista Valli, Bally and Mulberry; 'Viva La Revolucion' is a celebration of intoxicating colour.
Be inspired for next season with bold colour blocking, mixed prints and some darling hats….


Happy Saturday! xx
Photos from fashionlvr.com
Fancy Some Fruit Salad?
A Tutti Frutti Fashion Trend
Brighten up your wardrobe with colourful fruity looks inspired by the Spring / Summer 2011 collections.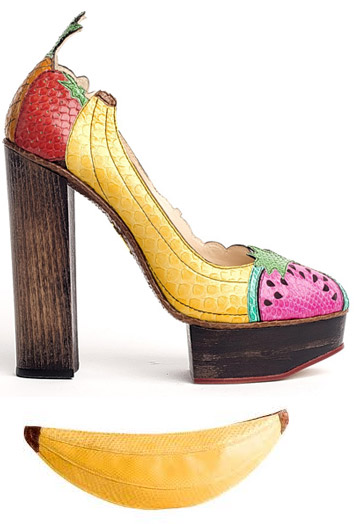 Between Prada, Stella McCartney and Moschino Cheap & Chic, designers were feeling for a Summer health kick. There were Banana prints on the Prada runway, while Miuccia Prada herself wore banana earrings backstage. Of her colourful collection, Miuccia Prada said: "I'm tired of minimalism."
Meanwhile, at Stella McCartney, models looked fresh, vibrant and citrusy in luscious lemon and orange prints. At Moschino Cheap & Chic, a divine lemon print 50's inspired skirt teamed with a matching top and waisted belt, made my heart stop! So divine! Other fruits that took to the runway included; apples at Miu Miu and cherries at Anna Sui, while at Blumarine models carried lemon handbags.
However, dressing in fruit can be daring. If you would prefer to 'taste test' this fruity trend, check out Charlotte Olympia's banana clutch bag or mixed fruit platform heels (pictured right). The striking heels are decorated with interlaced pineapples, bananas, strawberries and watermelons. It is the perfect way to incorporate the trend into your everyday style with effortless flair.  Of her pieces, Charlotte Dellal, the designer behind the Charlotte Olympia label, says; "They are tongue in cheek but wearable, I like accessories which have a sense of humour."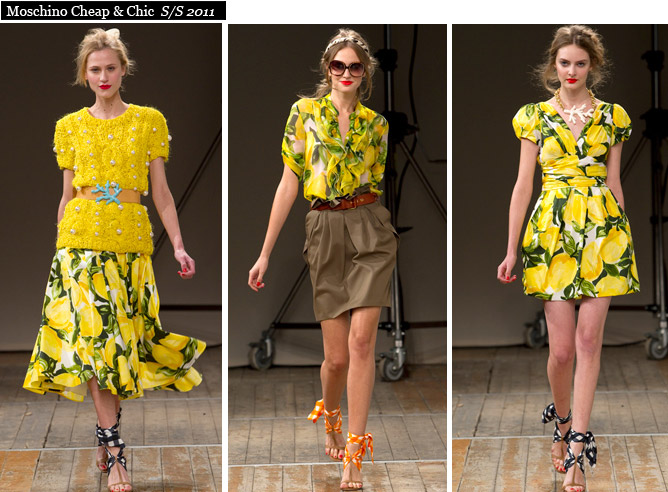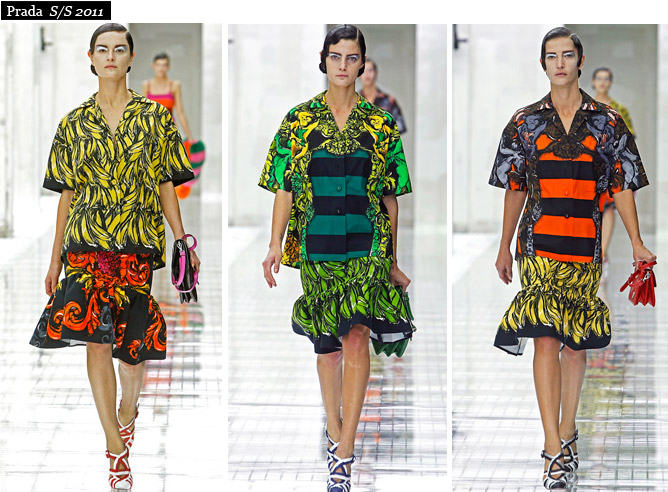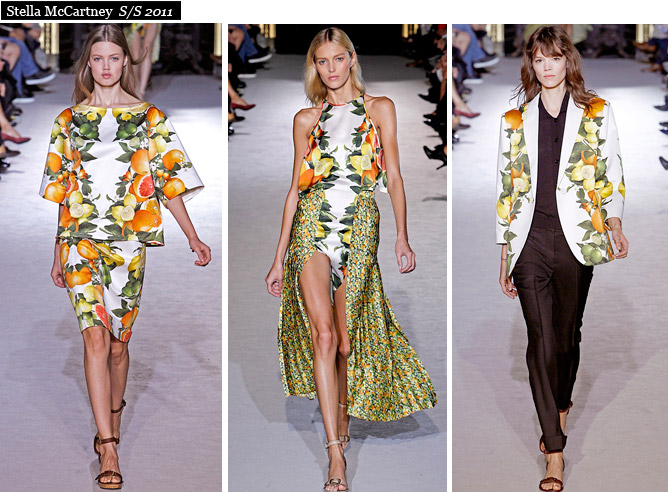 So be daring in citrus! Make a colourful, fresh statement. You can now eat your fruit and wear it too! xx
All photos from style.com