The Fall Fashion Campaigns – Take 2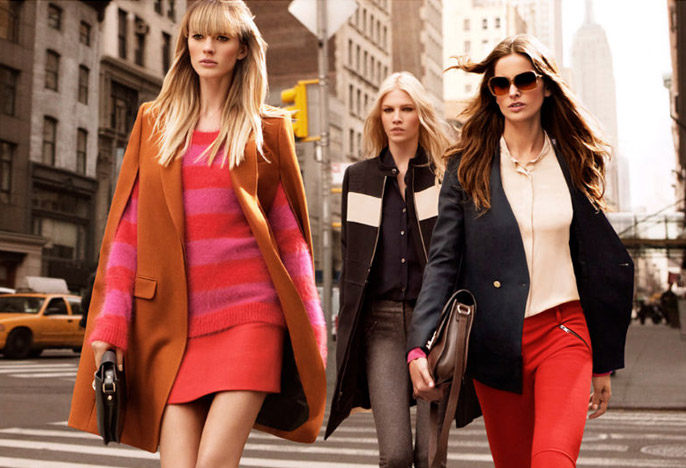 Take Two – more of the latest Fashion Campaigns for Fall…
– – – – – – – – – – – – – – – – – – – –
DKNY
Featuring Anne Vyalitsyna, Izabel Goulart and Aline Weber, the DKNY Fall campaign is all about chic modern power dressing. The shots burst with darling stripes, tweeds and brights – perfect for a fashionable Fall.  Effortlessly cool, New York Chic…

– – – – – – – – – – – – – – – – – – – –
Stella McCartney
Natalia Vodianova looks as though she is in Wonderland for the Stella McCartney Fall 2011 campaign. Returning as the face of the Stella McCartney label, Vodianova exudes pure natural beauty in polka dots and oversized comfy knits. Simply stunning…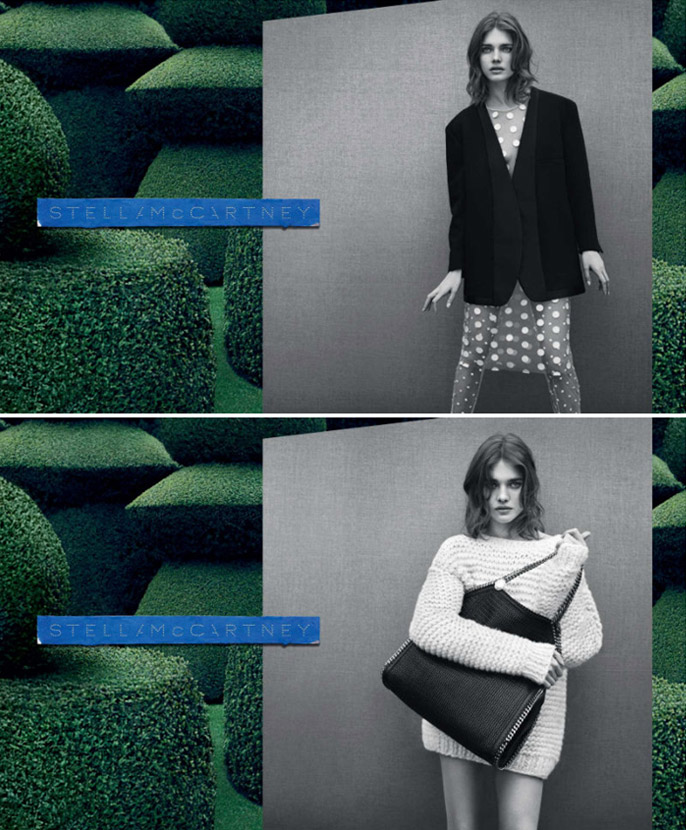 – – – – – – – – – – – – – – – – – – – –
Alberta Ferretti
Arizona Muse goes 60's cool for the Alberta Ferretti Fall 2011 Campaign. In a cosy setting, Muse exudes confidence and swinging 60's sophistication in striking colours and iconic shapes. Adore…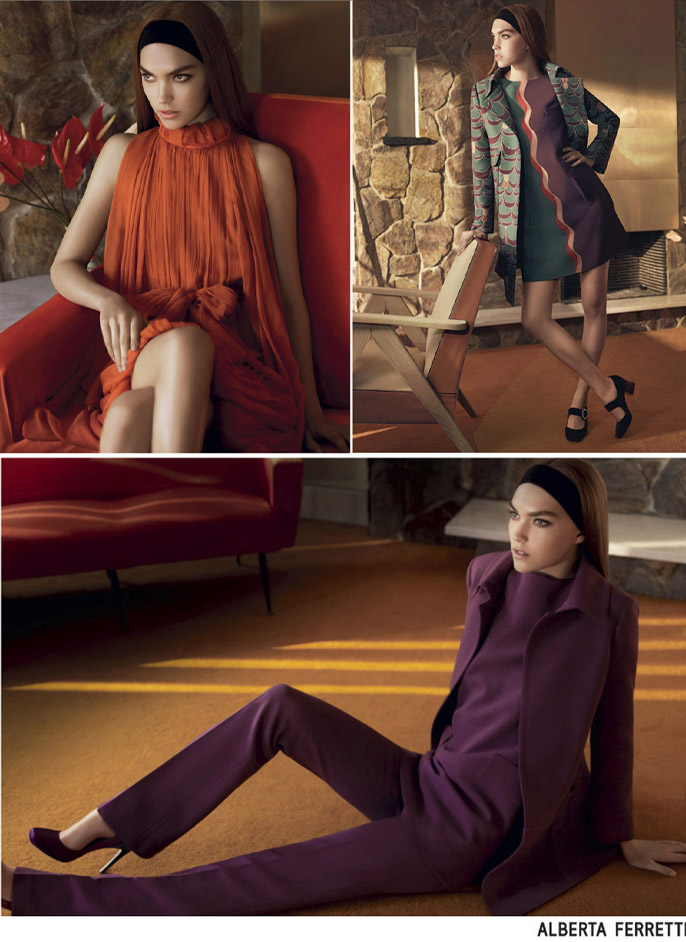 – – – – – – – – – – – – – – – – – – – –
Elie Saab
Elegant and sexy – the Elie Saab woman is enchantingly alluring. Juju Ivanyuk wears the label's form fitting, sharply tailored looks to perfection for the Fall 2011 campaign. Divine…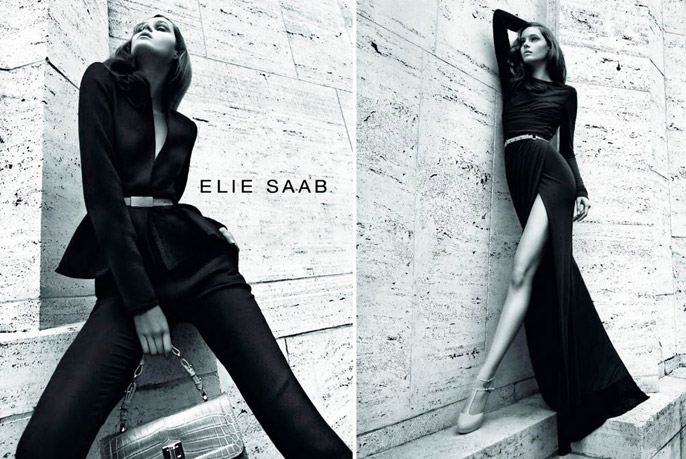 – – – – – – – – – – – – – – – – – – – –
Donna Karan
Donna Karan's Fall 2011campaign explores a day in the life of a busy yet exquisitely elegant New York woman. Isabeli Fontana is the sophisticated, refined woman we are following. Wearing beautiful pieces with an iconic nostalgia to them, the collection draws on the past in a divine colour palette of silver tones. Elegance personified…

– – – – – – – – – – – – – – – – – – – –
Valentino
Seductive, Romantic and Enchanting – the Valentino campaign features Jac Jagaciak, Caroline Brasch Nielsen, Ruby Aldridge, Sara Blomqvist and Kim Dall Armi for Fall 2011. Radiating mysterious glamour the looks include delicate light-weight dress and elegant accessories. Heavenly…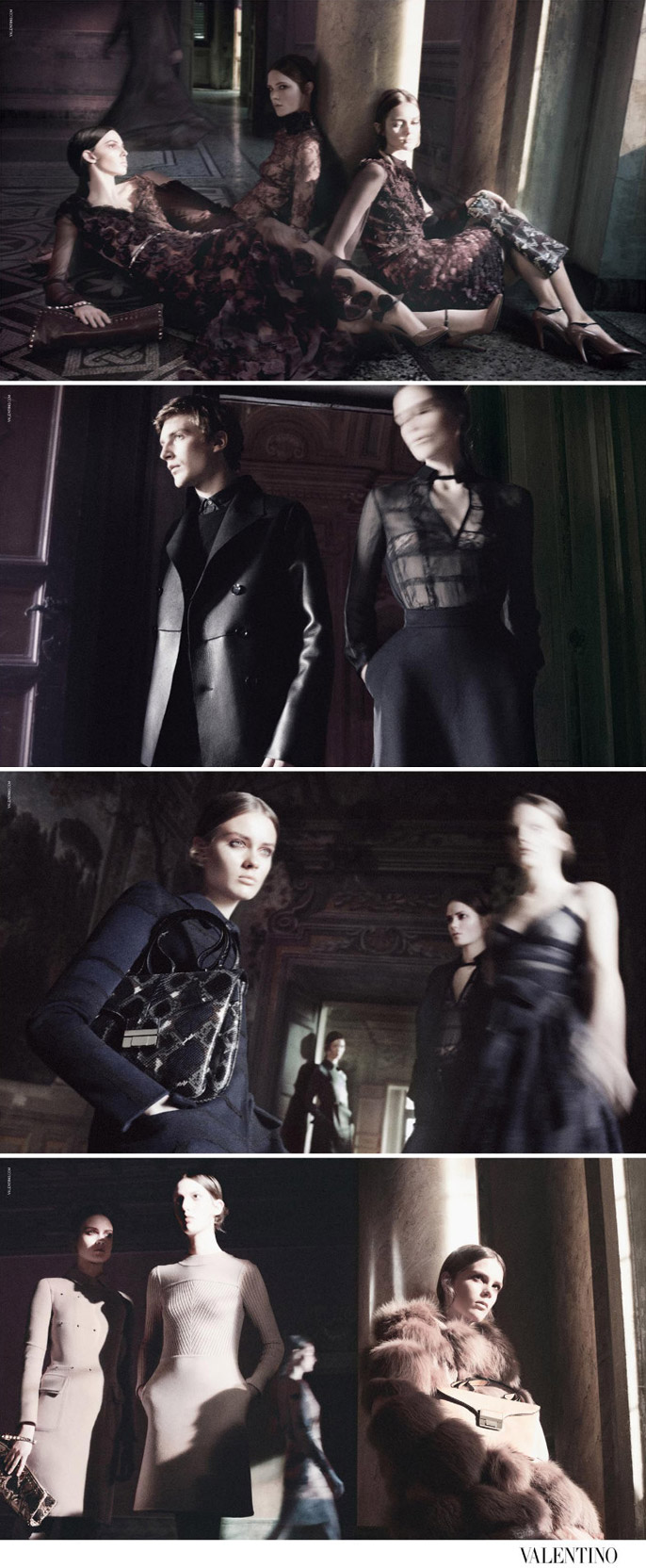 – – – – – – – – – – – – – – – – – – – –
Michael Kors
Karmen Pedaru and Simon Nessman prepare for a night out on the town in the Michael Kors Fall 2011 campaign. The couple ride in the back of a limo in looks that evoke pure 70's glam. Sexy, sophisticated, modern day glamour at its finest…

– – – – – – – – – – – – – – – – – – – –
Which Fall campaigns best represent your style? xx
Photos from fashiongonerogue.com
The Little Lace Dress

Hello Lover!
'Love Miranda. Love Lace. Love Lover.'
You may recall I posted about the Lover, Spring / Summer 2011 collection here – with its red-hot lace and delicately, whimsical allure. It was one of my favourites! So you should have seen my excitement, when one of my top models – Miranda Kerr – stepped out in not one, but two of the most iconic little lace dresses from the collection! Love Miranda. Love Lace. Love Lover.
– – – – – – – – – – – – – – – – – – – – – – – – –
The LLD
(little lace dress)
The little lace dress is a style statement. Feminine, elegant and sophisticatedly sexy; it can take you from day (wear with sweet ballet flats) to evening glamour in an instant (simply add polished heels and go).
From Erdem to Lover, Stella McCartney and Marchesa, amongst others – lace has undoubtedly made a return to the catwalk in recent seasons. Fresh, refined and sweet – the new use of lace is all about polished beauty. Iconic white or black lace dresses are très chic; while those in strong statement hues, such as blood red, are irresistibly charming.
– – – – – – – – – – – – – – – – – – – – – – – – –
More of the Lover, Spring / Summer 2011 collection…
Sleek lines, crisp tailoring and lots of exquisitely feminine lace – the striking collection was brought to life solely in blood red, white and black.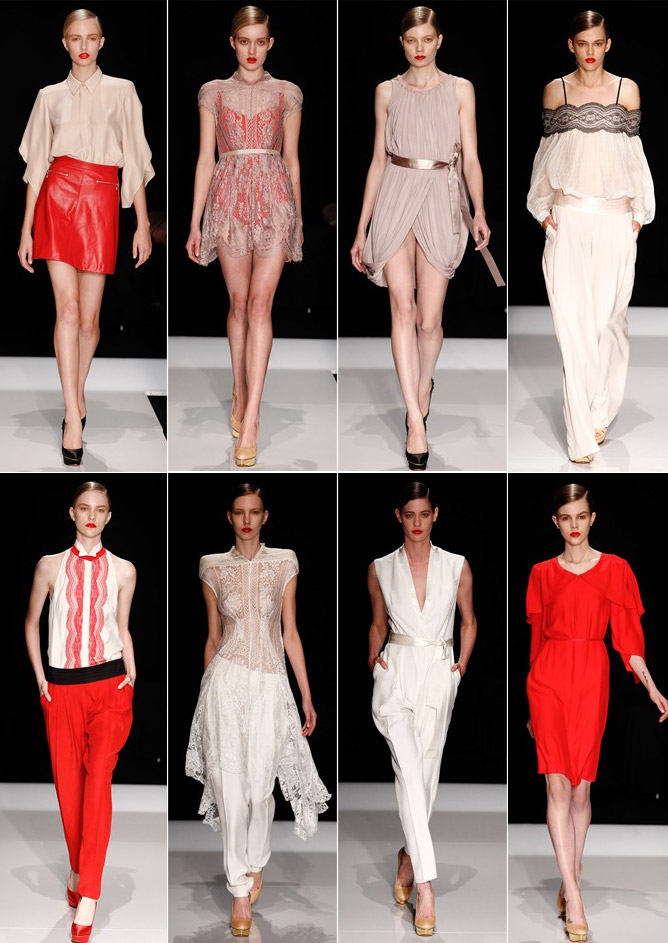 Do you love the LLD (little lace dress)? xx
Photos from vogue.co.uk / fabsugar.com.au

Show Your Spots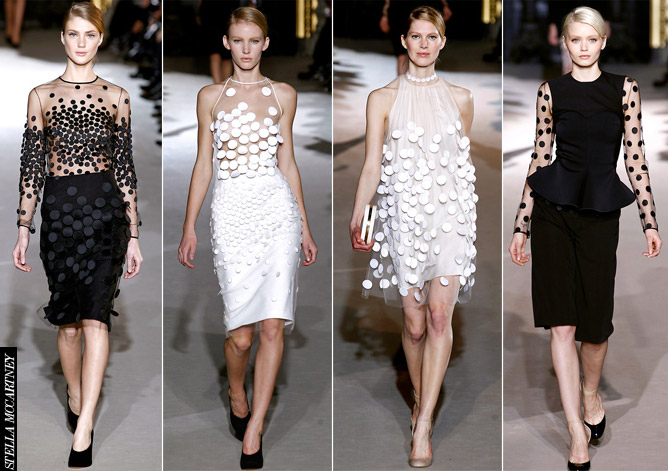 Dots On Spots On Dots…
From Stella McCartney, to Marc Jacobs, Azzaro and more, designers were seeing spots for Fall!
Romantic, Feminine and ever-so chic – the polka dot returned as the print of the season. From little black dresses to blouses, hats and tights – the iconic spots could be found in a variety of sizes and styles across the runways.
At Stella McCartney polka dots sat on delicate chiffon – overlapping and engaging each other in tiny galaxies of clusters. Meanwhile, Marc Jacobs' unabashed affair with the polka dot saw models dotty from head to toe – in some looks quite literally. Polka dot berets, handbags and tights finished off his classical silhouettes with an exclamation point.
Effortlessly stylish and delightfully playful, the simple spot is usually associated with a humble vintage aesthetic – think 'Itsy Bitsy Teeny Weeny Yellow Polka Dot Bikini'. Yet this season's spots seem unmistakably more fresh, sleek and refined. Iconic yet modern.
For dotty perfection… choose your spots on a sexy little black dress, a la Stella McCartney or Lanvin, for timeless, classic style.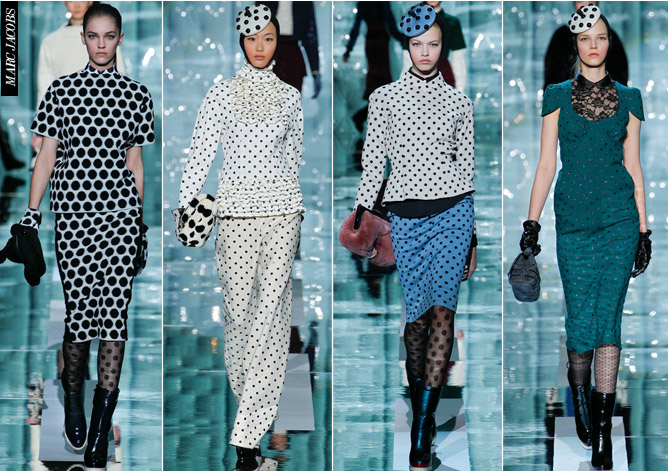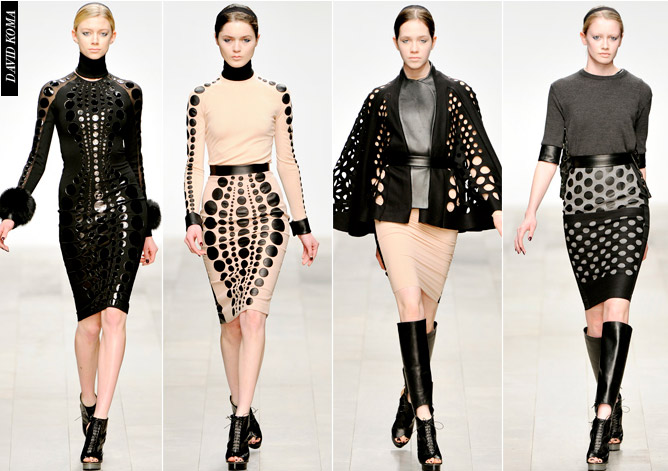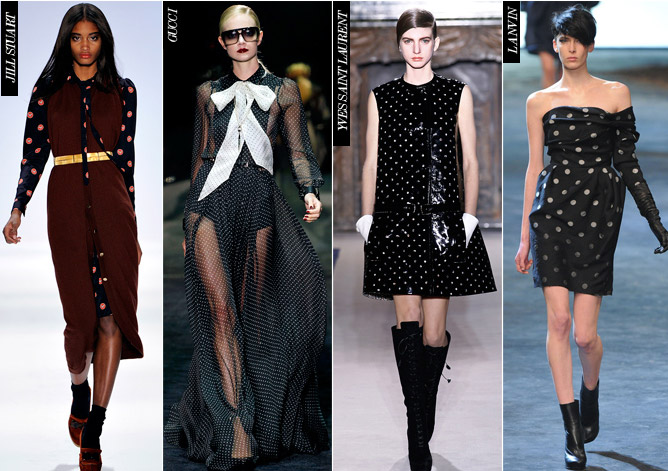 Will you be falling in love with the Polka Dot? xx
Photos from style.com