Your Daily Fashion Scoop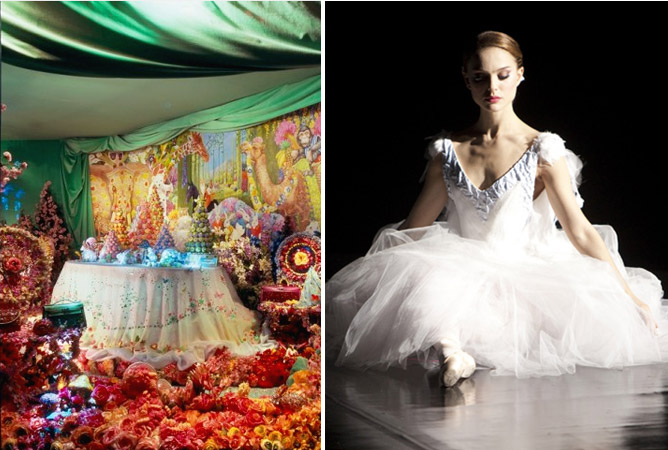 5 Espresso Shots Of News
Sit back, relax & enjoy some delicious scoops of fashion news…
Proenza Schouler's First Vogue Cover
The February 2011 issue, is the first Vogue cover for both Kristen Stewart and designers, Proenza Schouler (Lazaro Hernandez and Jack McCollough).  Stewart appears on the cover wearing a gorgeous look from the Spring / Summer 2011 collection. Photographged by Mario Testino, Lazaro Hernandez has said of Stewart,
 "She's very much the girl we have in mind when we design. It's cool to see Kristen in the clothes because she's not 'the lady, and that's exactly who we see in those clothes"…
Rodarte Not Eligible For An Oscar Nomination For Black Swan
Rodarte will not receive an Oscar or credit for the extraordinary ballet costumes they have created for Black Swan (pictured above right). Rodarte created 40 ballet costumes along with Natalie Portman's knitwear and dresses for the film. At the time Rodarte didn't negotiate credits in their initial contract and were not part of the Costume Designers Guild until recently. The guild rules state only the official designer is eligible. Costume designer, Amy Westcott, has been given the front credit. The film is currently nominated for a Costume Design BAFTA and is anticipated to also receive an Oscar nomination…
The Hermès Paris Window Display
Unveiling the Winter 2011 window display in Paris (pictured above left); the words whimsical, opulent, romantic and delightful immediately spring to mind. The intricate display windows change every season and are the work of Design Director, Leïla Menchari. Handbags and other luxury items are incorporated into the fairytale like display. This is one seriously gorgeous window…
Chic This Week –
Michelle Obama
In a delightfully unexpected twist, The First Lady, Michelle Obama wore a stunning Alexander McQueen gown this week (pictured right). In shocking red, the gown has an exquisite floral print in black, but I also love the beautiful shoulder and neckline detailing. My favourite First Lady of Fashion moment yet!…
Halle Berry to be honoured at Style Awards
Halle Berry is to be honoured at the Annual Costume Designers Guild Awards next month. The actress will receive the newly titled Lacoste Spotlight Award. The awards will take place in Los Angeles' Beverly Hilton Hotel on February 22nd. Meanwhile, also this week, Berry attended the Golden Globes in a chic black corseted Nina Ricci gown (pictured right)…
The Black Swan costumes look amazing! What do you think about Rodarte not receiving the credit? xx
Photos from: purseblog.com / Styleite.com / fashionologie.com / graziadaily.co.uk / style.com
Your Daily Fashion Scoop
4 Delicious Espresso Shots Of News…
First Look: January Jones for Versace
The first image of January Jones for Versace has been released and it is seriously hot (pictured above)! January Jones oh la la! Captured by Mario Testino in striking black and white, Jones models some divine Versace accessories. The image is so dramatic and sexy yet sophisticated.
Nicole Richie &
Joel Madden Wed
House of Harlow and Winter Kate designer, Nicole Richie married Joel Madden over the weekend. The ceremony took place at Richie's father, Lionel Richie's, LA home. Guests included; Ashlee Simpson, Gwen Stefani and Khloe Kardashian. But the big question – what Richie wore – is still to be confirmed. It has been reported, her final two options were vintage Chanel or a custom-made Marchesa gown! Decisions, decisions! I cannot wait to see which she chose! Richie is pictured above wearing Marchesa to a red carpet event.
The Financial Times Most Influential Women
The Financial Times has named the most influential women of the last decade. From the world of fashion; Kate Moss was named the ultimate 'model-as-brand' and Michelle Obama was listed for her 'international influence'. Sarah Jessica Parker (pictured right) was credited with having 'changed the shoe industry'. The Céline creative director, Phoebe Philo, was also mentioned.  
Oprah's Gift to her Australian Audience
Oprah has been in Australia and today was her Sydney Opera House show. Each of her 6000-strong audience received a Kailis 'O' pearl pendant necklace! Valued at $450AU each, the necklaces can now be purchased online. Of being involved in the Oprah show, Kailis Jewellery General Manager, Sonia Mackay-Coghill said:
'Kailis Jewellery has always believed in bringing joy to the wearer of Australian South Sea Pearl and to be able to share this with over 6000 audience members is a once-in-a-lifetime opportunity."
Happy Oprah Tuesday! xx
side photo from Net-A-Porter Facebook
Your Daily Fashion Scoop
4 Espresso Shots of News…
Miranda Kerr Makes Vogue Australia History
In the January 2011 edition of Vogue Australia, Miranda Kerr will become the first pregnant woman to grace the cover. Looking divine in a full-length gown, Kerr is positively glowing. Kerr said of the shoot, "It's wonderful that I have this opportunity to do this photo shoot with Australian Vogue and record this wonderful moment in time". The photo was taken in LA when Kerr was 6 ½ months pregnant. 
Emma Watson to design for Alberta Ferretti
Love Emma Watson? Adore Alberta Ferretti? Emma Watson has already designed capsule collections for People Tree and the uber stylish starlet is set to further her design talent with Alberta Ferretti. It has been announced that Watson will create an organic clothing range for Alberta Ferretti. 
Watson has said of the collaboration, "We're doing an organic clothing range. I can't reveal the name yet but there will be more information about it soon".  And of the inspiration, "Very classic, 60s Jane Birkin"… I cannot wait to see the results!  
Meanwhile, Watson has made a stylish appearance in a Burberry spiked trench coat from the Spring / Summer 2011 collection (pictured right). 
Kate Moss scoops Best Dressed of the Decade
US Vogue has named its Best Dressed List. Kate Moss scooped the top honour, winning Best Dressed of the Decade. No mean feat! The trendsetting icon has graced over 300 magazine covers since she started modelling at 14 and her effortless style seems to just get better and better. Favouring high-end vintage and designer pieces, Moss' effortless style of rock and roll chic is adored around the world. Her collaborations with Topshop and Longchamp, not to mention six perfumes to her name, make Moss one stylish, highly successful, hot commodity. 
Vogue Magazine's Best Dressed List:
And the Awards have gone to…
Best Dressed of the Decade: Kate Moss
The Bombshell: Blake Lively
Screen Siren: Marion Cotillard
The Independent: Michelle Obama
American Beauty: Jessica Biel
Street Cool: Alexa Chung
Haute Bohemian: Sarah Jessica Parker
Conscious Chic: Liya Kebede
Free Spirit: Carey Mulligan 
 
Who do you think is the Best Dressed of the Decade? xx
Side photos from vogue.com.au & fashion.telegraph.co.uk