Your Daily Fashion Scoop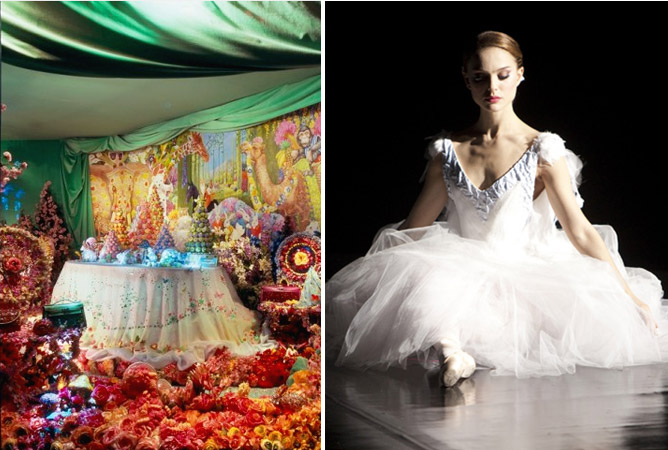 5 Espresso Shots Of News
Sit back, relax & enjoy some delicious scoops of fashion news…
Proenza Schouler's First Vogue Cover
The February 2011 issue, is the first Vogue cover for both Kristen Stewart and designers, Proenza Schouler (Lazaro Hernandez and Jack McCollough).  Stewart appears on the cover wearing a gorgeous look from the Spring / Summer 2011 collection. Photographged by Mario Testino, Lazaro Hernandez has said of Stewart,
 "She's very much the girl we have in mind when we design. It's cool to see Kristen in the clothes because she's not 'the lady, and that's exactly who we see in those clothes"…
Rodarte Not Eligible For An Oscar Nomination For Black Swan
Rodarte will not receive an Oscar or credit for the extraordinary ballet costumes they have created for Black Swan (pictured above right). Rodarte created 40 ballet costumes along with Natalie Portman's knitwear and dresses for the film. At the time Rodarte didn't negotiate credits in their initial contract and were not part of the Costume Designers Guild until recently. The guild rules state only the official designer is eligible. Costume designer, Amy Westcott, has been given the front credit. The film is currently nominated for a Costume Design BAFTA and is anticipated to also receive an Oscar nomination…
The Hermès Paris Window Display
Unveiling the Winter 2011 window display in Paris (pictured above left); the words whimsical, opulent, romantic and delightful immediately spring to mind. The intricate display windows change every season and are the work of Design Director, Leïla Menchari. Handbags and other luxury items are incorporated into the fairytale like display. This is one seriously gorgeous window…
Chic This Week –
Michelle Obama
In a delightfully unexpected twist, The First Lady, Michelle Obama wore a stunning Alexander McQueen gown this week (pictured right). In shocking red, the gown has an exquisite floral print in black, but I also love the beautiful shoulder and neckline detailing. My favourite First Lady of Fashion moment yet!…
Halle Berry to be honoured at Style Awards
Halle Berry is to be honoured at the Annual Costume Designers Guild Awards next month. The actress will receive the newly titled Lacoste Spotlight Award. The awards will take place in Los Angeles' Beverly Hilton Hotel on February 22nd. Meanwhile, also this week, Berry attended the Golden Globes in a chic black corseted Nina Ricci gown (pictured right)…
The Black Swan costumes look amazing! What do you think about Rodarte not receiving the credit? xx
Photos from: purseblog.com / Styleite.com / fashionologie.com / graziadaily.co.uk / style.com
Your Daily Fashion Scoop
Some Dark, Seductive & Astonishingly Beautiful Espresso News…
Rodarte's Ballet
The Designer Duo Create The Exquisite Black Swan Costumes
The costumes for Black Swan, a dark and seductive Ballet thriller starring Natalie Portman, have been created by the dynamic design duo Rodarte. Laura and Kate Mulleavy, the sisters behind Rodarte, became involved in the project after Portman introduced them to the film's Director, Darren Aronofsky.
Of the collaboration, Laura Mulleavy said: "I think our aesthetic naturally fits into the film."
Portman is a fan of the Rodarte label, wearing their stunning pieces on numerous occasions. Rodarte also dressed the star in this red evening gown (pictured right) for the Black Swan premiere – a breathtaking red carpet moment in itself.
Black Swan movie posters have also been released (pictured above right). Designed by La Boca the posters have a dramatic 1920's theatre feel. Dynamic colours and a striking mix of images and shapes, create such a unique advertising spin to the usual movie adverts. Elegant, dark and daring! Black Swan opens in February 2011 and promises to be a very intense yet beautiful film.
A little bit about Rodarte…
Starting the brand in 2005, the Mulleavy sisters have received a number of industry awards. Known for their beautiful detailing and other worldly creations; Rodarte have a keen celebrity following including; Tilda Swinton, Emma Watson, Chloë Sevigny, Cate Blanchett, Keira Knightley and Natalie Portman.
Their very first collection consisted of just 10 pieces that received great acclaim – getting them the cover of Women's Wear Daily and gaining a meeting with US Vogue Editor-In-Chief Anna Wintour. Rodarte have also collaborated with Gap, and most recently Target, on limited edition pieces.
Their Spring / Summer 2011 collection took inspiration from their childhood backyard – "every shade of brown you can imagine, seventies suburbia, wood panelling, gold, off colours like chartreuse—basically, a combination of all the things that represent the area to us."
Rodarte = Love!
Side photos from glamour.com | imdb.com