Entitled 'Return To Elegance', Temperley London's Spring / Summer 2013 collection had the vision of "a late-1950s couture model or a young Sophia Loren".

Alice Temperley's vision to modernise her muse while making her "uncomplicated and effortlessly beautiful" was exquisitely achieved. With an effortless sophistication and chic simplicity, Temperley played with the notions of sheer and solid; precision and prettiness; modern and timeless.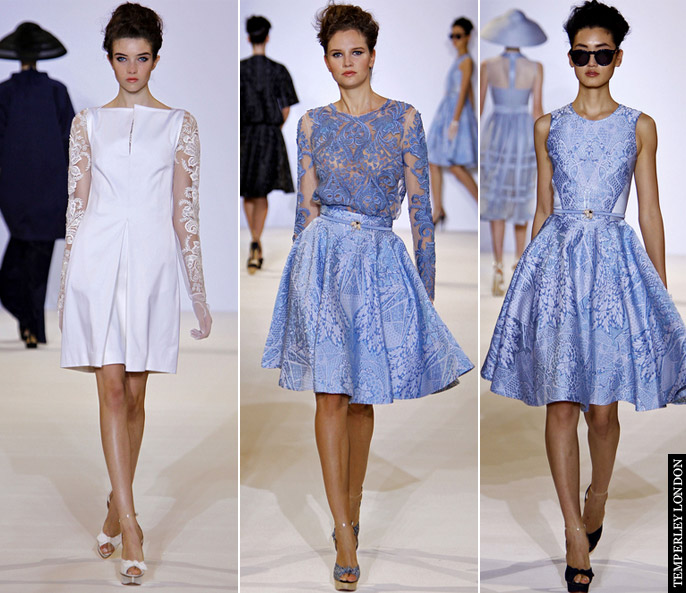 In a luxurious colour palette of pale china blue, white, navy, scarlet and black – intensive workmanship shined through in every piece of the collection. Intensive digital prints and delicate floral appliqués combined for looks that were beyond beautiful. Thick horizontal stain bands ran around organza skirts and dresses – evoking a floaty, fun and overtly feminine look.
The freshness of the colour palette – especially the use of crisp white cotton and lace sprinkled with fine crystals – evoked pure loveliness for Summer.
It was a distinct departure for the label, which saw this collection appear much lighter and more luxurious in decedent fabrics and undeniably pretty silhouettes.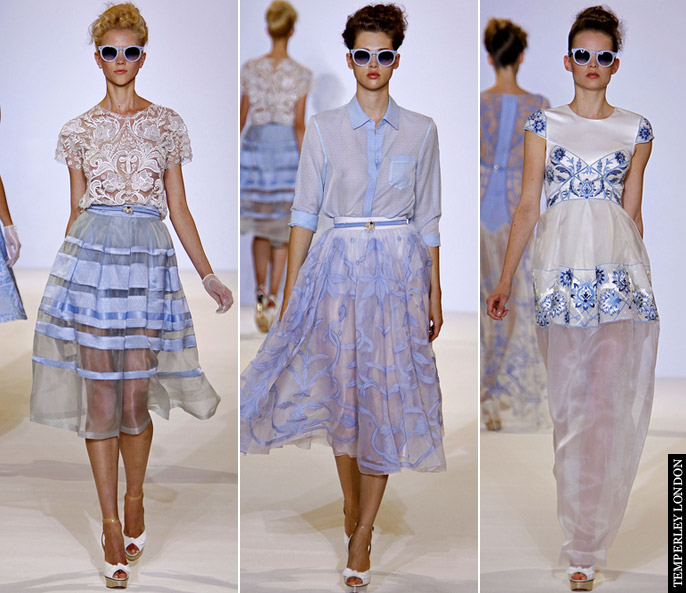 Femme Fatale Accessories
Iconic wide-brim hats, statement-making circular sunglasses and sweet net gloves – created an additional dose of drama. While the highly covetable heels were courtesy of Charlotte Olympia.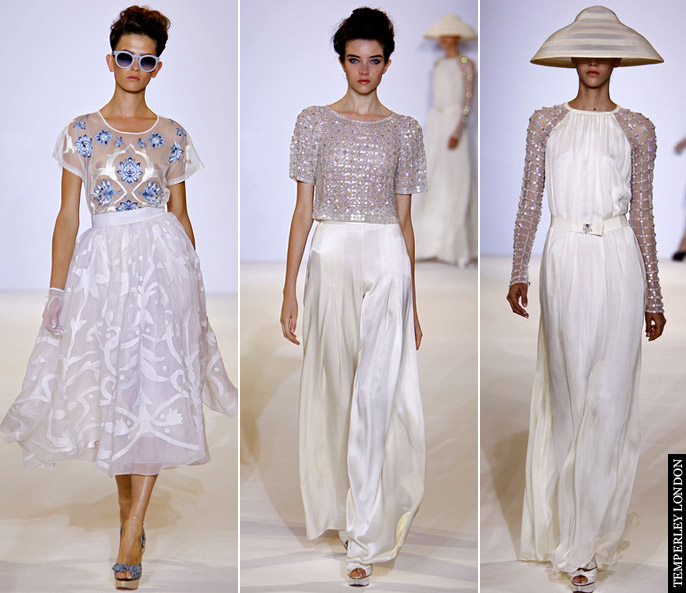 "It's just more fun, more playful this season. It's less about the dress – which is obviously still a really key piece for us – but more about really great separates in high-quality fabrics, and the way you put them together."
– Alice Temperley
Photos from style.com
As one of the world's finest female fashion designers, Stella McCartney's sharp yet feminine pieces are instantly recognisable for their timeless chic appeal.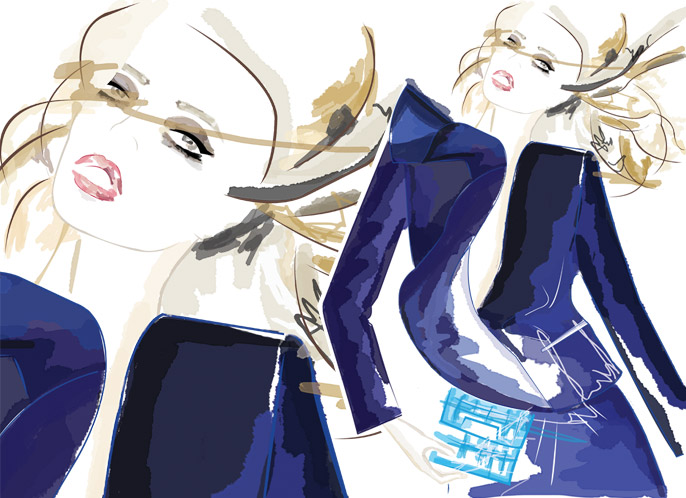 "Stella's style has been influential because she is her customer" – Tom Ford
About Stella McCartney

There aren't many students who would have world renowned super models Kate Moss, Naomi Campbell and Yasmin Le Bon take to the runway to model their collection…. at graduation.
After graduating from world renowned Central St Martin's College of Art and Design in 1995, Stella McCartney had that well publicised debut collection quickly bought up by London boutique Tokio.
In 1997, established and esteemed French fashion house Chloé hired McCartney as their new Creative Director (despite criticism from celebrated German designer and former Chloé  Creative Director Karl Lagerfeld).
After four and a half successful years at Chloé, where she achieved both commercial and critical success – bringing a more feminine and romantic feel to the brand,which still resonates with Chloé pieces today – McCartney entered a joint venture with luxury powerhouse the PPR Luxury Group (formerly Gucci Group).
Since her debut collection under the Stella McCartney brand in Paris, October 2001, it has become one of the most talked about companies in fashion today.
Stella McCartney has continued to create an array of luxurious garments; beautiful scented perfumes; and not to mention the launch of her Stella McCartney Kids collection in late 2010 (…what could only be described as positively adorable).
A Cut Above
At Stella McCartney tailoring is always a matter of priority. McCartney has become renowned for her precision cuts, with her distinctly feminine yet sharp trousers and tuxedo jackets coveted by women of all ages. 
While studying fashion, McCartney turned her attention to the craft of tailoring, honing her skills for world renowned Savile Row tailor Edward Sexton.
It was this time spent on Savile Row, learning and observing the philosophy of the 'perfect cut', that has now positioned McCartney as one of the world's finest designers – creating timeless pieces perfect for the modern day woman.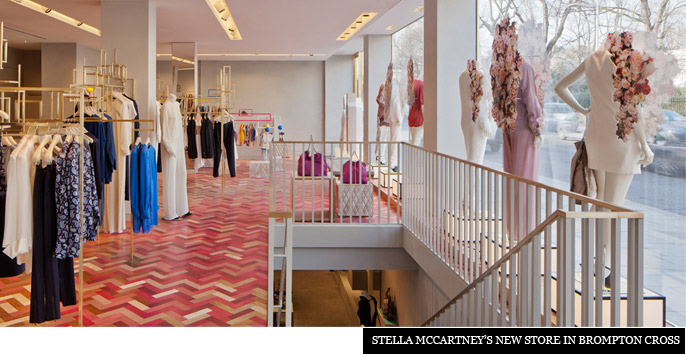 The Fall 2012 Collection
Focused on merging city & country, and day & night; Stella McCartney pieces perfectly encapsulate how women want to dress.
Of the collection, McCartney said: "The Stella woman is about balance".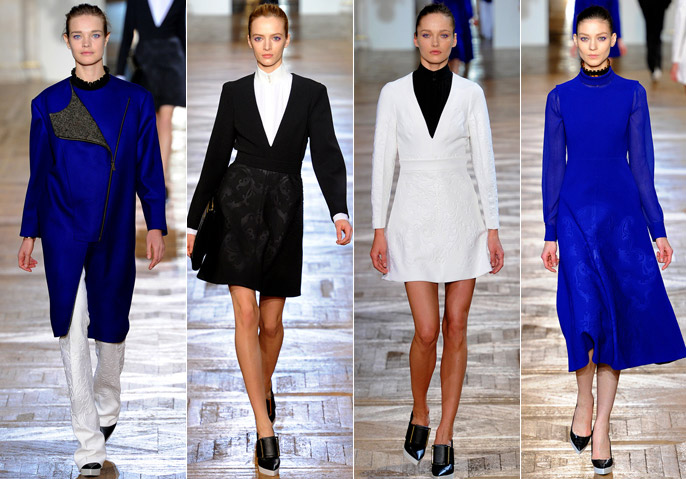 Working mainly with a dark colour palette and an emphasis on vivid midnight blue, McCartney's Fall 2012 collection played with the aesthetic of masculine and feminine; rough and soft. Fabrics with a tough sensibility – i.e. traditional English tweed –were made softer and more feminine; while iconic masculine pieces, such as the oxford shirt, were refined and reinterpreted.  
With an unmistakable sporty feel (understandable considering McCartney has just revealed the official British Olympic team uniforms), the collection also placed an emphasis on chic comfort and understated elegance.
McCartney's signature emphasis on tailoring was dressed up with beautiful botanical embroideries. Graphic white and black prints appeared strikingly against the brilliant blue.
Coats and tuxedo jackets appeared slightly oversized with unexpected detailing, such as asymmetrical zips, contrast panels, and oversized proportions. Trousers slouched from the hips, while shoulders were emphasized and waistlines highlighted. Luxe texture was also a feature, with chunky knit separates and dresses making an incredibly chic impression…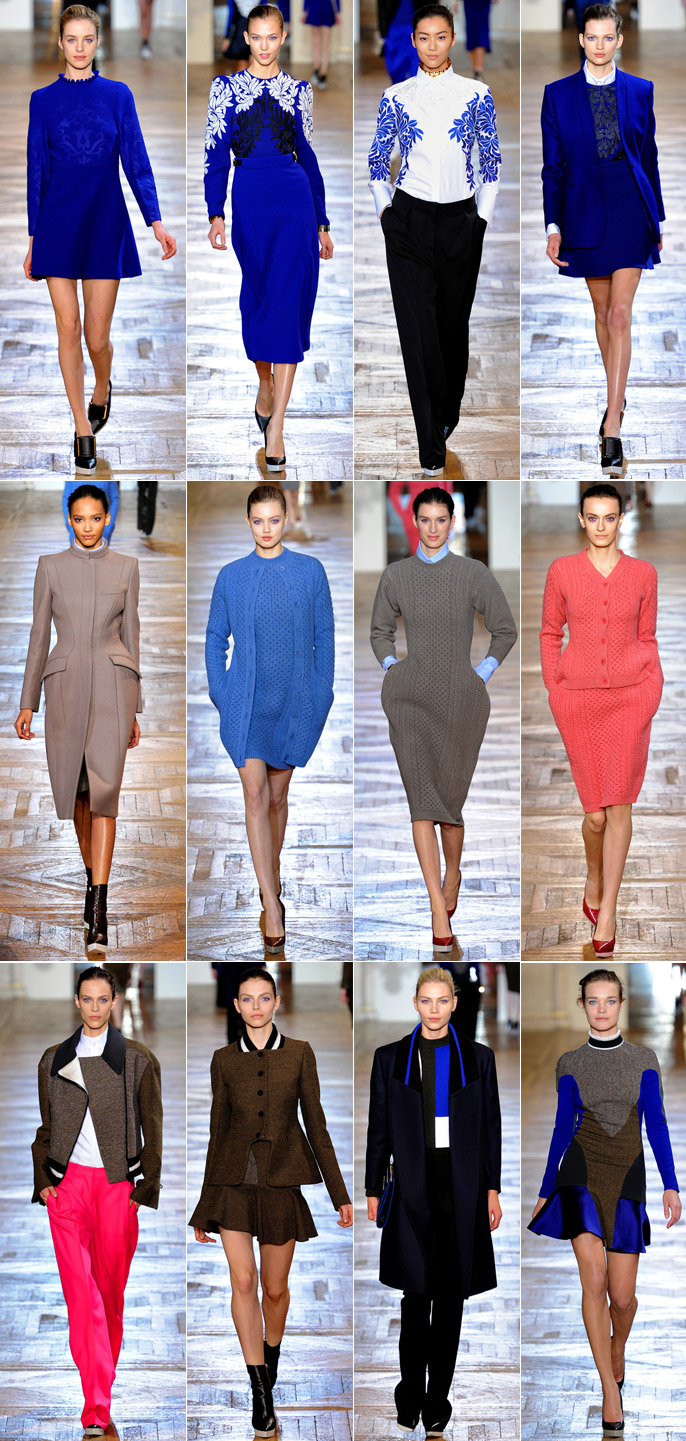 What do you think of Stella McCartney's Fall 2012 collection? xx
Photos from style.com
Mary Katrantzou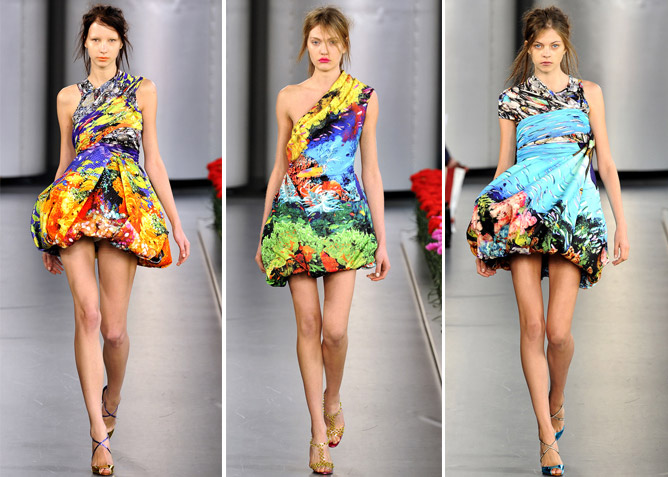 Extraordinary Colour, Mesmerising Prints, Joyous Spring Dresses…
During London Fashion Week, Mary Katrantzou presented yet another collection filled with pure joy and intoxicating boldness. Known for her prints and structural silhouettes, Katrantzou's Spring / Summer 2012 collection stayed true to her unique intensity of vision, blazing a trail for modern day print masters anywhere.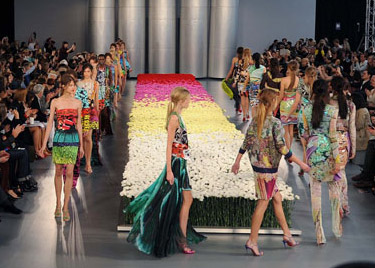 On a bed of red, pink, yellow and white carnations, Katrantzou explored the idea of repetition in nature and the industrial revolution.The influence of nature started with striking prints – there were scales, feathers, flowers – all blown up, 'zoomed in' and distorted, until they became unrecognisable. These luxe materials formed the decedent patchwork of vibrant colour and pattern across the collection. Dresses twisted and draped around the body. Embellishment also reigned – sequined florals outlined tropical bird and skyscrapers shapes.
Exaggerated silhouettes closed the collection with pieces enriched with character – where prints seemed to only heighten in intensity. Metal appliqué swirled diagonally in bands of coloured metal flowers around dresses. Katrantzou described the 3D metallic creations as "A whirlwind of metal".
My favourite look… A bell shape mini dress, in rich Caribbean blue, seemingly had tropical fish swimming right around the body (pictured above right). J'adore!
Katrantzou has become a remarkable new voice in fashion. Her astonishing artistry and talent for shape and structure is incredibly inspiring…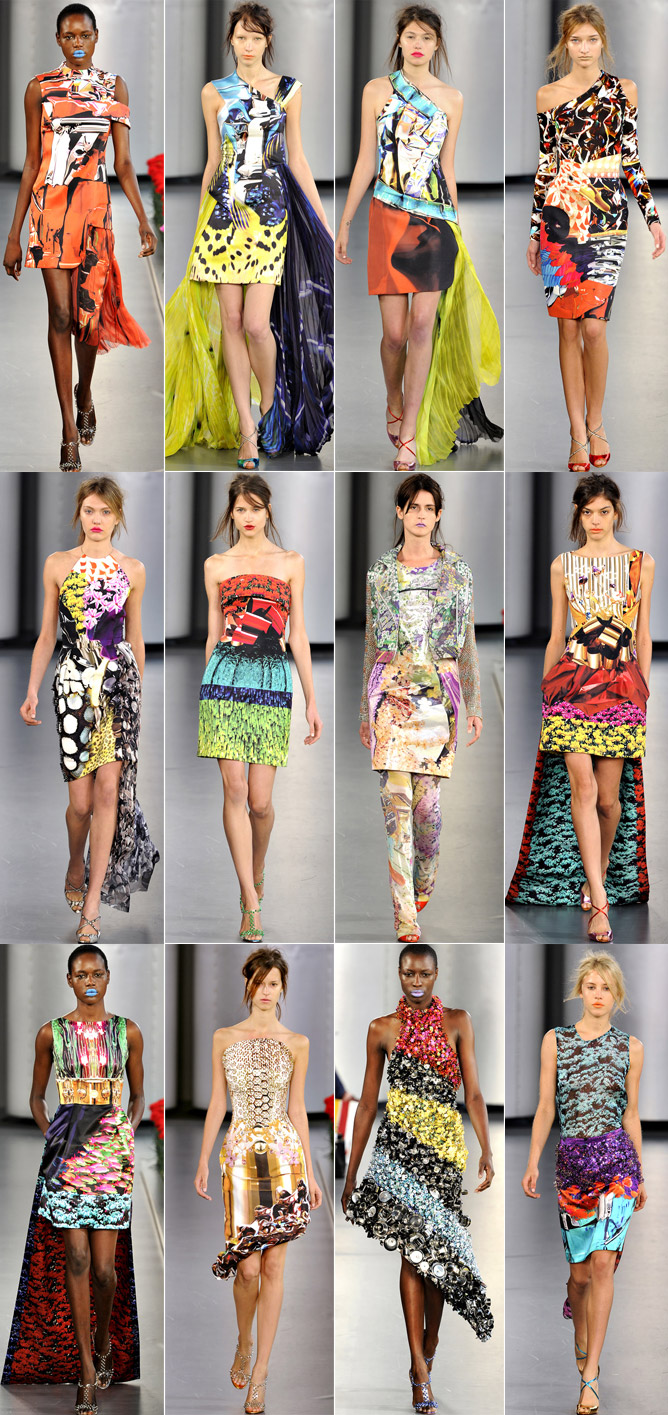 Will you embrace bold prints for Summer? xx 
Photos from style.com