The Fall Fashion Campaigns – Take 2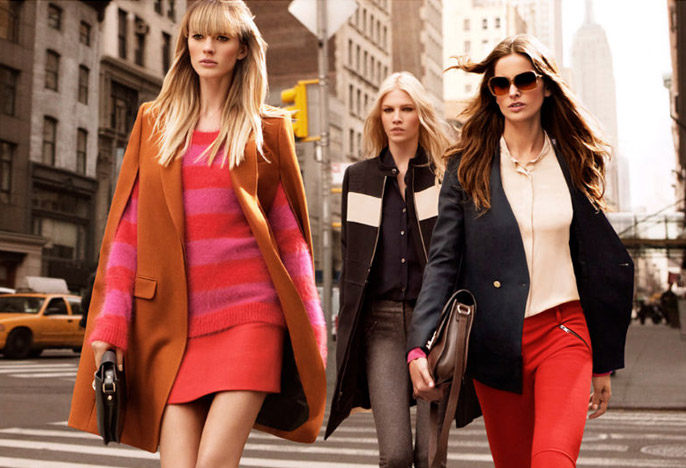 Take Two – more of the latest Fashion Campaigns for Fall…
– – – – – – – – – – – – – – – – – – – –
DKNY
Featuring Anne Vyalitsyna, Izabel Goulart and Aline Weber, the DKNY Fall campaign is all about chic modern power dressing. The shots burst with darling stripes, tweeds and brights – perfect for a fashionable Fall.  Effortlessly cool, New York Chic…

– – – – – – – – – – – – – – – – – – – –
Stella McCartney
Natalia Vodianova looks as though she is in Wonderland for the Stella McCartney Fall 2011 campaign. Returning as the face of the Stella McCartney label, Vodianova exudes pure natural beauty in polka dots and oversized comfy knits. Simply stunning…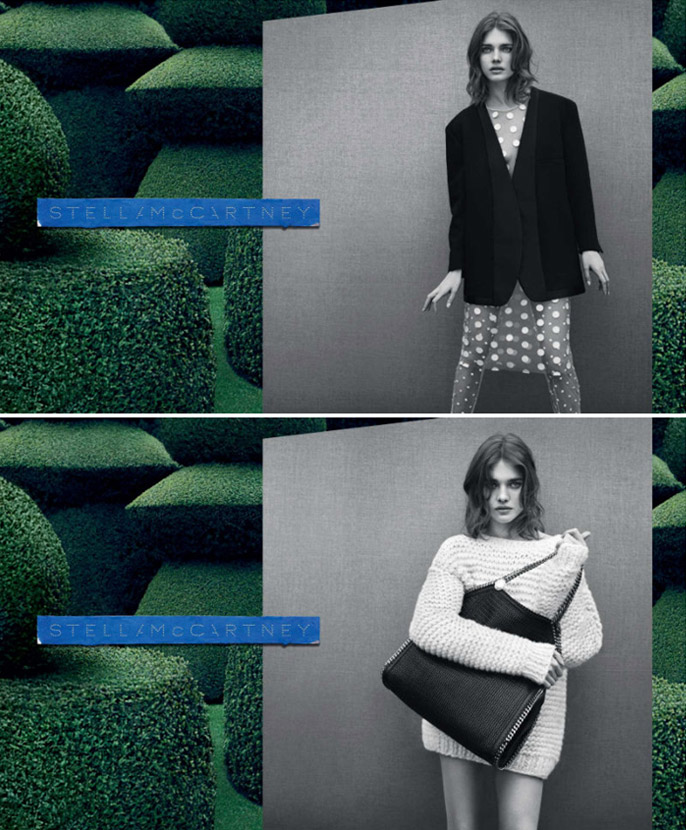 – – – – – – – – – – – – – – – – – – – –
Alberta Ferretti
Arizona Muse goes 60's cool for the Alberta Ferretti Fall 2011 Campaign. In a cosy setting, Muse exudes confidence and swinging 60's sophistication in striking colours and iconic shapes. Adore…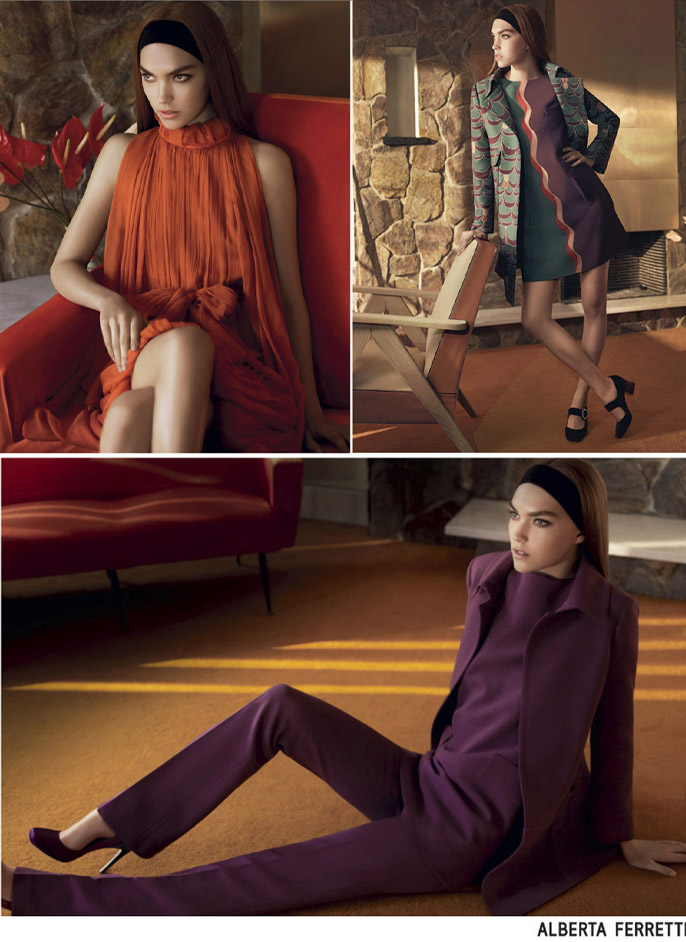 – – – – – – – – – – – – – – – – – – – –
Elie Saab
Elegant and sexy – the Elie Saab woman is enchantingly alluring. Juju Ivanyuk wears the label's form fitting, sharply tailored looks to perfection for the Fall 2011 campaign. Divine…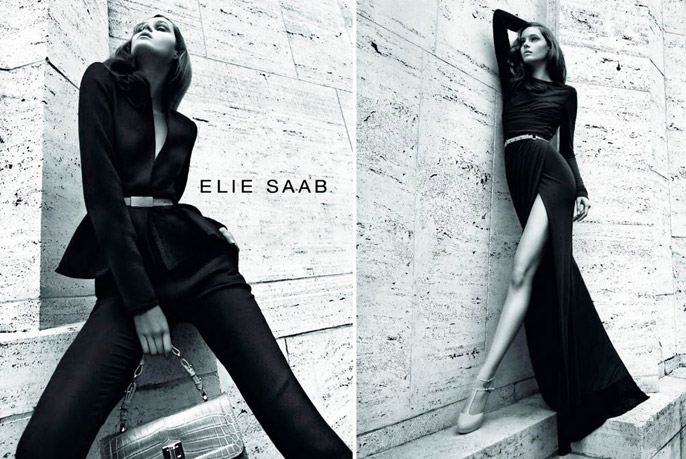 – – – – – – – – – – – – – – – – – – – –
Donna Karan
Donna Karan's Fall 2011campaign explores a day in the life of a busy yet exquisitely elegant New York woman. Isabeli Fontana is the sophisticated, refined woman we are following. Wearing beautiful pieces with an iconic nostalgia to them, the collection draws on the past in a divine colour palette of silver tones. Elegance personified…

– – – – – – – – – – – – – – – – – – – –
Valentino
Seductive, Romantic and Enchanting – the Valentino campaign features Jac Jagaciak, Caroline Brasch Nielsen, Ruby Aldridge, Sara Blomqvist and Kim Dall Armi for Fall 2011. Radiating mysterious glamour the looks include delicate light-weight dress and elegant accessories. Heavenly…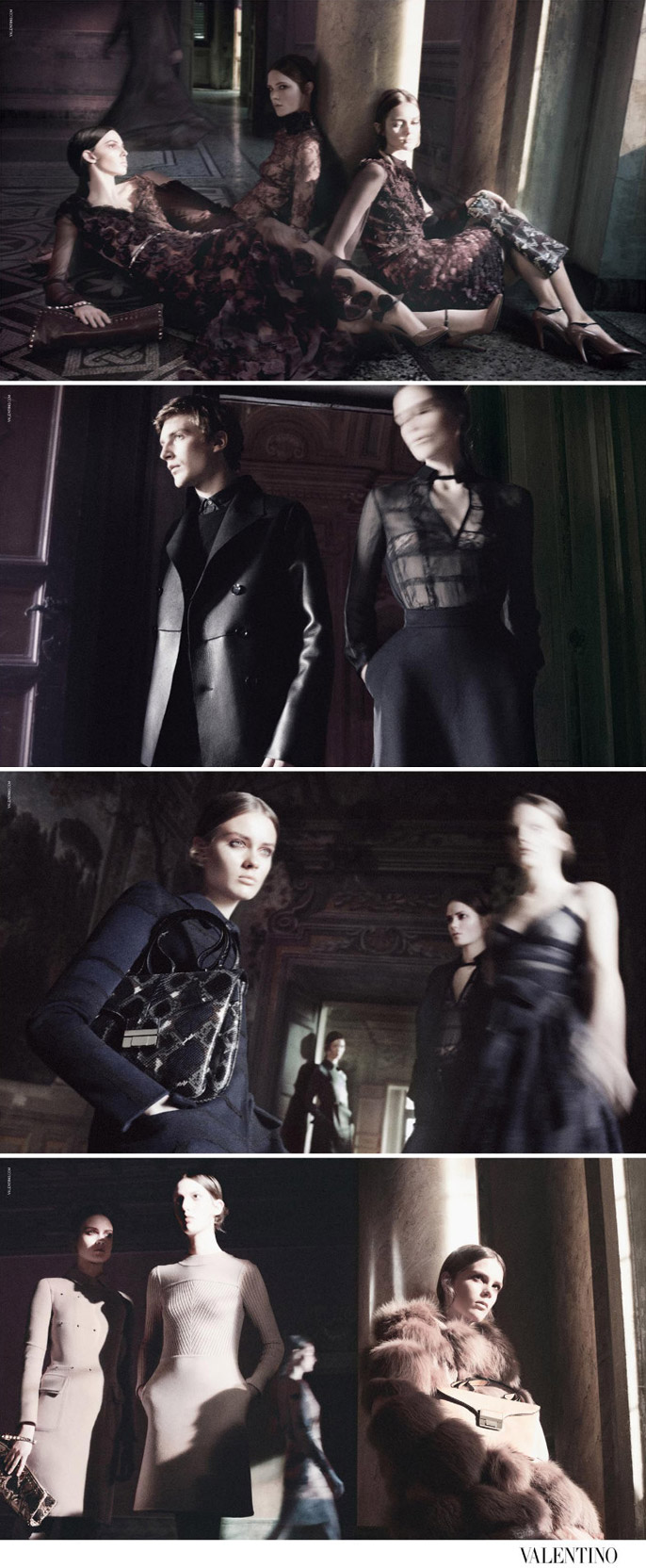 – – – – – – – – – – – – – – – – – – – –
Michael Kors
Karmen Pedaru and Simon Nessman prepare for a night out on the town in the Michael Kors Fall 2011 campaign. The couple ride in the back of a limo in looks that evoke pure 70's glam. Sexy, sophisticated, modern day glamour at its finest…

– – – – – – – – – – – – – – – – – – – –
Which Fall campaigns best represent your style? xx
Photos from fashiongonerogue.com
1940's Glamour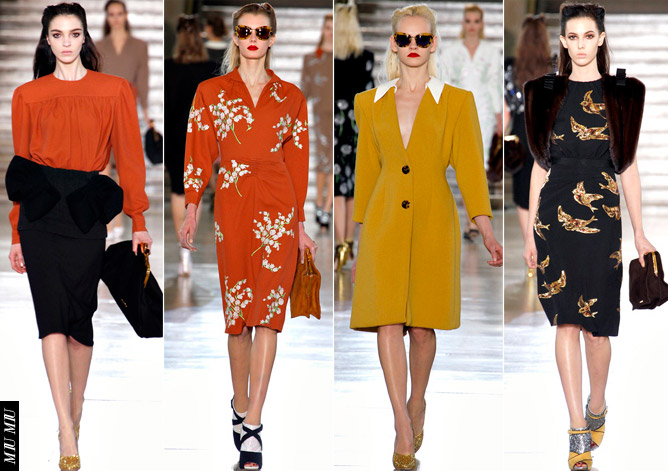 For the coming Fall season, designers were feeling 1940's glamour in the air. From Gucci to Miu Miu and Donna Karan – 40's refined feminine allure was back with a vengeance.
Be transported into the World War II-era, where skirts and dresses were worn to the knee and striking scarlet red lips made for a sensational pout.
Across many collections the 40's influence could be seen in the sharp pencil skirts; matte red lipstick; and the sophisticatedly sexy accent of accessories – think of those decedent fur shrugs, statement hats, slim belts and elegant gloves.
1940's silhouettes featured broad shoulders that gracefully tapered into a tailored waist. Almost every outfit contained shoulder pads and looks were finished off with a hat. The strong shoulder gave women a sense of purpose and strength – traits that were considered essential to survive the war. The fashion had to be practical, allow movement and comply within strict rationing. The long decedent beaded gowns of the 1930's were now considered gaudy and unpatriotic. The 40's lead the way for minimal, boxy dresses; shorter skirts and neatly belted waists.
1940's fashion was elegant, refined and authoritative – reflecting the strong sense of purpose as women rolled up their sleeves and did their part on the home front…
– – – – – – – – – – – – – –
Gucci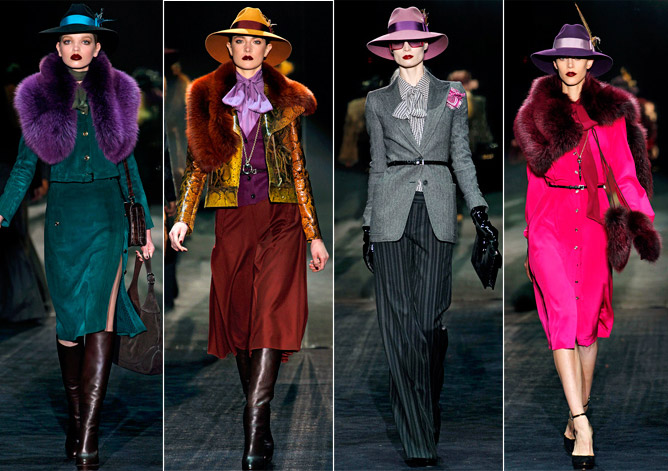 – – – – – – – – – – – – – –
Marc Jacobs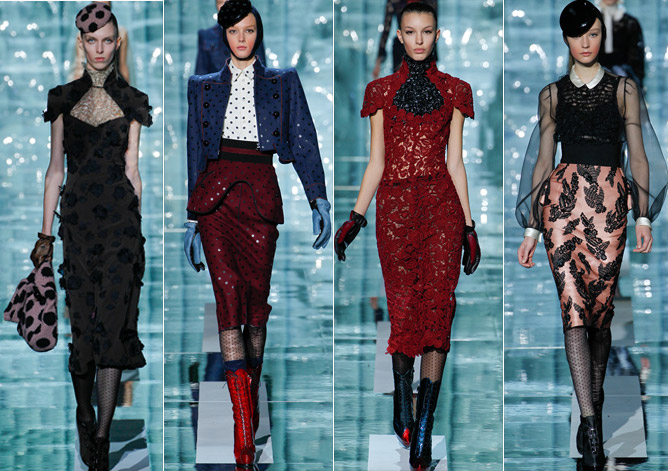 – – – – – – – – – – – – – –
Louis Vuitton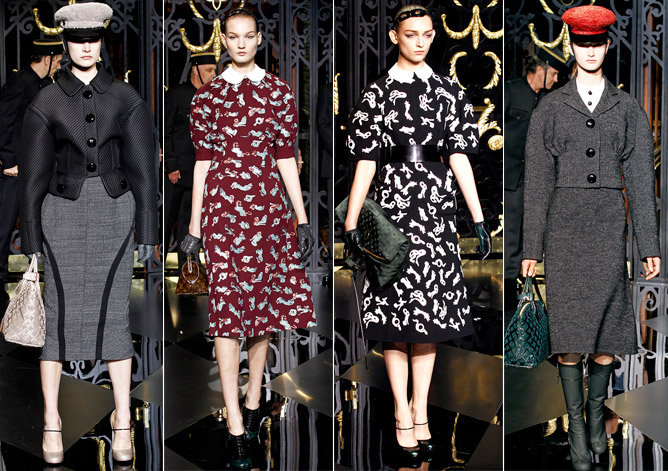 – – – – – – – – – – – – – –
Donna Karan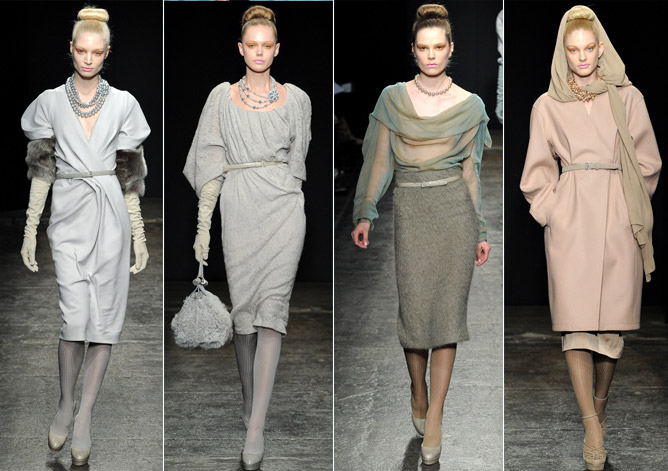 Kate Moss channels 40's glam for the cover & feature editorial of Vogue UK, August 2011 issue…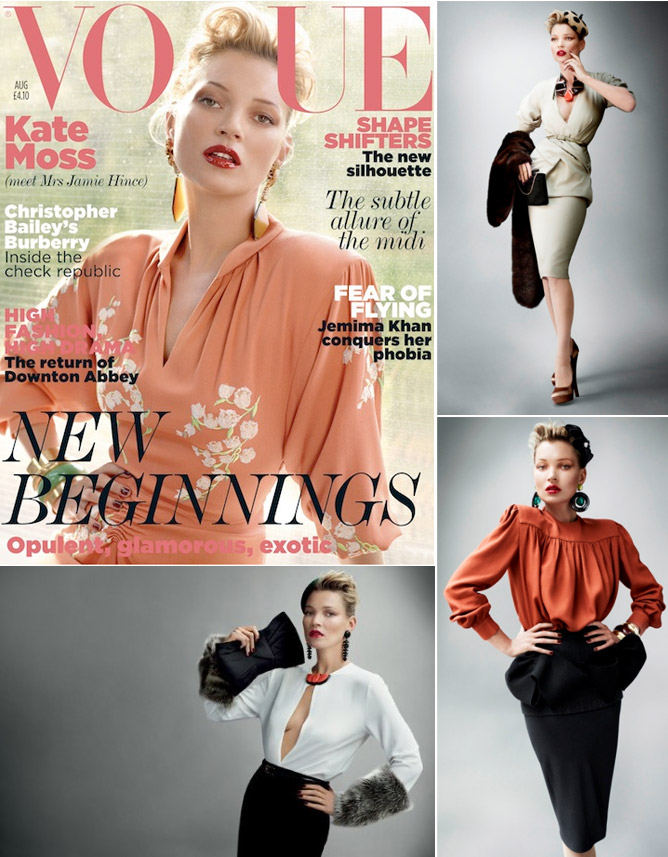 LOVE, LOVE, LOVE the whimsically romantic nostalgia of the 1940's trend. I am ready to do my hair in pin curls and wear red lipstick day & night!
Will you embrace the timeless chic of the 1940's for Fall? xx
Photos from style.com / vogue.co.uk / google images
Make-Up Trends From The Catwalk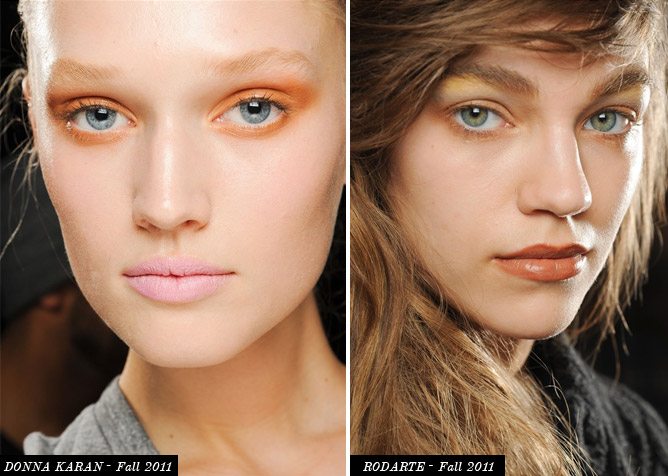 Forget The Lips! Autumn Has 'Fall'en For The Eyes
While I love a statement red lip, this coming Autumn / Winter 2011 season it is all about dramatic, alluring, captivating eyes.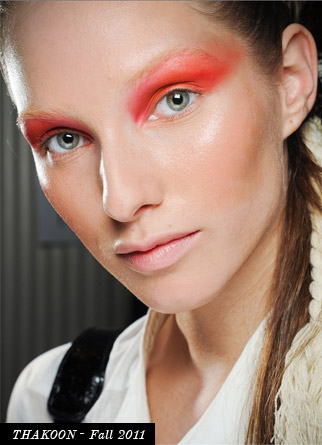 From girly playfulness at Donna Karan (pictured above left) to high-octane neon pinks at Thakoon (pictured right) – the Fall runways left lips nude while eyes had their moment. Powerful eye statements were also seen at: Philip Lim, Anna Sui, Marc Jacobs, Vera Wang and Rodarte.
My favourite: At Donna Karan tangerine cream eye shadow was smudged across the top lid while white eyeliner discreetly traced the bottom. Lips were a delightful pastel pink matte to soften the look. Eyebrows were left untamed. Sweet, simple, playful perfection!
Meanwhile, Philip Lim saw metallic green eyes take the spotlight. At Marc Jacobs, a modern tough baby doll aesthetic took the traditional sweetness of this trend to the next level. Anna Sui created a different take on eye contouring that was both dramatic and intriguing; while Vera Wang's grunge eyes created a dark and brooding prettiness that was just the right amount of sweet and sexy. Rodarte drew inspiration for eyes from the reds, golds and tawny browns of autumn. But the cleanest look was Proenza Schouler, where 'minimalist' eyes still drew the bulk of the impact in the midst of this flawless, barely-there look.
From the catwalk…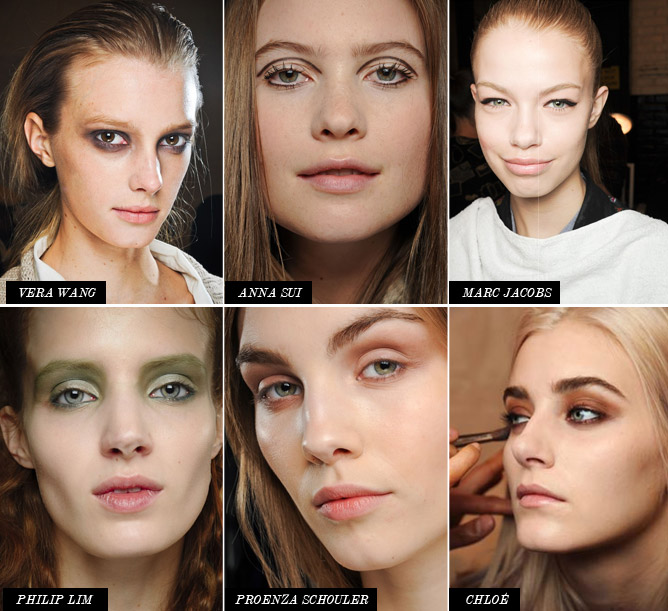 Will your Fall make-up reflect the catwalk trends? Are you feeling a statement eye? xx
Photos from glamourmagazine.co.uk