Make-Up Trends From The Catwalk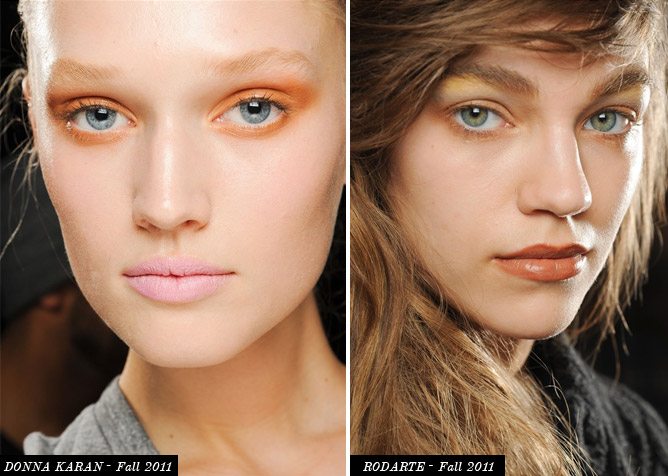 Forget The Lips! Autumn Has 'Fall'en For The Eyes
While I love a statement red lip, this coming Autumn / Winter 2011 season it is all about dramatic, alluring, captivating eyes.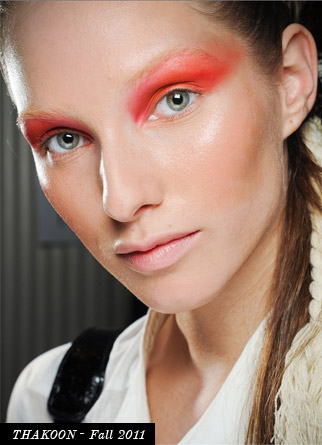 From girly playfulness at Donna Karan (pictured above left) to high-octane neon pinks at Thakoon (pictured right) – the Fall runways left lips nude while eyes had their moment. Powerful eye statements were also seen at: Philip Lim, Anna Sui, Marc Jacobs, Vera Wang and Rodarte.
My favourite: At Donna Karan tangerine cream eye shadow was smudged across the top lid while white eyeliner discreetly traced the bottom. Lips were a delightful pastel pink matte to soften the look. Eyebrows were left untamed. Sweet, simple, playful perfection!
Meanwhile, Philip Lim saw metallic green eyes take the spotlight. At Marc Jacobs, a modern tough baby doll aesthetic took the traditional sweetness of this trend to the next level. Anna Sui created a different take on eye contouring that was both dramatic and intriguing; while Vera Wang's grunge eyes created a dark and brooding prettiness that was just the right amount of sweet and sexy. Rodarte drew inspiration for eyes from the reds, golds and tawny browns of autumn. But the cleanest look was Proenza Schouler, where 'minimalist' eyes still drew the bulk of the impact in the midst of this flawless, barely-there look.
From the catwalk…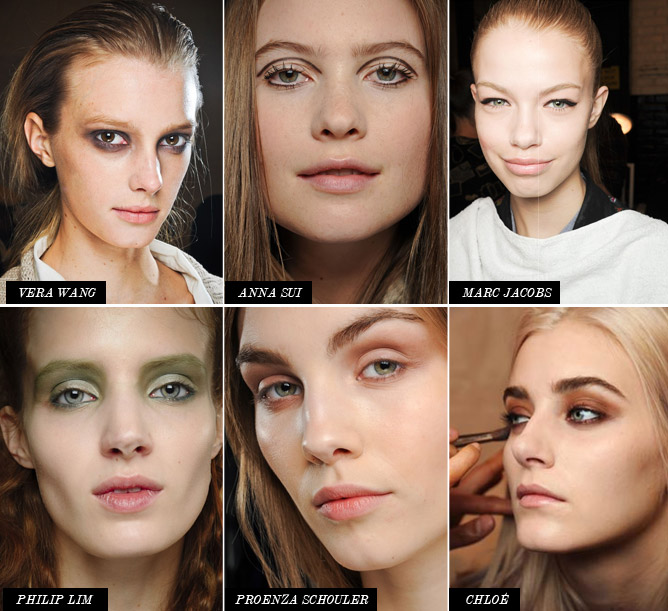 Will your Fall make-up reflect the catwalk trends? Are you feeling a statement eye? xx
Photos from glamourmagazine.co.uk
Your Fabulous Fashion Scoop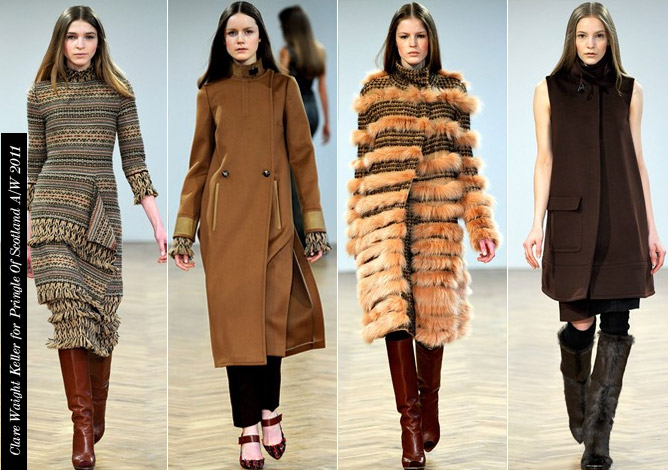 A Chloé Espresso Shot Of News
Clare Waight Keller – the new Creative Director at Chloé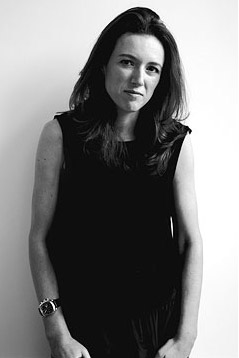 It has been announced today that Clare Waight Keller, former creative director of Pringle of Scotland, will take the helm of French label, Chloé.
Taking control of the label on June 1st, Clare Waight Keller (pictured right) will replace fellow Brit, Hannah MacGibbon, who was with the label for over 10years.
Clare Waight Keller has become known as the person who brought modernity to the heritage brand, Pringle Of Scotland. With an innovative approach to knitwear, she presented her first collection for the label in February 2006, before going on to win the Scottish Cashmere Designer of the Year at the Scottish Fashion Awards in 2007.
Of her new role, Waight Keller has said, "I am thrilled to be joining one of the most prestigious design houses in Paris. Chloé is a brand that conveys a beautiful sense of effortless femininity and vivacious sophistication that I look forward to continuing into the next era."
Her Résumé…  Pringle Of Scotland A/W 2011-12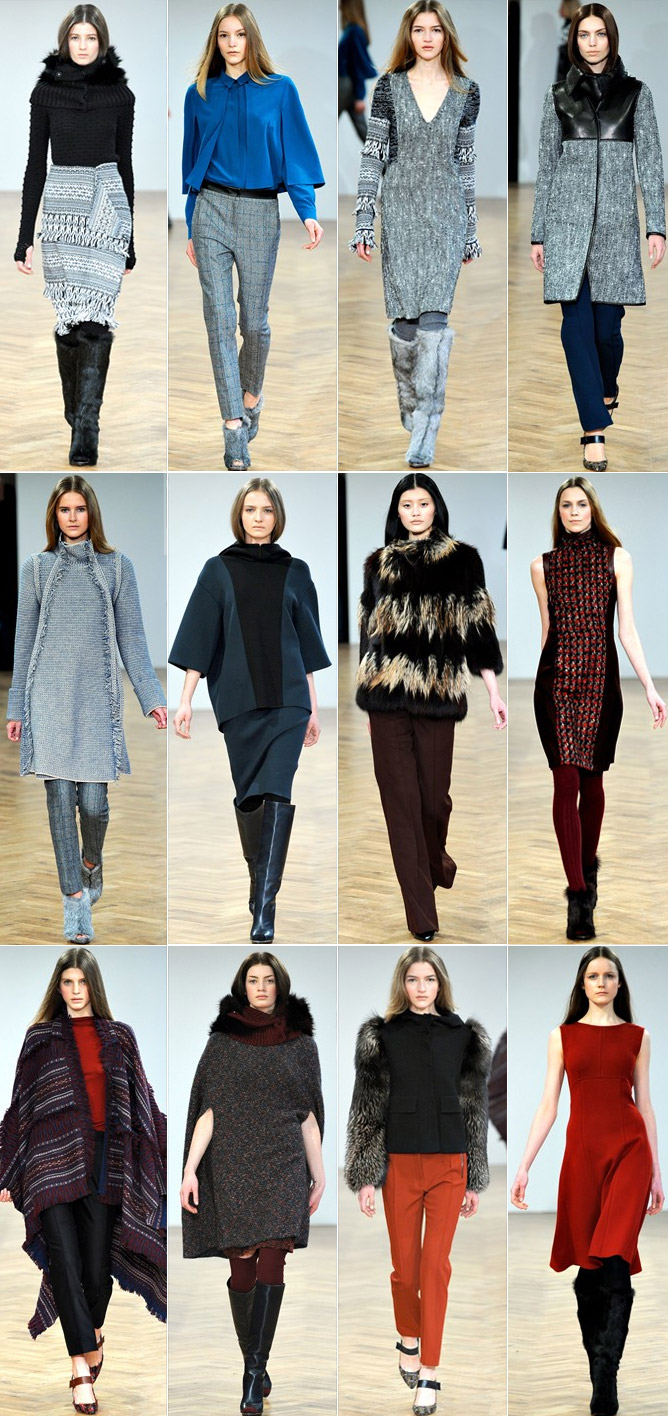 What do you think of this news?
Chloé is one of my favourite houses, so I will be watching the next collection very closely! xx
photos from vogue.co.uk
Favourite Pieces…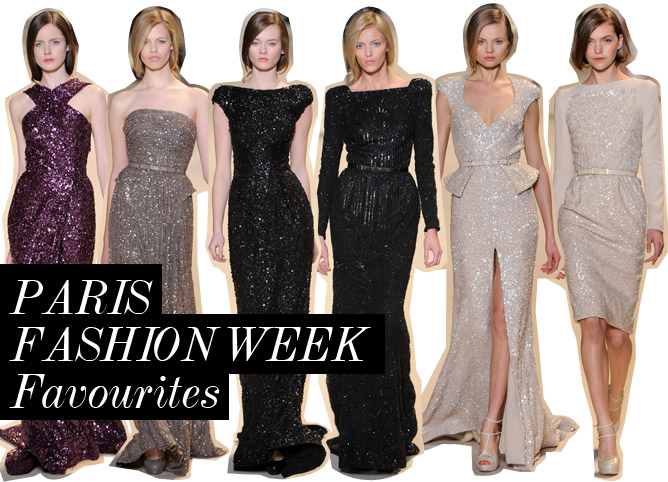 Paris Fashion Week – Fall 2011
Miu Miu and Louis Vuitton brought the month long fashion festivities to a close in Paris this week. Paris the city of light and love was, as to be expected, bursting with pieces so perfect words are often inadequate to describe their innate beauty.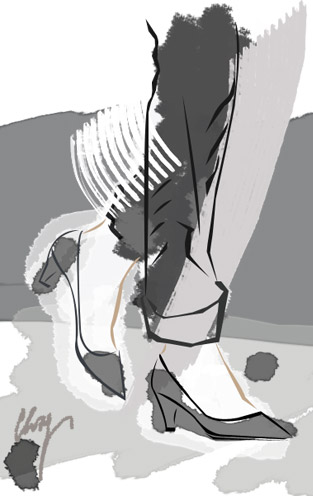 From Chanel to Lanvin, the Parisian Couture Houses brought forth a tirade of divine silhouettes, texture and colour palettes. From the delicate tones of beige and cream at Chloé, to striking black and white at Chanel, not forgetting the pops of colour at Lanvin; the Parisian Fall will be a much more simplistic, monochromatic affair than the streets of Milan or London.  
While Paris Fashion Week was filled with exquisite collections, it wasn't without its controversy (cough*John Galliano*) then more with Kate Moss smoking down the Louis Vuitton catwalk. There were the rumours of a boycott of the Dior show, but instead much love and support was the agenda of the day. Before the collection began, Dior CEO Sidney Toledano appeared to address attendees (and the world) with a heartening speech about the values that Christian Dior have represented for more than six decades, "the heart of the House of Dior, which beats unseen… is made up of its teams and studios, of its seamstresses and craftsmen". And the finale, as the lights dimmed those 30-strong members of the Dior ateliers mentioned by Toledano appeared on the catwalk.
From the apocalyptic tones at Chanel, to the tree inspiration at Lanvin – Paris brought the Fall fashion week calendar to its spectacular conclusion.
p.s. Loved the classic black kitten heels at Chanel (illustrated right) & the sparkling sequined gowns at Elie Saab (pictured above)…
Some Of My Favourite Pieces…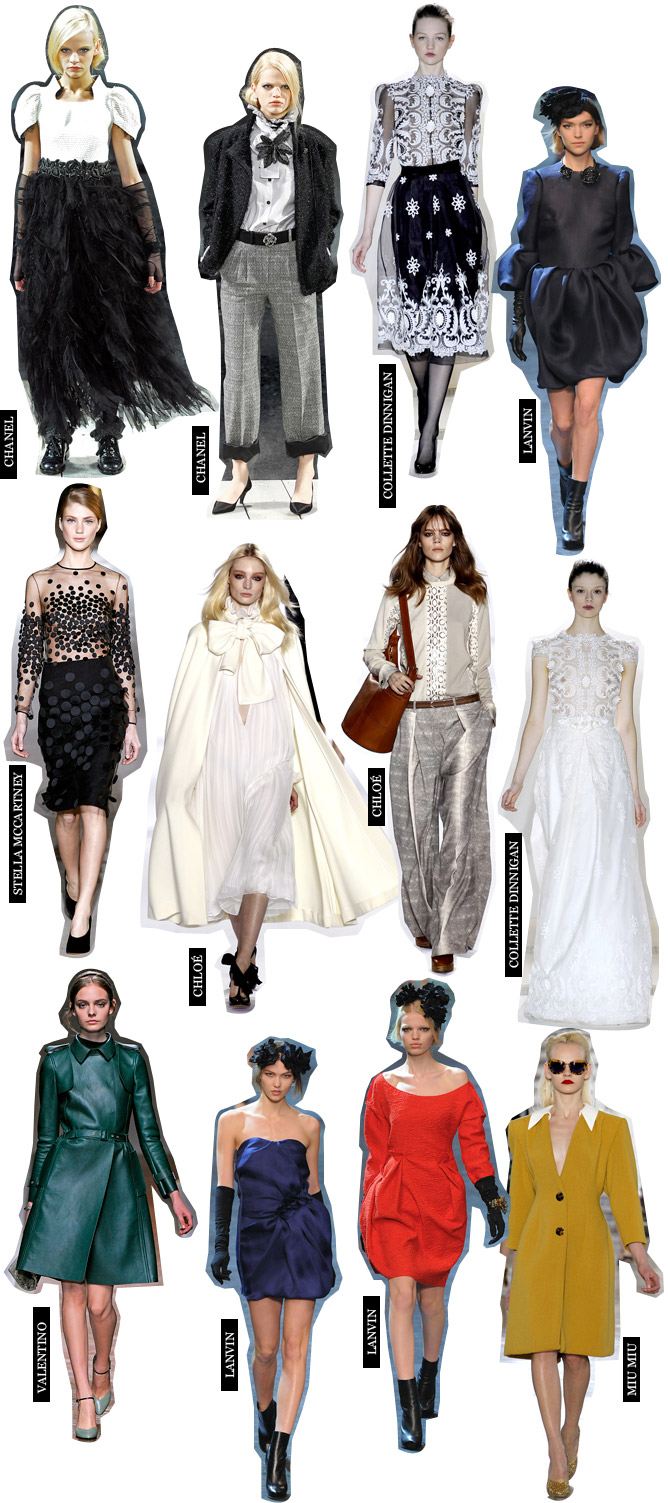 What were your favourite shows from Paris Fashion Week? xx