Sultry, Sexy Cat Eye Make-Up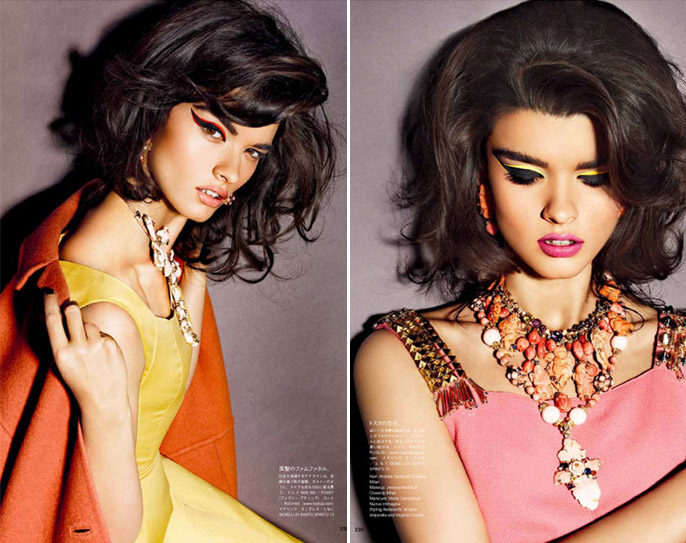 My Weekend Inspiration came in the form of a beauty editorial for Vogue Japan featuring some decadently delicious eye make-up.  The editorial entitled 'Call Her Diva', featuring Crystal Renn, styled by Anna dello Russo and photographed by Giampaolo Sgura, highlights dramatic cat eyes teamed with striking crimson lips and luscious pink shades. Throughout the images Renn wears vibrant pieces by Tom Ford, Rocha and Yves Saint Laurent, amongst others.
Achieving The Cat Eye Make-Up Magic
Cat eyes are edgy, sexy and dramatically alluring. It is the best way to draw attention to your eyes. Cat eye make-up can be as dramatic or subtle as you like. Start by using a sharp eyeliner pencil, in black or brown, to make a bold statement. Lightly trace the pencil along the root of your eyelashes – from the inner eye and work your way out. Follow the natural curve of your eye and stop just before your pupil ends. Begin to subtly slant your eyeliner line upwards and continue as long as you desire. You will then have a thin cat eye line; continue to retrace your steps until the line is to your desired thickness.
To add that extra va-va voom, incorporate some colour! Be inspired by Crystal Renn's eye popping colour in an assortment of irresistible hues…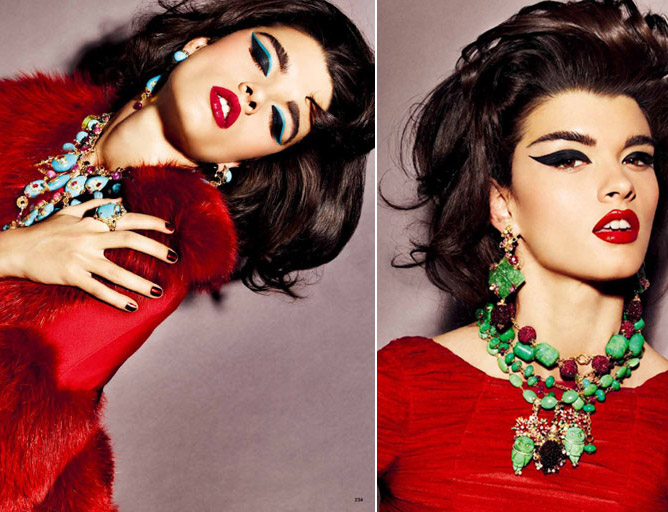 Which make-up trick is guaranteed to make you feel fabulous? xx
Photos from fashiongonerogue.com
4 Fabulous Fashion Shots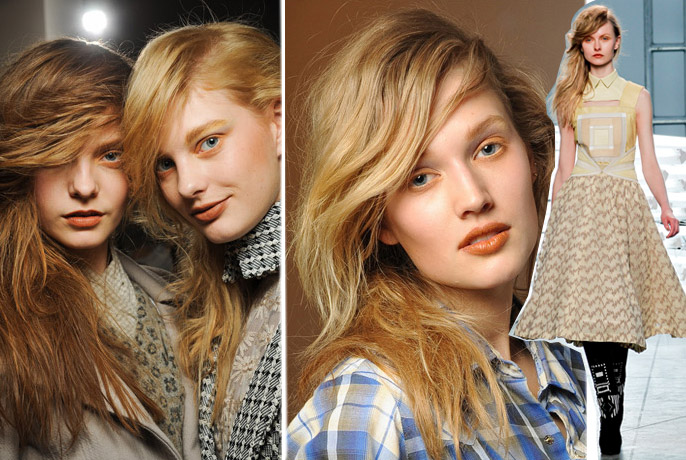 Beauty Look Of The Week… Rodarte's Sun Kissed Glamour
Rodarte's Fall 2011 collection took inspiration from the American Plains of Terrence Malick's "Days Of Heaven". Reminiscent of glowing sunsets, the colour palette of golden wheat hues imitate amber-lit mornings and dusk, while also brightening the complexion.
To achieve the look, start with a flawless complexion and a dusting of bronzing power underneath the cheekbones for added definition. Yellow and golden eye shadow tones are then applied around the rim of the lids, brow bone and in the crease. The inner rims of the eyes are lined with fresh toned pencil, before the look is finished off with a rich copper-berry shade on the lips.
The Rodarte make-up and texturised tresses are prefect for a glowing Summer look.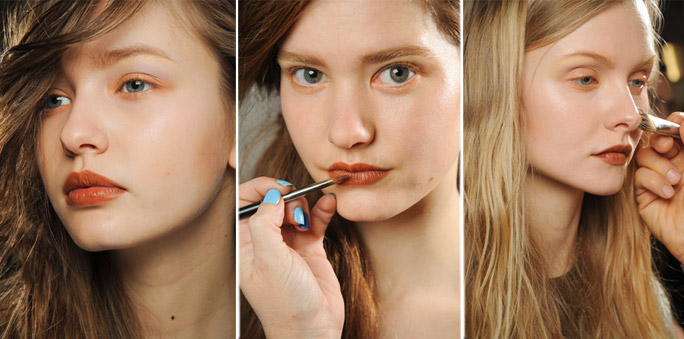 Kim Kardashian's Wedding Gowns
The first cover of Kim Kardashian on her Wedding Day has been released. The People's Magazine cover shows a good glimpse of one of the magnificent Vera Wang gowns she wore on her big day.
It's been reported that just two days before the wedding Kim hadn't decided which one of the dresses she was going to wear for her big "I do" moment. Of her chosen gown, Vera Wang said: "It was Cinderella. But Cinderella with a very sexy body. She has a very Liz Taylor or Sophia Loren kind of body and we didn't want to lose that." Kim later changed into her two other gowns for the festivities (see sketches below).
Lady Gaga Fashion Label
Lady Gaga and her little sister, Natali Germanotta, are believed to be creating a fashion line.
The line will reportedly be "relatively normal and wearable", with the pair intending to remodel iconic dresses from the past but with a twist – think of Marilyn Monroe's white dress but created rubber… interesting!
Marc Jacobs For Dior?
The rumour mill is still in overdrive with reports indicating Marc Jacobs will move to the helm of Christian Dior, while Phoebe Philo will take on his position at Louis Vuitton.
Now Marc Jacobs president, Robert Duffy, has added fuel to the fire by commenting, "[Marc] could do a couture line". Meanwhile, no shortlist has been revealed by Dior and no date has yet been set for an announcement of who will take over as Creative Director.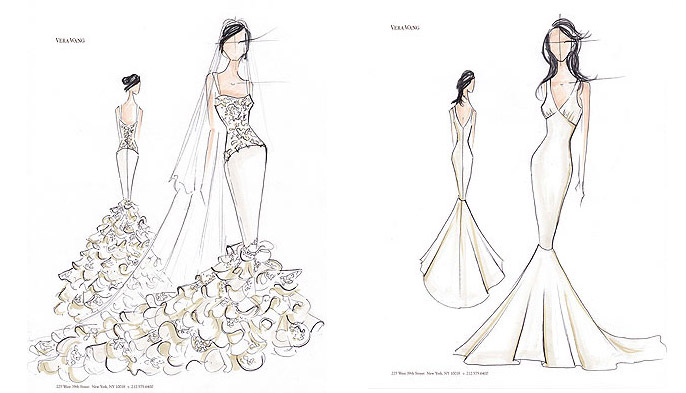 Happy Thursday! xx
photos from style.com / grazia.com.au
Wednesday Beauty Shot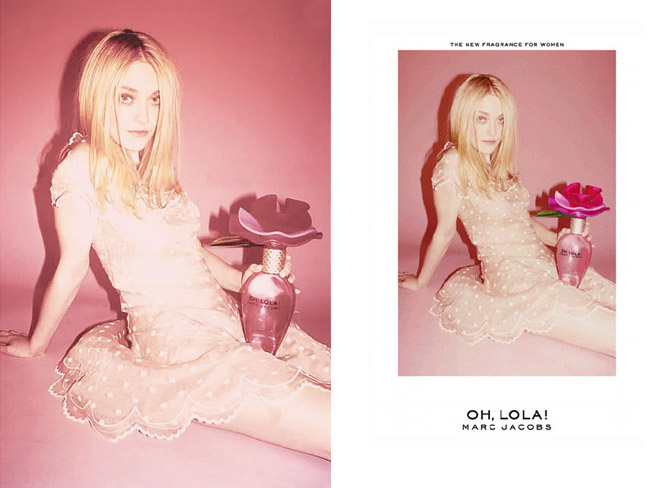 2 Espresso Shots of Beauty News + Some Beautiful Inspiration…
– – – – – – – – – – – – – – – – – – – – – – – – – – – – – – – – – – – – 
Dakota Fanning for Marc Jacobs
Dakota Fanning's campaign for Marc Jacob's fragrance 'Oh, Lola!' has been released and the results are divine! The enchanting 17-year-old was shot by Juergen Teller for the campaign, which sees her channel the 1962 film 'Lolita'.
Of making Fanning the face of 'Oh, Lola!', Marc Jacobs said: "When we were speaking about who to use in the ads, I had recently seen 'The Runaways'…I knew she could be this contemporary Lolita, seductive yet sweet."
– – – – – – – – – – – – – – – – – – – – – – 
Tom Ford & Lara Stone For Tom Ford
Tom Ford's new make-up collection campaign has been released and features the designer himself alongside the sexy Lara Stone. Photographed by Mert Alas & Marcus Piggot, the campaign highlights striking high-impact looks and intense make-up colour.
Of putting himself in frame, Ford has said: "I'm not in the ads because I'm vain. A lot of people still don't know who I am and the product sells better with me in the ads. The old designers — Yves [Saint Laurent], Giorgio [Armani] and Ralph [Lauren] — occasionally used to do it."
– – – – – – – – – – – – – – – – – – – – – – 
Beauty Inspiration
Yesterday Uptown Twirl posted  Emma Watson's first Vogue US cover and today  featured below are more striking imagery from her shoot.
With her flawless skin, impeccable make-up, iconic hair style and polished elegance – her beauty and alluring charisma is breathtaking. These photos are my beauty inspiration this week… LOVE, LOVE, LOVE Emma Watson!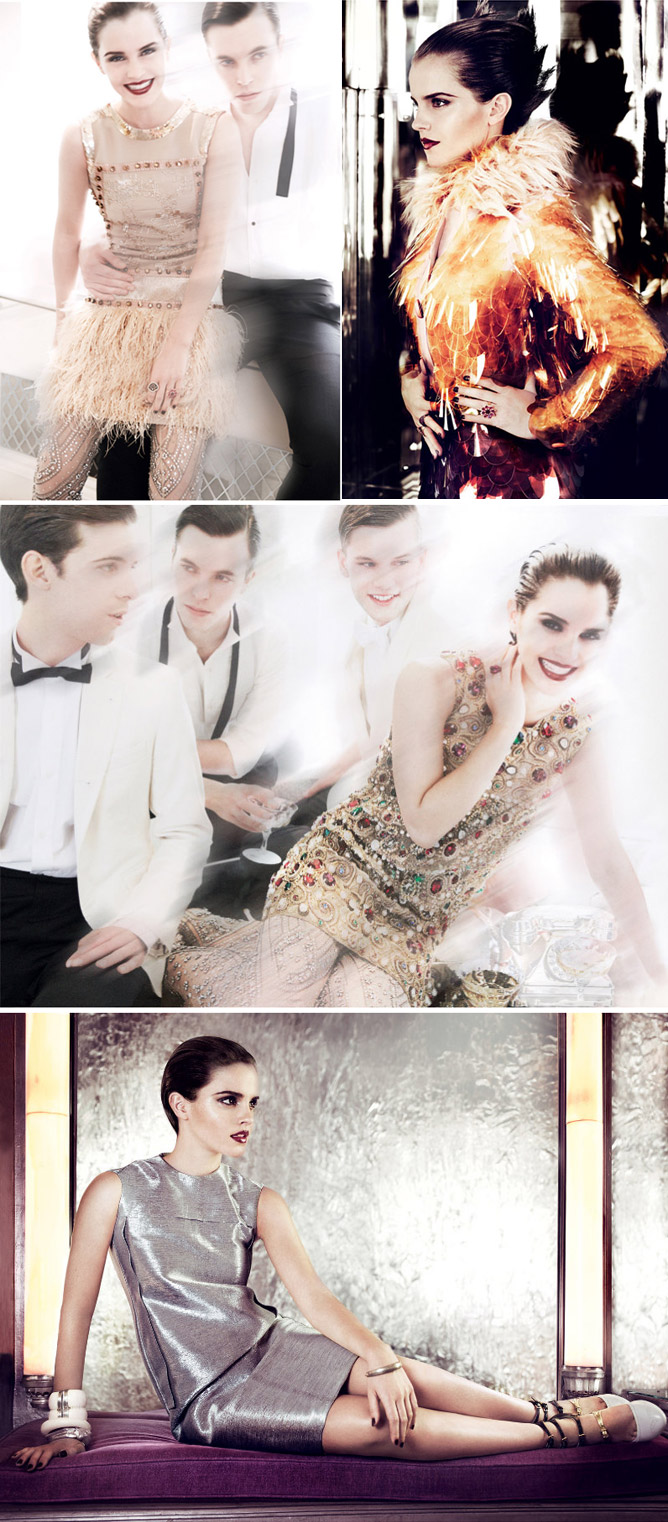 Who has a natural beauty that you admire? xx
Photos from grazia.com.au / fashiongonerogue.com