A Girl's Best Friend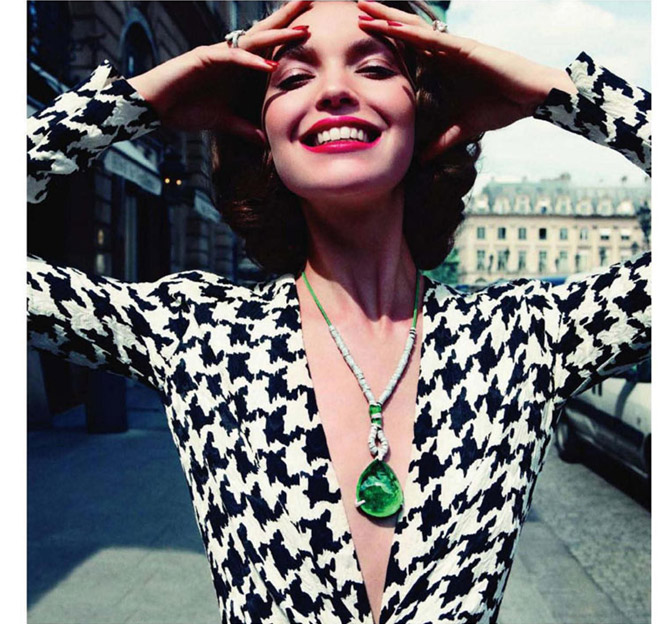 A joyful editorial to kick start the week – Arizona Muse channels a glamorous bygone darling for Vogue Paris…
Statement precious gems; sexy soft curls; striking red lips – J'dore this editorial! Swathed in luxurious gems, Arizona Muse wears breathtaking jewellery pieces from Harry Winston, Van Cleefs, Chanel and Bulgari. Shot along the streets of Paris by Inez van Lamsweerde & Vinoodh Matadin and styled by Suzanne Koller, these gorgeous photos quite simply make me smile.
What is making you happy this week? xx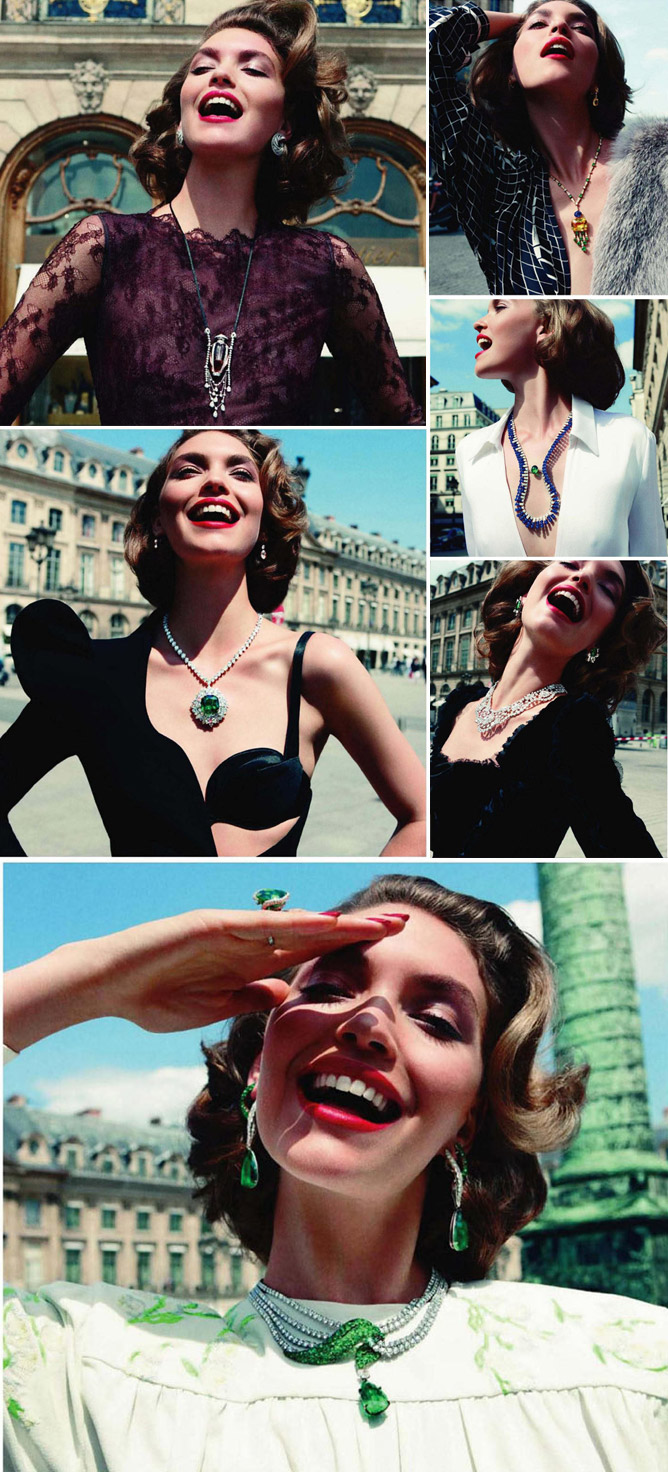 Photos from fashiongonerogue.com
1940's Glamour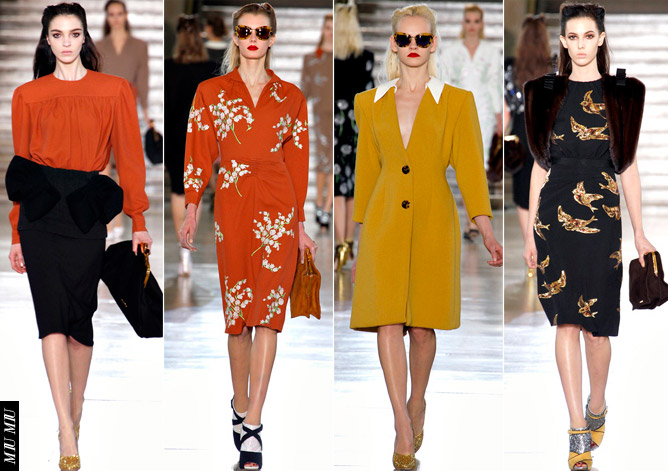 For the coming Fall season, designers were feeling 1940's glamour in the air. From Gucci to Miu Miu and Donna Karan – 40's refined feminine allure was back with a vengeance.
Be transported into the World War II-era, where skirts and dresses were worn to the knee and striking scarlet red lips made for a sensational pout.
Across many collections the 40's influence could be seen in the sharp pencil skirts; matte red lipstick; and the sophisticatedly sexy accent of accessories – think of those decedent fur shrugs, statement hats, slim belts and elegant gloves.
1940's silhouettes featured broad shoulders that gracefully tapered into a tailored waist. Almost every outfit contained shoulder pads and looks were finished off with a hat. The strong shoulder gave women a sense of purpose and strength – traits that were considered essential to survive the war. The fashion had to be practical, allow movement and comply within strict rationing. The long decedent beaded gowns of the 1930's were now considered gaudy and unpatriotic. The 40's lead the way for minimal, boxy dresses; shorter skirts and neatly belted waists.
1940's fashion was elegant, refined and authoritative – reflecting the strong sense of purpose as women rolled up their sleeves and did their part on the home front…
– – – – – – – – – – – – – –
Gucci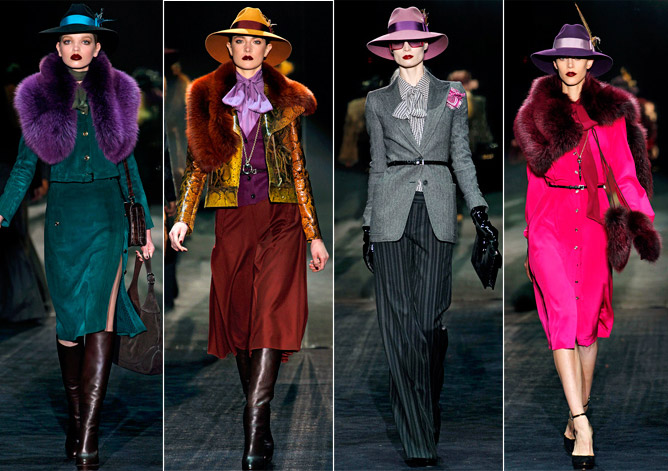 – – – – – – – – – – – – – –
Marc Jacobs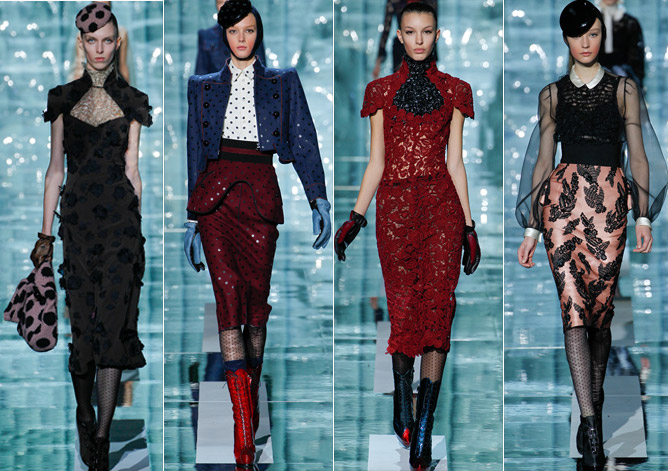 – – – – – – – – – – – – – –
Louis Vuitton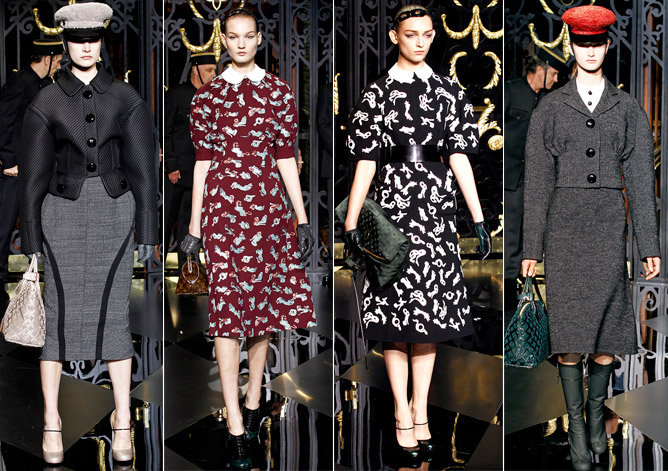 – – – – – – – – – – – – – –
Donna Karan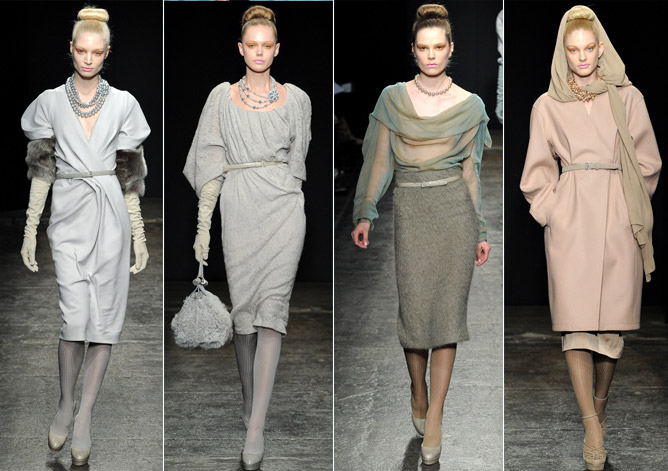 Kate Moss channels 40's glam for the cover & feature editorial of Vogue UK, August 2011 issue…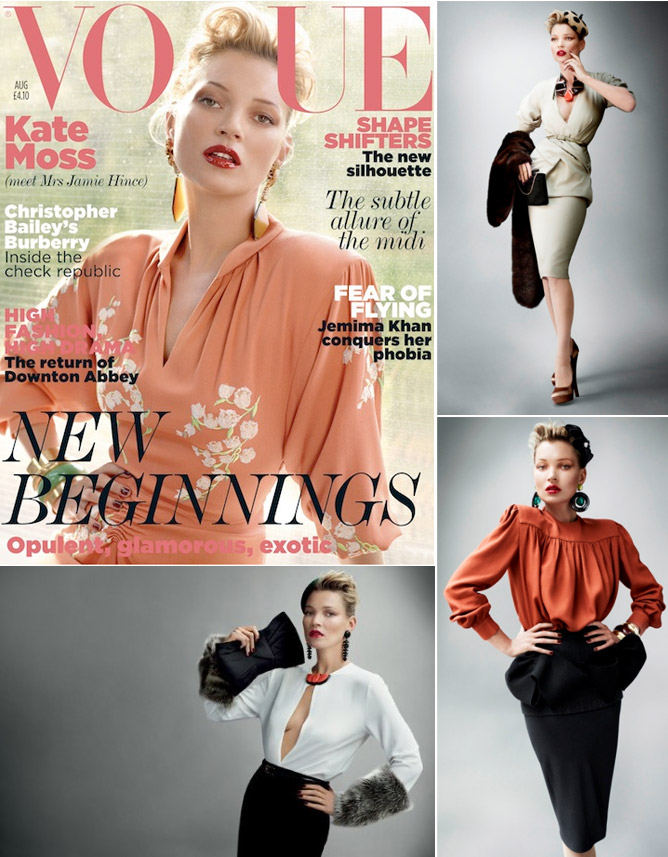 LOVE, LOVE, LOVE the whimsically romantic nostalgia of the 1940's trend. I am ready to do my hair in pin curls and wear red lipstick day & night!
Will you embrace the timeless chic of the 1940's for Fall? xx
Photos from style.com / vogue.co.uk / google images
The Power Of A Spectacular Hat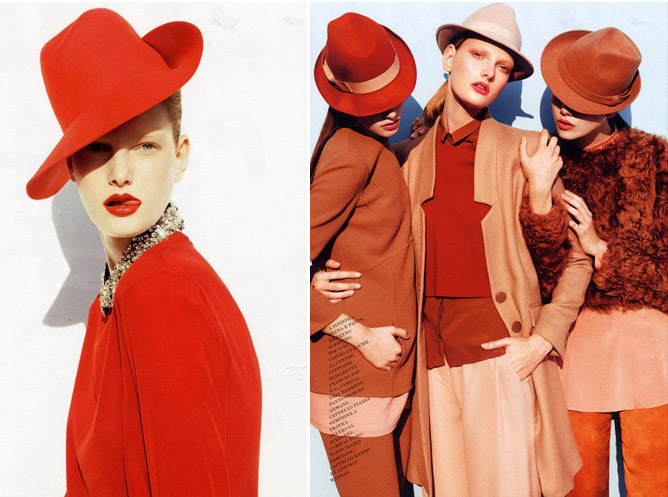 Not enough people wear hats. It's a bold statement, but I'm willing to make it. A magnificent hat has the power to command an outfit; instantly portray your style; captivate a room. A spectacular hat can transcend a fashion moment.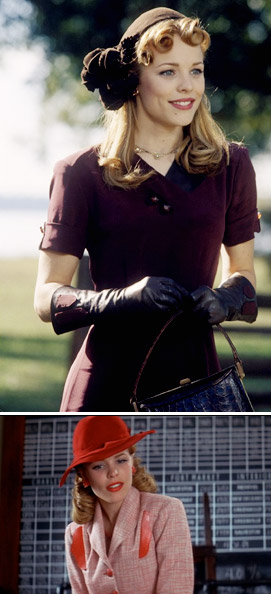 'If you want to get ahead and get noticed, then get a hat' – in years gone by, the hat was an essential item in every wardrobe.  It was even considered a disgraceful act if you left home without one. The etiquette was the same across all class levels – you simply must wear a hat. Today however, the dedication to this stylish accessory seems to have been lost in translation.
Hats can still be the de rigueur for all occasions. Next time you are dressing for an event think of the scene stealing headpiece Kate Winslet wears in Titanic or Rachel McAdams' embellished beret from The Notebook. Make an iconic statement.
A hat instantly draws attention to your face – it is the most noticeable accessory you can wear.
When choosing your own spectacular hat, be sure to reflect on the style, colour and shape. Consider the type of look you want to achieve and your wardrobe choices that will be accompanying it. A hat will balance out your look, so be sure to place careful consideration on proportion; i.e. don't let a hat wear you!
Below is an editorial for Flair, which celebrates a new season of darling headwear. Entitled Hide & Seek, this editorial displays just how a striking hat can transform a look.

What is your favourite 'statement making' accessory? xx
Photos from fashiongonerogue.com / imdb.com