In celebration of Easter Sunday, here is a fashion flashback to make you smile… the infamously adorable Louis Vuitton Bunny Ears! J'adore!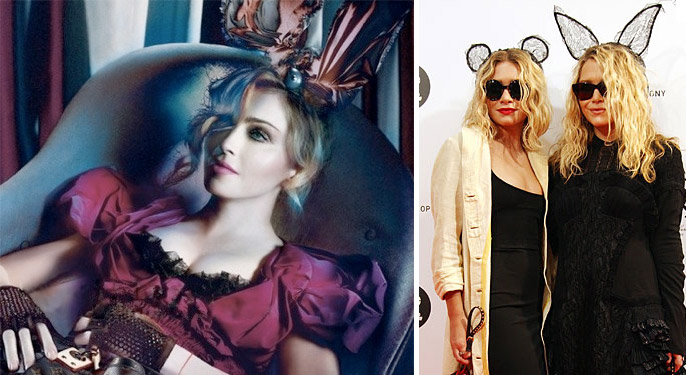 Fashion is meant to be fun & what says a 'hopping good time' better than bunny ears?
Take your look to new heights this Easter Sunday with a pair of bunny ears. Appearing on the Louis Vuitton Fall 2009 runway, Marc Jacobs' bunny ears became an accessories sensation.
Sweet, chic bunny ears topped heads with enviable panache. Show stylist Katie Grand was reportedly inspired by "a black doe rabbit in the pet shop on the corner". Created by Stephen Jones, the bunny ears brought a fresh frivolity to the catwalk. Of the ears, Marc Jacobs said: "I like the kind of Playboy, French coquette aspect to it."  For the Fall campaign, around 40 pairs of bunny ears were made in order to find the perfect shade for Madonna.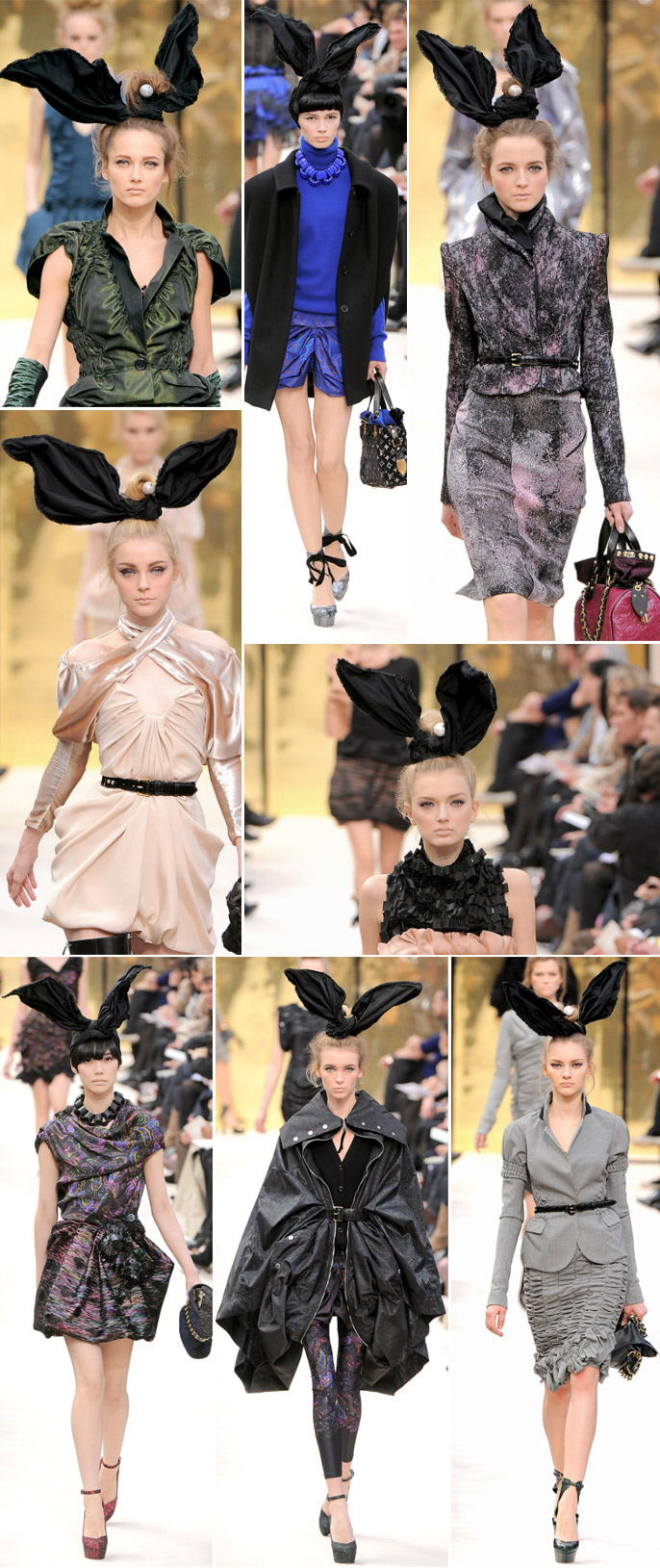 Will you wear your bunny ears today? Happy Easter Everyone! xx
photos from style.com / fabsugar.com.au / google images
Sleek, sophisticated and often times extraordinarily beautiful, the clutch handbag has become a wardrobe staple.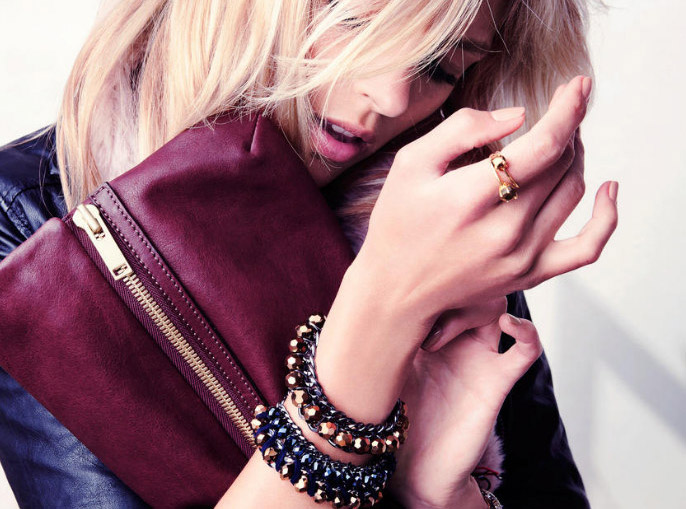 The clutch handbag has evolved. Your clutch can take you from work to weekend; the boardroom to the ball. There is now a clutch style and size to suit every need.
Typically the perfect choice for evening and formal occasions, clutch bags are now seeing the light of day.
Downsizing your handbag contents to fit within a clutch purse for day can be highly liberating. And it needn't be in classic black – from striking leopard print to vivid brights – choose your clutch to be bold, beguiling and beautiful.
Did you know… the idea behind the clutch bag originated during the Victorian era when women would carry a decorative purse for their handkerchiefs and smelling salts? The clutch reappeared during World War II when rationing demanded things become smaller and simpler. After the war the clutch jumped in popularity and became the evening bag of choice for elegant, modern women.
For colourful clutch inspiration Anja Rubik's recent campaign for Kurt Geiger is truly gorgeous….

Will you downsize your purse & embrace the day-time clutch? xx
Photos from fashiongonerogue.com
Mirror Mirror On The Wall, Who Is The Fairest Of Them All?
Sleek, shimmering Metallics…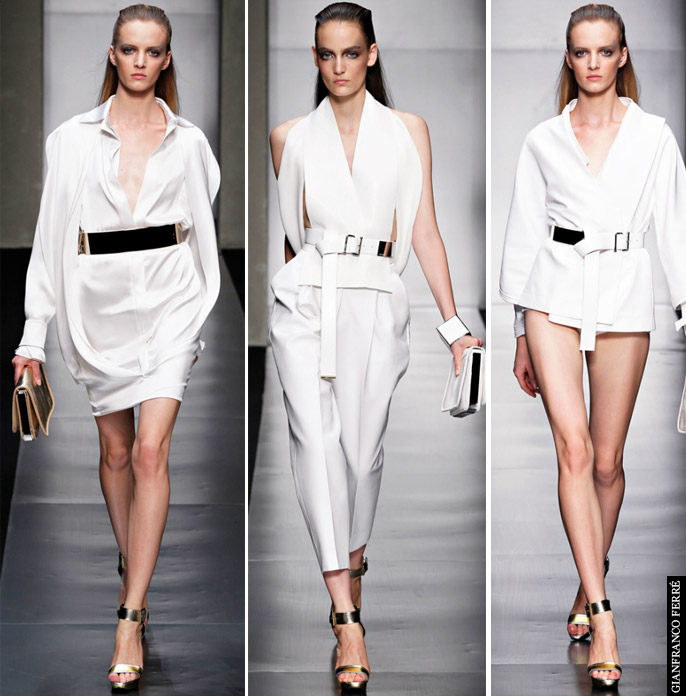 High shine meets irresistible polish, with metallic looks so chic they exude effortless shiny style
Sublime when paired with minimal, clean-cut pieces, metallics add a gorgeous gloss to your look. Across the Spring / Summer 2012 runways, designers dipped their pieces in glistening gold and silver adding a rich texture and shining optimism.  
Sleek Accessories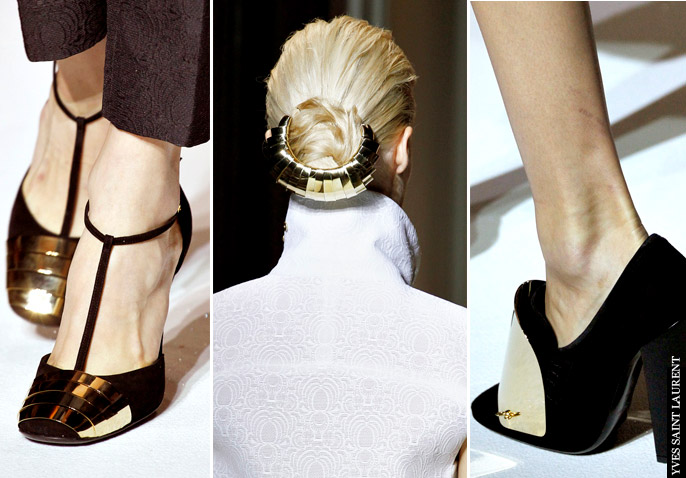 Metallic accessories pack a punch. Wear with a crisp white shirt dress (a la Gianfranco Ferré); soft neutrals; or bold brights for startling panache. Metallics are the perfect exclamation point in your look. At Gianfranco Ferré metallic handbags and belts were daring against clean white; while at Yves Saint Laurent metallic detailing screamed of opulent allure.
High Gloss Embellishment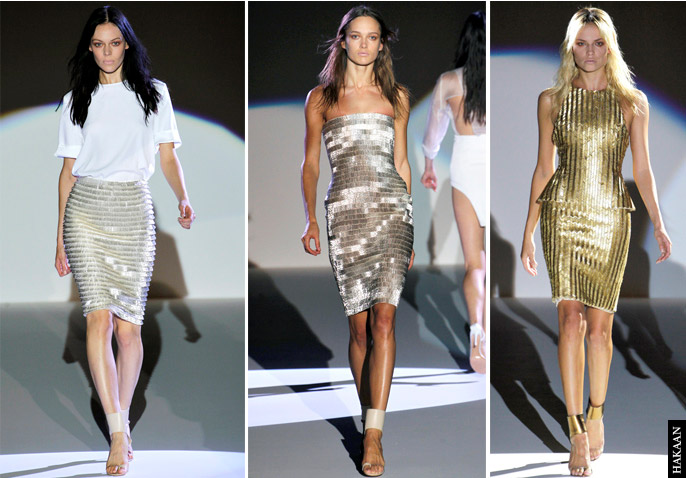 Head-to-toe shine stopped traffic at Hakaan and Gucci. Metallics added dazzling beauty and a modern edge to cocktail dresses and evening gowns. Pieces shimmered in 'Mermaid-esque' sequins for decedent dressing.  At Gucci art deco inspired embellishment was polished, glossy and chic; while at Hakaan the classic white tee brought a fresh simplicity to a sequined pencil skirt.
 
Conjuring images of fresh modern glamour, metallics are heavenly chic for Summer… xx
Photos from style.com