Frame your face with glistening gems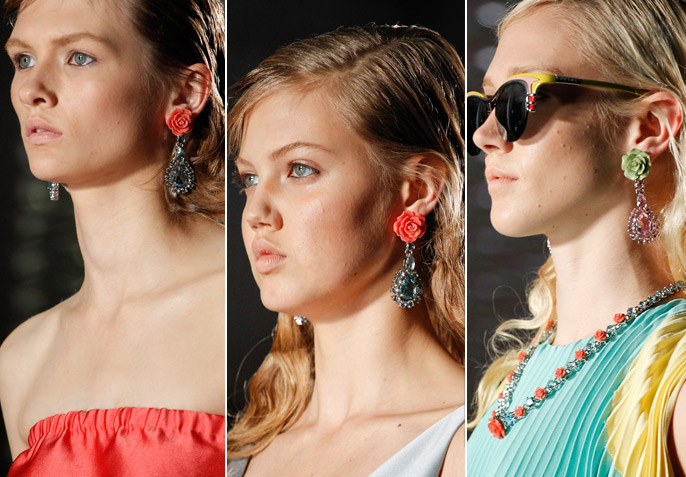 When updating your wardrobe for the new season, don't forget your jewellery box.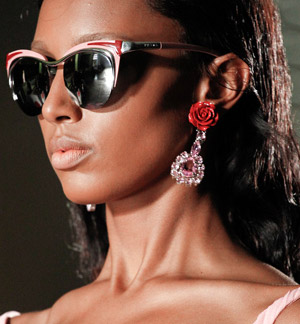 At the Prada Spring / Summer 2012 runway presentation, jewellery made as much a statement as the clothes. The earrings in particular were bold, charismatic and impossible to ignore.
Ornate antique inspired earrings, with sweet enamel flowers in bursts of pastel colours and tear drop precious gems, added an unexpected polish and drama to the collection.
Part Old-Hollywood glamour, part youthful sweetness; the Prada earrings are really quite breathtaking.
When wearing statement earrings, choose gem stones to compliment your outfit or be bold and embrace the unexpected. At Prada, for example, coral flower earrings with blue precious gems were worn with a light blue gown; while green and pink earrings where worn with a turquoise dress. Don't be afraid to break the rules…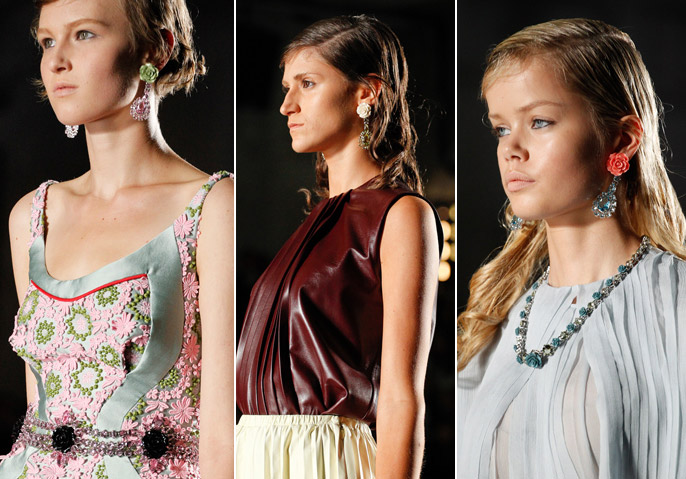 Will you embrace sparkling statement earrings? xx
Photos from style.com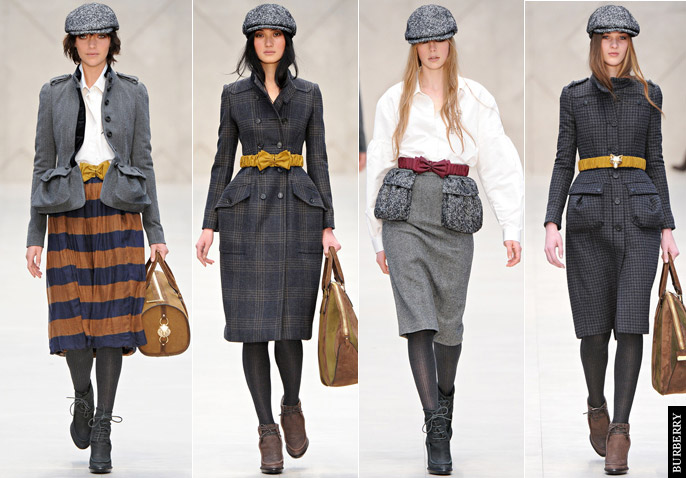 So far the runways have been topped with hats. From Ralph Lauren to Burberry, Rachel Zoe and more, it appears there will be a humble hat to suit every head for Fall.
The old adage: 'If you want to get ahead and get noticed, then get a hat' will certainly come into play for Fall. As the most eye-catching accessory you can wear, a hat instantly draws attention to your face.
At Ralph Lauren the collection took inspiration from Downton Abbey and featured glamorous 1920's accents. Classic cloche hats were the perfect exclamation points to iconic boy-for-girl suits (a la Coco Chanel). Meanwhile at Burberry, heritage herringbone and tweed hats echoed the 1930's / 40's English 'Town and Fields' inspiration.  While at Rachel Zoe it was the late 60's which inspired various chic hat styles to appear on the Runway.
With vintage accents, a hat is a stylish & warm way to make an iconic statement for Fall…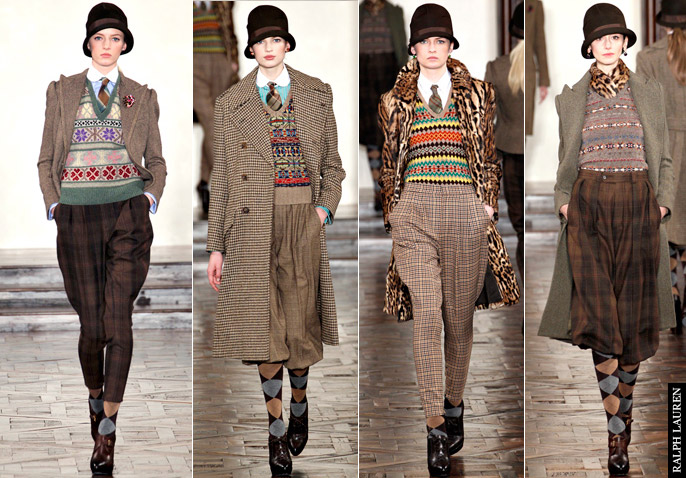 Which is your favourite hat style?
Photos from style.com
Easily one of the most popular hair styles of all time, the classic bob received a makeover at the Rodarte Fall 2012 runway presentation. Each model appeared with a sweetly tousled bob on the runway…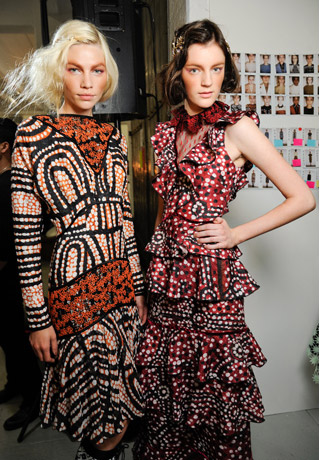 Citing the Australian outback as their inspiration, Rodarte's signature whimsical aesthetic was brought to life in a luxe colour palette of nude, marmalade and burgundy.
Taking a cue from the 1940's, both in silhouette and styling, the model's hair was swept up to just in-line with their chin.
Framing the face in soft waves, the bob is a timeless look that exudes elegance, sophistication and youthful frivolity.
To create the faux bob: the hair was first braided and tucked underneath, before the right side was set in waves using a three barrel or one-inch iron. The bend was then pinned with a hair comb.
Another hair highlight: the beautiful gold falling star accessories. Star brooches were buried in the models' slightly disheveled hair, radiating beautiful feminie loveliness. The heavenly star combs also brought an edge to the collection with the unpolished metal adding subtle strength.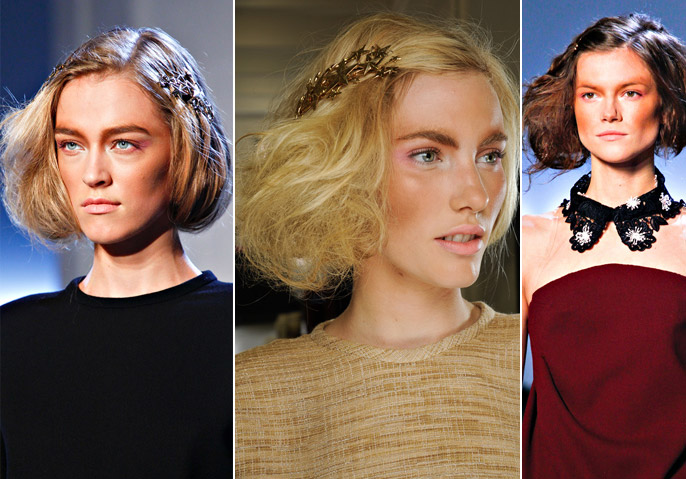 And the Shoes…
Also striking at Rodarte, the debut of their in-house shoe collection. After several seasons of collaborating with key shoe designers, from Nicholas Kirkwood to Christian Louboutin, the Mulleavy sisters' shoe designs hit the runway.
The ladylike round-toe heels, featured two-tone metal; buckles; straps; and even sand! The heels were each subtlety unique and were made of plexiglass or filled with sand (below left) for a distinct take on the 'Australian Outback'.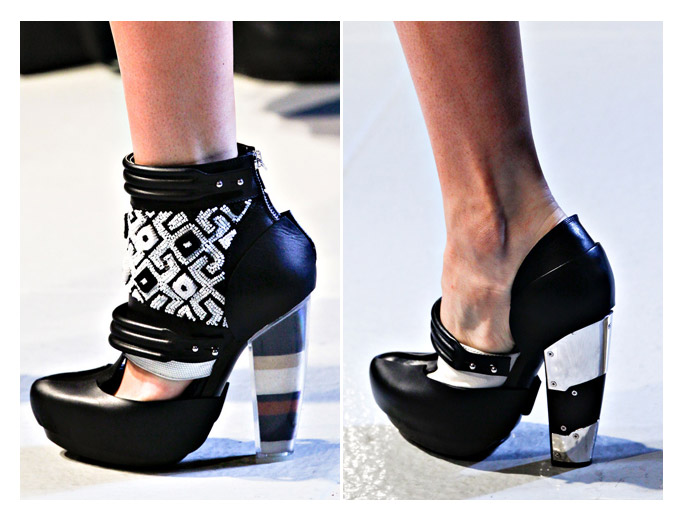 Photos from style.com