The humble all-in-one has become a highly glamorous red carpet staple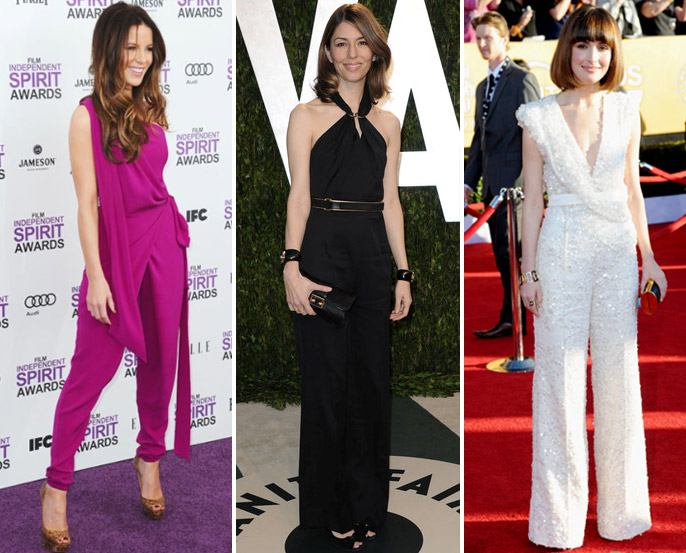 Worthy of a Studio 54 moment, a killer jumpsuit is a sleek, sexy and sophisticated alternative to the conventional cocktail dress or gown.
When Rose Byrne arrived at the 2012 SAG Awards wearing a bold, embellished cream Elie Saab jumpsuit, jaws dropped. Covered in exquisite sparkling crystals and sequins, the jumpsuit was a flattering, feminine and potentially risky choice for such a glamorous red carpet occasion. Yet Byrne looked the epitome of elegance personified and appeared across numerous Best Dressed Lists from around the globe.
And she isn't the only one stepping out in style in an all-in-one! From Kate Beckinsale to Gwyneth Paltrow and Sofia Coppola – the chic jumpsuit is a favourite amongst many modern day style icons.
Pulled in at the waist and with long elegant lines elongating the legs; a jumpsuit can be ultra-flattering to the figure.
Be bold when it comes to colour! A pop of colour à la Kate Beckinsale's fuchsia jumpsuit is simply breathtaking. While a tuxedo inspired all-in-one (see Gwyneth Paltrow) is undeniably chic…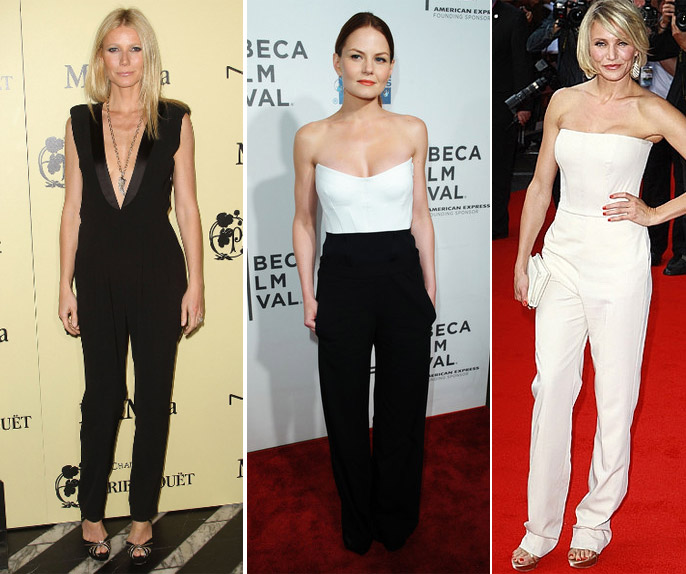 Will you jump into a jumpsuit? xx
Photos from nubry.com / flashion-lights.com / huffingtonpost.com / posh24.com / stylebistro.com
Daddy, I Want A Pony!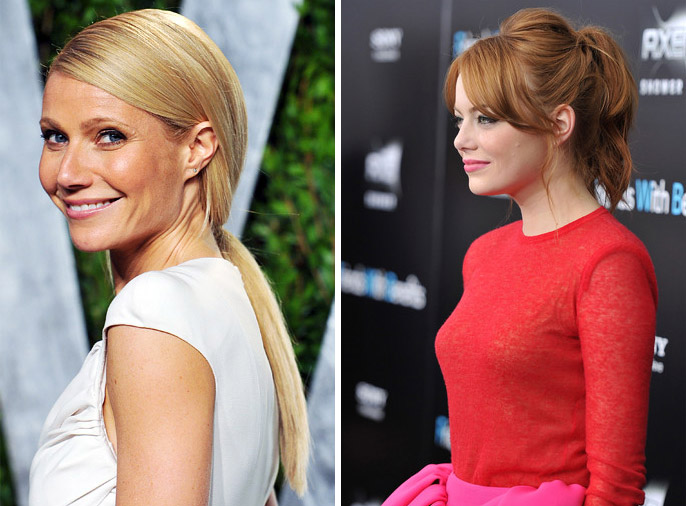 Long, lean and effortlessly chic – the Ponytail is a hairstyle classic…
Not just for working out at the gym or troublesome hair days – the ponytail is sleek, sophisticated and perfect for understated elegance.
From the fresh evanescent beauty of Emma Stone to the edgy yet exquisitely elegant Diane Kruger, the ponytail is a false safe look whatever your style. Wear it sleek and straight or loose and romantic; high on your head or lower at your neck – whichever takes your fancy.
To achieve a lustrously sleek ponytail: after washing and conditioning your hair, blow dry and straighten with your ghd. Secure your hair in a high ponytail position with a hair elastic. The sparingly smooth some hair product to keep your hair shiny and eliminate frizz. And you are done and ready to look immaculately polished!
Pulling your hair out of your eyes and away from your neck; a ponytail frames your face and draws attention to your gorgeous features.
Ponytail Inspiration…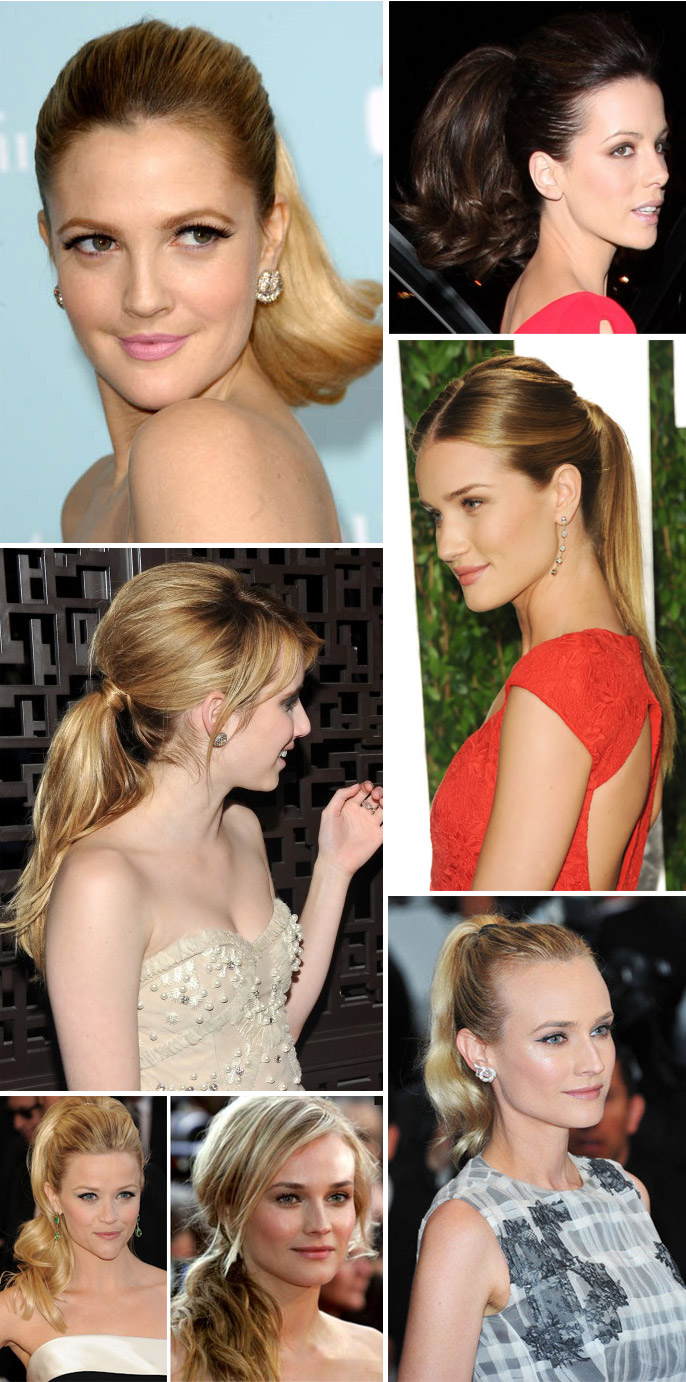 Will you be wearing the classic Ponytail? xx
Photos from rendzystreet.com / thestylepa.com / fashionscanner.onsugar.com / usmagazine.com / glamour.com / hairstylestalk.com / celebsfashionising.blogspot.com.au
Blaze a trail in a softly tailored blazer worthy of any best dressed list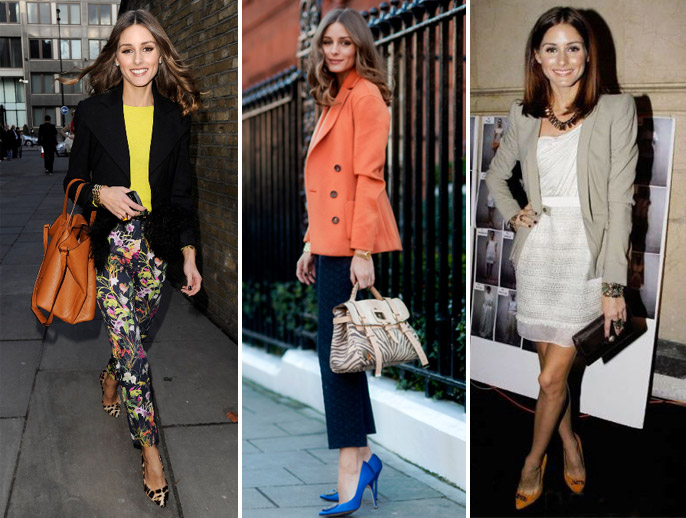 Coveted by modern-day style icons from Olivia Palermo to Kirsten Dunst, Rachel Bilson to Elizabeth Olsen, a softly tailored blazer is a must-have piece in your wardrobe.
Feminine yet powerful; soft yet structured – the perfect blazer is a style aficionado. From boardroom chic to weekend casual, it can effortlessly give your look a polished, sharp edge.
And your blazer needn't be black! Give your look a burst of colour in vivid orange or sunshine yellow. Olivia Palermo's orange blazer is the perfect finishing touch to her impeccable style; while Kirsten Dunst's yellow Stella McCartney look is simply ravishing. Cream, white or pastel blazers are equally enchanting and perfect for trans-seasonal dressing.
Flattering, sexy and timelessly chic, a softly tailored blazer emphasises clean lines and refined yet delicate cuts.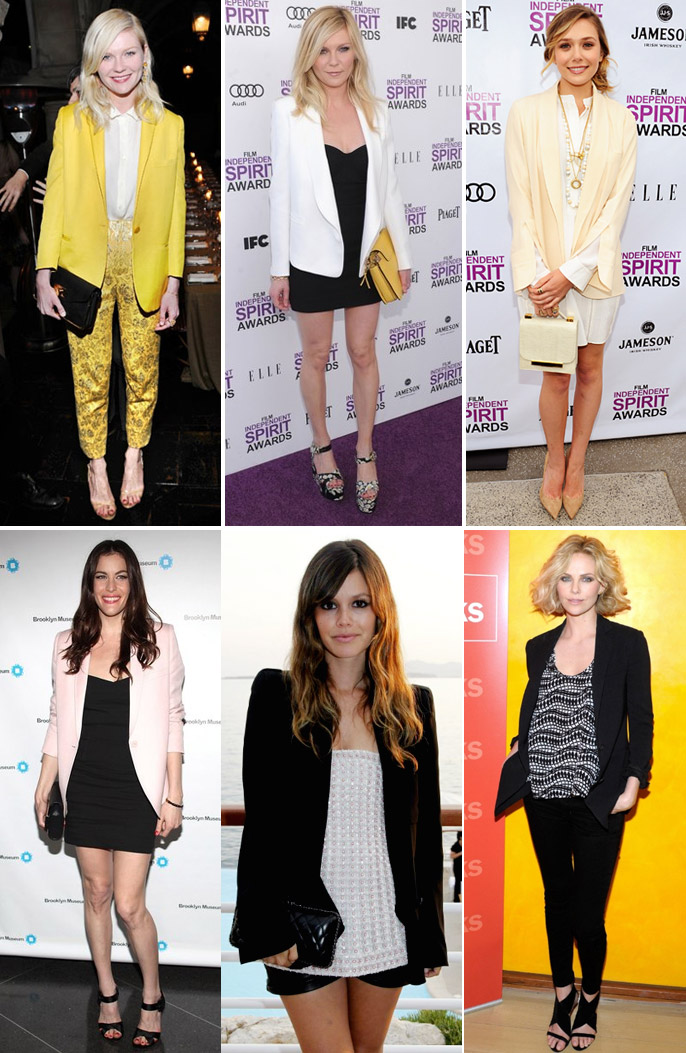 Happy Weekend! xx
Photos from stylebakery.com / beingbrazen.com / posh24.com / bussbuss.com / coolspotters.com / hollywoodpix.net / instyle.com / stylishstarlets.blogspot.com.au