Indulge in a delicious scoop of weekday ice-cream sundae…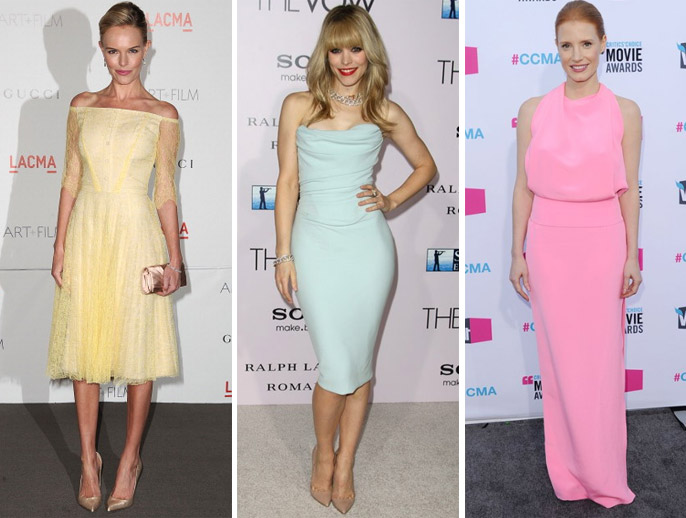 Sweeter than sweet pastels are creating a sugar rush. No melancholy toffees or chocolate drops here – delight in sherbet lemon, crisp mint and pink fairy floss for a true dessert feast.
Deliciously decedent and sweetly inspired – this trend is all about the burst of colour. Keep your silhouette streamlined and simple for classic chic. On the red carpet, accessories have been kept to a minimum for a pure high octane sugar high.
To add a sultry appeal to these heavenly looks, be inspired by Rachel McAdams in her baby blue Vivienne Westwood cocktail dress (pictured above centred). A sultry smokey eye; luscious red pout; a non-fuss hair – are effortlessly chic and sophisticatedly sexy; adding the va-va-voom to pastel hues.
Heaven sent and perfectly pretty, pastels will brighten your complexion, your mood and your day…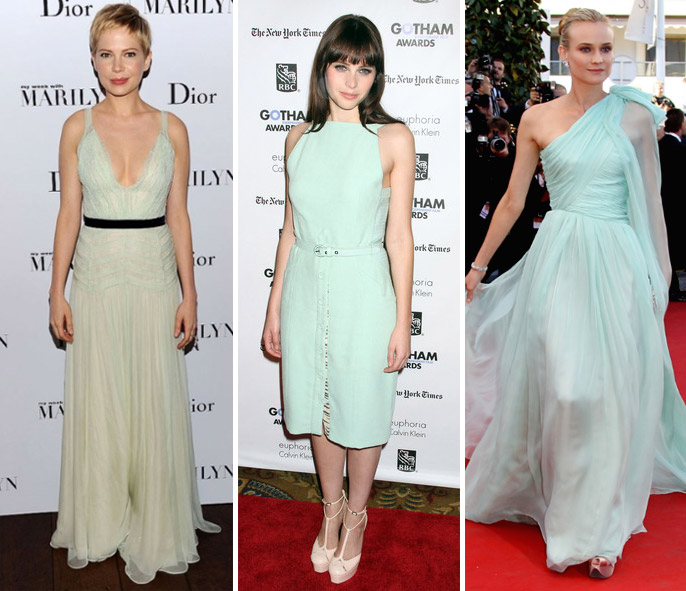 Would you indulge in this sweet-tooth trend? xx
– – – – – – – – – – – – – – – – – – – – – – – – – – – – – – – – – – – – – – – – – – – – –
Labels: Kate Bosworth in Erdem; Rachel McAdams in Vivienne Westwood; Michelle Williams in Christian Dior; Felicity Jones in Proenza Schouler; Jessica Chastain in Balenciaga
Photos from
A chic clutch is the new 'must-read' accessory. What a novel idea!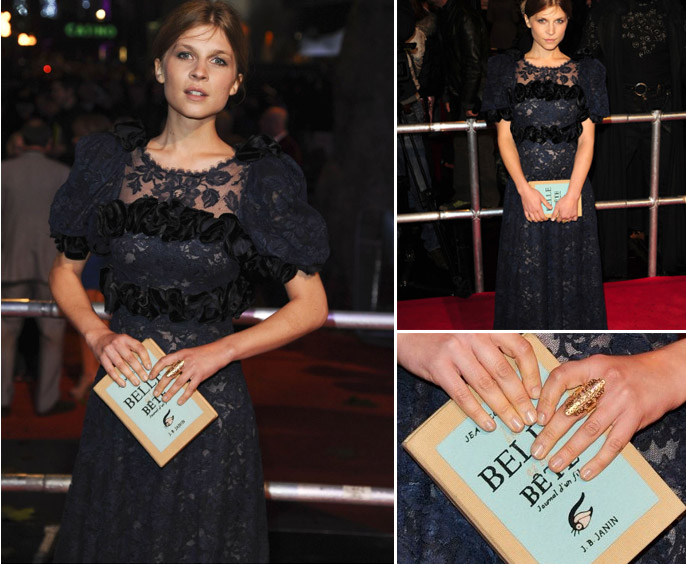 Held by highly fashionable lovelies Clémence Poésy, Michelle Williams, Tilda Swinton, Natalie Portman and more; the novel clutch is a truly charming accessory.
Bookworms unite! This bookish trend evokes a chic, polished and insolent nonchalance. Perfect for the red carpet (or everyday… if I got my little mitts on one!), a novel clutch is a perfect celebration of classic literature, fashion and the timeless clutch.
From Olympia Le-Tan's novel creations (seen on the arm of Poésy, Williams, Swinton and Portman) to Kate Spade's vivid book brilliance – you are certain to find the perfect story to compliment your style. From 'Romeo and Juliet' to 'The Catcher In The Rye'; 'Love Story'; 'Emma'; 'The Importance Of Being Earnest' and so many more; wear your favourite heroines on your sleeve and showcase your love of the classics.
Wonderfully whimsical, quirky and fun – novel clutches are très chic!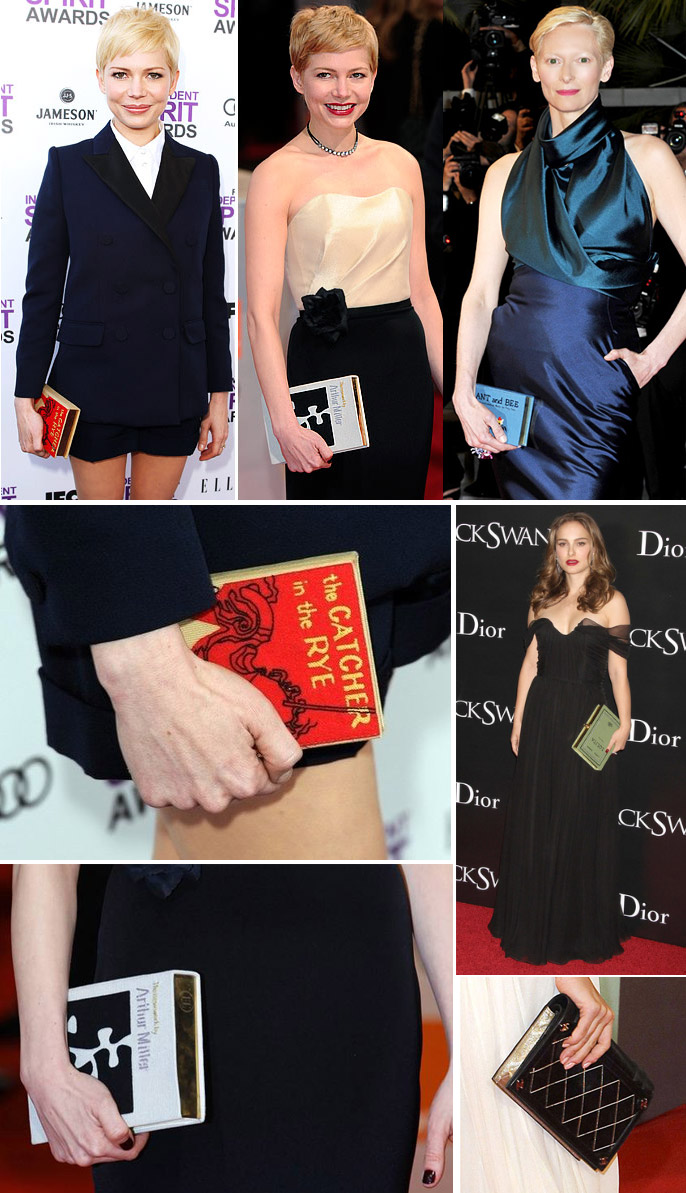 Would you tote a clutch of your favourite novel? xx
Photos from usmagazine.com / fashionscanner.onsugar.com / hersmagz.com / bohochloe.blogspot.com.au / thestyleagenda.com / redcarpet-fashionawards.com
The little black dress (or LBD) never goes out of style. Instead it consistently reinvents itself in fresh, unexpected and fabulous ways.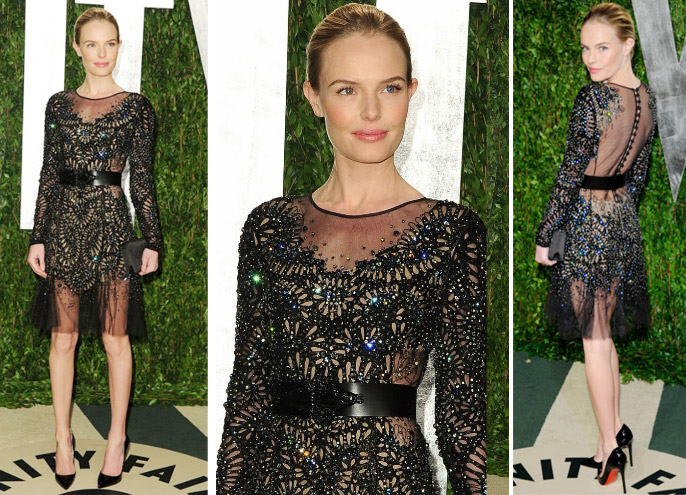 Peek-A-Boo sheer panelling is putting the va-va-voom back into this iconic fashion piece.
Sheer panels add a sexy, unexpected glimpse of skin beneath your little black dress – perfect for high octane evening glamour.  Worn by many of Hollywood's most stylish, sheer layers add a sweet whimsy and polished yet sultry sophistication to your look.
From Emma Stone to Kate Bosworth, Elizabeth Olsen to Ginnifer Goodwin; tulle, organza and chiffon have become the LBD's beautiful new best friends.
Whether you choose a short cocktail dress or long evening gown, designers have effortlessly worked sheer panels into little black dress perfection. In the case of Kate Bosworth's little Prabal Gurung number (pictured above), sheer fabric adds an understated elegance and modesty to this embellished mini dress. While for Emma Stone in Chanel (pictured right), see-through panels brought a youthful vitality and frivolity to the strong structured silhouette.  
'Sheer genius' inspiration from the Red Carpet…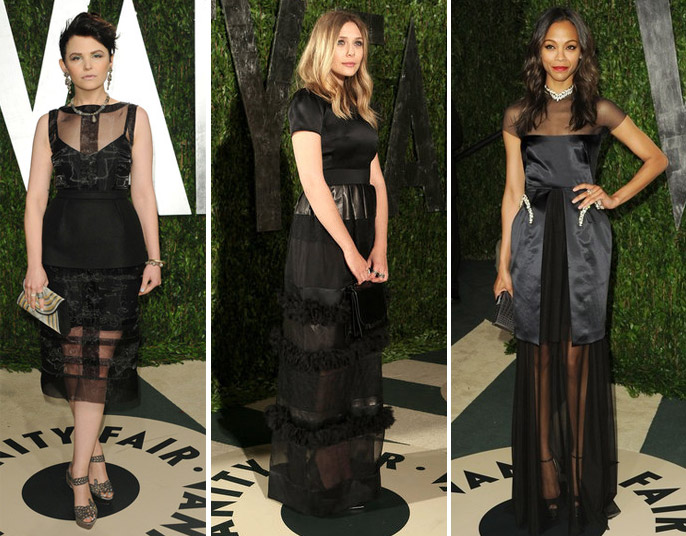 Would you embrace a little black dress with sheer detailing? xx
Kate Bosworth in Prabal Gurung; Emma Stone in Chanel; Ginnifer Goodwin in Peter Som; Elizabeth Olsen in Christian Dior; Zoe Saldana in Marios Schwab
Photos from instyle.co.uk / theflossylife.com / gossiprocks.com / runningwithheels.com / stylebistro.com