Wanting to reinvigorate your style for 2012? Look no further than crisp, clean white for a fresh fashion start.
Elegant, sophisticated and seductively sweet, white can take you from the boardroom to the ballroom with effortless stylish panache. From a classic shirt to a little cocktail dress; white ignites a pure luxe minimalism.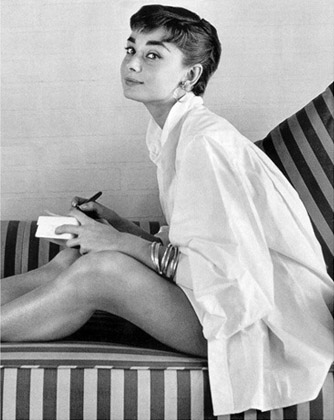 Classic White Shirt
Worn by style icons for the past several decades, the white shirt exudes unmistakable polished chic. A favourite amongst Audrey Hepburn, Marilyn Monroe, Brigitte Bardot and others, the perfect white shirt is a must in every wardrobe. Wear over jeans, tucked into a pencil skirt or with a blazer – the opportunities are endless. For Inspiration: look no further than Audrey Hepburn's adorably nonchalant white shirt style.
The Little White Dress
For a fantastic alternative to the 'little black dress'; cleanse the palette and breathe some fresh air into your wardrobe with white. From delicate white lace to darling embellishment – the little white dress can be quite simply breathtaking. It's seductive yet irresistibly sweet. For the exquisite allure of the little white dress, see Louis Vuitton's Spring / Summer 2012… j'adore!
Why not start the New Year off with some luxe fashion optimism? Will you incorporate white into your wardrobe? xx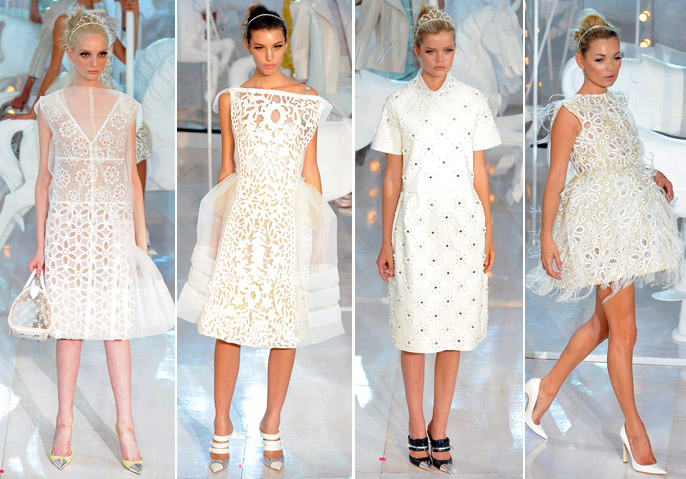 Photos from style.com
Global Traveller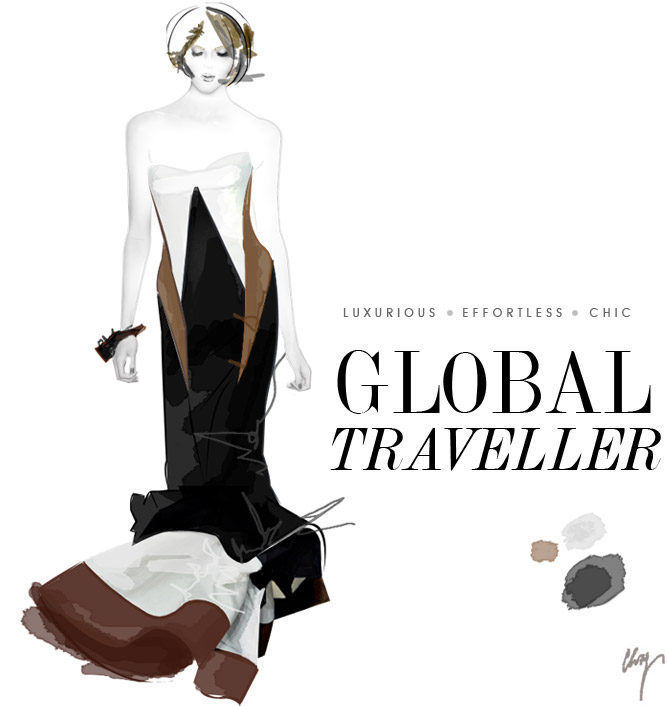 Take A Walk On The Wild Side
Designers felt the call of the wild for Spring / Summer 2012. Drawn to exotic tribal prints, vibrant contrasting colours and relaxed sportswear silhouettes – the global traveller look is perfect for exploring an uncharted destination or looking immaculately chic in your day to day world.  
From creamy khakis to luxe safari green, the intrepid traveller look exudes effortless, laid-back cool. An exotic colour palette – of saffron, mustard and red, amongst others – enriches the simple silhouettes and spices up neutral shades. Michael Kors, Donna Karan, Burberry, Proenza Schouler, Marni, Missoni and Giambatti Valli all explored this bewitching trend. At Donna Karan, models faced an urban jungle in a collection described as 'two worlds come together.'  Spending time in Haiti, Karan's bold, painterly brushstroke prints were inspired by the work of the Haitian artist, Philippe Dodar. Sleek, sensual and explosive, the collection was the perfect amalgamation of urban, tribal & lady-like polish. Oversized wooden bangles added the sweetest finishing touch.
For my favourite interpretation of  the 'Global Traveller' look: choose a relaxed fit khaki shirt and wear tucked into a tribal print skirt that sits at the waist.
Embrace a global culture – vibrant, fun and filled with adventure…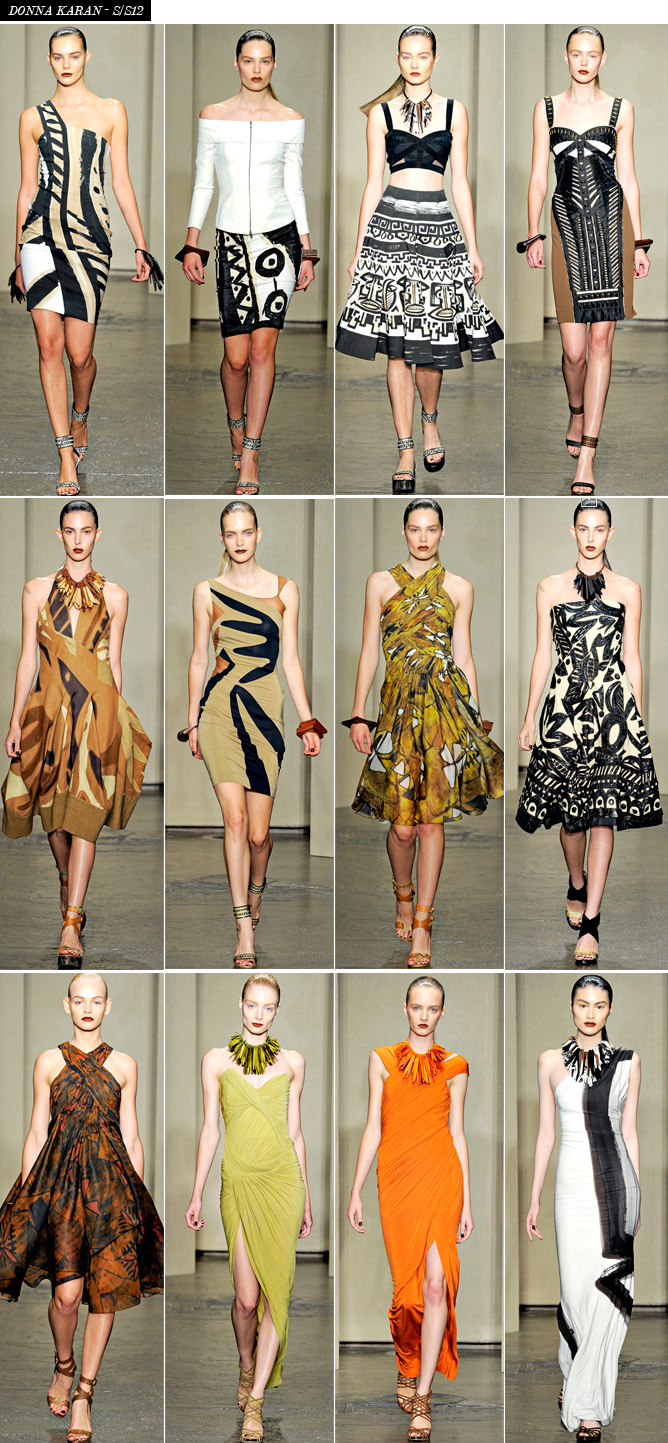 Will you be on the hunt for tribal inspired creations? xx
Photos from style.com
I Want Candy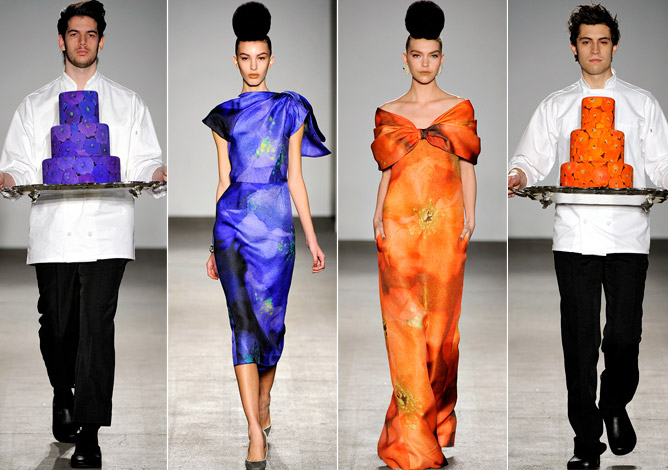 Indulge your senses with sweet confectionary inspired delights.
From soft sherbet shades to bonbon brights; recent collections took a turn on the sweeter side.
At Stella McCartney's resort launch, models played croquet alongside lollipop wagons. While at Isaac Mizrahi's Autumn / Winter collection waiters carried brightly decorated cakes inspired by the delectable gowns on the runway.
From cream puff skirts and candy stripe cocktail dresses, this trend evokes an airy Marie-Antoinette-like indulgence.  For a lighter take on this sugary palette, take arm candy to new heights. Kate Spade's deliciously playful 'Cha Cha Chocolate' clutches = chocolat perfection (pictured right)!
Opulent, whimsical and delectably lovely, what better way to indulge in a concoction of lavish desserts?
Bon Appétit!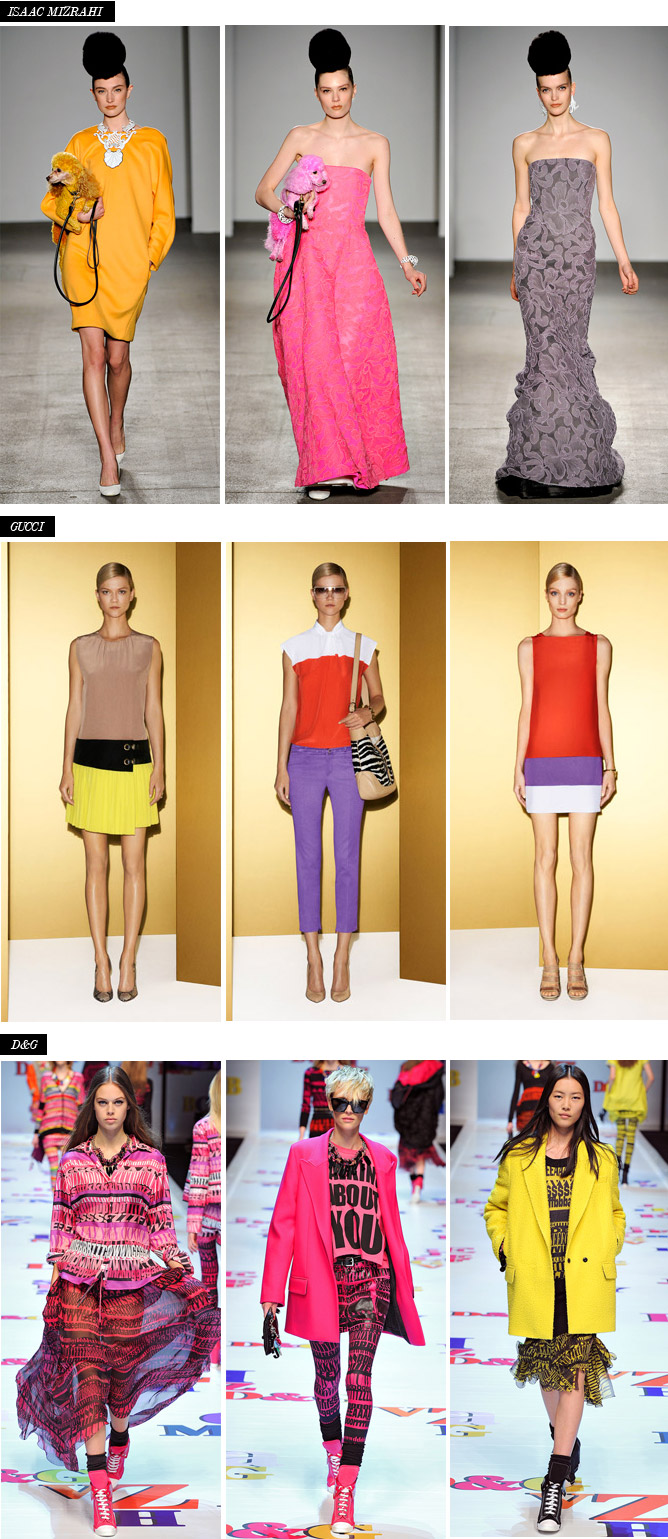 Will you indulge in this sweeter way of dressing?
Photos from style.com