Summer Brights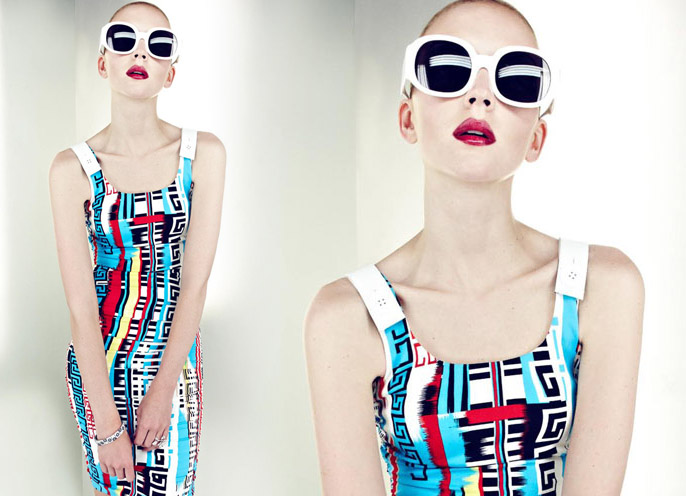 Make a bang this Summer – with cuts, colours & prints that burst with a bold statement…
From Versace to Christopher Kane –the stage is set for a spectacular assortment of looks simply too hot to handle!
Fashion is meant to be fun and what better season to embrace vibrant pieces than Summer. Dress with optimism for unmistakable extravagance…
Iconic Prints: Be Pattern Perfect
From those iconic Prada stripes to Versace's greek key pattern (pictured above) – prints turn the ordinary into the extraordinary. Conjuring images of timeless holiday dressing, prints demonstrate just how fun fashion can be. Embrace a floral fantasy; a classical Parisian inspired stripe; or delve into delicious fruit filled decadence.
Colour Me Happy: Be Colour Confident
The power of a magnificent hue can quite literally render you speechless. Just think of the extraordinary fluorescent lace at Christopher Kane; the high-impact red at Versace; or the jewel coloured hues at Gucci. Combine strong, clear colours for rich, covetable, opulent dressing. Two of the hottest shades right now: tangerine and cobalt blue.
Show A Little Skin: Be Cut Out Chic
Nothing says sexy quite like a cut-out – that glimpse of skin beneath a gorgeous dress. Mark Fast's crochet creations (pictured below) in acid yellow will unmistakably turn heads. For a slightly more conservative take (a la Chanel), choose high waisted shorts worn with a tailored shirt and waistcoat (pictured below).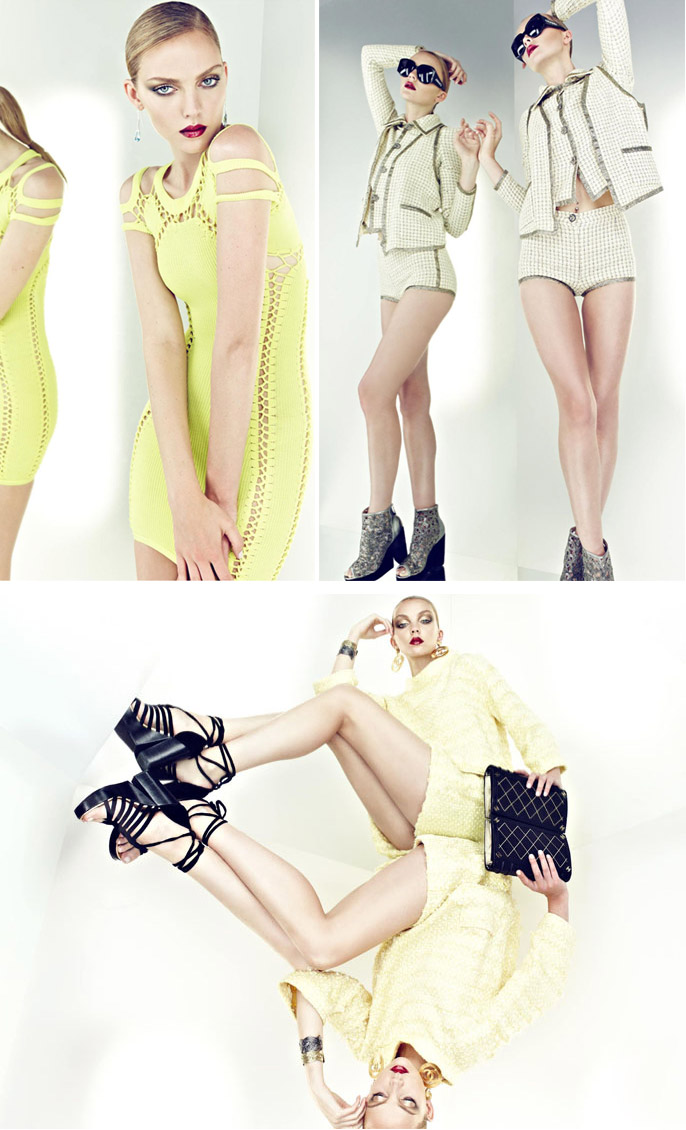 Courageous Dressing: Will you embrace fresh fashion optimism?
Photos from fashiongonerogue.com
July Inspiration…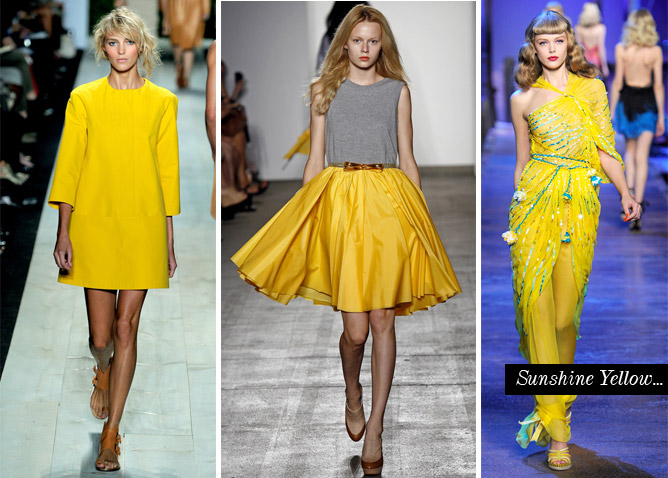 My quote of the month is from the darling iconic beauty Audrey Hepburn… "I believe in manicures. I believe in overdressing. I believe in primping at leisure and wearing lipstick. I believe in pink. I believe happy girls are the prettiest girls.  I believe that tomorrow is another day, and… I believe in miracles." 
I love the pure sweetness of Audrey Hepburn's overtly girly quote and I am determined to embrace her philosophy for July. This month I am all about 'beauty' and maintenance – my nails will always be perfectly manicured and I shall be wearing lipstick in an assortment of luscious shades every day. Overdressing is already a forte of mine; however, I am certain it can be taken to a new level for Audrey. Let the challenge begin (I cannot wait)!  
On another exciting note, Uptown Twirl will be turning one on July 10th! Celebrations will commence soon so be sure to watch this space!
In the meantime, here are some of the things that are inspiring me for July….

What are your July Inspirations? xx
Photos from style.com / cocokelley.blogspot.com / littlebitsoflovely.blogspot.com  / cocokelley.blogspot.com / google images
The Power Of Pink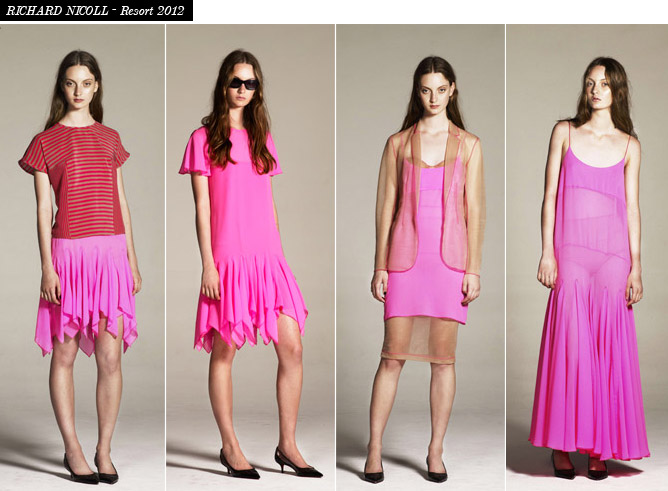 Across the Resort 2012 collections, pink was brightening the runway and bringing with it a breath of fresh fashion air.
From Michael Kors to Richard Nicoll (pictured above), pink is the go to colour for fun, feminine, frivolity this coming season.
If you haven't noticed, from the colours used on UptownTwirl.com, I am already a pink addict. And taking a closer look at the Resort 2012 collections has only reaffirmed my love of this invigorating, passionate colour.
Wear pinks across the colour palette from cotton candy to luscious watermelon. Whether you embrace precious pink from head to toe, a la Richard Nicoll style; work with a pretty tonal palette of pastel pinks, as seen at Bottega Veneta; or go bold in pink and black inspired by Michael Kors – a delightful shade of pink can be perfect for any occasion and on anybody.
Still not certain? You can always dip your toe into pink with separates. Pair pink separates with neutral shades – from white to grey or chocolate, for a classically chic look. The Chloé pink trousers worn with a crisp white shirt is simply too-die-for!  Do And don't forget, pink heels or a gorgeous pink handbag will also make an dynamic impact…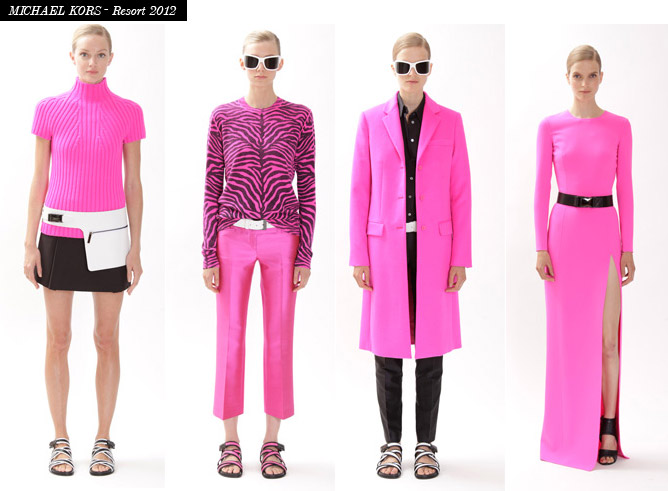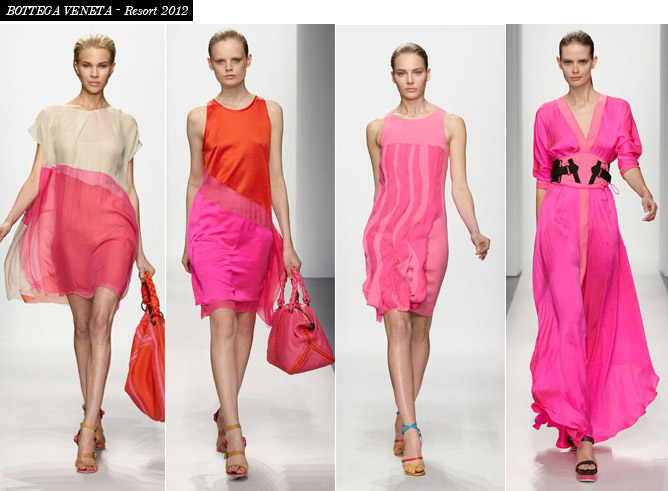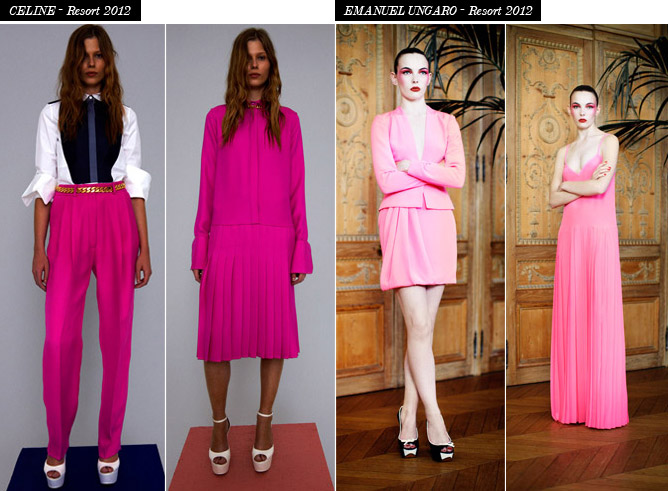 Will you adopt a 'think pink' attitude for your wardrobe? xx
Photos from style.com