Achieve iconic Old-Hollywood glamour with darling cat's eye sunglasses.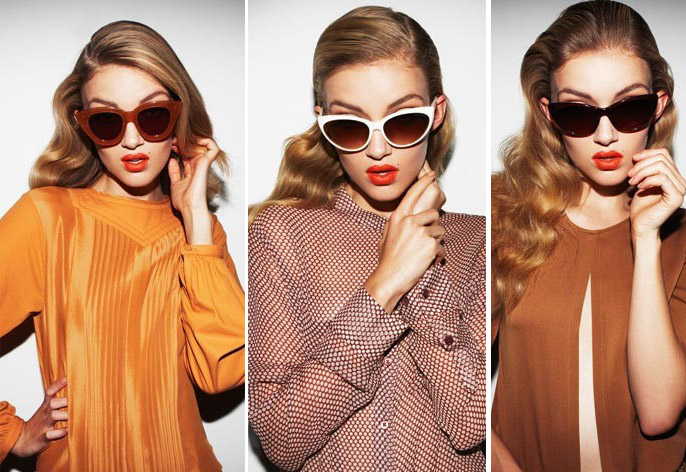 Make a statement and exude movie star appeal in an oversized pair of cat's eye lenses.
In romantic tortoise shell; iconic bold black; or fresh, chic white – the cat's eye frame is all about timeless style and nonchalant sophistication
Whether you are jet-setting off to a distant location or want to add a dash of intrigue to your style – sunglasses exude unmistakable allure and create a dash of drama (think the bigger the better).
Wear with romantic locks and luscious red lips for 50's bombshell perfection.
Loved by screen icons such as Marilyn Monroe, will your frames turn a little feline? xx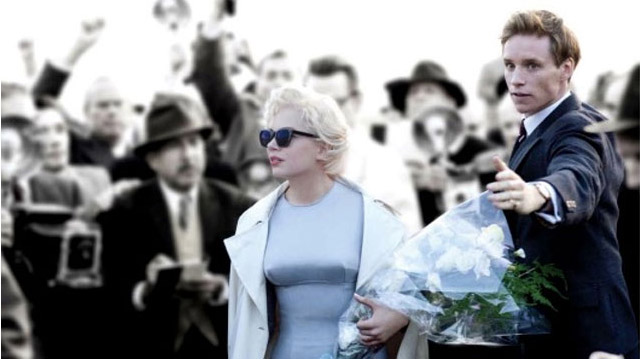 Photos from vogue.com.au / google images 
Drew Barrymore – A Style Evolution
From a 'little girl lost' to a best dressed favourite, Drew Barrymore has evolved into a modern day style icon.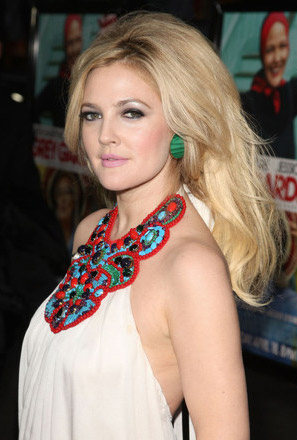 Exuding that enigmatic Old-Hollywood glamour with a pinch of the unexpected, Drew Barrymore is the Queen of Hollywood cool.
With tenacious optimism and unmistakable charisma, Barrymore has stolen the screen for nearly thirty-six years (she made her debut appearance at just 11months old). Today, she is equally at home capturing hearts with her distinct style on the red carpet.
With a love of vintage and retro-inspired pieces, Barrymore's style is often a throw-back to iconic Hollywood stars of the 40's and 50's. She has been likened to the glamorous Marilyn Monroe and her red carpet choices have helped cement her status as Hollywood Royalty.
And yet she isn't afraid to experiment (just think back to her vast array of hair styles over the years). "I am an old-school gal. I love to play with hair and make-up and clothes." – Drew Barrymore
Bold, glamorous and unmistakably joyous, Drew Barrymore's style is positively enchanting…

Editorials & Campaigns…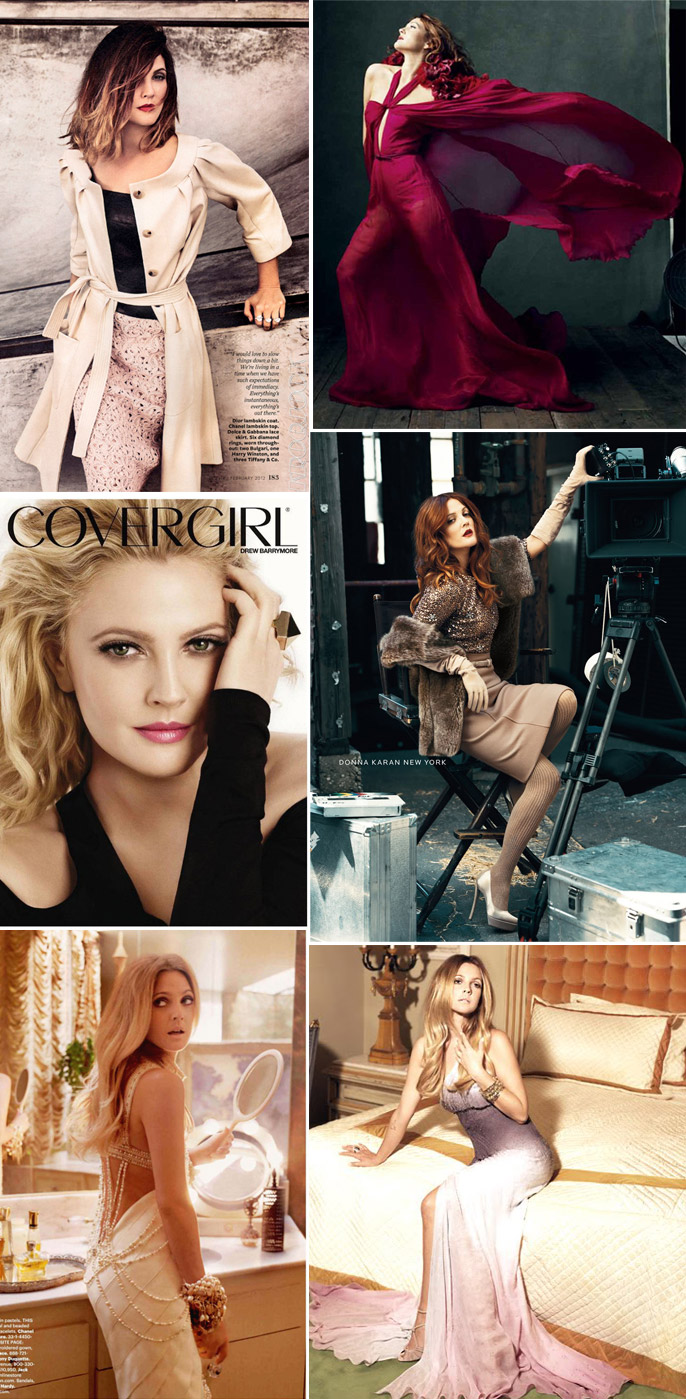 Who are your modern day style icons? xx
Photos from google images
Frame your face with glistening gems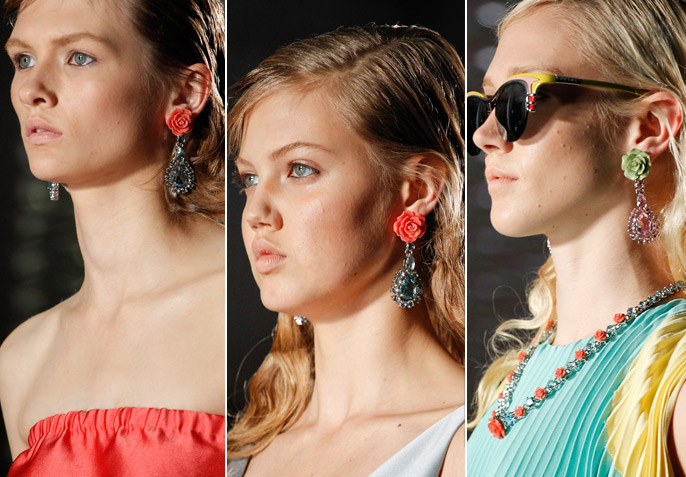 When updating your wardrobe for the new season, don't forget your jewellery box.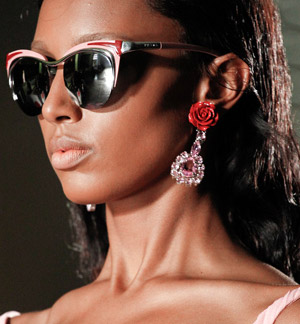 At the Prada Spring / Summer 2012 runway presentation, jewellery made as much a statement as the clothes. The earrings in particular were bold, charismatic and impossible to ignore.
Ornate antique inspired earrings, with sweet enamel flowers in bursts of pastel colours and tear drop precious gems, added an unexpected polish and drama to the collection.
Part Old-Hollywood glamour, part youthful sweetness; the Prada earrings are really quite breathtaking.
When wearing statement earrings, choose gem stones to compliment your outfit or be bold and embrace the unexpected. At Prada, for example, coral flower earrings with blue precious gems were worn with a light blue gown; while green and pink earrings where worn with a turquoise dress. Don't be afraid to break the rules…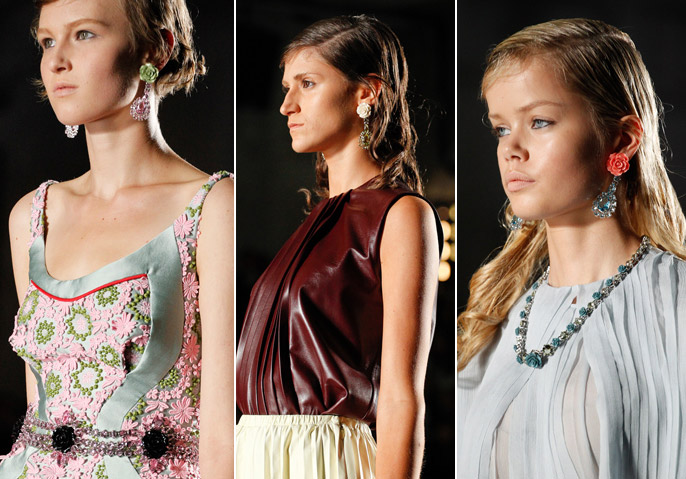 Will you embrace sparkling statement earrings? xx
Photos from style.com