Fabulous Fashion Shot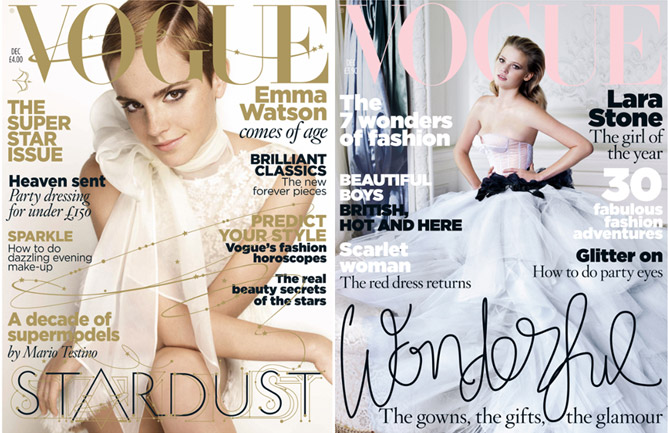 Mario Testino
On September 19th, Mario Testino will be presented with the inaugural Moët & Chandon Etoile Award. This award recognises an individual with exceptional talent with longstanding influence.
Of receiving the award, Testino has said: "For me, Moët & Chandon represents excellence and luxury and for this reason I feel very honoured to be the first person receiving the Etoile award, in this my 30th year as a photographer, and I thank them for it."
Mario Testino has become one of the world's most well known and celebrated fashion photographers. As well as having published seven books of his work, Testino has had many successful exhibitions in galleries around the world. He has shot fashion stories, covers and campaigns for; Vogue, Vanity Fair, V, Gucci, Tom Ford, Burberry, Michael Kors, Dolce & Gabbana, Valentino, Versace and Estée Lauder, amongst others. Testino's subjects have ranged from Diana, Princess of Wales to Claudia Schiffer and Kate Moss; from Julia Roberts to Madonna, Lady Gaga and Emma Watson. And this month he landed three International Vogue covers for their exclusive September issues – US, UK and Paris. An extraordinary talent, an amazing photographer and visionary…
A selection of Mario Testino's Vogue covers

Your Daily Fashion Scoop
Celebrate Friday with some delicious scoops of Fashion News…
2nd Sneak Peek –
Lanvin For H&M
The first look from the Lanvin for H&M collaboration was released just the other day and now the second image has surfaced (pictured above). In gorgeous floral prints and delicious shades, these dresses are simply darling! I know which dress I will be after on November 23rd – Natasha Poly's pink floral frock!
Victoria's Secret 
2010 Fantasy Bra
Victoria's Secret Angel, Adriana Lima, wore the 2010 Victoria's Secret Fantasy Bra down the pink carpet in New York City. Worth $2 million, the Fantasy Bra consists of 3,000 jewels.  That's 142 carats of white diamonds, topazes and sapphires. It needed six craftsmen to complete the piece over a period of 1,500 hours. The spectacular bra will make an appearance at the Victoria's Secret Fashion Show on November 10th. 29-year-old Lima said of Victoria's Secret Fantasy Bra, "It's really a work of art. I love diamonds – they're always a girl's best friend!".  This year a recession-friendly crystal version of bra will also be available to buy in stores for $250, leading up to Christmas.
Ugg & Jimmy Choo
Jimmy Choo has created a special capsule collection with Ugg Australia. Striving to capture the best of both brands – the comfort of Ugg and the spirit of Jimmy Choo – the limited edition collection turns the functional Ugg boots into works of art. Meanwhile this week, Jimmy Choo President and Co-Founder, Tamara Mellon, received an OBE for her services to the Fashion industry.
Victoria Beckham's Twitter Advertising Finesse
What better way to advertise her new range of sunglasses then by modelling them on her gorgeous husband, Mr. David Beckham? Well there is no better way! Mr. Beckham wears the Classic Aviator in the 'Sky' colourway. Mrs. Beckham also urged her followers to sign-up now for a pair from her new collection, tweeting: 'Get on the waiting list at Harvey Nicks! New #victoriaBeckham glasses drop at the end of Nov!'
Calvin Klein Ads Banned in Australia
The Calvin Klein Jeans Campaign, starring Lara Stone, has been banned in Australia. The photographic and video content was deemed inappropriate – glamorising gang rape and violence towards women. What do you think of the Campaign? Do you find it inappropriate or High-Fashion Edge? 
Photo1 from jimmychoo.com | Photo 2 from dailymail.co.uk | Photo 3 from fashionising.com
Friday Inspiration…
If you are like me and the idea of doing laundry leaves you cold, then take some inspiration from the stunning Lily Donaldson, Gemma Ward and Caroline Trentini. Taken by Steven Meisel and originally published in Vogue US December 2005 issue, these shots turn the seemingly mundane task of washing into a ball gown affair…xx