Wanting to reinvigorate your style for 2012? Look no further than crisp, clean white for a fresh fashion start.
Elegant, sophisticated and seductively sweet, white can take you from the boardroom to the ballroom with effortless stylish panache. From a classic shirt to a little cocktail dress; white ignites a pure luxe minimalism.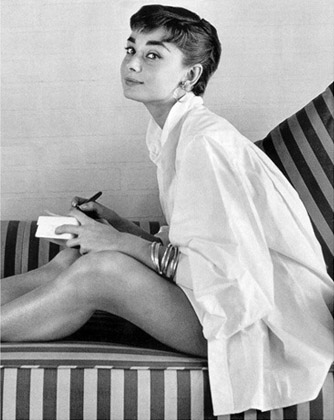 Classic White Shirt
Worn by style icons for the past several decades, the white shirt exudes unmistakable polished chic. A favourite amongst Audrey Hepburn, Marilyn Monroe, Brigitte Bardot and others, the perfect white shirt is a must in every wardrobe. Wear over jeans, tucked into a pencil skirt or with a blazer – the opportunities are endless. For Inspiration: look no further than Audrey Hepburn's adorably nonchalant white shirt style.
The Little White Dress
For a fantastic alternative to the 'little black dress'; cleanse the palette and breathe some fresh air into your wardrobe with white. From delicate white lace to darling embellishment – the little white dress can be quite simply breathtaking. It's seductive yet irresistibly sweet. For the exquisite allure of the little white dress, see Louis Vuitton's Spring / Summer 2012… j'adore!
Why not start the New Year off with some luxe fashion optimism? Will you incorporate white into your wardrobe? xx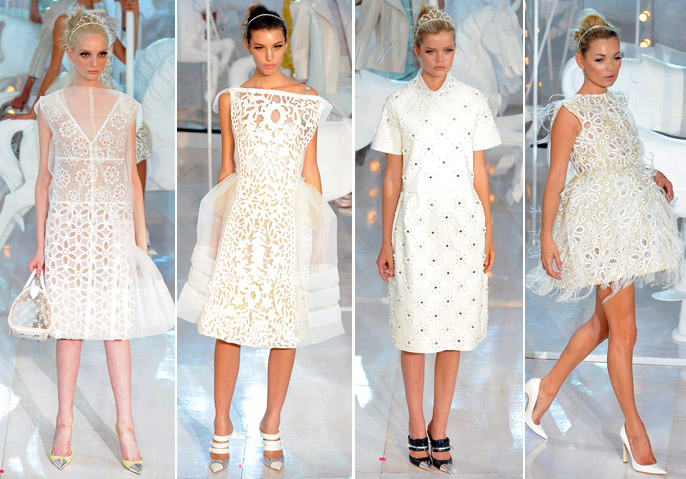 Photos from style.com
Michelle Williams In Alexander McQueen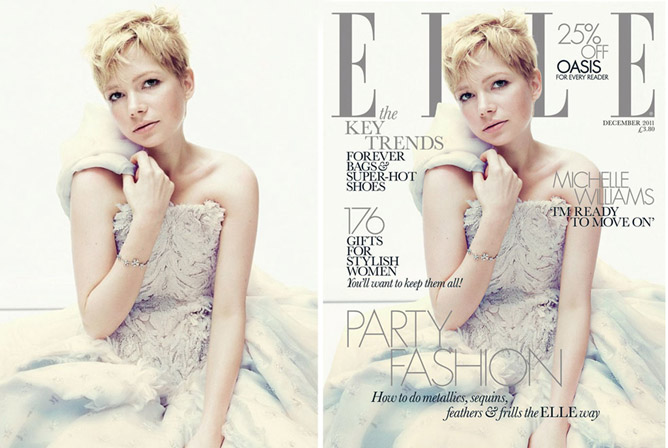 December's most exquisite cover – Michelle Williams wearing Alexander McQueen for Elle UK.
Michelle Williams, captured by Alexei Hay, looks positively angelic wearing this extraordinary McQueen gown. The divine embellished gown from the Fall 2011 collection is truly breathtaking.  
– – – – – – – – – – – – – – – – – – – – – – – – – – – – – – – – – – – – – – – – – – – – – – – – – – – – – – – – – – – –
The Spring / Summer 2012 Collection
With extraordinarily breathtaking detail, the Alexander McQueen Spring / Summer 2012 collection is a heaven sent, fashion fantasy. Sarah Burton, McQueen's creative director, said of the collection: "This is a collection about excess. It's an exploration of ideals of beauty at their most extreme. We go to such lengths to adorn ourselves that we almost become our clothes or are taken over by them."
In a colour palette of shimmering black, gold, silver, white, peach and red; the collection was filled with divine ruffles, lace and delicately beautiful allure. Raised waist silhouettes created exaggerated lines of movement Burton described as how "a jellyfish moves in the sea". Shoulders were emphasised and curves accentuated with bustles.
With an avant garde edge, the ready-to-wear collection was practically couture with its extreme attention to detail. Every piece was hand sewn with half made in the UK, half made in France – some by Burton herself.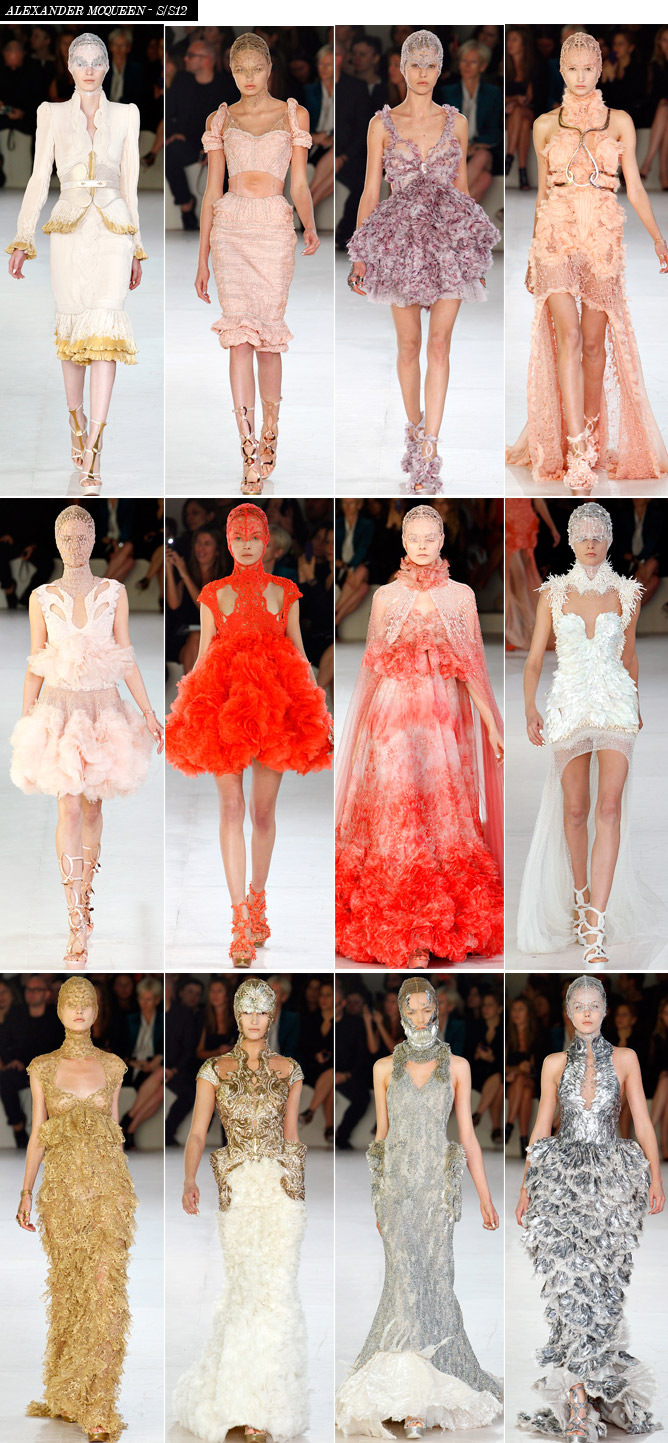 J'aime Michelle Williams & McQueen!  
Photos from style.com
Pretty In Pink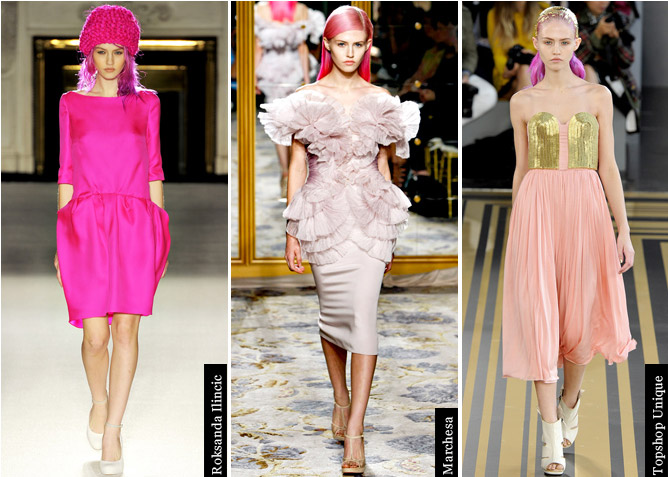 A Pink Lady Pledge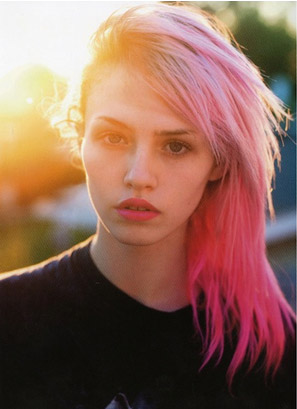 Model of the moment, Charlotte Free, isn't afraid to stand out from the crowd. Her striking pink locks have walked in a number of runway shows both in London and New York for high profile labels – from Marchesa to Vivienne Westwood.
What is quite unexpectedly startling though is how seemingly transitional pink hair can be. Looking at the selection of catwalk images from the Spring / Summer 2012 runways, Free's statement tresses embrace whatever the styling direction of the label. Whether channelling 'fresh, polished sophistication' at Marchesa; 'edgy grunge' at Kinder Aggugini; or 'sexy 60's Lolita' at Jeremy Scott – Free looks quite simply divine.
Having previously opened Vivienne Westwood's Red Label show; for Spring / Summer 2012 Free has already walked for Roksanda Ilincic, Topshop Unique, Jeremy Scott, PPQ, Kinder Aggugini, Vivienne Westwood and Louise Gray, amongst others.
Originally dying her own hair, using an assortment of shades – sweetly called 'Virgin Rose', 'Cupcake Pink', 'Hot Hot Pink' and 'Cotton Candy' – Free now leaves her daring pink tresses to the professionals.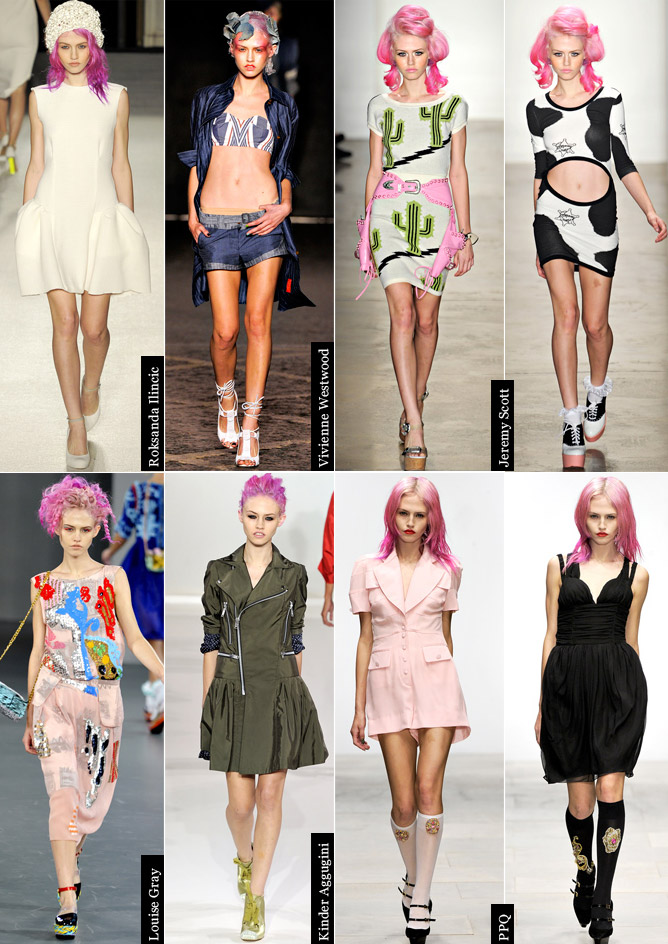 Pink hair = fearless beauty. Would you take the plunge? xx
Photos from style.com