Your Daily Fashion Scoop
Espresso Shot Of News…
Jasper Garvida Bridal Gowns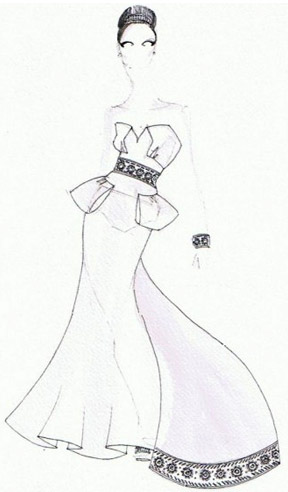 Jasper Garvida's Spring / Summer 2011 collection was delicate, whimsical, embellished and perfectly feminine. So it is a seemingly perfect fit for Garvida to try his hand at wedding gowns!
Jasper Garvida Bridal gowns, as featured in the sketches above & right, are now available from My Sugarland. With lace, beading, feathers and ruffles – Garvida's sketches exude old-Hollywood glamour. Their chic lines and flattering silhouettes will definitely make an impact on your big day. A bespoke gown by Garvida, which is a completely one-of-a-kind creation, can also organised.
My favourite:  
I have already had my special day; however, if I were to renew my vows, I would choose a completely different dress and wedding occasion. Maybe a White Christmas Eve wedding with red poinsettia and snow! For this the perfect dress would have to be the one pictured above right. The sleek cut and clenched in beaded waist is simply divine. And the feather shrug is pure sophistication at its finest!
I have nearly been married for a year now and seeing the sketches of Jasper Garvida's gowns made me think of my own wedding gown – which I fell in love with at first sight! Reminiscing through some pictures of my big day, I have added in a few of my favourites to share with you… xx

London Spring/Summer 2011 – Favourites 1
Erdem
Known for his exquisite floral patterns and embroidery, Erdem's Spring / Summer collection went above and beyond to surpass my wildest expectations. My favourite Erdem collection to date, the delicate beauty and pure loveliness of the pieces were summer dreams personified. 
White appliqué on white chiffon with white lace; scattered Swarovski crystals; striking red lace; delicate, vivid embroidered poppy prints – each Erdem piece was simply perfect . Erdem was inspired by the Victoria & Albert Museum's 'Diaghilev and the Golden Age of the Ballets Russes, 1909-1929', exhibition. This was clearly evident within the collection, where the dress shape and structure had the feel of beautiful ballet dresses. Dresses were pulled in at the waist and fell to A-line or tiered lace hemlines. There were also immaculately tailored trousers and shorts with beautiful silk blouses. Nicholas Kirkwood's shoes were tied up the calf like ballet slippers. 
My Erdem Most Coveted piece:
With so many exquisite looks to choose from, my favourite Erdem pieces would have to be the white lace blouse over the striking red lace dress. The simple red lace dress that followed straight after was also amazing! (both pictured line one) 
Burberry Prorsum
Burberry was dreaming of a high-voltage biker girl for the Spring/Summer 11 collection. With pops of intense colour, luxe leather and gold spiked jackets; the Burberry girl is undeniably fierce and not to be messed with! 
Biker jackets and coats were detailed with striking gold spikes for a chic, tough and edgy alternative to the traditional biker.  Trench Coats and jackets were pulled in tight at the waist with bright lime green and turquoise belts. Sexy leopard print and coloured mini silk dresses were softly ruched around the body. Equally vibrant coloured handbags were worn mismatched and clutched at the models' side. Other dresses were held in place with leather straps. With the extent of looks and all of the exquisite jackets and coats (which also made appearances in snakeskin, metallic silver and a complete palette of military shades), Burberry has every facet of your Spring/ Summer wardrobe sorted. 
A true feast for the eyes; the clothes, shoes, accessories and star-studded front row make the Burberry collection the hottest ticket at London Fashion Week. 
My Burberry Must-have:
The first jacket to appear on the catwalk (pictured first above), will easily become my Spring must-have. Love the green belt too! 
Issa
Perfectly setting the mood for Summer; Issa's bold, vibrant colour palette left a strong impression.   
Inspired by the exotic, colourful landscape of India, Issa's colours included: canary yellow, intense oranges and greens, sapphire blue and royal purple.  When combined these colours really made an impact. Mismatched turbans were worn by models, along with jewelled sandals, and chandelier earrings. Maxi and mini dresses were beautifully draped to hug the models' bodies, with the silk-jersey fabric creating elegant, long lines. Long skirts and trousers were worn with midriff showing tops. Pure white embroidered sundresses also made an appearance. 
While the Indian summer inspiration was abundantly clear, the collection felt fresh and alive. 
My Issa Essential:
The cropped fuchsia pink top coupled with the long zesty orange skirt – both certainly make lounging by the pool a spectacular affair. (pictured line one, image 2 above) 
The week that was…
The last week has been one of the most exciting in Uptown Twirl's life to date. With London Fashion Week to keep updated on; exquisite clothing, shoes and accessories to covet; and lovely people to meet; it has been a whirl wind week!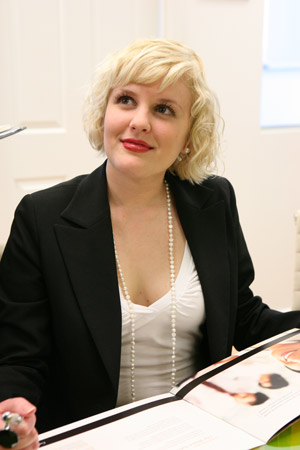 London Fashion Week
The spectacular London Spring Fashion Week did not disappoint. From Burberry Prorsum to Erdem, Christopher Kane, Matthew Williamson and of course Vivenne Westwood – there was gorgeousness at every twist and turn! Anna Wintour made quite a few appearances and Olivia Palermo looked immaculately stylish every time she stepped out. The fashion, style, people and place combined for a delicious feast for the eyes! 
My complete London Spring Fashion Week coverage will be posted over the coming days… 
Front Row At Jasper Garvida's Spring / Summer 11 Collection
As my first fashion week experience, Jasper Garvida's Spring / Summer collection was simply perfect. I got to meet with Jasper backstage, who was incredibly sweet and even congratulated me on my competition win. Air kisses were then exchanged before he set off, ever so calmly, to show his new collection. 
I also got to see the clothes up-close prior to them being shown on the catwalk. Combining two of my favourite 'themes', Paris and the 50's, Jasper Garvida had already started ticking the boxes to a collection I was going to love. Please click here to view my review of the Jasper Garvida collection…
The show was sponsored by Miele who also provided gift bags for the VIP's. 
I Met Boy Meets Girl
Then on Thursday I met Stacy M. Igel, the Creative Director and Chief Brand Ambassador of New York based label Boy Meets Girl, for brunch at Tom's Deli in Notting Hill. Having just shown at New York Fashion Week, Stacy was on a whirlwind trip to London and Paris. Having only tweeted and emailed previously it was lovely to meet with such a lovely, energetic and inspirational designer and business woman.
Boy Meets Girl is an edgy, wearable line of tops, tunics, dresses, skirts, jumpers, sweaters, tracksuits, hoodies, tees and outerwear – all easily recognisable by the standout branding of the little boy and girl silhouettes . It has also struck a chord with countless fashionable celebrities: Eva Mendes, Rachel Bilson, Rosario Dawson, Michelle Williams, Hillary Duff and Zooey Deschanel, to name but a few have all been spotted wearing the label. 
I interviewed Stacy for the upcoming episode of Uptown TV, which will be posted online within the next week. So watch this space… 
Love Cara xo