Espresso Shot Of News…
Your Daily Fashion Scoop
Espresso Shot Of News…
Jasper Garvida Bridal Gowns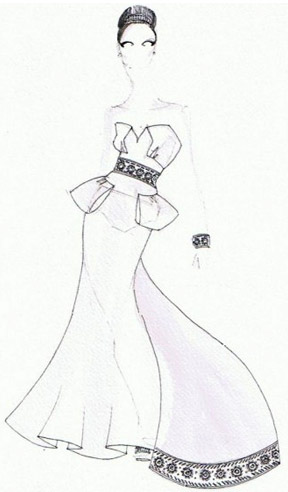 Jasper Garvida's Spring / Summer 2011 collection was delicate, whimsical, embellished and perfectly feminine. So it is a seemingly perfect fit for Garvida to try his hand at wedding gowns!
Jasper Garvida Bridal gowns, as featured in the sketches above & right, are now available from My Sugarland. With lace, beading, feathers and ruffles – Garvida's sketches exude old-Hollywood glamour. Their chic lines and flattering silhouettes will definitely make an impact on your big day. A bespoke gown by Garvida, which is a completely one-of-a-kind creation, can also organised.
My favourite:  
I have already had my special day; however, if I were to renew my vows, I would choose a completely different dress and wedding occasion. Maybe a White Christmas Eve wedding with red poinsettia and snow! For this the perfect dress would have to be the one pictured above right. The sleek cut and clenched in beaded waist is simply divine. And the feather shrug is pure sophistication at its finest!
I have nearly been married for a year now and seeing the sketches of Jasper Garvida's gowns made me think of my own wedding gown – which I fell in love with at first sight! Reminiscing through some pictures of my big day, I have added in a few of my favourites to share with you… xx