London S/S Fashion Wk
London Spring/Summer 2011 – Favourites 1
Erdem
Known for his exquisite floral patterns and embroidery, Erdem's Spring / Summer collection went above and beyond to surpass my wildest expectations. My favourite Erdem collection to date, the delicate beauty and pure loveliness of the pieces were summer dreams personified. 
White appliqué on white chiffon with white lace; scattered Swarovski crystals; striking red lace; delicate, vivid embroidered poppy prints – each Erdem piece was simply perfect . Erdem was inspired by the Victoria & Albert Museum's 'Diaghilev and the Golden Age of the Ballets Russes, 1909-1929', exhibition. This was clearly evident within the collection, where the dress shape and structure had the feel of beautiful ballet dresses. Dresses were pulled in at the waist and fell to A-line or tiered lace hemlines. There were also immaculately tailored trousers and shorts with beautiful silk blouses. Nicholas Kirkwood's shoes were tied up the calf like ballet slippers. 
My Erdem Most Coveted piece:
With so many exquisite looks to choose from, my favourite Erdem pieces would have to be the white lace blouse over the striking red lace dress. The simple red lace dress that followed straight after was also amazing! (both pictured line one) 
Burberry Prorsum
Burberry was dreaming of a high-voltage biker girl for the Spring/Summer 11 collection. With pops of intense colour, luxe leather and gold spiked jackets; the Burberry girl is undeniably fierce and not to be messed with! 
Biker jackets and coats were detailed with striking gold spikes for a chic, tough and edgy alternative to the traditional biker.  Trench Coats and jackets were pulled in tight at the waist with bright lime green and turquoise belts. Sexy leopard print and coloured mini silk dresses were softly ruched around the body. Equally vibrant coloured handbags were worn mismatched and clutched at the models' side. Other dresses were held in place with leather straps. With the extent of looks and all of the exquisite jackets and coats (which also made appearances in snakeskin, metallic silver and a complete palette of military shades), Burberry has every facet of your Spring/ Summer wardrobe sorted. 
A true feast for the eyes; the clothes, shoes, accessories and star-studded front row make the Burberry collection the hottest ticket at London Fashion Week. 
My Burberry Must-have:
The first jacket to appear on the catwalk (pictured first above), will easily become my Spring must-have. Love the green belt too! 
Issa
Perfectly setting the mood for Summer; Issa's bold, vibrant colour palette left a strong impression.   
Inspired by the exotic, colourful landscape of India, Issa's colours included: canary yellow, intense oranges and greens, sapphire blue and royal purple.  When combined these colours really made an impact. Mismatched turbans were worn by models, along with jewelled sandals, and chandelier earrings. Maxi and mini dresses were beautifully draped to hug the models' bodies, with the silk-jersey fabric creating elegant, long lines. Long skirts and trousers were worn with midriff showing tops. Pure white embroidered sundresses also made an appearance. 
While the Indian summer inspiration was abundantly clear, the collection felt fresh and alive. 
My Issa Essential:
The cropped fuchsia pink top coupled with the long zesty orange skirt – both certainly make lounging by the pool a spectacular affair. (pictured line one, image 2 above) 
Jonathan Saunders
Jonathan Saunders' Spring/ Summer collection was fresh, clean and very chic. Feminine sundresses, box-pleats, pencil skirts and structured blouses, were modernised with distinct, sophisticated colour and pattern choices. 
The focused colour palette kept the collection pretty yet not too girly. For instance a pale blue sundress hemmed with a band of industrial orange spray-paint. While the floral pattern, more so resembled leaves and foliage then flower buds themselves. Dove grey, mint green, yellow and striking orange, created interesting unexpected colour combinations. Model's hair was swept back into tidy pony tails and lips were deep red. 
My Jonathan Saunders' Special Pick:
The sweetheart strapless knee-length dress that opened the Jonathan Saunders' collection. Love the white, orange and green stripes – oh-so chic!  (pictured 1st above)
Jasper Garvida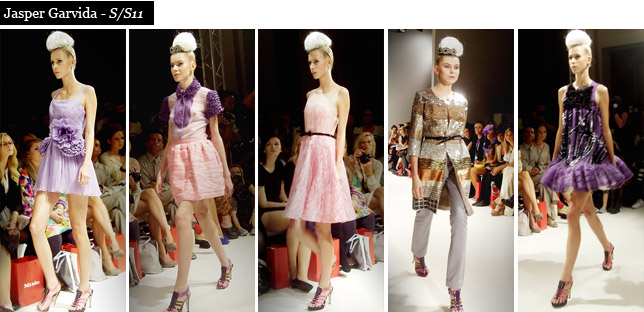 Entitled 'Belle', Jasper Garvida's Spring/Summer collection was like a scene straight from Paris in 1951. Feminine, chic and decadently embellished; the collection was inspired by the Degas' Ballet Dancer series. Garvida also touched on the beatnik movement which when combined created a simply stunning collection. 
Ruffles, pleats and sequins adorned baby doll dresses, sweeping knee-length ballerina skirts, inter-laced bodices, coats, blouses and trousers. The exquisite detailing perfectly placed for decedent drama yet all completely wearable. Oversized corsages, soft layering, hand-embellishment, beautiful detailing and textured lopped organza – all brought youthful, fresh optimism to the catwalk. 
In a whimsical colour palette of delicious pastels – musk pink, creamy purple and neutral tones – the collection conjured thoughts of the great Impressionist painters. The highest quality, luxury fabrics (including: silk organza, brocade, jersey, voile and cloque) in sophisticated, flattering silhouettes personified Garvida's theme of care-free 1950's Paris.  The exclusive ethnic inspired prints also made a vivid statement. 
As for accessories, bespoke gladiator snakeskin heels with studs were designed by Garvida and created in collaboration with Upper Street. High buns adorned with pink and white candy floss hair pieces, were further decorated with jewel encrusted headbands. While the fresh, pastel make-up added the perfect finishing touches to the collection.  
Dreamy, alluring and exquisite, Jasper Garvida's Spring / Summer collection was his best yet! With his exquisite attention to detail and flattering silhouettes; Garvida created pieces women will love and want to wear. 
My Jasper Garvida Favourite Piece:
The finale purple dress, with gorgeous sequin detailing was my favourite piece in the collection – chic, fun and feminine. (pictured last above) 
To view the complete Jasper Garvida collection, please click here…  
More London Fashion Week Coverage coming soon! In the meantime, who were some of your favourites from LFW? xx