Michelle Williams
Ahead of the Oscars and her possible win for 'My Week With Marilyn' for Best Actress, today we take a look at Michelle Williams striking style.
From the ethereal beauty of a hand-beaded Chanel couture gown to the epitome of cool-girl chic in Jason Wu, Michelle Williams is never afraid to take a risk on the red carpet.  
Often opting for elegant black and white, Williams has the perfect fashion-forward yet classic style. Elegant yet never fussy, beautiful but never expected. With a love for Jason Wu, Chanel, Erdem, Victoria Beckham and more, Williams is becoming a modern day style icon.
'Elegant yet never fussy, beautiful but never expected.'
Choosing looks to perfectly complement her platinum crop, Williams understands the 'less is more mantra'. Her refined, natural make-up and simple, elegant diamond jewellery evoke a timeless beauty.
A personal favourite: The exquisite Vera Wang saffron gown, worn by Williams to the 2006 Oscars (pictured above). Her relaxed chignon, red lips, and vintage necklace exude 'Old-Hollywood glamour' to perfection.

Do you covet Michelle Williams' style? Who is a modern day style icon to you? xx
Photos from google images
Eternal Style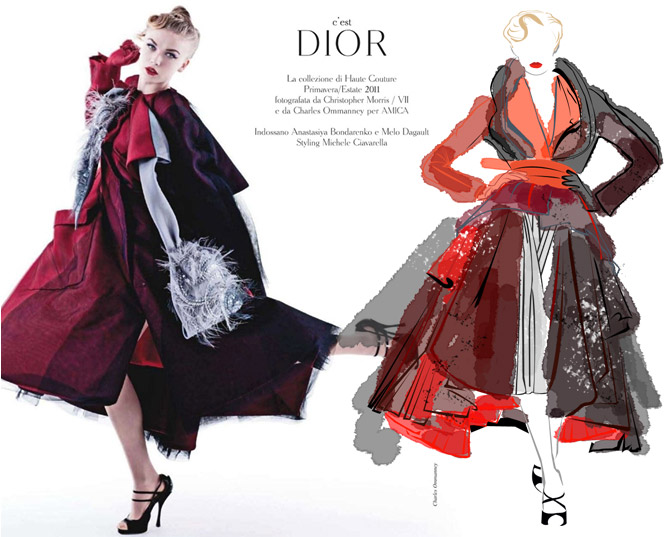 My Sunday inspiration came in the form of Marie Claire Espana's editorial, celebrating the astounding beauty of Dior's Spring 2011 Couture collection.
The idea of 'style' – what it is, who has it and so on – is something that is eternally on my mind. Today there are few people who evoke true style. That unmistakable 'je ne sais quoi', familiar with classic icons such as Audrey Hepburn, Grace Kelly and other timeless beauties.
Marie Claire Espana's June 2011 editorial, featuring Melodie Dagault and Anastasiya Bondarenko, is beautiful, romantic and whimsically nostalgic. With the simple white backgrounds, all focus is placed purely on the exquisite gowns and models' classic beauty. The old-world glamour of this alluring collection is further transfixed by the chic styling – the long gloves; striking red lips; perfectly shaped eyebrows; and elongated feminine silhouettes.
With the models' appearing every part the impeccably polished belles, this Haute Couture collection is the epitome of classic style…

I would love to know, what do you think is the epitome of timeless style? xx

About the Dior Couture Collection
The Dior Spring 2011 Couture collection took inspiration from the elegance, beauty and radiance of René Gruau's illustrations. As the Dior Illustrator, Gruau created a fresh ideal of female beauty and captured a new mood of post-war optimism. Gruau's exquisite illustrations are perfectly reflected in this dynamic collection. The intensity of colour and bold lines, leave me speechless. To view the Dior Couture collection, please click here…
Photos from fashionising.com