Oscar de la Renta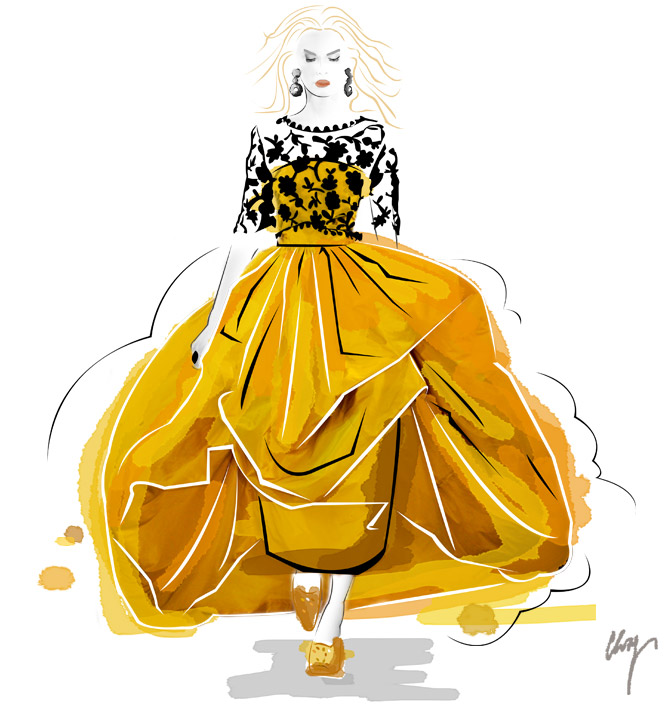 Bursts of bold explosive colour made for a wildly joyous occasion on the Oscar de la Renta runway.
My favourite look from the runway… the opening daffodil silk taffeta ball gown skirt with divine black lace t-shirt. Breathtaking colour; mesmerising volume; delicately sexy lace = one  extraordinary show stopping look! J'adore!
Oscar de la Renta Spring / Summer 2012
A fresh breeze of optimism swept through Oscar de la Renta's Spring 2012 collection. Beyond the upbeat colours, flattering silhouettes and radiant hair and makeup (softly frizzed hair teamed with barely there 'natural' makeup), created a striking presentation of effortless, modern day fairytale-like beauty.
The decadently, rich collection began with a bang as three enchanting evening gowns – in daffodil, emerald, and red – floated down the runway resembling whimsical gliding parachutes. The form-fitted bodices were covered with lace caracos, before exploding from the waist into billowing skirts of luxurious taffeta. The collection then went on to include a look for every possible occasion – from black tie ball gowns to cocktail, work and play. Virtuous white dresses; high-waisted sailor pants; seriously chic pencil skirts; all made an appearance in chiffons, tweeds, lace, and crochet, amongst others. Skirts and dresses highlighted the waist and looks were accessorised with statement earrings and cocktail rings.
Oscar de la Renta's collection is a delightful, indulgence in pure exuberant beauty…

What did you think of Oscar de la Renta Spring / Summer 2012? xx
Photos from style.com
Jason Wu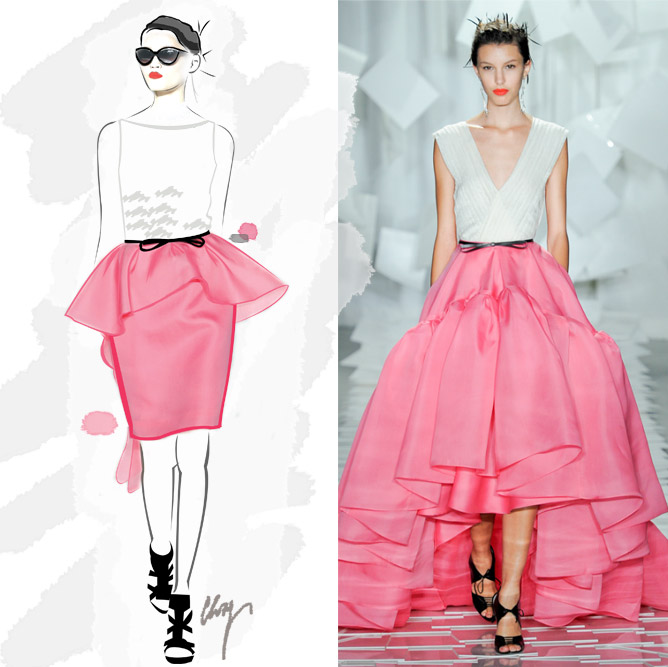 This week, in celebration of New York Fashion Week, I will be illustrating some of my favourite looks from the collections.
Starting off the week, I chose the darling pink and white cocktail dress from Jason Wu. Adore the feminine silhouette; divine colour; and sweet bow belt placed perfectly at the waist. The pattern on the luxe white fabric is simply gorgeous – and can be seen across several looks in the collection. I am in love with this look!
Jason Wu Spring / Summer 2012
Ballerina pink, acidic green and a monochrome floral print (made in collaboration with the artist KAWS), added the striking exclamation points to Jason Wu's  alluring Spring / Summer 2012 collection. Once again delivering a collection pretty, proper, and with just the right amount of edge; Wu's delightful take on feminine glamour will undoubtedly become some of the season's must-have pieces.
It was all in the detail… little candy coloured beads meticulously decorated collars; ball gowns were made shorter in the front and longer in the back; waists were emphasised with sharp lines and slim belts; trousers were beautifully tailored; meanwhile high-thigh-showing shorts added an instant cool factor amongst the collection which buzzed with immaculately charming skirts and dresses.
Exquisite ball gowns in rich, brightly coloured hues of cascading silk gazar closed the show in a spectacular fashion…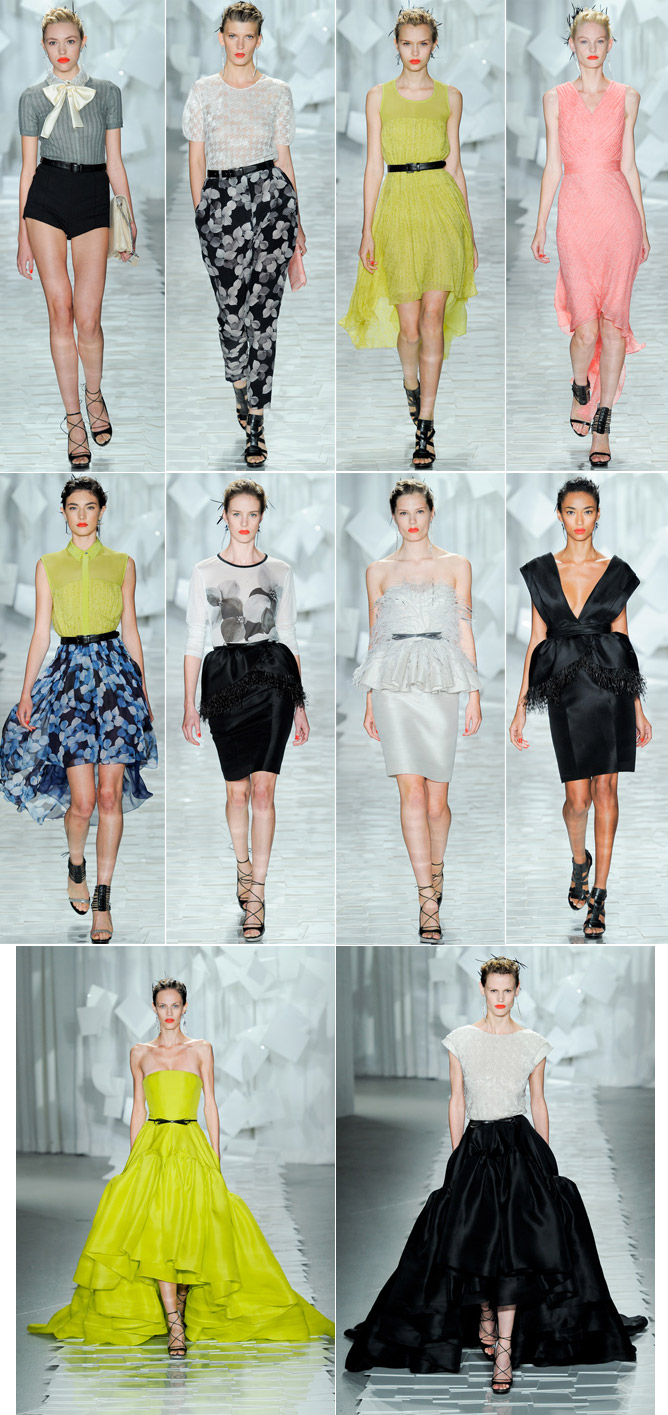 Which have been your favourite shows from NY Fashion Week so far? xx
Photos from style.com
Somewhere Over The Rainbow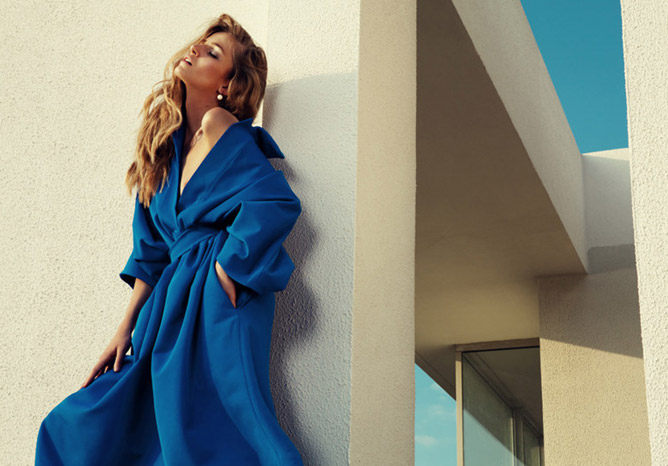 Choose Your Own Technicolour Dreamcoat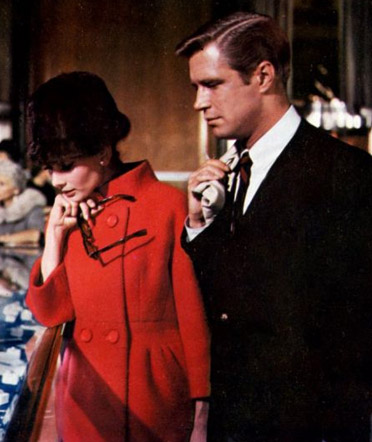 Fight off the blues, or the 'mean reds' as Holly Golightly so elegantly puts it, with winter coats so vibrantly exuberant you may just need to unpack your shades.
Forget the monochromatic tones; a perfectly tailored coat in a splash of decedent, rich colour can become your luxe wardrobe staple.  Across the Fall collections, from Proenza Schouler, The Row and Céline, amongst others, colourful coats made for an elegant, vibrant and expected twist on sharp tailoring.
Whatever your style and body shape, there is a colourful coat to suit your individual Winter needs. Nipped in at the waist in a classic feminine silhouette, prominent at The Row and Yves Saint Laurent; boxy, boardroom chic at Dolce and Gabbana; or streamlined, sexy sophistication at Céline – fall into warm, delightful, investment pieces of luxury this season…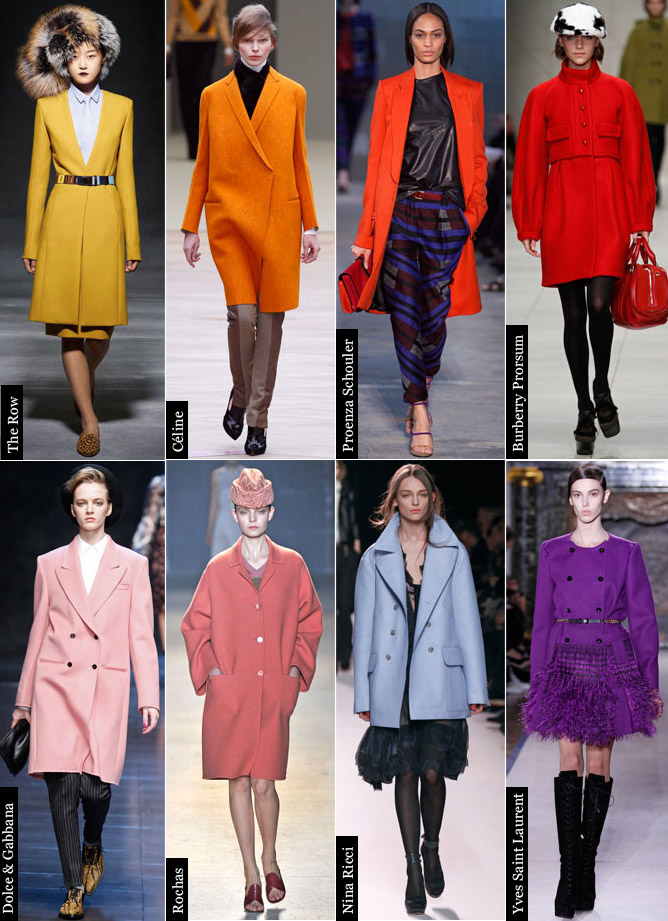 What do you think of a colourful coat for Fall? xx
Photos from harpersbazaar.com / harpersbazaar.com / google images