New York Fashion Week Part2
Oscar de la Renta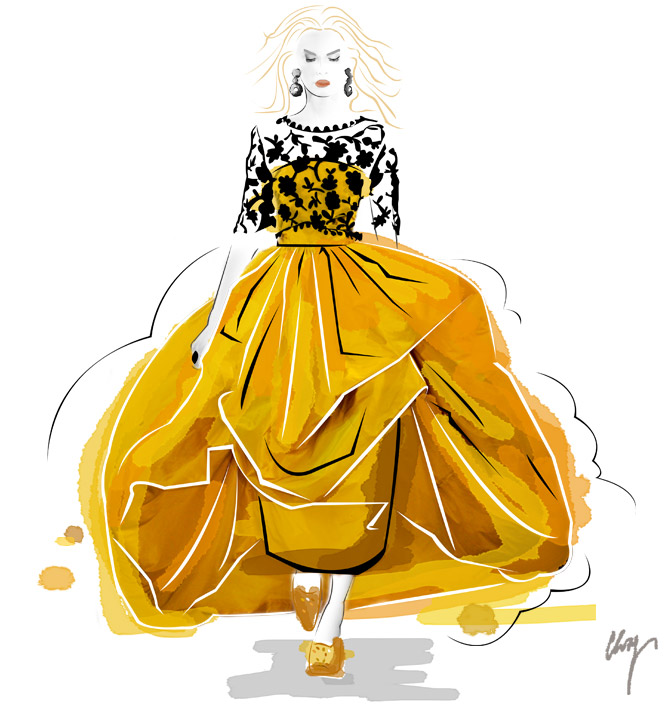 Bursts of bold explosive colour made for a wildly joyous occasion on the Oscar de la Renta runway.
My favourite look from the runway… the opening daffodil silk taffeta ball gown skirt with divine black lace t-shirt. Breathtaking colour; mesmerising volume; delicately sexy lace = one  extraordinary show stopping look! J'adore!
Oscar de la Renta Spring / Summer 2012
A fresh breeze of optimism swept through Oscar de la Renta's Spring 2012 collection. Beyond the upbeat colours, flattering silhouettes and radiant hair and makeup (softly frizzed hair teamed with barely there 'natural' makeup), created a striking presentation of effortless, modern day fairytale-like beauty.
The decadently, rich collection began with a bang as three enchanting evening gowns – in daffodil, emerald, and red – floated down the runway resembling whimsical gliding parachutes. The form-fitted bodices were covered with lace caracos, before exploding from the waist into billowing skirts of luxurious taffeta. The collection then went on to include a look for every possible occasion – from black tie ball gowns to cocktail, work and play. Virtuous white dresses; high-waisted sailor pants; seriously chic pencil skirts; all made an appearance in chiffons, tweeds, lace, and crochet, amongst others. Skirts and dresses highlighted the waist and looks were accessorised with statement earrings and cocktail rings.
Oscar de la Renta's collection is a delightful, indulgence in pure exuberant beauty…

What did you think of Oscar de la Renta Spring / Summer 2012? xx
Photos from style.com