Show Your Spots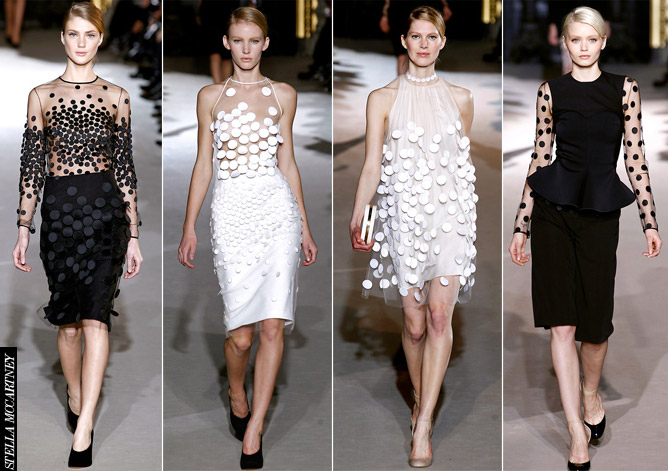 Dots On Spots On Dots…
From Stella McCartney, to Marc Jacobs, Azzaro and more, designers were seeing spots for Fall!
Romantic, Feminine and ever-so chic – the polka dot returned as the print of the season. From little black dresses to blouses, hats and tights – the iconic spots could be found in a variety of sizes and styles across the runways.
At Stella McCartney polka dots sat on delicate chiffon – overlapping and engaging each other in tiny galaxies of clusters. Meanwhile, Marc Jacobs' unabashed affair with the polka dot saw models dotty from head to toe – in some looks quite literally. Polka dot berets, handbags and tights finished off his classical silhouettes with an exclamation point.
Effortlessly stylish and delightfully playful, the simple spot is usually associated with a humble vintage aesthetic – think 'Itsy Bitsy Teeny Weeny Yellow Polka Dot Bikini'. Yet this season's spots seem unmistakably more fresh, sleek and refined. Iconic yet modern.
For dotty perfection… choose your spots on a sexy little black dress, a la Stella McCartney or Lanvin, for timeless, classic style.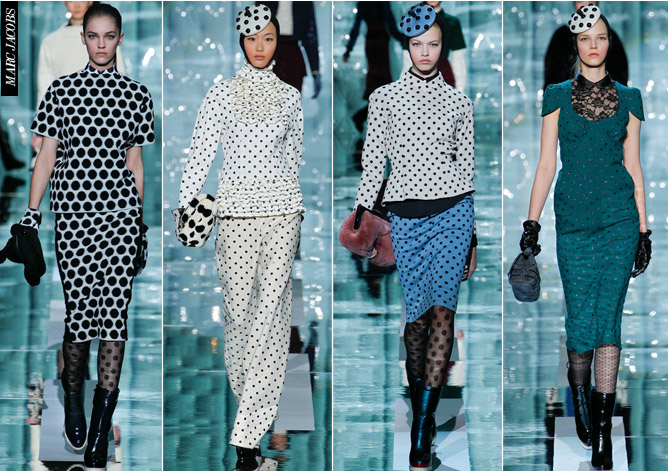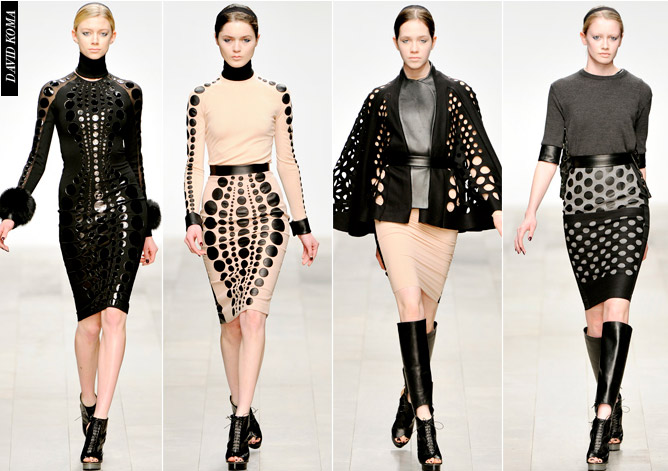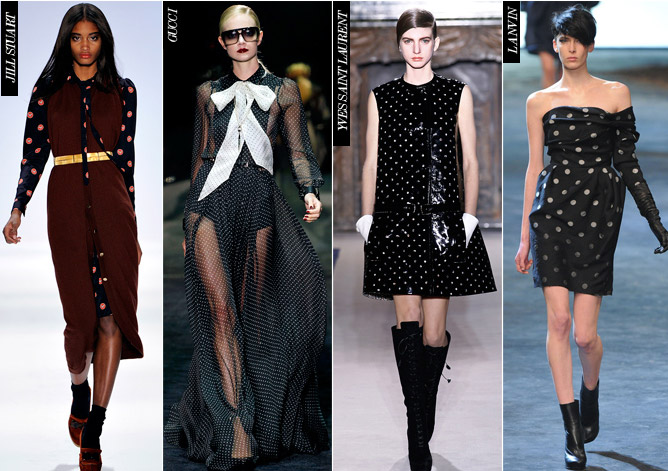 Will you be falling in love with the Polka Dot? xx
Photos from style.com
1940's Glamour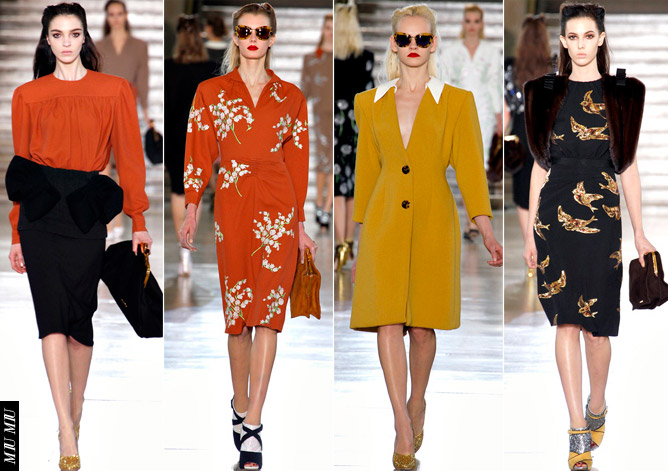 For the coming Fall season, designers were feeling 1940's glamour in the air. From Gucci to Miu Miu and Donna Karan – 40's refined feminine allure was back with a vengeance.
Be transported into the World War II-era, where skirts and dresses were worn to the knee and striking scarlet red lips made for a sensational pout.
Across many collections the 40's influence could be seen in the sharp pencil skirts; matte red lipstick; and the sophisticatedly sexy accent of accessories – think of those decedent fur shrugs, statement hats, slim belts and elegant gloves.
1940's silhouettes featured broad shoulders that gracefully tapered into a tailored waist. Almost every outfit contained shoulder pads and looks were finished off with a hat. The strong shoulder gave women a sense of purpose and strength – traits that were considered essential to survive the war. The fashion had to be practical, allow movement and comply within strict rationing. The long decedent beaded gowns of the 1930's were now considered gaudy and unpatriotic. The 40's lead the way for minimal, boxy dresses; shorter skirts and neatly belted waists.
1940's fashion was elegant, refined and authoritative – reflecting the strong sense of purpose as women rolled up their sleeves and did their part on the home front…
– – – – – – – – – – – – – –
Gucci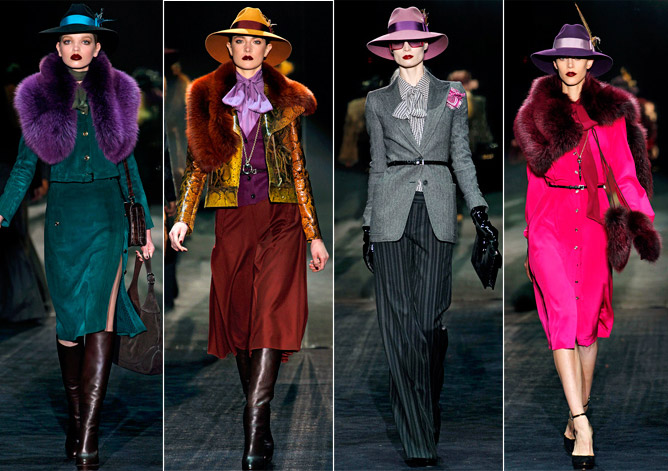 – – – – – – – – – – – – – –
Marc Jacobs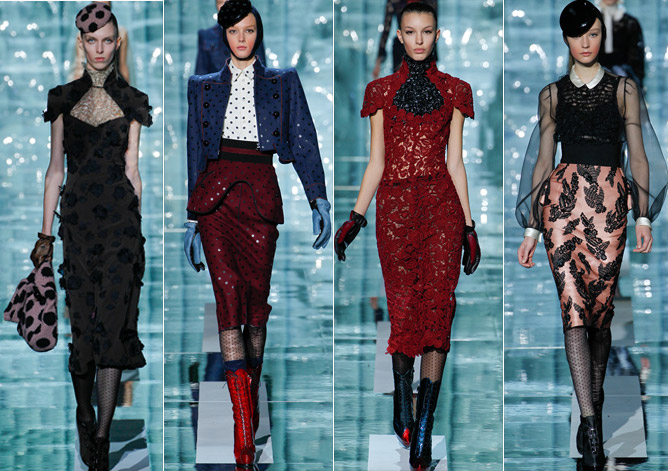 – – – – – – – – – – – – – –
Louis Vuitton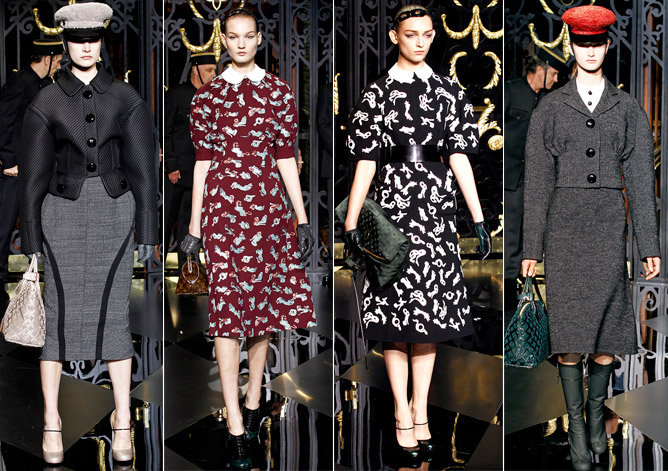 – – – – – – – – – – – – – –
Donna Karan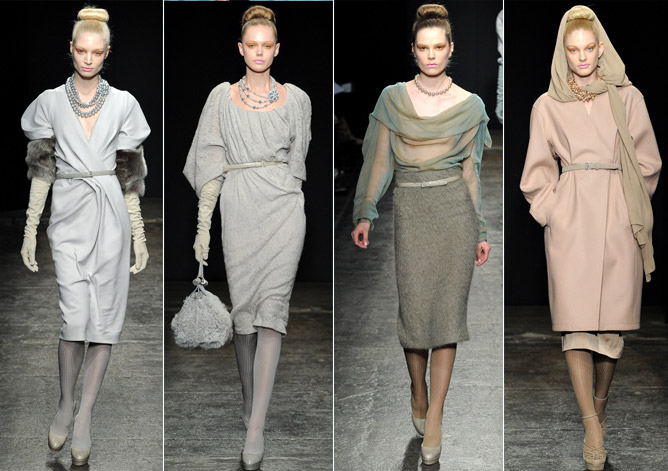 Kate Moss channels 40's glam for the cover & feature editorial of Vogue UK, August 2011 issue…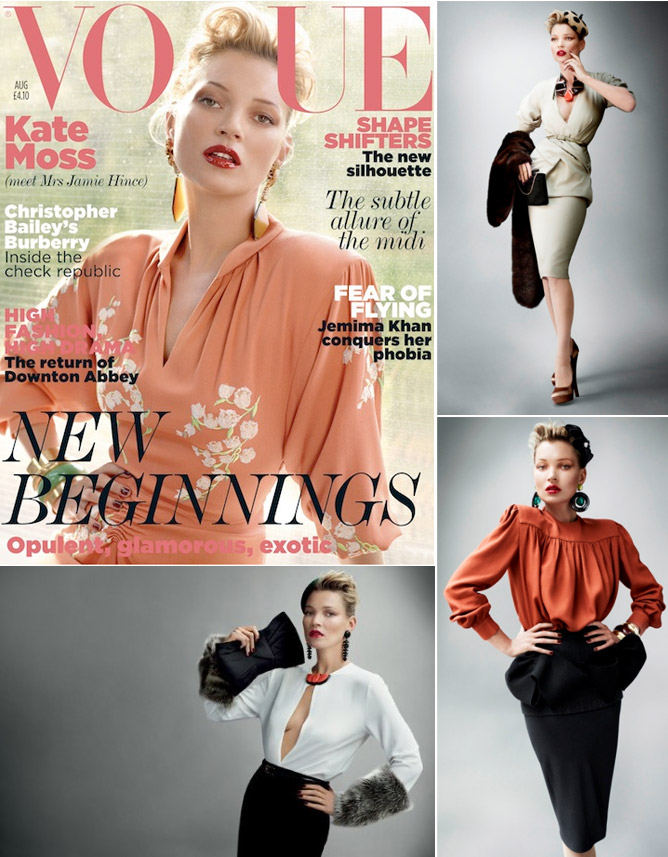 LOVE, LOVE, LOVE the whimsically romantic nostalgia of the 1940's trend. I am ready to do my hair in pin curls and wear red lipstick day & night!
Will you embrace the timeless chic of the 1940's for Fall? xx
Photos from style.com / vogue.co.uk / google images
Chanel Couture Fall 2011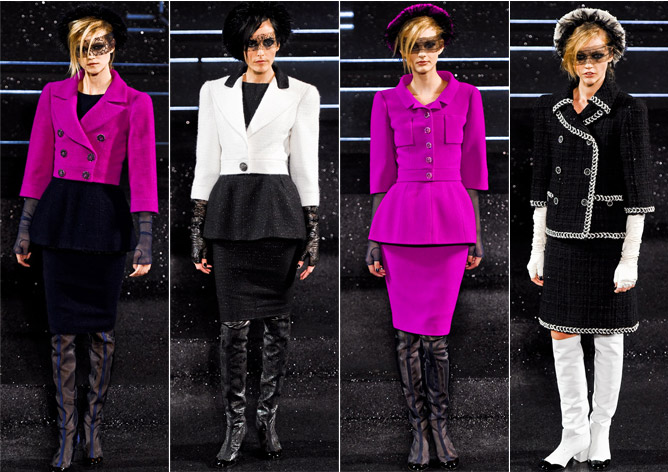 Spectacular craftsmanship; everlasting beauty; mesmerizing extravagance; opulent desire
There really is nothing quite like a Chanel Haute Couture Show…
– – – – – – – – – –
The Collection
Dominated by shades of black, grey and midnight blue; with striking accents of daring fuchsia; the Chanel Autumn/Winter 2011 Haute Couture Collection was an alluringly dark, seductive affair.
Held at 10pm under a starry Parisian sky, the Grand Palais was transformed into the Place Vendôme – complete with sparkling black pavements and instead of Napoleon's statue, one of Coco Chanel herself now took centre stage.
Focused on the signature Chanel skirt suit, the collection played homage to Chanel's iconic design with a breath of glamorous fresh air. Jackets were nipped in at the waist with a stiff peplum; while skirts were slimmer and slightly longer than previous seasons. Each look was accessorised with a sweet 'Victorian-inspired' hat as well as a lace fascinator worn just over the model's eyes. Exquisite beading and embellishment added the powerful finishing touches to Lagerfeld's opulent vision.
The collection exuded old-world elegance and sophistication – the perfect film noir atmosphere accompanied by strong 1940's shapes – with a refreshingly modern, unmistakably seductive, charm.
– – – – – – – – – –
A sneak peek behind the Chanel Couture scenes…
>> Karl Lagerfeld's original design sketch and the silk fabric
>> The silk fabric is folded, draped and pinned
>> The 'petites mains' are delicately folded and twisted to create the perfect effect
>> Attention to detail – delicate silver buttons and white plumes are created
>> The toile and pattern of an iconic Chanel tweed jacket
>> The pattern is placed on a mannequin
>> Tweed fabric is infused with glittering beadwork
>> The lining and hems complete the couture garments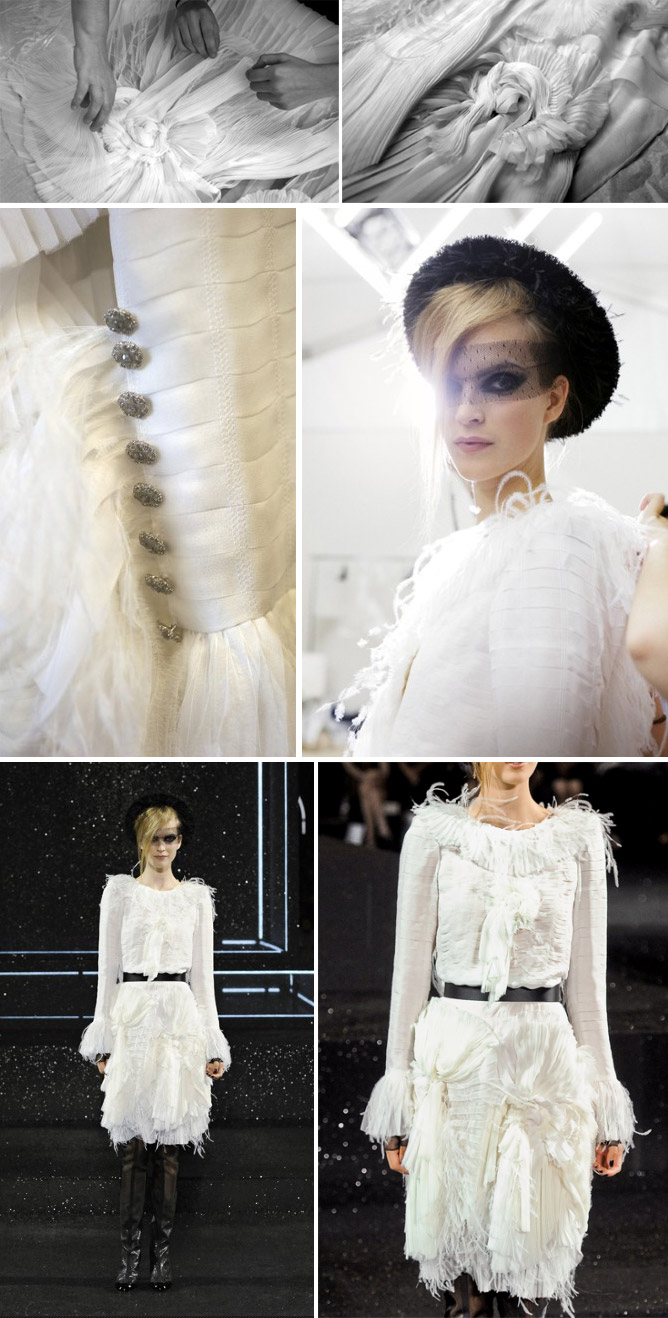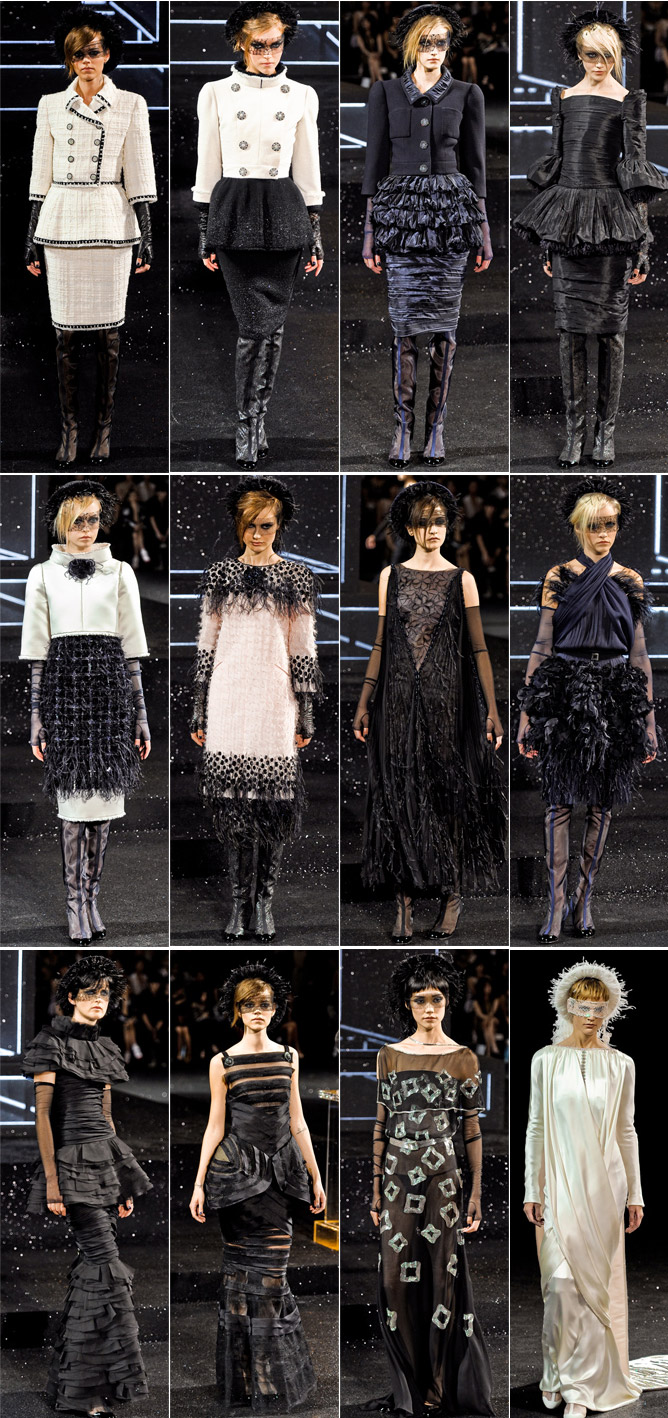 The decadence, the beauty, the unmistakable elegance… oh how I love Chanel! xx
Photos from style.com / fashion.telegraph.co.uk