In Rouge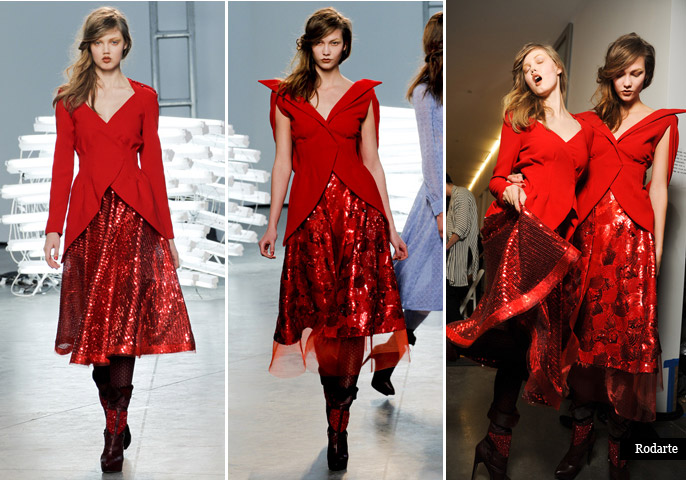 Catch Scarlet Fever…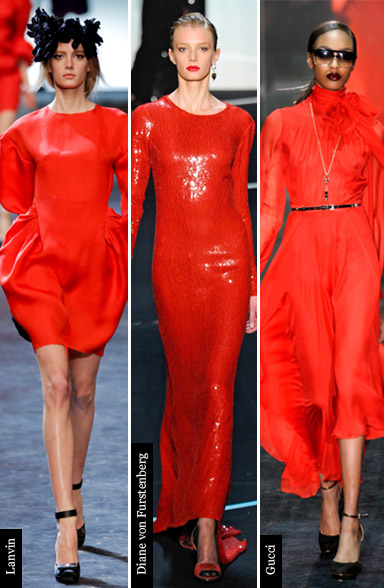 Across the runways designers were feeling a little hot under the collar. Shades of scarlet, crimson, cardinal and vermilion brought an undeniable warmth of sexy, bright, sophistication to the upcoming Fall season.
The House of Valentino has long painted the town red, with the Couturier himself once saying: "Women usually prefer to wear black at events because it makes them feel safe, however, if there's one woman wearing red, she will inevitably be the eye-catcher of the evening. It's as though the room is suddenly illuminated — simply perfect for a grand entrance."
The little red dress made for a dashing statement at Gucci, Lanvin, Jil Sander and Diane von Furstenberg, not to mention countless others. Meanwhile, at Michael Kors' a luxe red fur added the finishing touch to a complete scarlet look. At Chanel a little red jacket also added a dash of colour to a monochromatic collection.
The colour of passion, red isn't a look for the faint of heart. Sizzling sirens need only apply!
Must Have… The little red dress; sensational red trousers; or a statement red fur.
Minimal Chic… Want to dip your toes into this delightful trend? Try a slick of bold red lipstick; sultry red stilettos; or finish your look with a darling red clutch.
Favourite Catwalk Look… Rodarte Red! Love the Rodarte's Wizard Of Oz inspired dresses which feature red sequins in divine silhouettes.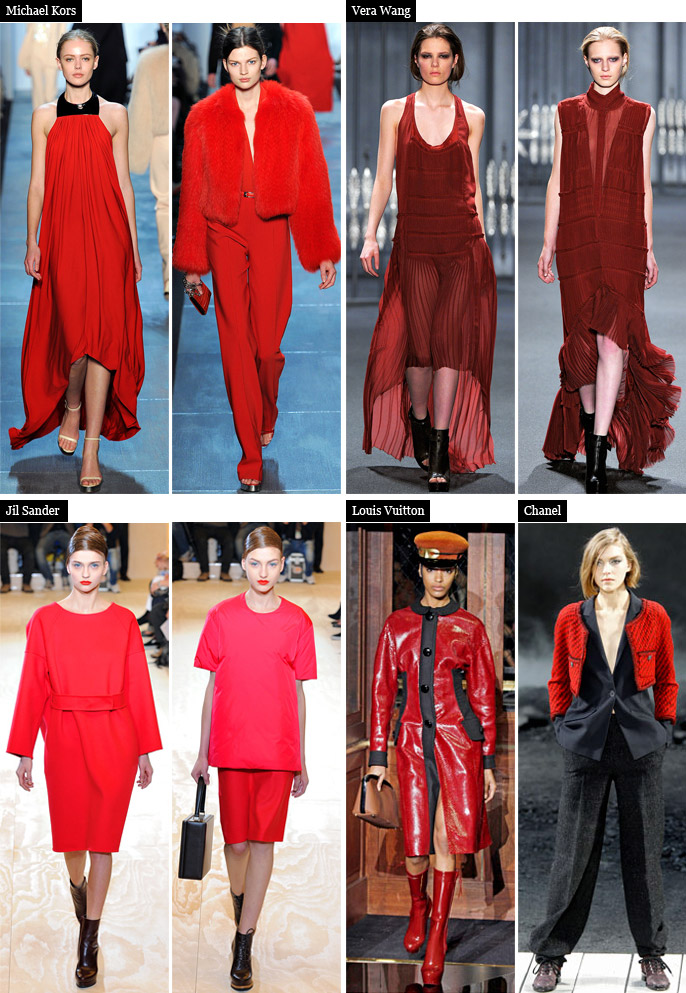 Will you sizzle in radiant red for Fall?
Photos from style.com / elle.com
Join The Mod Squad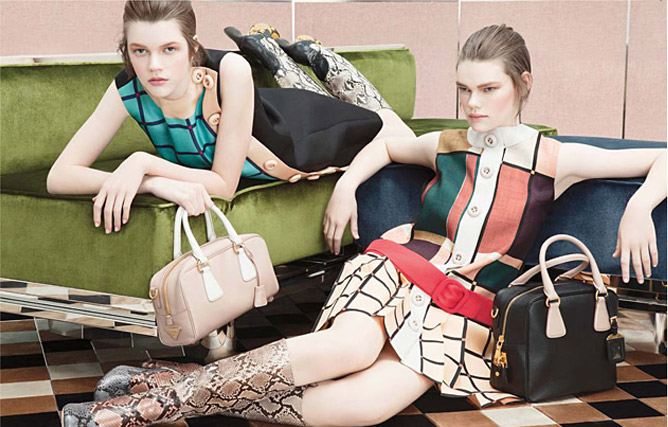 Embrace The Swinging 60's

Bold Plaids; Pop Art Brights; Sweet Smock Dresses – the 60's Return for Fall
If 1940's finesse isn't your style or polka dots don't hit the spot, designers were also reaching to another decade for Fall– the swinging 60's. The era's signature style makers, from Peter Pan collars to double-breasted peacoats, could be seen across the runways from Burberry Prorsum to Prada, Alberta Ferretti and more.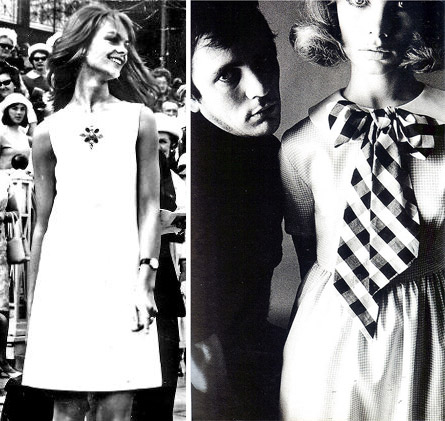 The mod style appeared in the late 1960's and set a new tone for this captivating era. This new look made way for empire waists, strong graphical lines and an array of bold, psychedelic colours. The 60's look, typified by style icons such as Jean Shrimpton (pictured right), combines just the right amount of girly sweetness crossed with sophisticatedly sexy edge. The  silhouette is characterised by simple shapes, in luxe fabrics, with great attention paid to the smallest details to achieve a polished look. Brooches or decorative buttons were a favourite to accessorise a dramatic yet simple pinafore shape.
Be inspired… wear 60's inspired smock dresses with bright coloured tights; embrace a decedent 'blanket check' (a la Burberry's sensational coats); and don't be afraid to amp up the accessories. Take notes from Prada with chunky sunglasses, statement making hats and strikingly stylish clutches.
From the colour palettes to the graphic lines, 60's fashion is fun, polished and with just the right amount of edge  – perfectly reflecting this revolutionary time…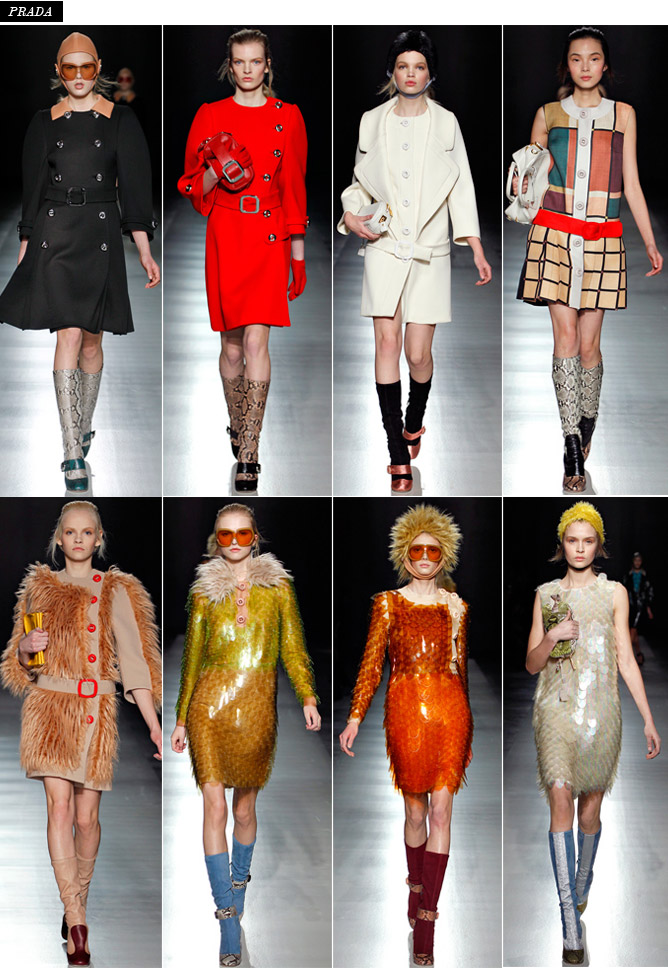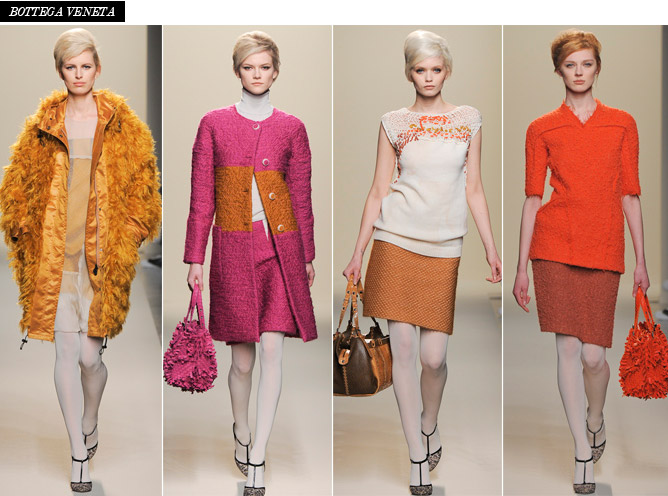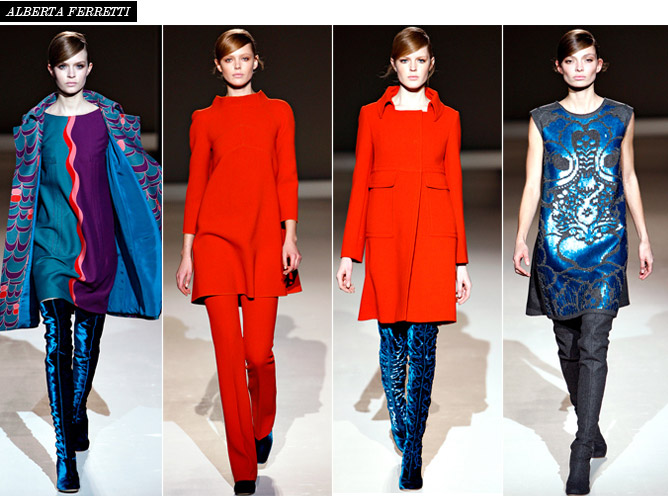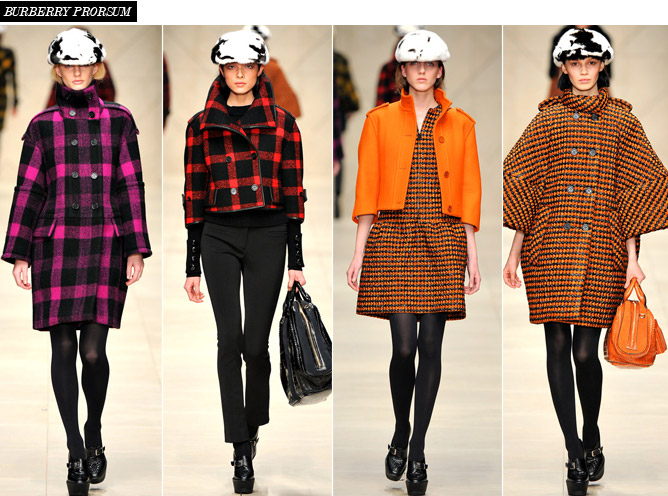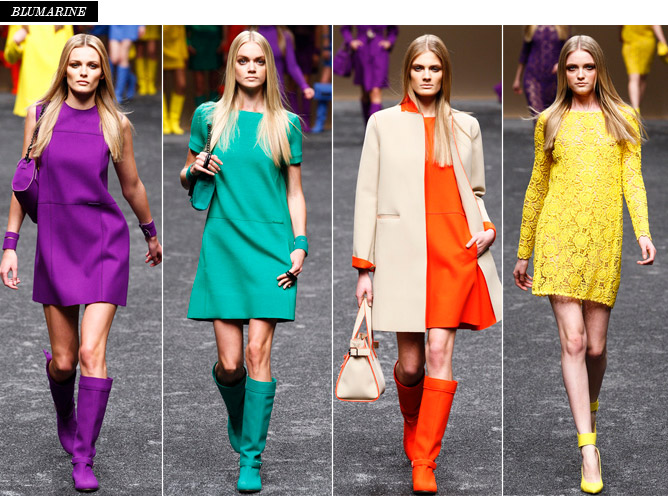 Are you feeling the swinging 60's baby, yeah?
Photos from fashiongonerogue.com / style.com
The Little Lace Dress

Hello Lover!
'Love Miranda. Love Lace. Love Lover.'
You may recall I posted about the Lover, Spring / Summer 2011 collection here – with its red-hot lace and delicately, whimsical allure. It was one of my favourites! So you should have seen my excitement, when one of my top models – Miranda Kerr – stepped out in not one, but two of the most iconic little lace dresses from the collection! Love Miranda. Love Lace. Love Lover.
– – – – – – – – – – – – – – – – – – – – – – – – –
The LLD
(little lace dress)
The little lace dress is a style statement. Feminine, elegant and sophisticatedly sexy; it can take you from day (wear with sweet ballet flats) to evening glamour in an instant (simply add polished heels and go).
From Erdem to Lover, Stella McCartney and Marchesa, amongst others – lace has undoubtedly made a return to the catwalk in recent seasons. Fresh, refined and sweet – the new use of lace is all about polished beauty. Iconic white or black lace dresses are très chic; while those in strong statement hues, such as blood red, are irresistibly charming.
– – – – – – – – – – – – – – – – – – – – – – – – –
More of the Lover, Spring / Summer 2011 collection…
Sleek lines, crisp tailoring and lots of exquisitely feminine lace – the striking collection was brought to life solely in blood red, white and black.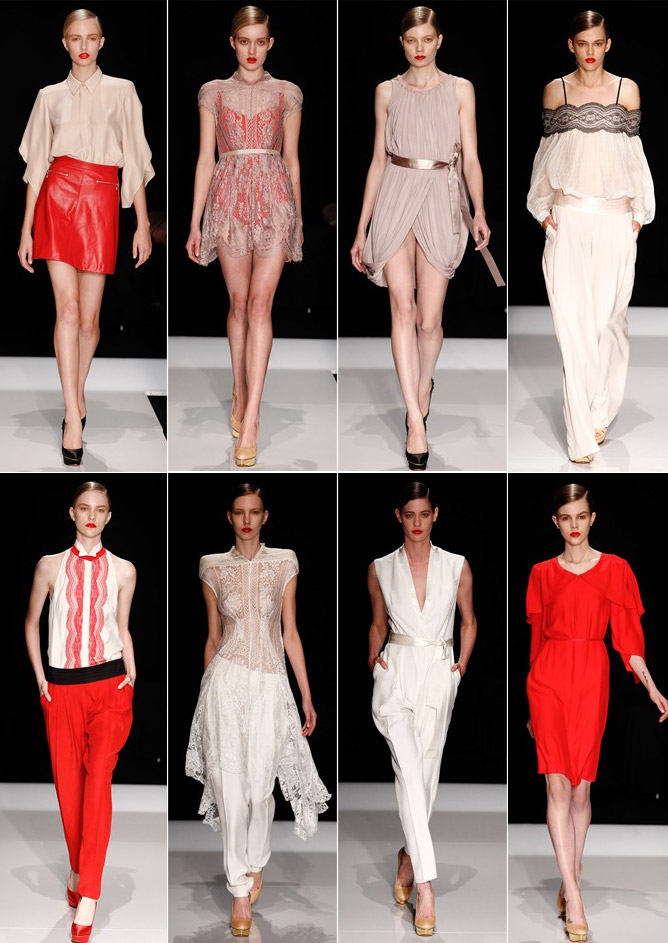 Do you love the LLD (little lace dress)? xx
Photos from vogue.co.uk / fabsugar.com.au