Brighton will always hold a special place in my heart and anything set in this gorgeous seaside town instantly captures my imagination.
As some of you may already know, I lived in Brighton in 2010 and have the most wonderful memories of it – spending time on the pier, relaxing on the pebbly beach and walking along the promenade. So when I saw Mulberry's gorgeous Spring / Summer 2012 campaign I instantly feel in love.
Mulberry's darling campaign, featuring Lindsey Wixson and Frida Gustavsson, was shot on Brighton beach overlooking the iconic pier.

The campaign was inspired by Creative Director Emma Hill's childhood memories of English seaside's. Perfectly catering for an English summer, Hill'S collection also features lightweight layering, ribbed leggings, anoraks and cropped leather jackets.
The spring brights in lemon yellow and pastel stripes are perfectly accompanied by delightfully oversized ice-creams, Brighton Rock Candy, and of course, Mulberry's must-have IT accessories.
What a beautiful collection and extraordinary campaign xx
Photos from fashiongonerogue.com
Brighton Rock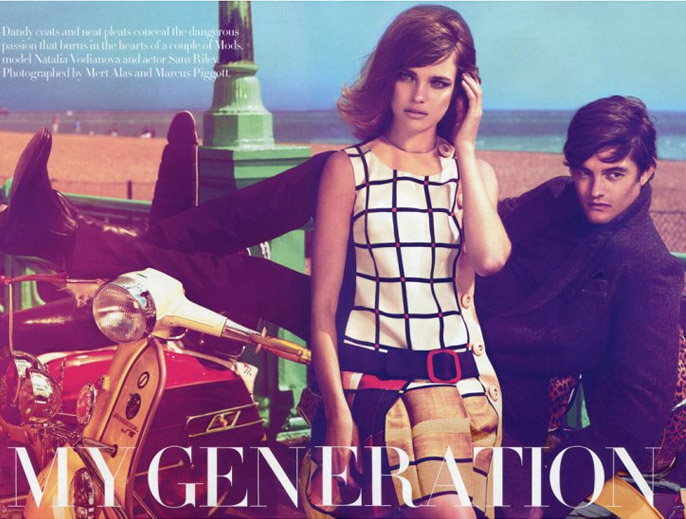 My weekend inspiration came in the form of the Vogue US September Editorial, featuring Natalia Vodianova and actor Sam Riley. Captured by Mert & Marcus and styled by Grace Coddington, the editorial highlights a mod inspired wardrobe with pieces by Versace, Prada, Yves Saint Laurent, Bottega Veneta and more.
This editorial also has holds extra meaning for me as I positively adore Brighton! I lived in Brighton for four months last year and have wonderful memories of spending time on the pier, relaxing on the pebbly beach and walking along the promenade. Coincidentally last weekend, I also watched 'Brighton Rock' (an adaption of Graham Greene's novel) which stars Sam Riley set in the seaside town in 1964.
More about Mod Dressing
'Mod is about chrome polish, about presenting the sharpest, shiniest you (whatever misdemeanours you've secretly been committing). Mod clothes typically have a deceiving decorous, grown-up air. Skirts fall near the knee; arms are covered; sack silhouettes conceal waistline curves.' – Vogue US

Love this editorial! Love Brighton! Love mod squad chic!
Which places hold a little piece of your heart? xx
Photos from fashiongonerogue.com