To my niece, Isabella's 9th Birthday party at the Hard Rock Cafe in Surfer's Paradise…
Inspired by this beautiful sunshine filled day, I decided to embrace the colours which always remind me of delightful Summer… brilliant watermelon and zesty lemon.
I had a busy morning shopping at Marina Mirage; then went for a gorgeous walk along Surfer's Paradise beach front; before a lovely lunch with family.
I wore my Witchery Watermelon shift dress with my black Prada handbag; Tiffany & Co Sunglasses; Nine West Ballet Flats; and Sussan lemon cardigan. With my baby bump now becoming quite prominent, I have embraced sweet shift dresses in bright colours and dramatic prints…
Hope you are all having a wonderful Weekend! xx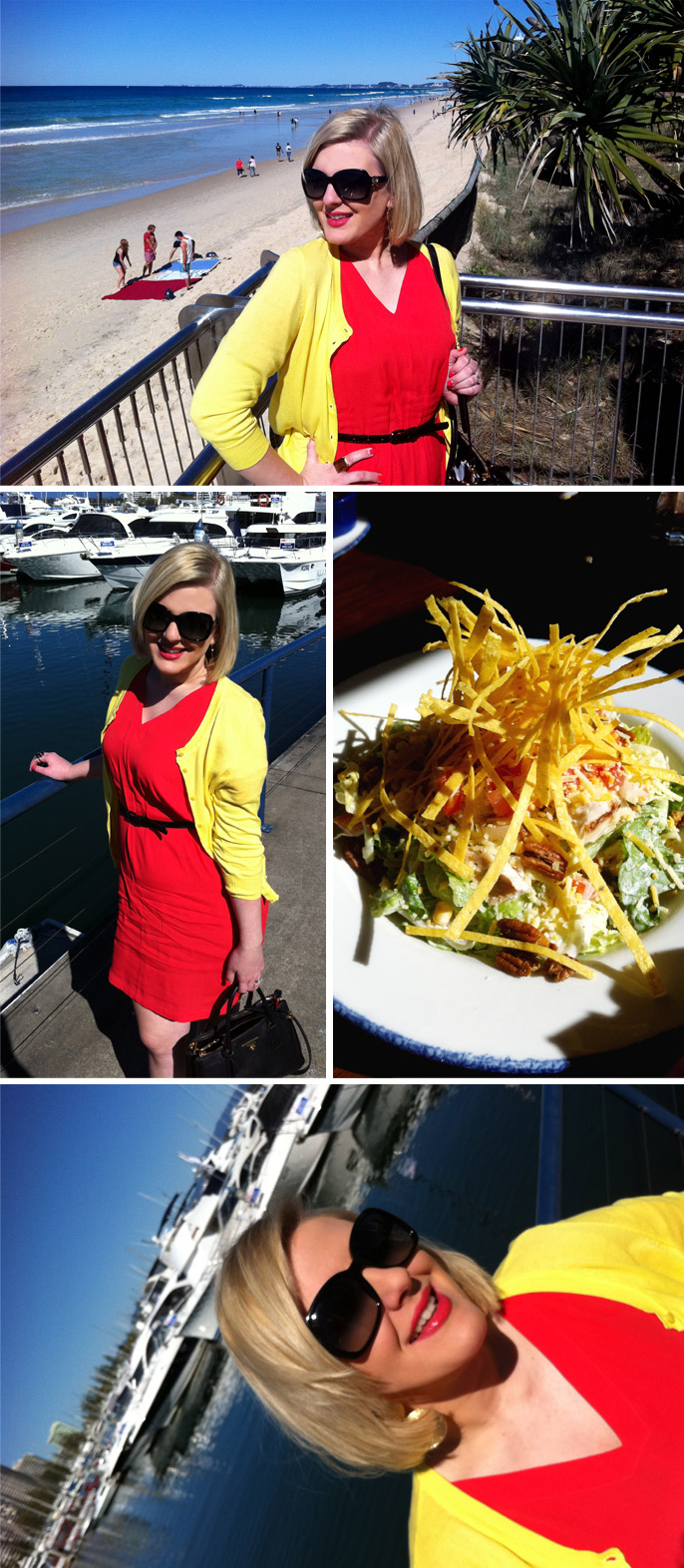 P.S. if you are planning a visit to the Gold Coast, iconic Surfers Paradise beach & Marina Mirage are both a must on the itinerary… xx
"Imperfection is beauty, madness is genius and it's better to be absolutely ridiculous than absolutely boring" – Marilyn Monroe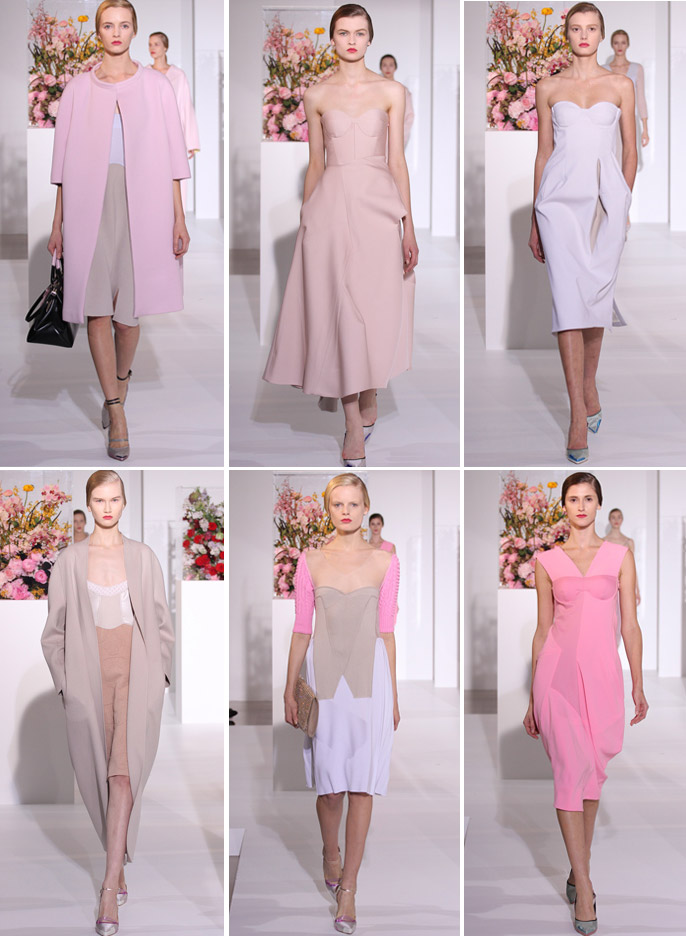 My August Inspiration…
While I am actually a couple of days early for my August inspiration, I am terribly excited about the month ahead! This month I will be celebrating my birthday! I will also find out whether I will be having a little baby girl or boy (cannot wait)! There will also be a couple of new developments on Uptown Twirl which I am thrilled to share with you all soon. But in the meantime…
Just a few of the things inspiring me this month…
The breathtakingly exquisite  Jil Sander Fall 2012 collection – reminiscent of delectable 'strawberries & cream'; decedent birthday celebrations; preciously pretty  pink sponge cake; iconic beauty and screen goddess Marilyn Monroe; beautiful words with so much meaning; inspiring workspaces…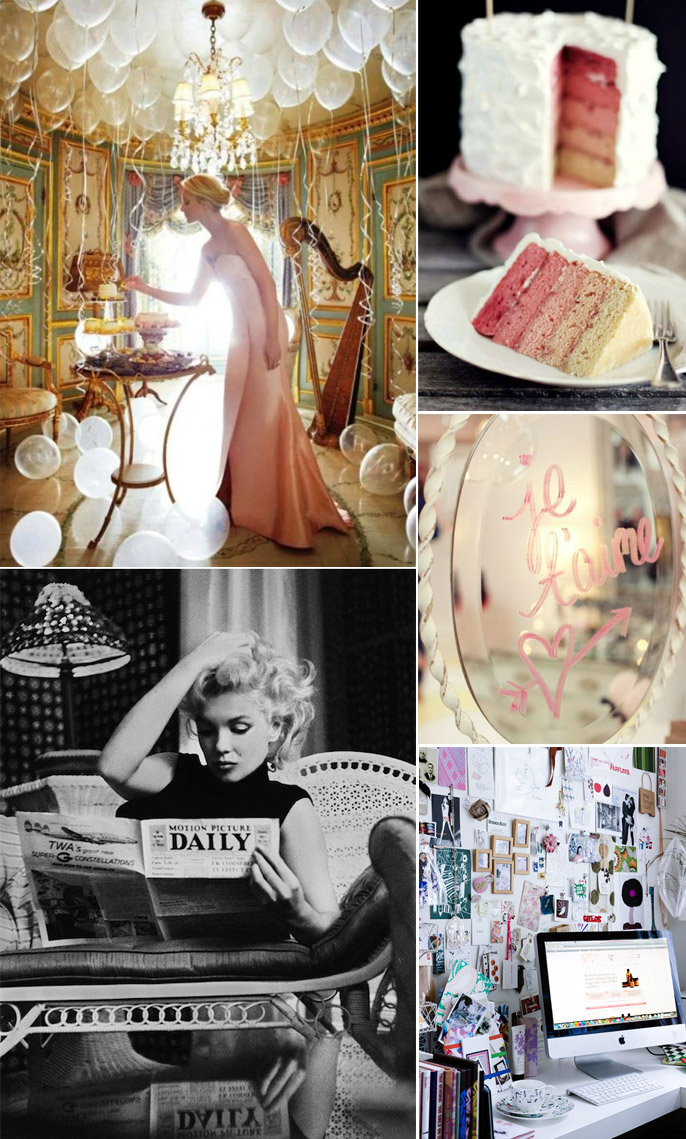 What is inspiring you right now? xx
Photos from style.com / thealternativebride.blogspot.com.au / littlebitsoflovely.blogspot.com.au
this week now that I have a slight baby bump (captured on Instagram)…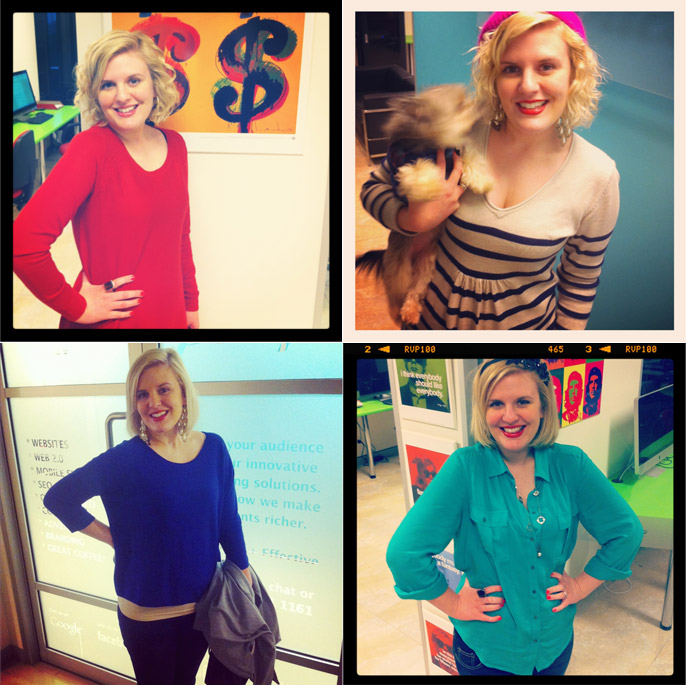 Being nearly 16weeks pregnant I have had to start tweaking my wardrobe and daily outfit choices to work with my new figure. After a couple of full day shopping trips I now have quite a mini collection of pieces, to take me from the office to the evening (well for the time-being anyway).
While building my new capsule pregnancy wardrobe, I have embraced dresses and tops in bright colours and loose silhouettes. I have also been stocking up on statement accessories to add that extra pizzazz to my looks. Colourful berets; large vintage-inspired necklaces; and statement earrings have all been on my purchase list.
What are some of your pregnancy wardrobe tips? xx
p.s. Don't you just love Instagram! You can follow my pics on Instagram or
on Uptown Twirl's  Twitter & Facebook pages!