My New Favourite Item In My Wardrobe…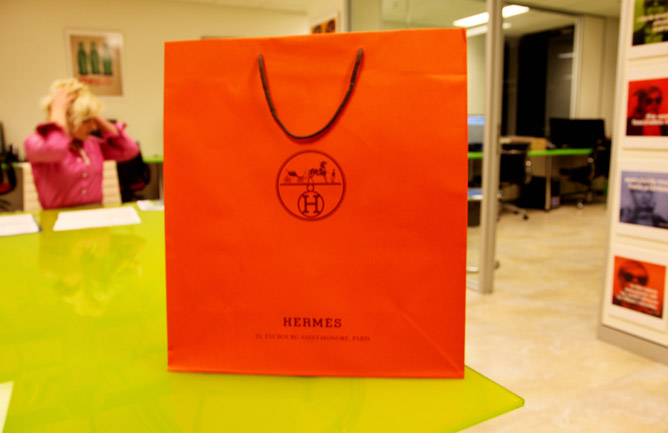 Some of you may have already seen on the Uptown Twirl Twitter that last weekend I went shopping at Hermès!
And this is what I brought…
A stunning Hermès scarf in delicious pink!
This exquisitely beautiful scarf is already my absolute favourite item in my wardrobe! I would go as far to say, one of my most loved pieces of all time! The colour is divine and it feels so luxurious to wear.
About The Hermès Scarf… Hermès scarves are woven from the silk of 250 mulberry moth cocoons. Hand-painted using multiple silk screens, they are truly works of art! Only two scarf collections are released by Hermès each year, along with re-prints of the most popular designs and limited editions. Since 1937, Hermès have released over 2500 scarf designs, the most recognised being their equestrian creations.
J'aime mon carré! (I love my scarf!)

Style photos featuring my beautiful scarf coming soon…
In the meantime, what is your favourite item in your wardrobe? xx
Your Daily Fashion Scoop
Welcome to your Daily Scoop of Fashion News. Where Fashion, Fun & Gossip are always on the menu.
Lanvin for H&M
I am certain everyone is just as excited about the Lanvin for H&M collaboration as I am! And it's not very far away now. Due to hit stores Nov 23 rd, the first image of what we can expect was released yesterday. (pictured above)  
Featuring many Lanvin signature trademarks – the asymmetrical neckline, ruffles, nipped in waists and ultra feminine styles – you will now be able to add some Lanvin flare to your wardrobe for the price tag of H&M. What is sure to be a very quick sell-out, customers will also be able to buy online through H&M's ecommerce site just launched in September.
J'aime mon carré
(I love my scarf)
Hermès will be opening two pop up shops in London dedicated to their brand J'aime mon carré – or I love my scarf.  
To be located in Shoreditch and West London, they will open in November in succession – the Shoreditch branch from Nov 17th to 25th and West London from Nov 25th. Both shops will be dedicated to the beautiful classic Hermès scarf. Expert staff will be on hand to show you different ways to tie them. I cannot wait! 
Best Dressed List – Keira Knightly in Chanel
As many of you may know Chanel is my absolute favourite. My fashion heaven. So whenever a celebrity steps out in Chanel it instantly captures my attention. Keira Knightley wore a stunning Chanel dress at the London premiere of Never Let Me Go.  
A Chanel favourite, Knightley's dress is from the Fall Couture 2010 collection. Covered in thousands of pearls, the neckline and sleeves are also draped perfectly with them. The striking cut-outs at the waist slim the figure and highlight the skin with subtle sophistication. A perfect score for Knightley and Chanel on this one! 
Simply Magnifique! xx