This Christmas make an unbelievable entrance with structured architectural silhouettes that scream timeless, sophistication and unmistakable glamour.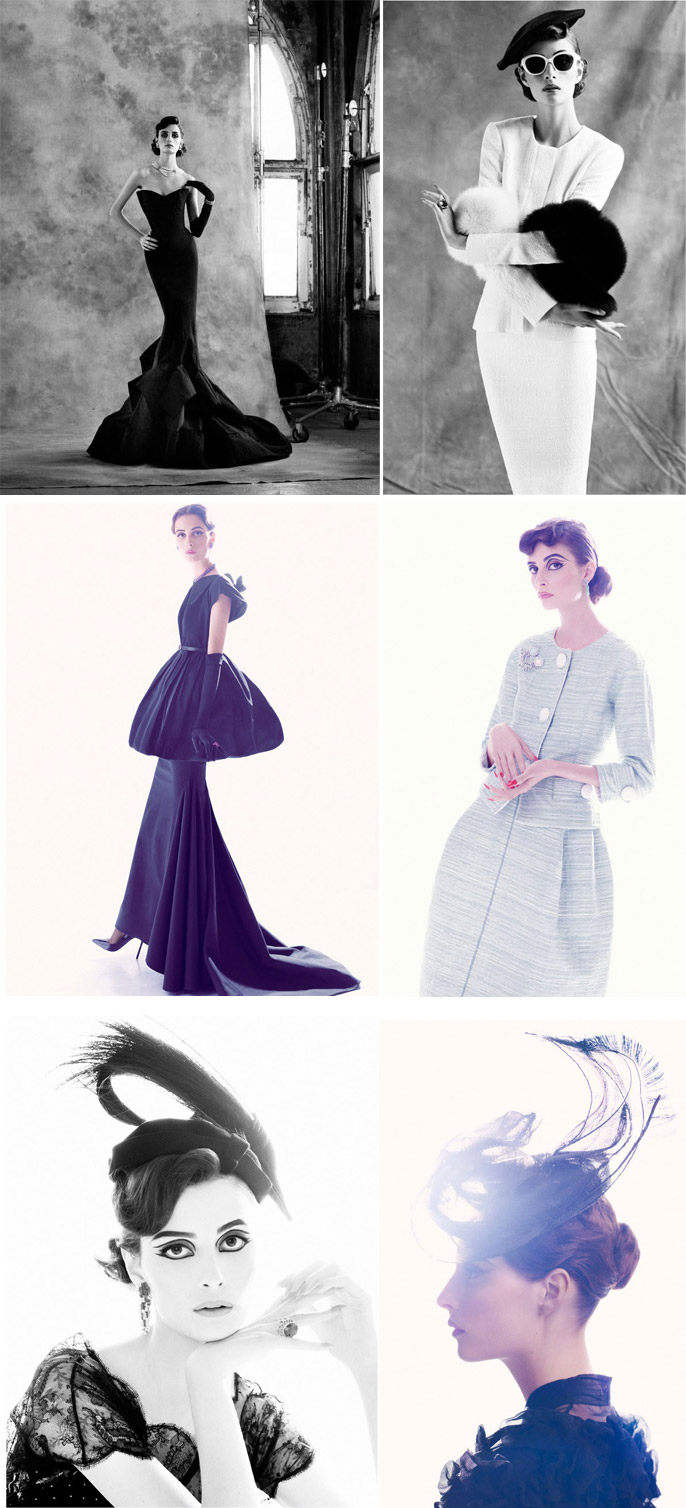 Evoke a timeless bygone decadence this festive season with pieces that will never date; style that transcends time; and ethereal gowns so precious they belong atop a Christmas tree.
This editorial from the January edition of Elle US, transports model Suzie Bird into the effortless style of a 50's belle. With heaven sent gowns and waisted suits by Fendi, Louis Vuitton, Dior and Sportsmax, amongst others; this editorial channels the likes of screen goddesses Audrey Hepburn and Grace Kelly. Bold eyeliner and classic accessories – opera gloves, statement jewels and hats – make for an enchantingly chic fashion moment.
Photos from fashiongonerogue.com
Tuesday Beauty Inspiration…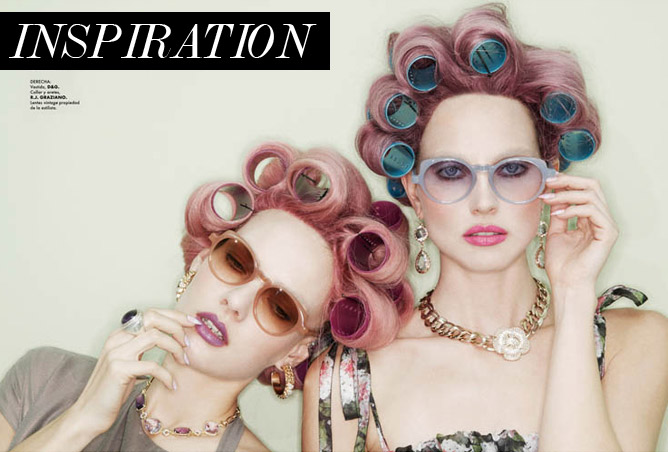 My Tuesday Inspiration came in the form of a beauty editorial for Elle Mexico, entitled: Locura Pastel 'Cake Madness'
Starring Tehila Rich and Ania Kisiel, the imagery captures a behind the scenes look at the duo while they prep and dye their hair neon pink and lovely lavender.
Unashamedly girly and fun, the models wear looks by D&G, Valentino, Fendi, Elie Saab and Bottega Veneta. From the knee-high stockings in lolly pink to the most delicate lingerie inspired pieces –  from first dye to flawless finish this editorial is simply delicious!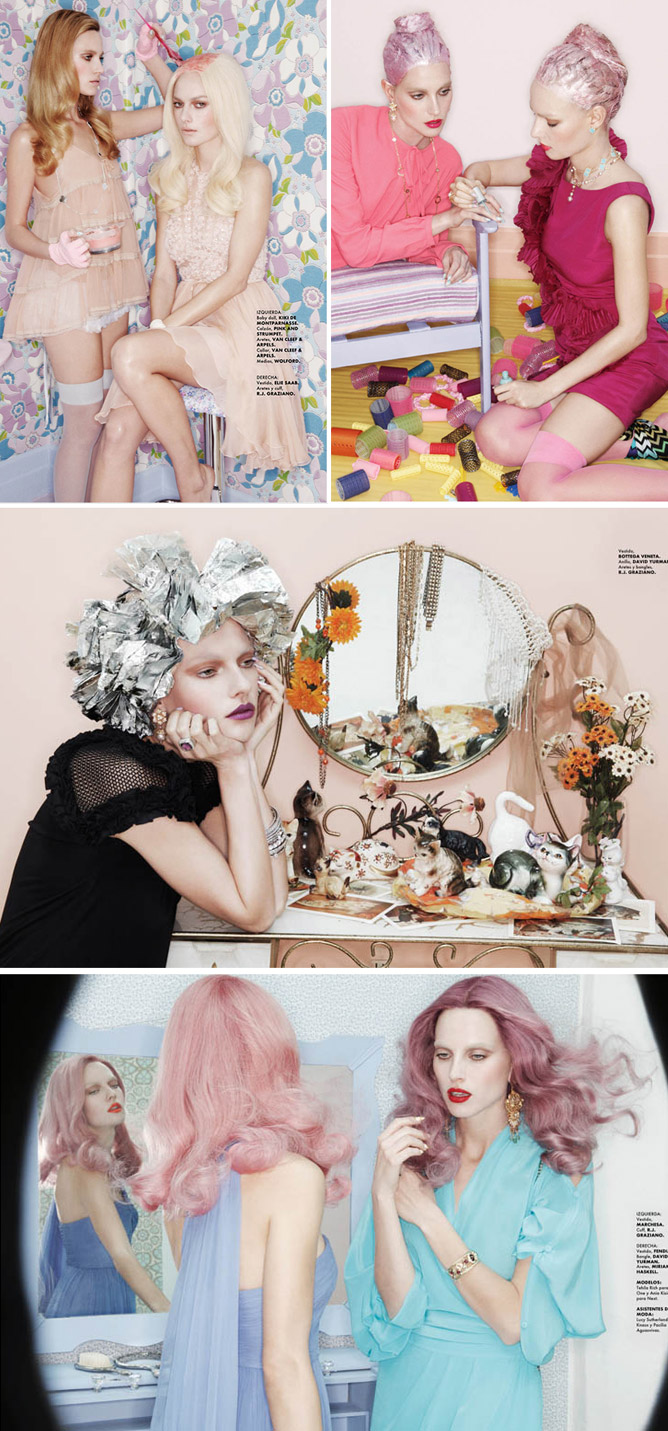 Be inspired & embrace your youthful femininity this Tuesday xx
Photos from fashiongonerogue.com
Your Daily Fashion Scoop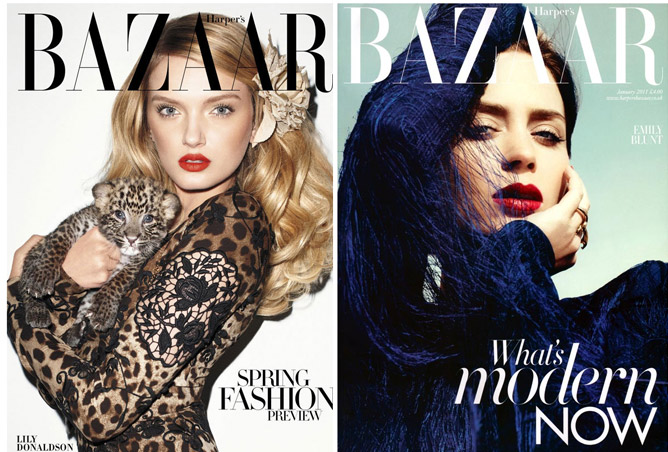 Vogue, Elle, Harper's Bazaar, Muse & more… today's Espresso Shot Of News
Fashion Magazines Are My Addiction…
Each month I purchase several fashion magazines – between Vogue (the US, UK and Australia versions are a must) as well as Elle (UK and Australia). I also end up buying a few others depending on which covers captivate me the most. And for January 2011 it looks like I will be buying a lot of Fashion Magazines!
January covers just look spectacular! A New Year looks set to bring colour, joy and sexy sophistication. My absolute favourite January 2011 covers (pictured above)…
>> Lily Donaldson for Harper's Bazaar US
>> Emily Blunt for Harper's Bazaar UK
I also love the Muse Winter 2010 Covers, starring Paz de la Huerta, Carolyn Murphy, Edita V & Magdalena (pictured right). Shot by Karl Lagerfeld, Salma Hayek for V Magazine Spain is simply mesmerising (pictured below)! LOVE, LOVE, LOVE!

What is your fashion addiction? xx
Photos from fashiongonerogue.com & Google Images