The Power Of Pink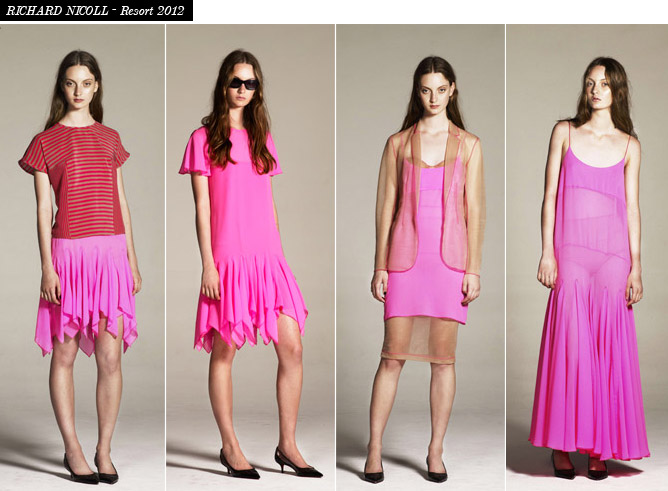 Across the Resort 2012 collections, pink was brightening the runway and bringing with it a breath of fresh fashion air.
From Michael Kors to Richard Nicoll (pictured above), pink is the go to colour for fun, feminine, frivolity this coming season.
If you haven't noticed, from the colours used on UptownTwirl.com, I am already a pink addict. And taking a closer look at the Resort 2012 collections has only reaffirmed my love of this invigorating, passionate colour.
Wear pinks across the colour palette from cotton candy to luscious watermelon. Whether you embrace precious pink from head to toe, a la Richard Nicoll style; work with a pretty tonal palette of pastel pinks, as seen at Bottega Veneta; or go bold in pink and black inspired by Michael Kors – a delightful shade of pink can be perfect for any occasion and on anybody.
Still not certain? You can always dip your toe into pink with separates. Pair pink separates with neutral shades – from white to grey or chocolate, for a classically chic look. The Chloé pink trousers worn with a crisp white shirt is simply too-die-for!  Do And don't forget, pink heels or a gorgeous pink handbag will also make an dynamic impact…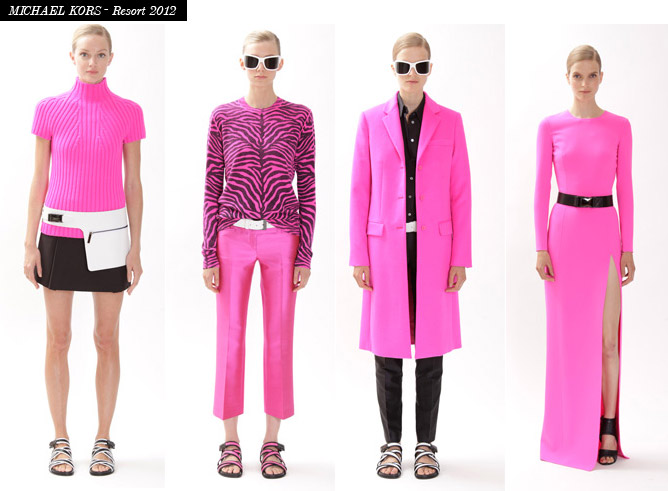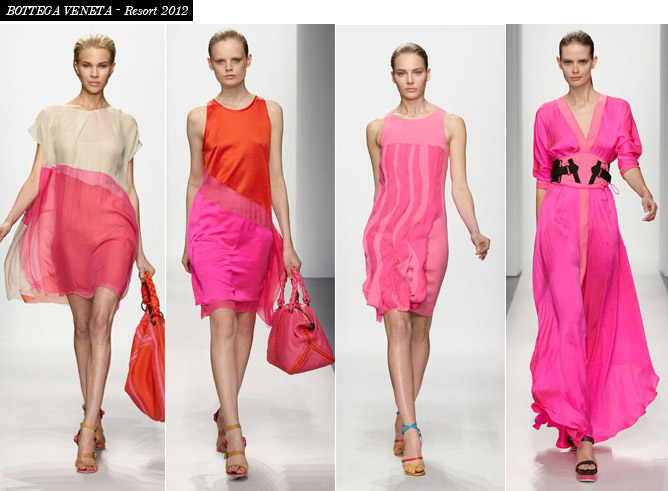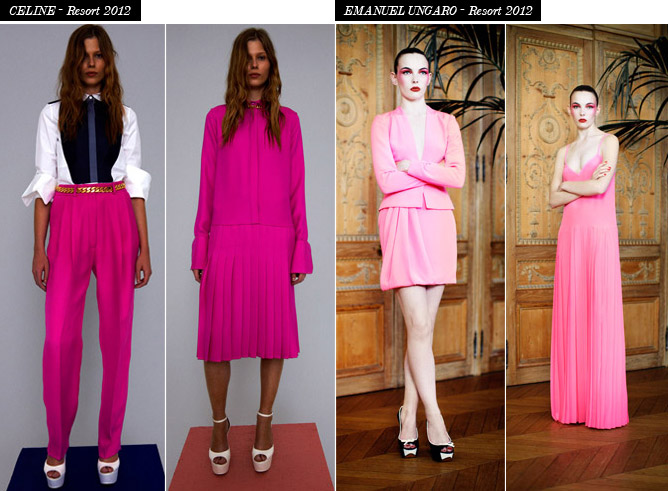 Will you adopt a 'think pink' attitude for your wardrobe? xx
Photos from style.com
Tuesday Beauty Inspiration…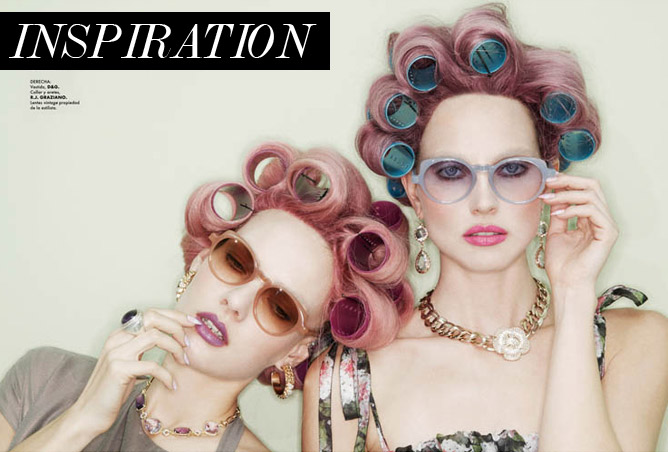 My Tuesday Inspiration came in the form of a beauty editorial for Elle Mexico, entitled: Locura Pastel 'Cake Madness'
Starring Tehila Rich and Ania Kisiel, the imagery captures a behind the scenes look at the duo while they prep and dye their hair neon pink and lovely lavender.
Unashamedly girly and fun, the models wear looks by D&G, Valentino, Fendi, Elie Saab and Bottega Veneta. From the knee-high stockings in lolly pink to the most delicate lingerie inspired pieces –  from first dye to flawless finish this editorial is simply delicious!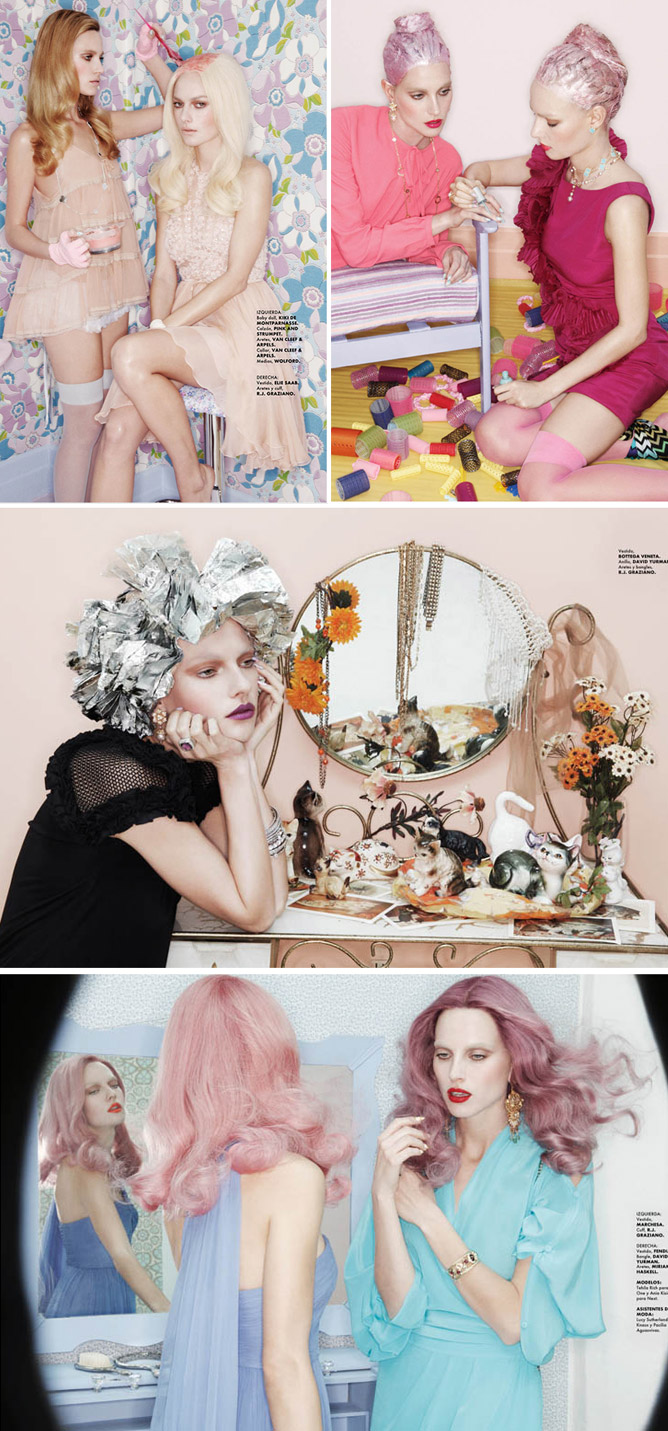 Be inspired & embrace your youthful femininity this Tuesday xx
Photos from fashiongonerogue.com
The Resort 2012 Collections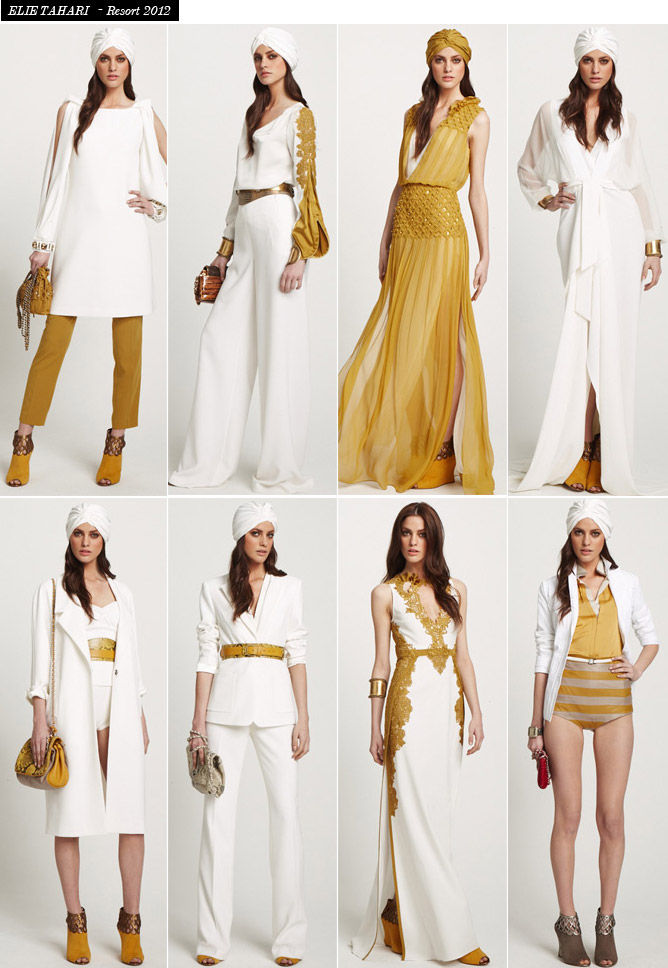 Elie Tahari
Dreaming of an exotic trip to Marrakech? The Elie Tahari Resort 2012 collection will transport you there. The tangerine and cream palette, combined with chic turbans and breezy caftans – exude effortless holiday dressing. The oversized tuxedo jacket and tailored trousers add urban edge to these beautiful, flowing creations. Love the long, light sleeves and the beautiful filigree embroidery.
– – – – – – – – – – – – – – – – – –
MaxMara
MaxMara's seventies inspired Resort collection consists of some key pieces for the season – the striking white suit, printed caftans and long tunic dresses. Colour-blocking and leather detailing gave the collection it's extra 'cool' factor. Think Bianca Jagger and Saint-Tropez chic!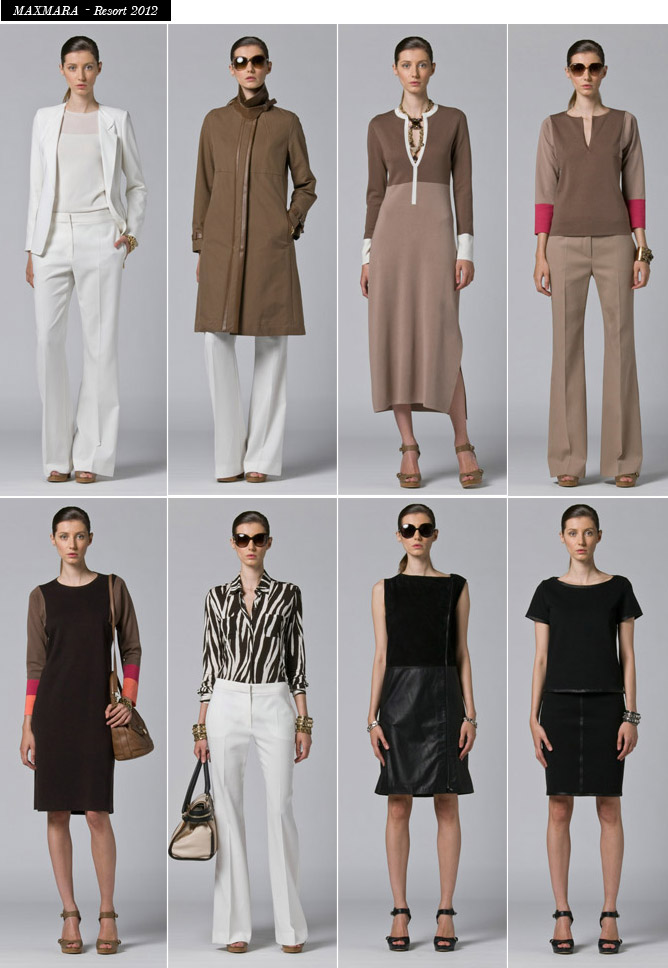 – – – – – – – – – – – – – – – – – –
Sportmax
Minimal, sexy and with extremely sharp lines – the Sportsmax Resort collection was a futuristic voyage in tailoring perfection. Look the business in menswear inspired pieces while adding a few plunging necklines for added sex appeal. Love the unexpected necklines on dresses and sinister looking trench coats!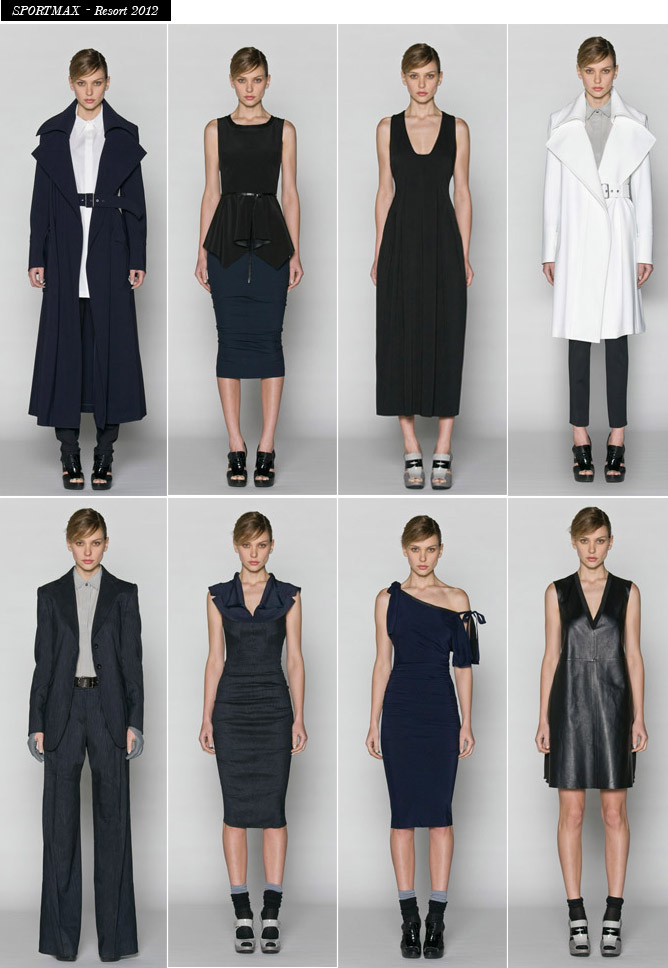 – – – – – – – – – – – – – – – – – –
Bottega Veneta
Combining city chic dressing with the 'effortlessness' of holiday separates – Bottega Veneta created a collection of seemingly weightless, perfectly soft neutrals perfect for the holiday season. Understated leather jackets, soft trench coats and 'lived in pieces', will not only make packing a breeze but also the wearer undeniably chic.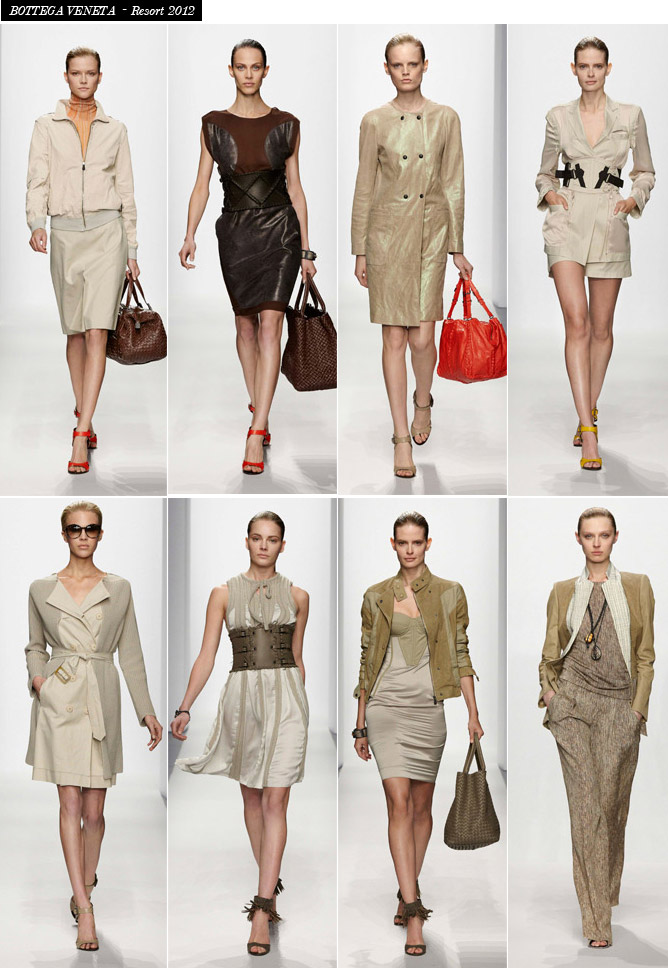 – – – – – – – – – – – – – – – – – –
Oscar de la Renta
Taking inspiration from Picasso's Cubist period, Oscar de la Renta's Resort collection was a chic colourful look at urban dressing. Colourful embroidery; black and white scribble prints; and embellished patchworks, made the collection sizzle in flamenco red, pink and striking green. The Spanish influence extended to matador jackets and high-waisted narrow-cut pants. There were also pure de la Renta moments – from flouncy feminine gowns and polka dot evening dresses!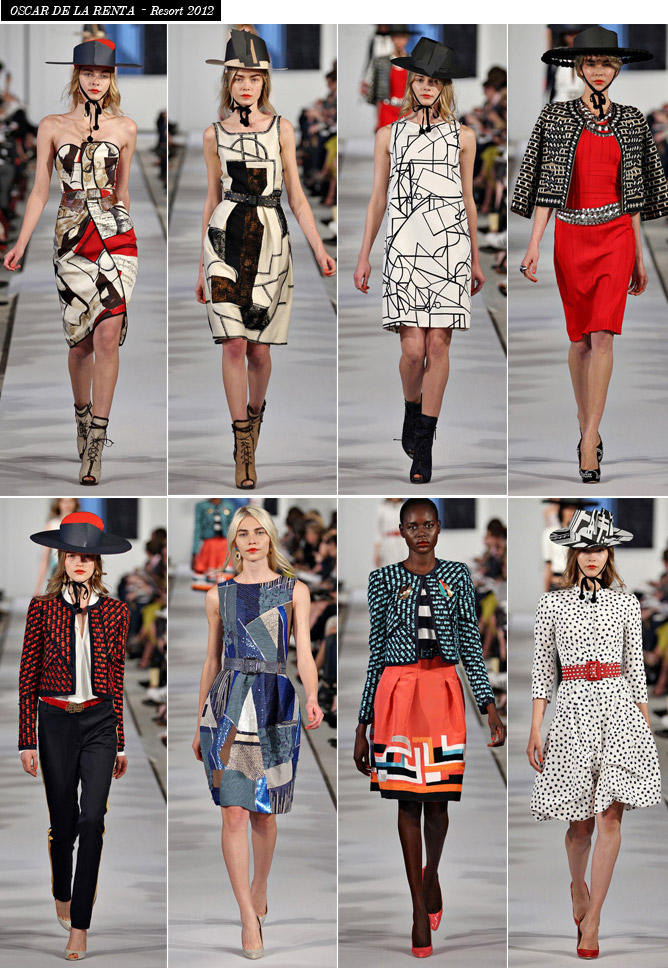 – – – – – – – – – – – – – – – – – –
What do you think of the Resort 2012 collections? xx
Photos from style.com