Your Daily Fashion Scoop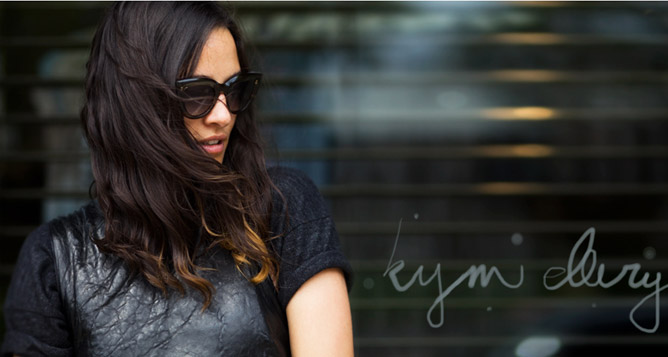 Two Stylish Espresso Shots Of News…
From Fashion Designer to
Style Muse…
Kym Ellery has made the transition from Fashion Designer to stylish muse.
Photographed by the renowned street photographer, Garance Doré, in Sydney; Ellery looks every bit the stylish city girl (pictured above & right). Wearing all black, Ellery's textured 50's inspired skirt is amazing! Love it! Her cat eye sunglasses add the perfect finishing touch. 
Meanwhile, other good news for Ellery…
Kym Ellery's label, Ellery, has been announced as a Finalist for the L'Oreal Melbourne Fashion Festival Designer Awards. The award for 'Emerging Talent' has a AU$20,000 prize package for the winner.
The other nominees include; Arnsdorf; Bassike; Dress Up; Ellery; From Britten; Laurence Pasquier; Lui Hon and Song for the Mute.
From Business Mogul
to Model…
Tamara Mellon, co-founder & chief creative officer of Jimmy Choo, has taken the spotlight as the face of Jimmy Choo's first fragrance campaign (pictured right).
The scent is simply named 'Jimmy Choo' and will be available exclusively at Saks Fifth Avenue. Fashion photographers Inez van Lamsweerde and Vinoodh Matadin captured Mellon in the campaign.
Of the fragrance, Mellon has said: "We wanted something that reflected what was in the bottle, something empowering but also sensual and soft. Fragrance is something that's very personal."
Hope you all have a super stylish Wednesday! xx
Photos from garancedore.fr & jimmychoo.com