Punctual Perfection
Investment in quality, timeless pieces into your wardrobe is as sensible as it is chic. "Fashions fade, yet style is eternal." – Yves Saint Laurent

Classic Timepieces
Thanks to mobile phones, iPads and other time-telling devices, the watch is almost an endangered accessory. Equally luxurious and practical, a watch instantly tells of your style and personality.
A classic timepiece is an investment that will never date. Elegant, worldly and really rather grand, a classic watch can make any outfit or occasion instantly more chic. And it is an investment that can be enjoyed every second, of every minute, of every hour, of every day.
An ascent to your look, it is the watch movement that will dictate the quality, and subsequently the price of a watch. Yet while the clock may be ticking, be selective in your choice… a iconic timepiece can be an extraordinary investment, one that may even be passed down to future generations.
Menswear-inspired timepieces are especially chic. A woman wearing a man's watch evokes an effortless grandeur and stylish ease. Nonchalantly hovering around the arm with their distinctive proportions of larger numerals and dial; the larger the watch, the more delicate the woman's wrist appears. Larger watches also create an unexpected harmony, when worn alongside pretty, feminine jewels.
Don't waste any precious time investing in a quality timepiece…
your arm will thank you for it xx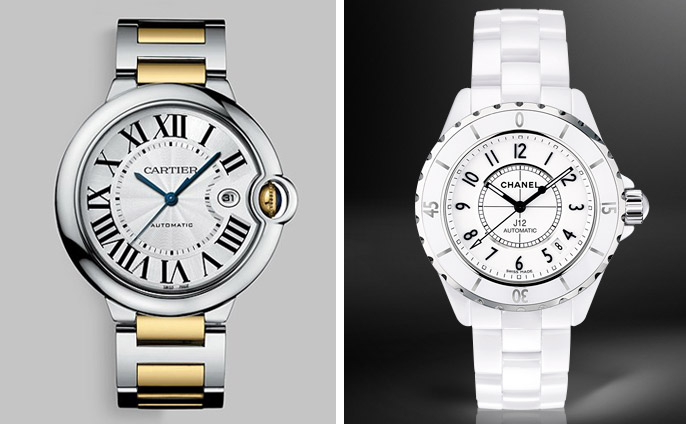 Two of my favourite watches – Cartier {Large Ballon Bleu} & Chanel {J12 White}
Photos from saksfifthavenue.com / chanel.com