ESPRESSO SHOT OF NEWS…
Your Daily Fashion Scoop

A Fashion Business Espresso Shot Of News…
Sass & Bide will sell the majority stake in their dynamic label to iconic Australian Department store Myer.
Myer will acquire a 65% of Sarah-Jane Clarke and Heidi Middleton's label for $42.25 million (AU Dollars).
The deal will become official in April and will see Sass & Bide launch across 300 Myer stores over the next 18momths. The acquisition will mean Myer have exclusive department store rights to distribute the brand as well as benefit from the expansion of the label within Australia and internationally. Sarah-Jane Clarke has said of the deal, "This partnership will help Heidi and I realise the dream we had for sass & bide 12 years ago when we were selling our jeans at Portobello Market in London".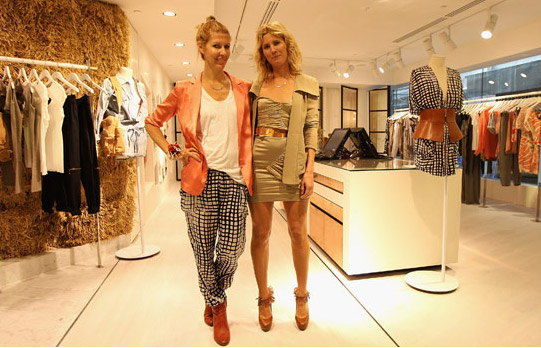 About Sass & Bide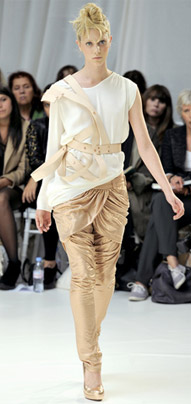 Sass & Bide is the brainchild of Sarah-Jane Clarke (aka Sass) and Heidi Middleton (aka Bide).
Launching in 1999 at London's Portobello Road, Sass & Bide became renowned for their edgy denim and youthful free spirited pieces. With fans including the likes of Cate Blanchett and Nicole Richie, the stylish label quickly became a highly coveted favourite -perfect for those seeking the duo's 'not too pretty' aesthetic.
Sass & Bide made their debut at London Fashion Week in 2002, before moving to New York Fashion Week and then back to London once again. Sarah-Jane Clarke and Heidi Middleton have also launched two subsidiary lines—S&B and Sass & Bide Denim.
About Sass & Bide
Spring / Summer 2011
Titled 'Papa Sucre' (French for 'sugar daddy'), the Sass & Bide Spring / Summer 2011 collection was a feast of gorgeous pieces perfectly befitting a Caribbean Queen.
Of the collection, Heidi Middleton said: "Sarah-Jane's been meditating, we've all gone Zen". And the clothes reflected this – excluding serene, natural energy and a restraint. Pieces were draped and knotted in a beautiful natural, soft colour palette. Digital prints were mixed and matched and also took organic shapes (some even resembling bamboo).
With hints of tribalism, the collection was soft, feminine and enchanting. Embellishment in the form of killer accessories – especially the central raffia motif appeared right across the collection in the form of collars, jackets, and skirts. Sweet silk jumpsuits; fluid harem pants; and sexy micro-dresses combined for a truly dynamic collection….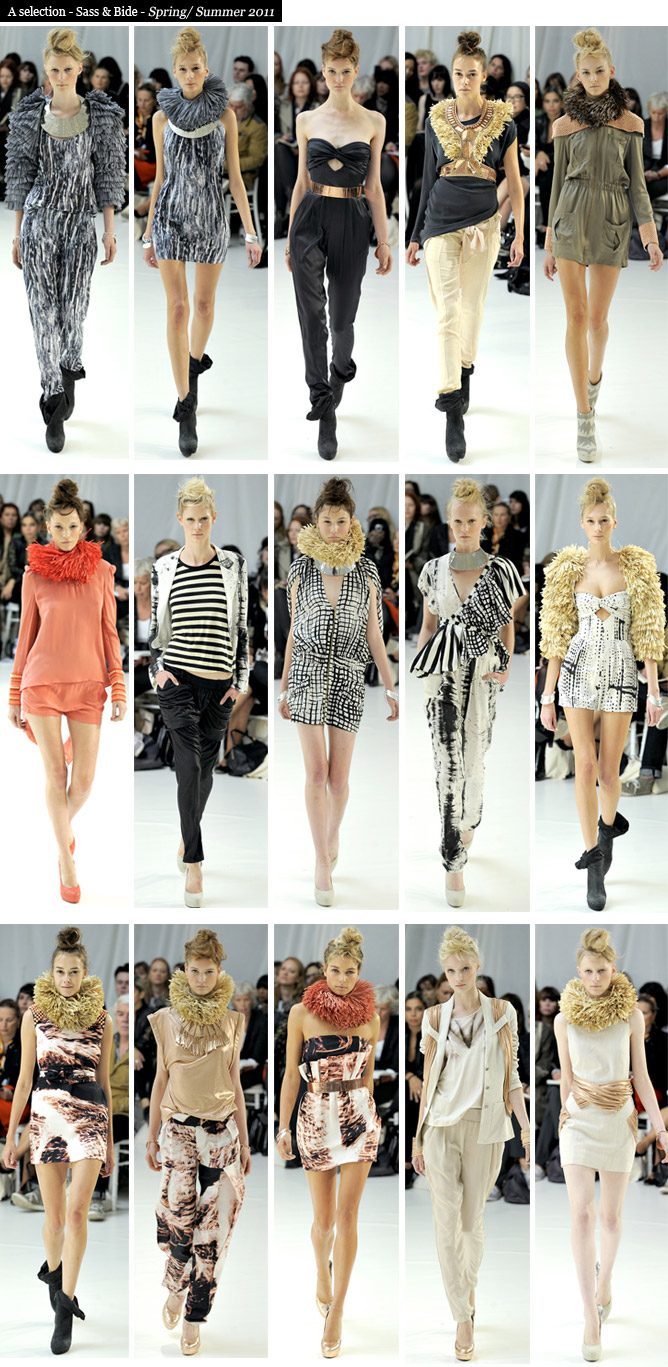 Are you loving or loathing the Sass & Bide Spring / Summer 2011 collection? xx
Photos from style.com & grazia.com.au