Editor's Letter
The week that was…
The last week has been one of the most exciting in Uptown Twirl's life to date. With London Fashion Week to keep updated on; exquisite clothing, shoes and accessories to covet; and lovely people to meet; it has been a whirl wind week!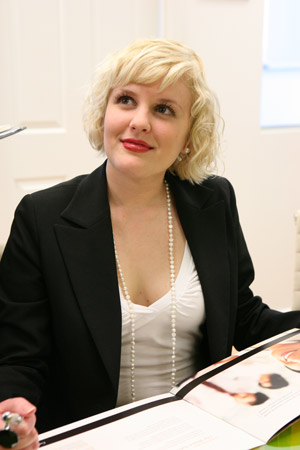 London Fashion Week
The spectacular London Spring Fashion Week did not disappoint. From Burberry Prorsum to Erdem, Christopher Kane, Matthew Williamson and of course Vivenne Westwood – there was gorgeousness at every twist and turn! Anna Wintour made quite a few appearances and Olivia Palermo looked immaculately stylish every time she stepped out. The fashion, style, people and place combined for a delicious feast for the eyes! 
My complete London Spring Fashion Week coverage will be posted over the coming days… 
Front Row At Jasper Garvida's Spring / Summer 11 Collection
As my first fashion week experience, Jasper Garvida's Spring / Summer collection was simply perfect. I got to meet with Jasper backstage, who was incredibly sweet and even congratulated me on my competition win. Air kisses were then exchanged before he set off, ever so calmly, to show his new collection. 
I also got to see the clothes up-close prior to them being shown on the catwalk. Combining two of my favourite 'themes', Paris and the 50's, Jasper Garvida had already started ticking the boxes to a collection I was going to love. Please click here to view my review of the Jasper Garvida collection…
The show was sponsored by Miele who also provided gift bags for the VIP's. 
I Met Boy Meets Girl
Then on Thursday I met Stacy M. Igel, the Creative Director and Chief Brand Ambassador of New York based label Boy Meets Girl, for brunch at Tom's Deli in Notting Hill. Having just shown at New York Fashion Week, Stacy was on a whirlwind trip to London and Paris. Having only tweeted and emailed previously it was lovely to meet with such a lovely, energetic and inspirational designer and business woman.
Boy Meets Girl is an edgy, wearable line of tops, tunics, dresses, skirts, jumpers, sweaters, tracksuits, hoodies, tees and outerwear – all easily recognisable by the standout branding of the little boy and girl silhouettes . It has also struck a chord with countless fashionable celebrities: Eva Mendes, Rachel Bilson, Rosario Dawson, Michelle Williams, Hillary Duff and Zooey Deschanel, to name but a few have all been spotted wearing the label. 
I interviewed Stacy for the upcoming episode of Uptown TV, which will be posted online within the next week. So watch this space… 
Love Cara xo