Uptown Twirl Style
What I Wore…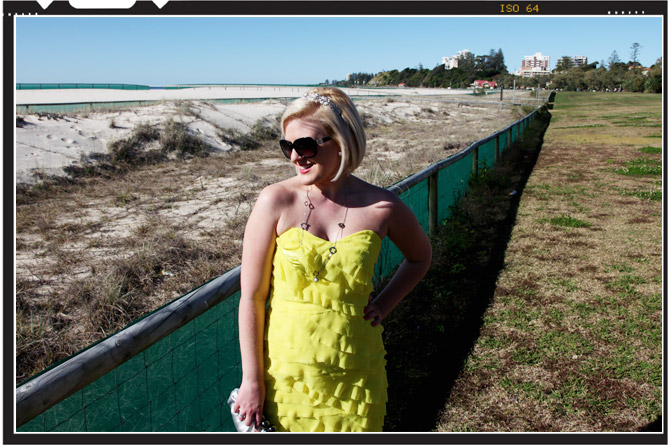 To A Beautiful Beach Wedding
On Saturday I attended a gorgeous beach wedding on the Gold Coast.
To this lovely occasion and special day, I wore a vibrant sunshine yellow strapless dress; my 'Audrey-inspired' sunglasses (a must for all beach weddings!); accompanied by my silver accessories. It was a lovely sunny day, filled with friends and fun.
Beach Wedding Styling
Deciding what to wear to a beach wedding can be a little tricky… especially as there are quite a few potential elements to contend with – wind; rain; or possible sunburn. There is also the 'heels or flats' debate which always occurs on the way out the door! So here are a few Beach Wedding Styling Tips:
The Dress
A gorgeous light dress in a divine colour or print will always look beautiful for a beach wedding. Choose one which is delicate, flowing and romantic. A floral print or something with fine detailing such as lace or embellishment will always look whimsically chic on romantic occasions. Alternatively, embrace an elegant maxi dress for pure beach glamour.
The Accessories
A clutch is the perfect accessory for a beach wedding. Choose a metallic or light neutral shade – it will go perfectly with every outfit and look très chic on the sand.  For shoes, opt for an embellished sandal or metallic finish on your flats for that extra sparkle. And if you want to wear heels, make sure they are wedges – you don't sink into the sand xx

What would you wear to a beach wedding? xx