PARISIAN CHIC STYLE
What I have learned from a week in Paris
Bonjour Bunnies!
For the past week I have been in Paris seeking out all things Parisian chic. Oh la la!
Home to most of the world's leading couture houses, Paris is also the residence of some of the most fashionable women in world. Parisian women are chic, sophisticated and effortlessly elegant. Their perfect posture, confidence and self-assurance portray an image of complete composure to the world.
Known for their elegant understated style and unmistakable Je ne sais quoi, the French choose classically cut, timeless pieces which they can reinvent time and time again. Parisian women wear clothes that fit them well and compliment their shape and style. They understand the power of tailoring.

Their style isn't necessarily about designer labels either. Their clothes are not overindulged or trend based. Most importantly it is about how they put the looks together. Their looks appear effortless, slightly off beat with quirky touches from delicate embellishing to soft pleats. Think modern, elegant but not too tricky…clothes must not be laborious. They keep it simple but individual with elegant statement jewellery that sends a message about their personal style.  
Recreating the French look outside of the city of love can be done. So how to dress French, when you are not actually…French:
Less is more
There is a distinct undone, offhanded confidence to Parisian style that makes it so unique. Don't over think your look, keep it simple, elegant with a 'naturally' put together feel.
Don't Follow Trends, Make Trends Follow You
You don't need to follow every fashion trend to be stylish, quite the contrary. Buy what suits you and will be relevant for seasons to come. You don't need to have it all, when what you have makes you look magnifique!
High Quality Separates
Choose cool separates with beautiful detailing in the highest quality you can afford. Parisian women understand the power of investment in their wardrobe.
Compliment your body shape
Parisian women wear well-fitting clothes that suit their body shape. Always choose clothes that work best on your figure. Don't wear trousers that are too small or similarly things that are too big. A great tailor is an investment in yourself and your wardrobe. A great fit can create an incredible style statement.
Give classic pieces a modern twist
Parisian chic is all about classic dressing with a modern edge. It's the quirky additions, attention to detail and playful use of accessories (but not too many) that add that extra dose of uniqueness. Overall it is how you put the look together that counts.
Proportion Power
When putting together your outfit consider every detail, even your coat. Parisian women pay meticulous detail to every shape, layer and proportion to create their desired silhouette.
Confidence in your natural beauty
Parisian beauty is about attitude and being comfortable within your own skin. Keep your make-up fresh and minimal. Your hair slightly undone. You want to your look to be effortless.
Style never takes a day off or feels 'chubby'
I.E. always make an effort to look unbelievably chic! French beauties do not know the meaning of sweat pants or too tired to try. Make sure you look your best every day…you never know who you may just run into.
Perfect posture
The easiest way to get French chic is to stand with perfect erect posture and present yourself to the world with complete assurance.
In conclusion from my French findings, Parisian style is second nature. It is poise, polished and chic. It is undeniably French.
Au Revoir x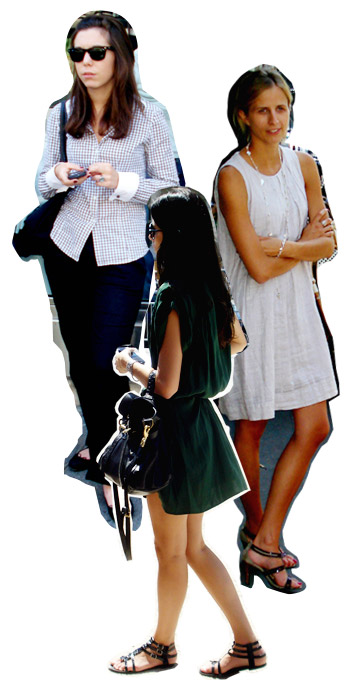 P.S. Paris, je t'aime