I heart Vogue!
Are you a Voguette?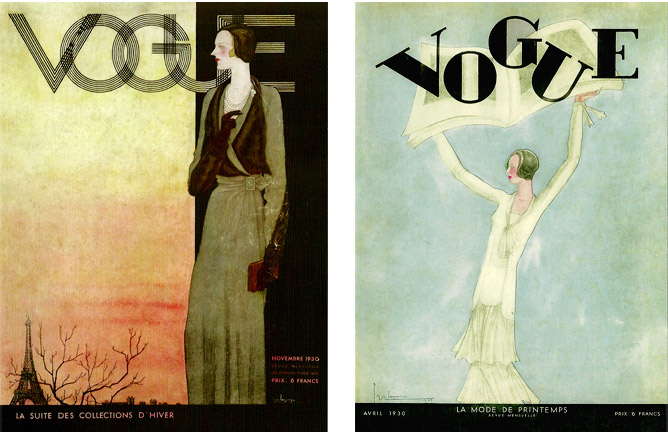 For Voguettes (obsessed Vogue readers) Vogue is the fashion bible. Every month it brings the most beautiful luxury clothing, gorgeous designer handbags, the latest luscious looks and everything one could materially desire into your life for your eyes to devour…oh and don't forget the shoes!
But in all seriousness, Vogue is published in 18 countries and 1 region around the world. It addresses topics of fashion, beauty, life and design – all the while staying at the forefront of the industry for editorial content, graphic design, advertising and the finding of new talent.
"Vogue is to our era what the idea of God was, in Voltaire's famous parlance, to his: if it didn't exist, we would have to invent it. Revered for its editorial excellence and its visual panache, the magazine has long functioned as a bible for anyone worshiping at the altar of luxury, celebrity and style. And while we perhaps take for granted the extent to which this trinity dominates consumer culture today, Vogue's role in catalyzing its rise to pre-eminence cannot be underestimated."
– Caroline Weber, The New York Times, December 2006
Why I Love Vogue…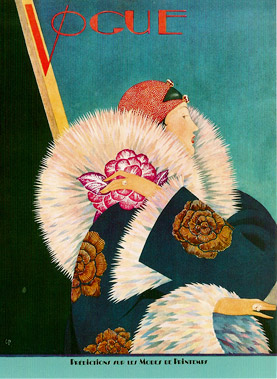 The making of fashion history…
Vogue started to humble beginnings in 1892 with a weekly issue. After founder Arthur Baldwin's death, Condé Nast continued Vogue and started to grow the publication. One of the main changes he made was to release bi-weekly issues. Nast then travelled to Britain and started Vogue here to great success, before continuing to establish a French edition. British Vogue began publication in 1916.
Vogue sales continued to soar and proved highly profitable for Nast. Subscriptions even continued to increase during the Depression and World War II, which was obviously by no means an easy feat. 
Finally in 1973, Vogue became a monthly publication. Vogue also helped to make household names of Twiggy and Laura Hutton, amongst many others.
Becoming the most treasured fashion magazine…
Vogue's continued success and enduring appeal has always been driven by its approach to continually evolve and move with the times. Editorial and stylistic changes have enabled Vogue to reinvent itself decade after decade and respond to changes in its reader's lifestyle.
The Fierce but Fantastic Anna Wintour…
Current editor-in-chief of American Vogue, Anna Wintour is renowned for her signature bob, wearing sunglasses indoors and oh yeah her intimidating, stern manner. Taking the reins in 1988, Wintour was hired to shake things up and give Vogue a fresh voice.
Through Wintour's direction Vogue's circulation has reached a broader audience. Vogue America has flourished. It now welcomes and encourages young emerging talent, is focused on discovering trends and has pioneered fashion for a wider market- her first cover issue featured a model in a pair jeans!
Wintour is a power player. Holding considerable influence over fashion, runway shows don't start until she arrives. Designers succeed when she backs them. She can create or kill trends. Wintour is the definition of influential.
The September Issue…
2009 saw the release of the 'fly on the Vogue' wall feature length documentary titled 'The September Issue'. Shot over 8months in preparation for the 2007 September issue, the documentary showcased the extraordinary talent, pizzazz, hard-working and day to day life of the US Vogue team behind the scenes. The issue in question became the largest ever published. Weighing over 5 pounds and a seriously impressive 840 pages in length, it also gained a world record.
Getting up close and personal (well as personal as you can) with Wintour, 'The September Issue' broke down some of the mystery surrounding her stern persona. Grace Coddington, creative director, features extensively styling and producing stunning imagery for the issue.  
Each September Issue…
Each year the September editions of Vogue from around the world are the largest of the year. As the biggest fashion issue, the September editions showcase all the new season's trends, must have pieces and all round splendour, the viewer should know for Autumn and Winter.
My experience…
I buy Vogue every month and have done for many years. I have piles of them around my apartment as they are too beautiful to throw out. I revisit older issues regularly and the fashion, striking layout, interesting content and imagery always make them an absolute pleasure to read.
Therefore, in conclusion, Vogue… I heart you!
So are you a Voguette? Do you buy Vogue religiously? Do you remember your favourite edition ever? x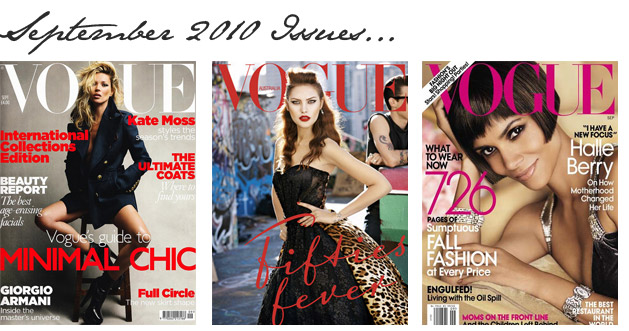 Photos from Vogue.co.uk, Vogue.com.au and Vogue.com