What I wore…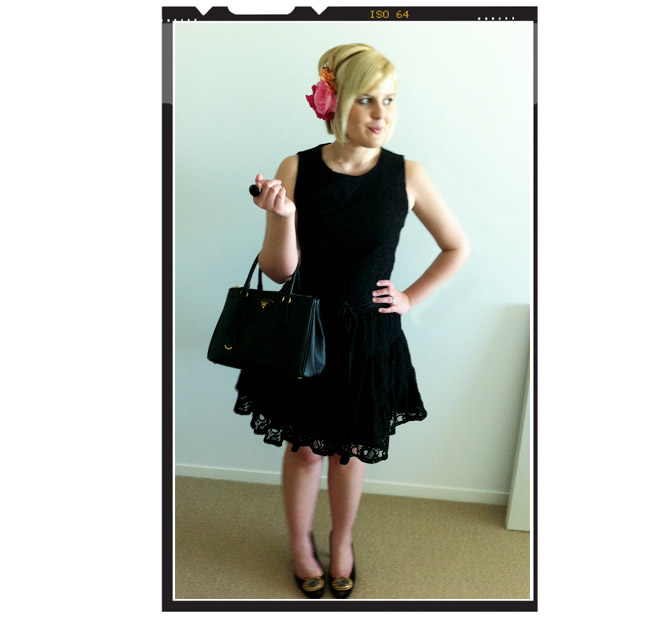 To a beautiful, picturesque country wedding of two lovely people on Friday…
I would usually never ever wear black to a wedding, but this little Portman's lace dress with sweet ribbon belt detail and A-line party skirt, seemed like the exception. I  tried to bring some pretty colour and country spirit into my look with a big floral headband, also from Portmans. My Birthday Prada handbag added the finishing touch.
Hope you all have a love filled weekend!
Love Cara xx
Fashion & Interiors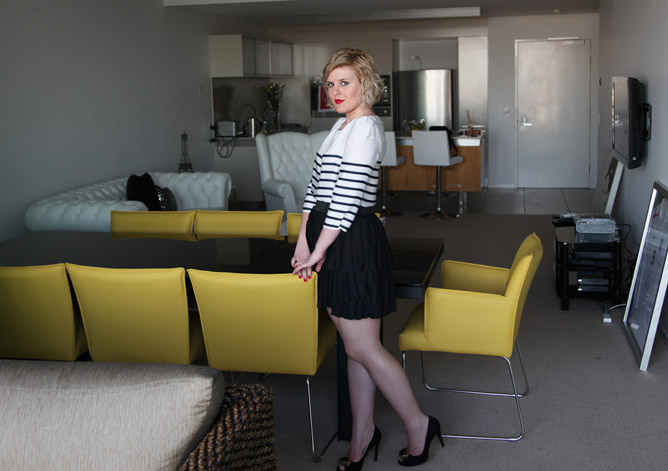 Bonjour Bunnies!
Over the last couple of weeks I have been busy moving into a new apartment and I thought I would give you a sneak peek!
This is the first time in my life I have been truly able to decorate in the style I want. Which has been delightfully exciting! As many of you already know, I am a little obsessed with all things French, so my decorating inspiration has been a mix of 'Parisian chic' cross with 1960's cool (and so far I have already had someone tell me my black dining table and mustard chairs make them think of Tom Ford's 'A Single Man' – a definite good sign!). It is still a work in progress, but the feature furniture pieces are now in and it is starting to come together.  I will be creating some large fashion illustrations to hang on the big white walls… so be sure to watch this space.
Meanwhile, for my outfit I am also channelling two iconic Parisian looks – striking black & white and classical nautical stripes. I am wearing a striped blouse and little black pleated skirt both from Portmans and my heels are from Nine West. Red lips and nails add splashes of colour to my look.
Paris, je t'aime xx

Hope you all had a wonderful weekend! xx
What I Wore…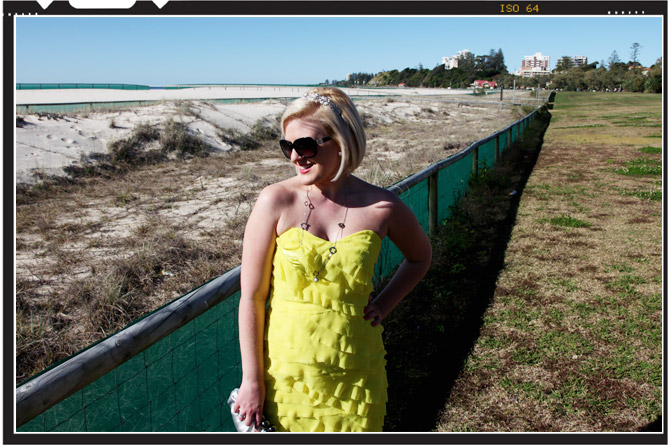 To A Beautiful Beach Wedding
On Saturday I attended a gorgeous beach wedding on the Gold Coast.
To this lovely occasion and special day, I wore a vibrant sunshine yellow strapless dress; my 'Audrey-inspired' sunglasses (a must for all beach weddings!); accompanied by my silver accessories. It was a lovely sunny day, filled with friends and fun.
Beach Wedding Styling
Deciding what to wear to a beach wedding can be a little tricky… especially as there are quite a few potential elements to contend with – wind; rain; or possible sunburn. There is also the 'heels or flats' debate which always occurs on the way out the door! So here are a few Beach Wedding Styling Tips:
The Dress
A gorgeous light dress in a divine colour or print will always look beautiful for a beach wedding. Choose one which is delicate, flowing and romantic. A floral print or something with fine detailing such as lace or embellishment will always look whimsically chic on romantic occasions. Alternatively, embrace an elegant maxi dress for pure beach glamour.
The Accessories
A clutch is the perfect accessory for a beach wedding. Choose a metallic or light neutral shade – it will go perfectly with every outfit and look très chic on the sand.  For shoes, opt for an embellished sandal or metallic finish on your flats for that extra sparkle. And if you want to wear heels, make sure they are wedges – you don't sink into the sand xx

What would you wear to a beach wedding? xx