Kate Moss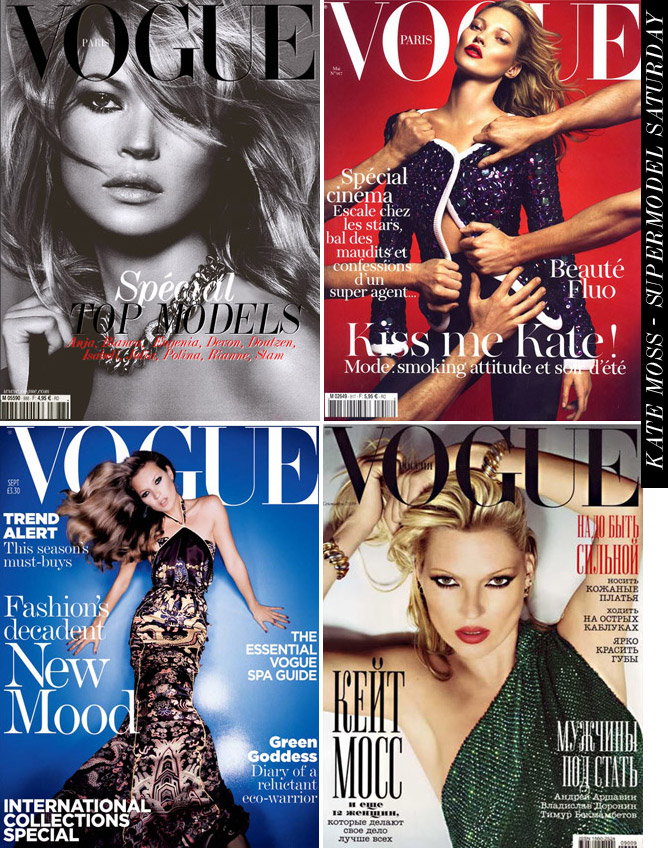 Kate Moss is one of the world's most recognisable models.
She has appeared on 30 British Vogue covers; 16 Vogue Paris covers; 5 American Vogue covers; as well as Vogue Japan, Spain and more.
About Kate Moss
Born in Croydon, England, Moss was discovered in 1988 at the age of 14 at JFK Airport in New York City. Shooting to fame in 1993 with a evocative ad campaign for Calvin Klein; Moss changed the look of modelling in the 90's. She brought into focus the 'heroin chic' look and 'size zero' fashion. Of this Moss said; "It was just the time. It was a swing from more buxom girls like Cindy Crawford and people were shocked to see what they called a 'waif'.
Moss has starred in countless campaigns for high-end labels, from; Gucci, Dior, Dolce & Gabbana, Yves Saint Laurent, Calvin Klein, Chanel, Burberry and Bulgari. As well as having worked with the most renowned fashion photographers in industry, from Mario Testino, to Mario Sorrenti, Steven Klein and Juergen Teller.
Still commanding the runway spotlight, recently closing the Louis Vuitton Fall 2011 collection, Moss has also launched a line of clothing with Topshop.
Kate Moss –
The Vogue Covers…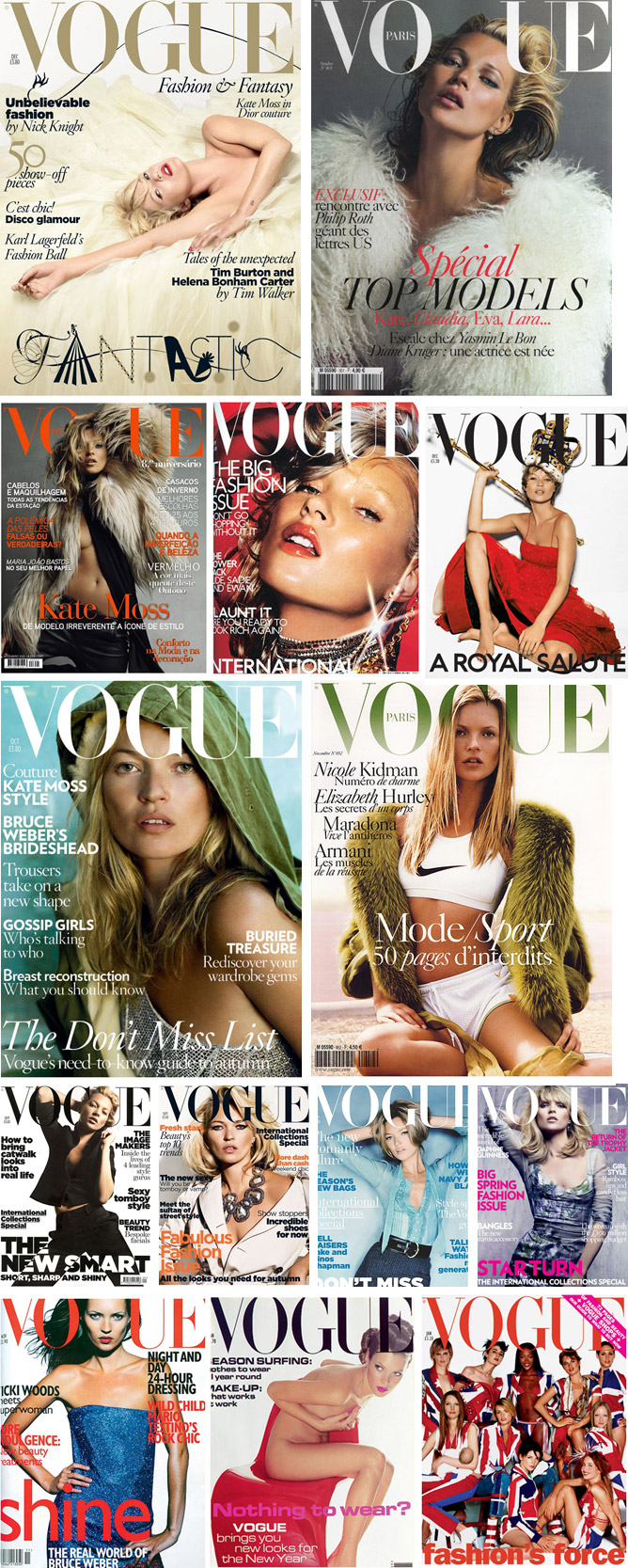 Which is your favourite Kate Moss Vogue Cover? xx
Photos from vogue.co.uk
Love, Love, Love… Natalia Vodianova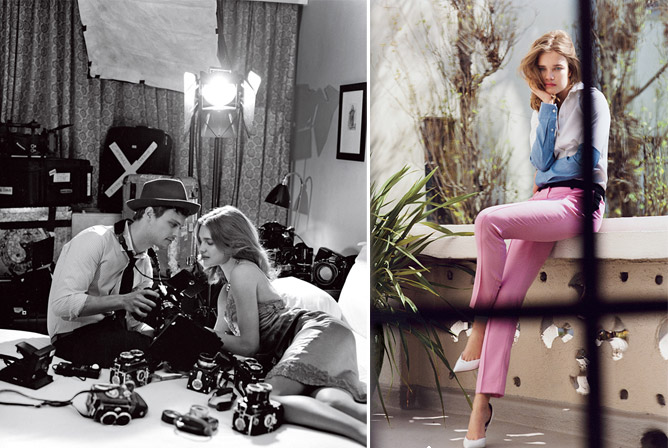 Model, Actress, Designer, Wife & Mother, Philanthropist… Natalia Vodianova is one extraordinary lady.
About Natalia Vodianova…
Born in Gorky, USSR, Natalia Vodianova grew up in a poor district of the city. As a teenager, Vodianova would help her mother sell fruit on the street and later set up her own fruit stand to help her family out of poverty. At the age of 15, Vodianova enrolled in a modelling academy. She was told she would need to learn English to succeed in the business. Vodianova mastered the language within just 3months and by the age of 17 had already moved to Paris and signed with Viva Models.
Career…
Vodianova has walked in over 175 runway shows and appeared in countless editorial spreads for fashion magazines worldwide. She has covered, on numerous occasions, Vanity Fair, Vogue, i-D, W, Italian Vogue, British Vogue, Pop, and Tatler, amongst others. This month alone, she graces two covers! Vodianova has been the 'face' of many campaigns, including those for; Chanel, Louis Vuitton, Yves Saint Laurent, Marc Jacobs, Calvin Klein, Diana Von Fürstenberg, L'Oréal and others. As part of her contract with Etam (the French lingerie label), Vodianova has also designed a lingerie collection each season, under the brand Natalia pour Etam.
Outside Of Modelling…
Vodianova has three children with husband Justin Portman, and has been recognized for her philanthropic contributions. She is a founder and the president of the Naked Heart Foundation, a organisation that strives to provide a safe and inspiring environment for every child living in urban Russia to play in. In November 2010, Vodianova was awarded the Harper's Bazaar Inspiration of the Year.
Vodianova will soon appear on the silver screen starring opposite Jonathan Rhys Meyers in the romance Belle du Seigneur. Of taking on the role of actress, Vodianova has said: "Acting is an extension of what I do as a model because I never just pose. I always give a bit more."
For Vogue US May 2011 Issue…
"Model and actress Natalia Vodianova unpacks a cinematic urban summer wardrobe at the iconic Chateau Marmont and finds young Hollywood talents behind every door", Vogue US.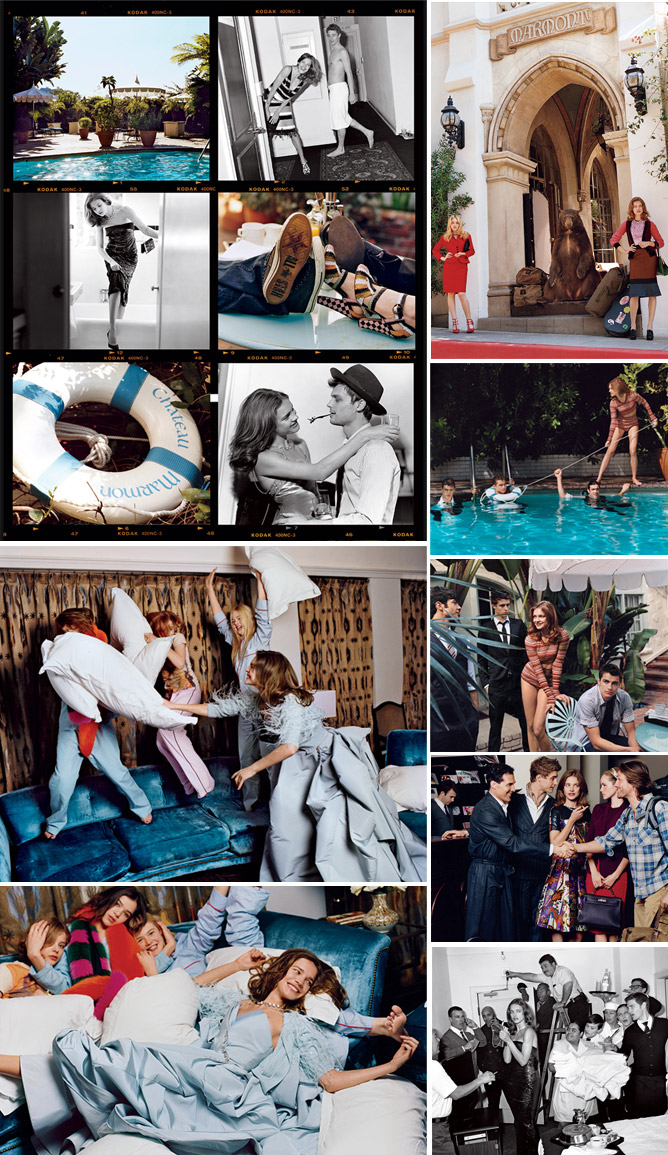 Natalia Vodianova for Guerlain Rouge S/S 2011
Exquisitely beautiful Vodianova fonts the latest campaign for Guerlain's Rouge Lipstick Line.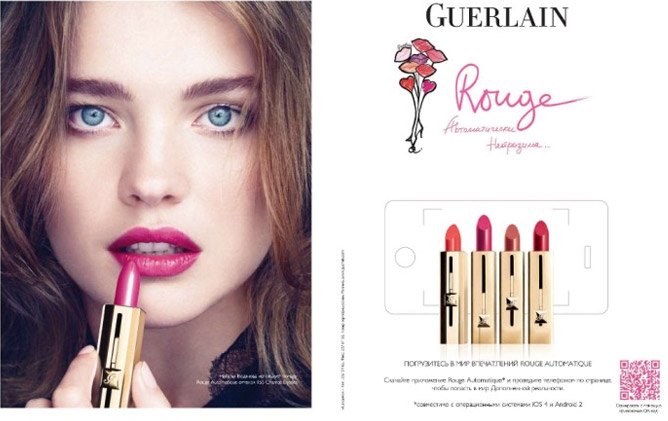 Natalia Vodianova for Forum S/S 2011
Vodianova is joined by Marlon Teixeira, as the face of Forum's Spring / Summer 2011 campaign. Vodianova and Teixeira sizzle with sexy, sophistication for the Brazilian label.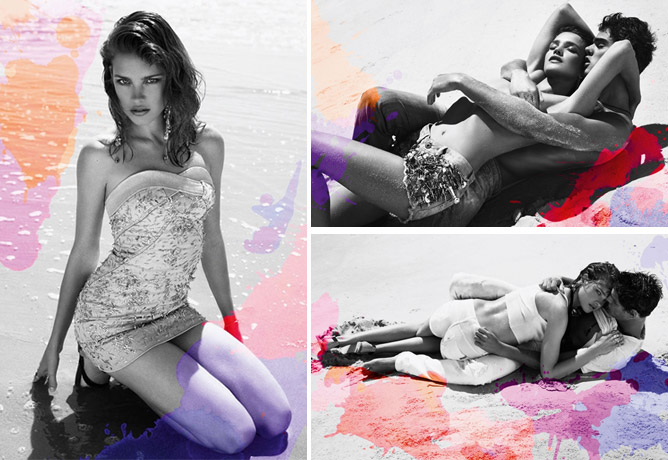 Who is your favourite model? xx
Photos from vogue.com / fashiongonerogue.com / fashionising.com / models.com
Love Is In The Air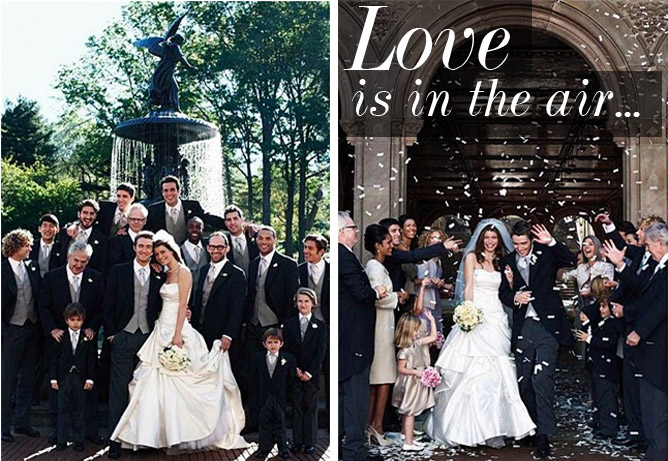 Wedding Espresso Shots of News…
Love, love, love a Wedding!
The world has fallen in love with the elegant, sophisticated Kate Middleton. The Royal Wedding, set to take place on April 29, 2011 at Westminster Abbey, has sprinkled love in the air right across the globe…
Tiffany & Co. Spring Campaign
Tiffany and Co. have released their Spring 2011 ad campaign, which perfectly captures the elegance, beauty and love of a gorgeous New York Wedding! The photography, styling, models and jewellery (pictured above & right), are as to anticipated from a Tiffany campaign, all exquisite. Love Tiffany's ability to transport you into a world of luxury…
Vogue UK Wedding Editions
To celebrate the Royal wedding of Prince William and Kate Middleton, Vogue UK is releasing three exquisite covers for the May 2011 issue (pictured below). The Three key factors to creating these extraordinarily beautiful covers:
– Three supermodels
Natalia Vodianova, Freja Beha Erichson and Lara Stone
– Three exquisite gowns
Vivienne Westwood, Oscar de la Renta and Bruce Oldfield
– One renowned Fashion Photographer
Mario Testino
Vodianova wears Vivienne Westwood, Beha Erichson in Oscar de la Renta, while Stone shines in Bruce Oldfield. The issue is Wedding themed and also features articles on Kate Middleton; a piece on fashion brides; as well as a guide to being a perfect wedding guest…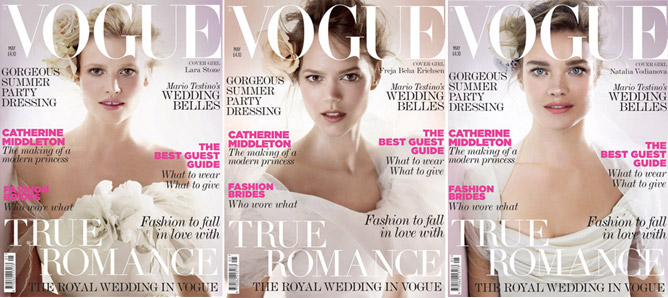 My Top Royal Wedding Gown Choices
While who will design the wedding gown of the Princess-to-be is still unknown, here are 6 of my favourites for Kate Middleton to consider… Alexander McQueen (Autumn / Winter 2011 collection), Elie Saab (Couture Spring / Summer 2011) and Marchesa (Autumn / Winter 2011 collection)!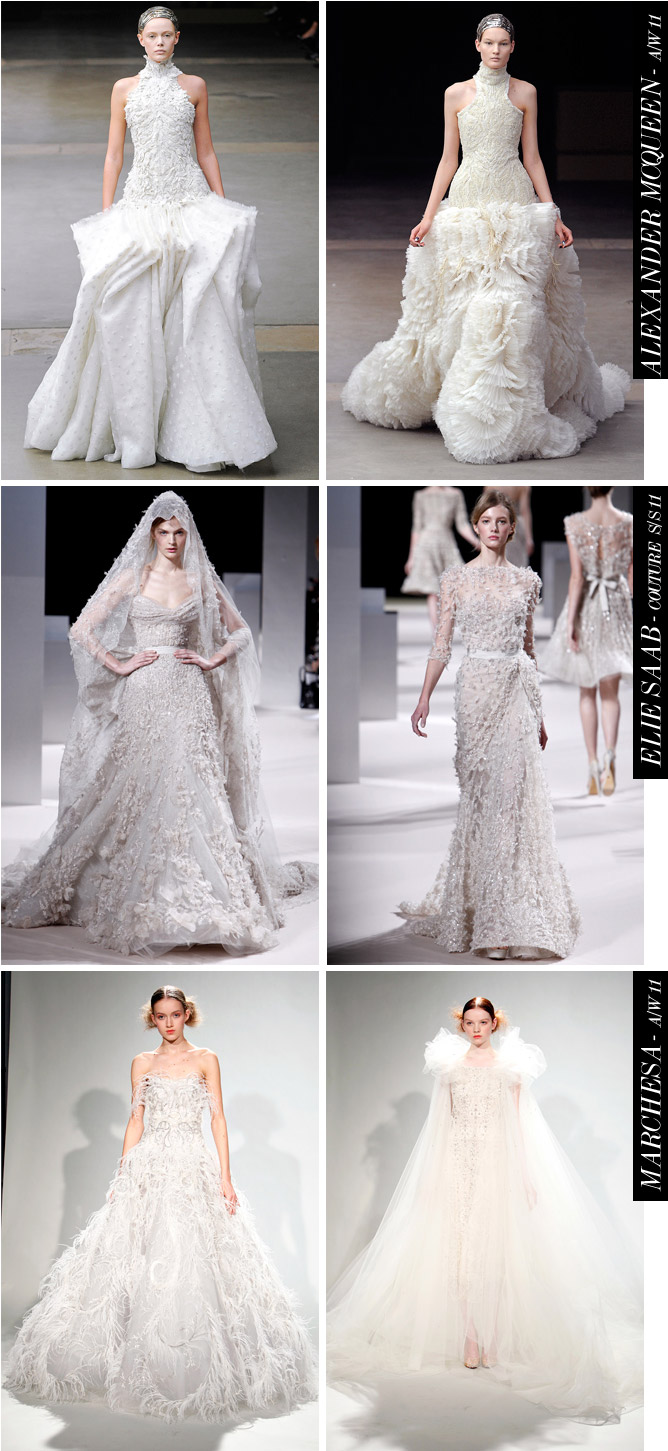 Who would you like to see design Kate Middleton's gown? xx
Photos from thetrendreport.ch / fabsugar.com.au / style.com