Your Thursday Fashion Shot…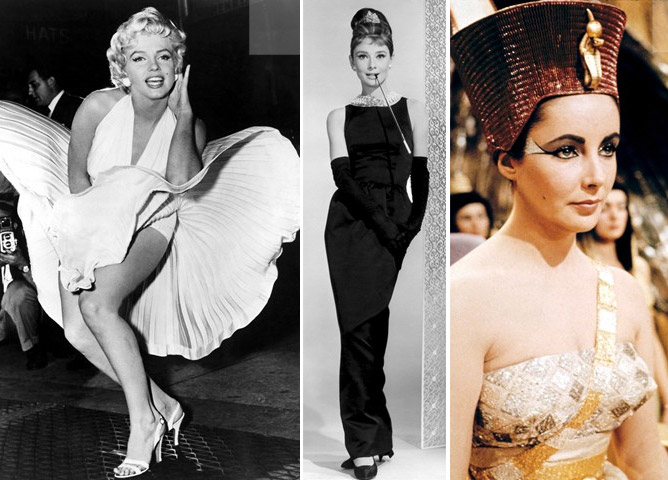 3 Espresso Shots Of News + Some Thursday Fashion Inspiration…
– – – – – – – – – – – – – – – – – – – – –
Iconic Dresses Up For Auction
A selection of the most iconic dresses in history will go up for auction on June 18th in Beverly Hills. Just a few of the exquisite gowns available to the highest bidders include;
> Marilyn Monroe's white halterneck dress from The Seven Year Itch (pictured above)
> Audrey Hepburn's iconic Givenchy LBD from Breakfast At Tiffany's (pictured above)
> Elizabeth Taylor's golden headdress from Cleopatra (pictured above)
> Judy Garland's blue gingham dress  from The Wizard of Oz (pictured right)
Also on the list is: Marilyn Monroe's rhinestone gown in which she sung Happy Birthday Mr President to JFK in 1962; Barbara Streisand's gold dress from Hello Dolly; Julie Andrews' brown dress from The Sound of Music; and The Princess of Wales gown from when she danced with John Travolta at the White House. There are also some modern editions, including; Elizabeth Hurley's Versace 'safety-pinn' gown and Jennifer Lopez's plunging Versace gown.
It is anticipated the collection will exceed $7 million (US). Legendary actress Debbie Reynolds is selling her private collection after she was unable to establish her ambition of a museum for Hollywood memorabilia. Marilyn Monroe's white halterneck has the highest price point of $2 million (US).  
– – – – – – – – – – – – – – – – – – – – –
Karl Lagerfeld –
Crystal Glassware Designer
The extraordinarily talented Karl Lagerfeld has created a crystal glassware collection for Swedish company Orrefors. Of his new collection, Lagerfeld said: "What I enjoy most is doing something I've never done before".
The pieces, in clear, black and milky glass, are an extension of Lagerfeld's design aesthetic, with minimal, clean lines and his KL monogram. Pieces for the range include; champagne flutes and coupes; wine, water and liqueur glasses; vases; bowls; and monogrammed crystal coasters.
– – – – – – – – – – – – – – – – – – – – –
DVF For Gap Kids
Legendary designer, Diane von Furstenberg, is creating a childrenswear collection for Gap Kids.
The collection will be presented in March and will be the first time she has designed for children. Art Peck, president of the brand for North America, has said of the collaboration; "I'm looking forward to offering our customers an exciting collection that applies her signature approach to print, optimistic colour and femininity."
Other designers who have also collaborated with Gap, include; Valentino, Stella McCartney and Roland Mouret.
– – – – – – – – – – – – – – – – – – – – –
Thursday Fashion Inspiration…
'Twin Peaks' is a cinematic editorial, featured in the July issue of Vogue Australia.
Models Emilia Scuza and Melissa Johannsen wear darling looks by Prada, Stella McCartney, Bally and more. The gorgeous wardrobe, retro styling, flawless hair and picturesque surrounding environment all combine to create some divine shots! LOVE!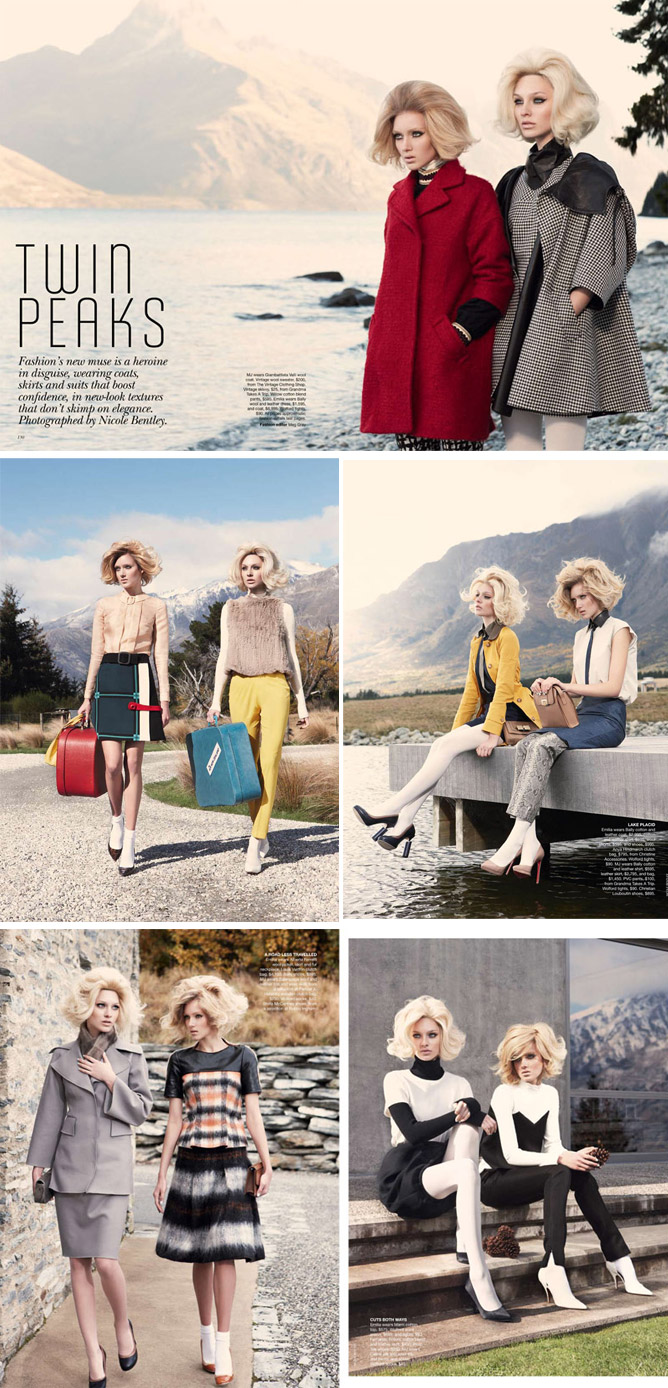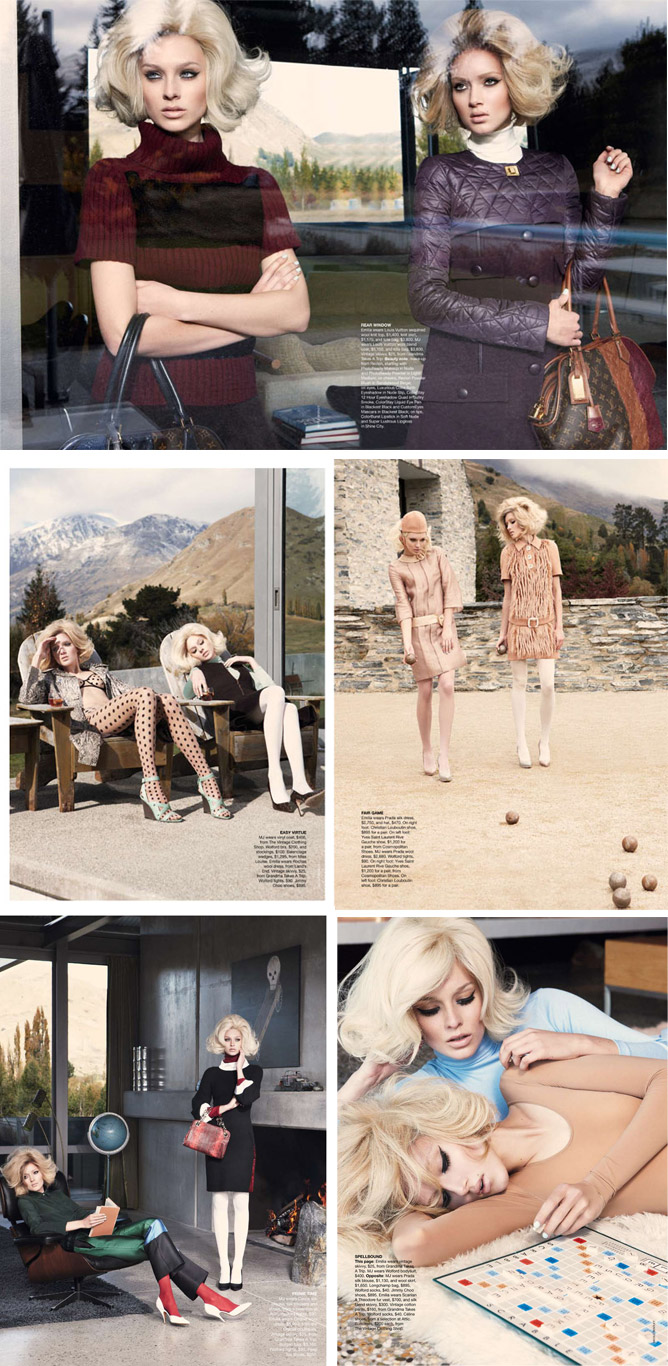 What is your Thursday inspiration? xx
Photos from vogue.co.uk / fashiongonerogue.com
'Viva La Revolucion' – Vogue Australia

Bold, Vibrant Colour; Eccentric Prints & Patterns; Incredible Location…
'Viva La Revolucion' is a feast for the eyes of some of the most exquisite looks from the Spring / Summer 2011 collections.
Today I brought the March issue of Vogue Australia and instantly fell in love with the feature editorial – 'Viva La Revolucion'.  And that cover! This gorgeous cover is one of my favourite Vogue Australia covers of all time! I love the model; the pose; the use of colour; and how there are no words advertising the contents – just the bold image and 'Vogue' title. So strikingly beautiful!
Featuring Alina Baikova, the editorial was shot on location in Mexico by Nicole Bentley. With looks from Prada, Stella McCartney, Gucci, Giambattista Valli, Bally and Mulberry; 'Viva La Revolucion' is a celebration of intoxicating colour.
Be inspired for next season with bold colour blocking, mixed prints and some darling hats….


Happy Saturday! xx
Photos from fashionlvr.com
Your Daily Fashion Scoop
4 Espresso Shots of News…
Miranda Kerr Makes Vogue Australia History
In the January 2011 edition of Vogue Australia, Miranda Kerr will become the first pregnant woman to grace the cover. Looking divine in a full-length gown, Kerr is positively glowing. Kerr said of the shoot, "It's wonderful that I have this opportunity to do this photo shoot with Australian Vogue and record this wonderful moment in time". The photo was taken in LA when Kerr was 6 ½ months pregnant. 
Emma Watson to design for Alberta Ferretti
Love Emma Watson? Adore Alberta Ferretti? Emma Watson has already designed capsule collections for People Tree and the uber stylish starlet is set to further her design talent with Alberta Ferretti. It has been announced that Watson will create an organic clothing range for Alberta Ferretti. 
Watson has said of the collaboration, "We're doing an organic clothing range. I can't reveal the name yet but there will be more information about it soon".  And of the inspiration, "Very classic, 60s Jane Birkin"… I cannot wait to see the results!  
Meanwhile, Watson has made a stylish appearance in a Burberry spiked trench coat from the Spring / Summer 2011 collection (pictured right). 
Kate Moss scoops Best Dressed of the Decade
US Vogue has named its Best Dressed List. Kate Moss scooped the top honour, winning Best Dressed of the Decade. No mean feat! The trendsetting icon has graced over 300 magazine covers since she started modelling at 14 and her effortless style seems to just get better and better. Favouring high-end vintage and designer pieces, Moss' effortless style of rock and roll chic is adored around the world. Her collaborations with Topshop and Longchamp, not to mention six perfumes to her name, make Moss one stylish, highly successful, hot commodity. 
Vogue Magazine's Best Dressed List:
And the Awards have gone to…
Best Dressed of the Decade: Kate Moss
The Bombshell: Blake Lively
Screen Siren: Marion Cotillard
The Independent: Michelle Obama
American Beauty: Jessica Biel
Street Cool: Alexa Chung
Haute Bohemian: Sarah Jessica Parker
Conscious Chic: Liya Kebede
Free Spirit: Carey Mulligan 
 
Who do you think is the Best Dressed of the Decade? xx
Side photos from vogue.com.au & fashion.telegraph.co.uk