Your Daily Fashion Week Scoop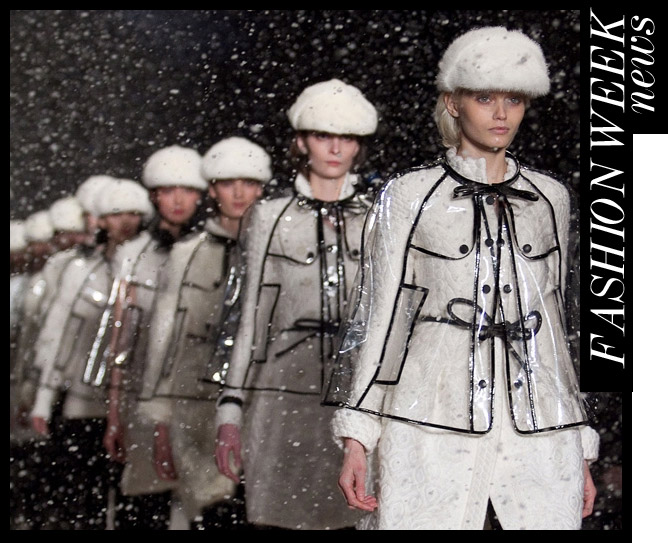 4 Fashion Week Espresso Shots Of News…
Let It Snow, Let It Snow,
Let It Snow… At Burberry
Not only did Burberry live-stream their Fall 2011 collection online across the globe; London was given an even better view. Thanks to Vitamin Water and the British Fashion Council who sponsored a spot on Piccadilly Circus, the show was live-streamed for everyone walking by to watch! With a collection full of spectacular coats in an assortment of colours and fabrics, the Burberry show came to an epic finale… falling snow! The coats, the clothes, the snow… one of the most beautiful fashion spectacles I have ever seen! And it gets even better! For the next week you can buy direct from the runway at Burberry.com and have the items delivered to your door within 7 weeks! Burberry just leaves me speechless…
Versace Back In Control
Of Versus
Versus – the label designed by Christopher Kane alongside Donatella Versace – is back under the Versace wing. Versace regained control of Versus, which has previously been produced and distributed By Swinger International SpA. Meanwhile, Swinger will remain as the sole manufacturer and distributer for Versace Jeans. The Versus Fall 2011 collection will be shown in Milan on February 27th…
Don't Tell Anyone….
Tom Ford Showed At London Fashion Week
Tom Ford's Fall 2011 collection was presented at London Fashion Week and was again a top secret affair. The collection was treated as a top secret event, with guests believed to have signed a nondisclosure agreement before viewing the collection. No sneaky iPhone pics or bloggers at this show! Of the reason behind this, Ford said: "I don't want to be reviewed, I'm not an artist with an opening; this is not a film. I'm just trying to make pretty clothes. And beautiful clothes make beautiful women, but sometimes they don't make fashion news"…
Jil Sander At The Oscars
While everyone has been talking about the costumes for Black Swan, and all the controversy surrounding who designed what; another fashion house has collaborated with an Oscar Nominated designer. Raf Simons for Jil Sander was commissioned by costume designer Antonella Cannarozzi to create the looks for Tilda Swinton's character, Emma Recchi in the film I Am Love. Antonella Cannarozzi is Oscar Nominated for the film…
Happy London Fashion Week Everyone! xx
Photos from fashionising.com.au, style.com, fashiongonerogue.com & google images
The Screen Actors Guild Awards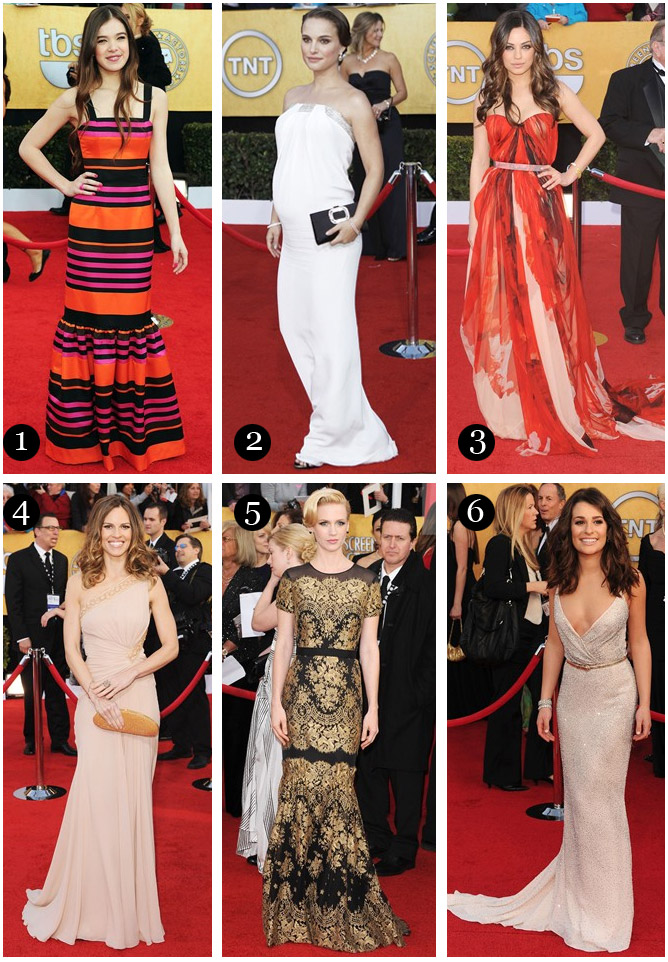 And The Best Dressed Goes To…
Hailee Steinfeld! The young starlet was exquisitely fresh, fun and feminine in a gown from Prada's Spring / Summer 2011 collection.
In a look that many would have found difficult to wear – vibrant pink, orange and black horizontal stripes – Steinfeld pulled it off in a spectacular fashion. André Leon Talley, of Vogue US, agreed declaring Steinfeld as his best dressed of the night. Of her look he said: "What made it so right for the teenager was the just-out-of-bed tousled hair (the style of the evening) looking so natural on her, deft makeup, and no bling. She didn't try too hard."
My Best Dressed List…
1>> Fresh, Vibrant, Fun – Hailee Steinfeld in Prada
2>> Radiant, Glowing, Gorgeous – Natalie Portman shone in Azzaro
3>> Breathtaking Beauty – Mila Kunis in Alexander McQueen
4>> Elegant, Refined Glamour – Hilary Swank wore Versace
5>> A Gold Rush – January Jones in Carolina Herrera
6>>Oscar's Lady – Lea Michele chose Oscar de la Renta once again
7>> Floaty Feminine Beauty – Claire Danes glows in Louis Vuitton
8>> White Swan Inspired – Winona Ryder in Alberta Ferretti
9>> Pretty In Pink – Angie Harmon in Monique Lhuillier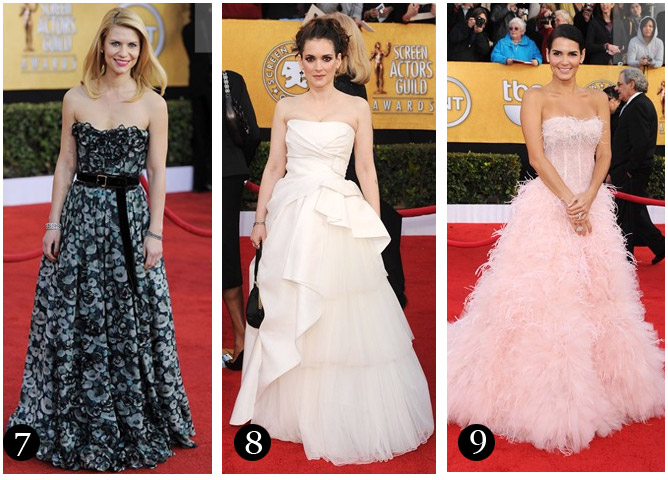 Who Was Your Best Dressed? xx
Your Daily Fashion Scoop
4 Delicious Espresso Shots Of News…
First Look: January Jones for Versace
The first image of January Jones for Versace has been released and it is seriously hot (pictured above)! January Jones oh la la! Captured by Mario Testino in striking black and white, Jones models some divine Versace accessories. The image is so dramatic and sexy yet sophisticated.
Nicole Richie &
Joel Madden Wed
House of Harlow and Winter Kate designer, Nicole Richie married Joel Madden over the weekend. The ceremony took place at Richie's father, Lionel Richie's, LA home. Guests included; Ashlee Simpson, Gwen Stefani and Khloe Kardashian. But the big question – what Richie wore – is still to be confirmed. It has been reported, her final two options were vintage Chanel or a custom-made Marchesa gown! Decisions, decisions! I cannot wait to see which she chose! Richie is pictured above wearing Marchesa to a red carpet event.
The Financial Times Most Influential Women
The Financial Times has named the most influential women of the last decade. From the world of fashion; Kate Moss was named the ultimate 'model-as-brand' and Michelle Obama was listed for her 'international influence'. Sarah Jessica Parker (pictured right) was credited with having 'changed the shoe industry'. The Céline creative director, Phoebe Philo, was also mentioned.  
Oprah's Gift to her Australian Audience
Oprah has been in Australia and today was her Sydney Opera House show. Each of her 6000-strong audience received a Kailis 'O' pearl pendant necklace! Valued at $450AU each, the necklaces can now be purchased online. Of being involved in the Oprah show, Kailis Jewellery General Manager, Sonia Mackay-Coghill said:
'Kailis Jewellery has always believed in bringing joy to the wearer of Australian South Sea Pearl and to be able to share this with over 6000 audience members is a once-in-a-lifetime opportunity."
Happy Oprah Tuesday! xx
side photo from Net-A-Porter Facebook