Some Monday Inspiration…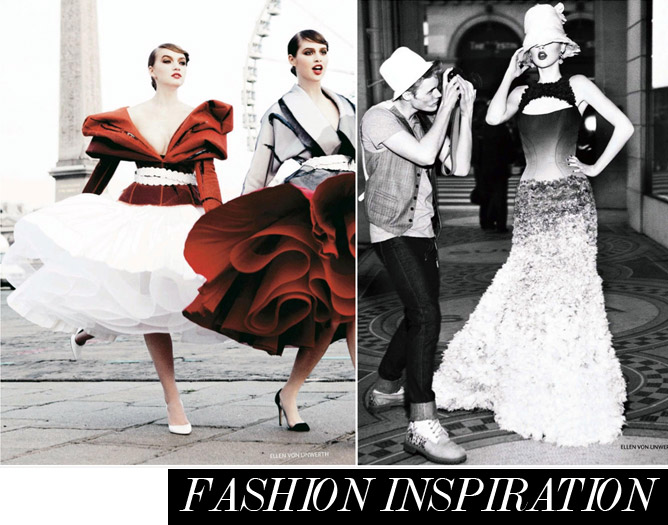 Entitled 'Cheeky Couture', I love the old-fashioned glamour of these shots for Vogue Russia. I especially adore the two photos featured above, showcasing the Dior Couture dresses and Atelier Versace gown.
Capturing a story of fabulous couture fun, Kristians Silis plays the role of 'photographer' to Anais Pouliot and Cordelia K. In show-stopping pieces from the Spring / Summer 2011 Haute Couture shows, the models create some divine photos in the likes of Armani Privé,  Atelier Versace, Valentino, Dior and Givenchy Haute Couture. The editorial was photographed by Ellen von Unwerth and styled by Katerina Mukhina for Vogue Russia April 2011 issue.
Spectacular couture with touches of nostalgia to glamorous years gone by…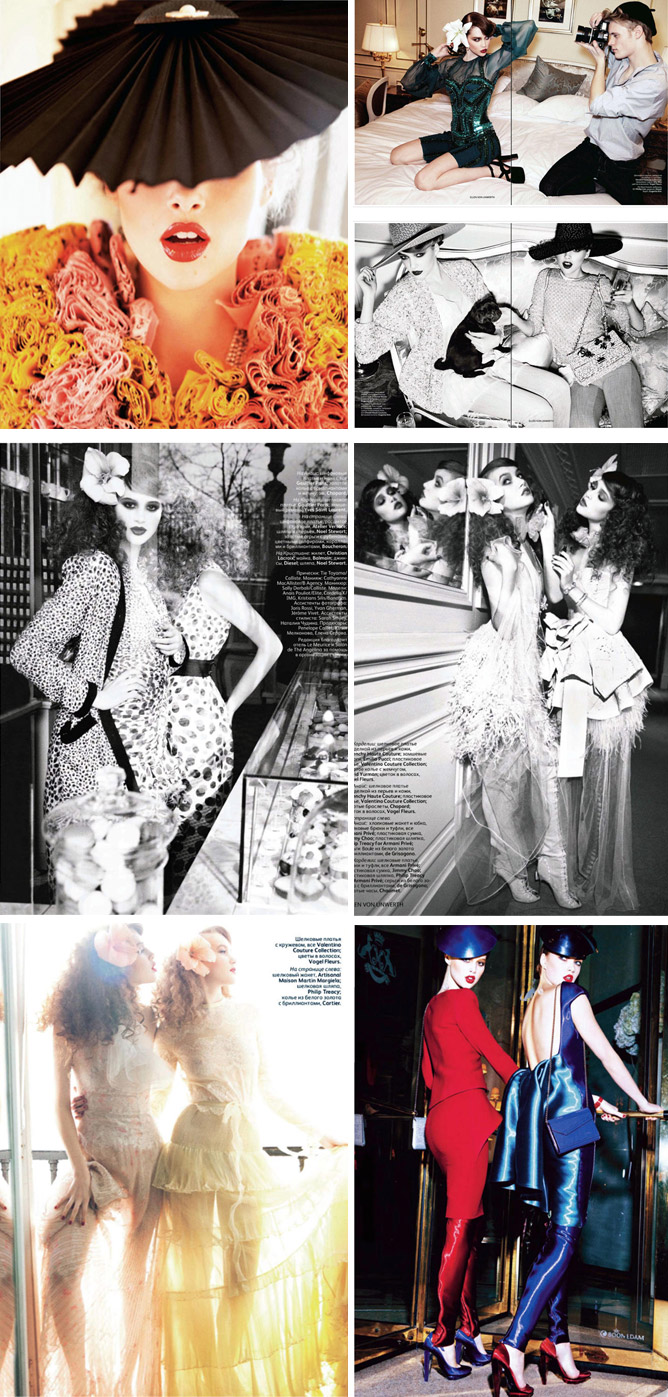 What is inspiring you this week? xx
Photos from fashiongonerogue.com
Favourite Pieces…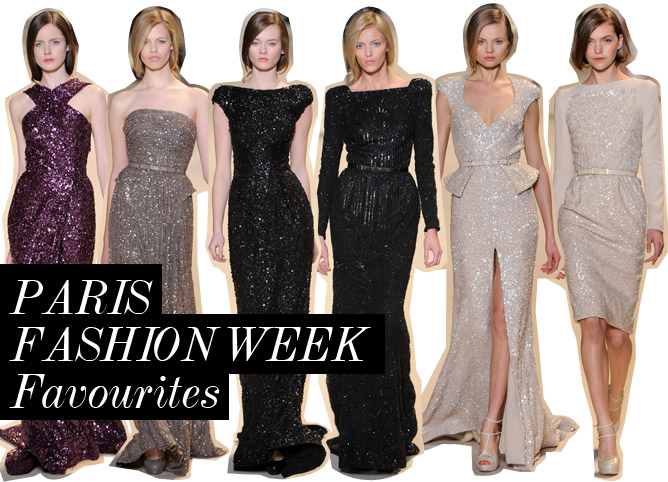 Paris Fashion Week – Fall 2011
Miu Miu and Louis Vuitton brought the month long fashion festivities to a close in Paris this week. Paris the city of light and love was, as to be expected, bursting with pieces so perfect words are often inadequate to describe their innate beauty.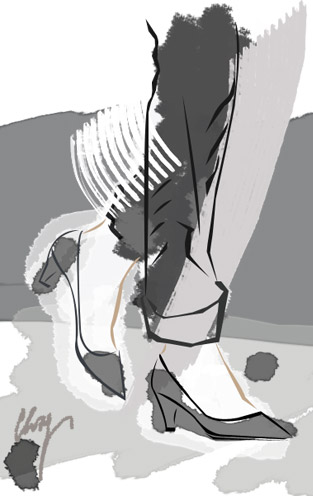 From Chanel to Lanvin, the Parisian Couture Houses brought forth a tirade of divine silhouettes, texture and colour palettes. From the delicate tones of beige and cream at Chloé, to striking black and white at Chanel, not forgetting the pops of colour at Lanvin; the Parisian Fall will be a much more simplistic, monochromatic affair than the streets of Milan or London.  
While Paris Fashion Week was filled with exquisite collections, it wasn't without its controversy (cough*John Galliano*) then more with Kate Moss smoking down the Louis Vuitton catwalk. There were the rumours of a boycott of the Dior show, but instead much love and support was the agenda of the day. Before the collection began, Dior CEO Sidney Toledano appeared to address attendees (and the world) with a heartening speech about the values that Christian Dior have represented for more than six decades, "the heart of the House of Dior, which beats unseen… is made up of its teams and studios, of its seamstresses and craftsmen". And the finale, as the lights dimmed those 30-strong members of the Dior ateliers mentioned by Toledano appeared on the catwalk.
From the apocalyptic tones at Chanel, to the tree inspiration at Lanvin – Paris brought the Fall fashion week calendar to its spectacular conclusion.
p.s. Loved the classic black kitten heels at Chanel (illustrated right) & the sparkling sequined gowns at Elie Saab (pictured above)…
Some Of My Favourite Pieces…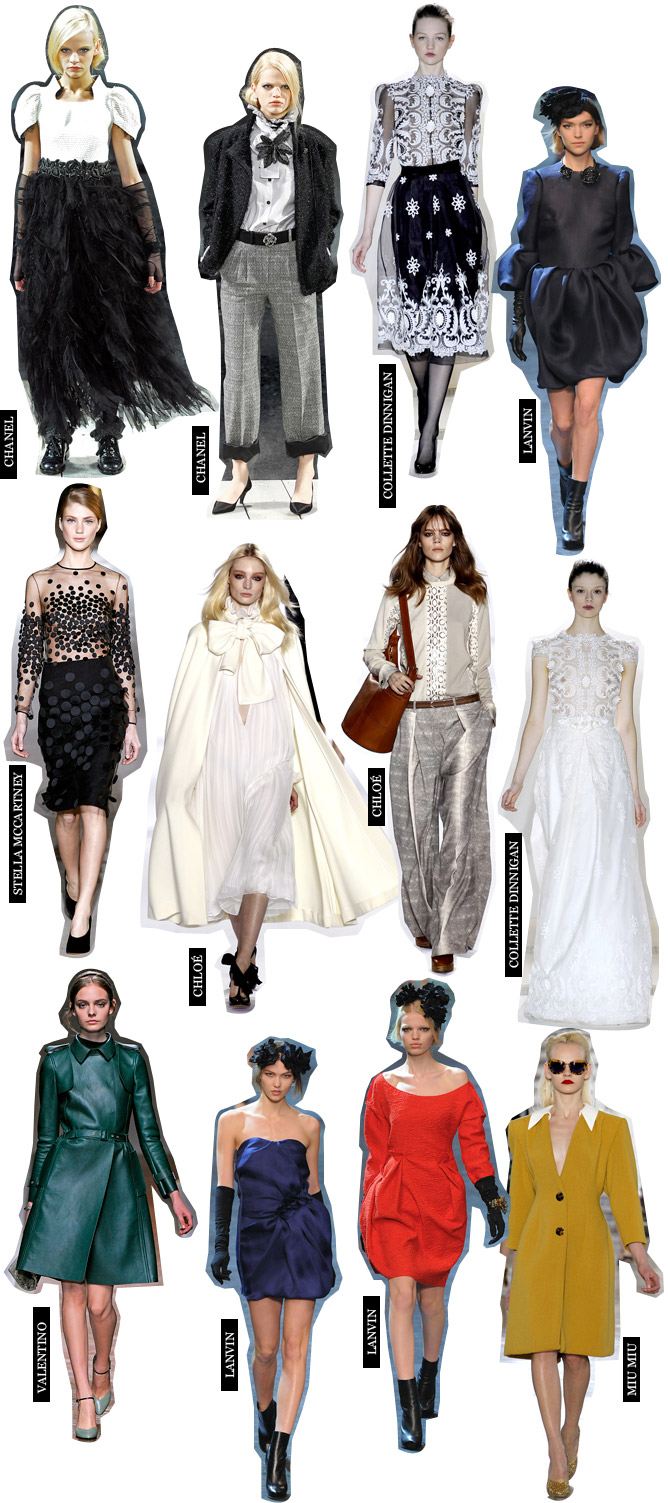 What were your favourite shows from Paris Fashion Week? xx
Fashion Young Bloods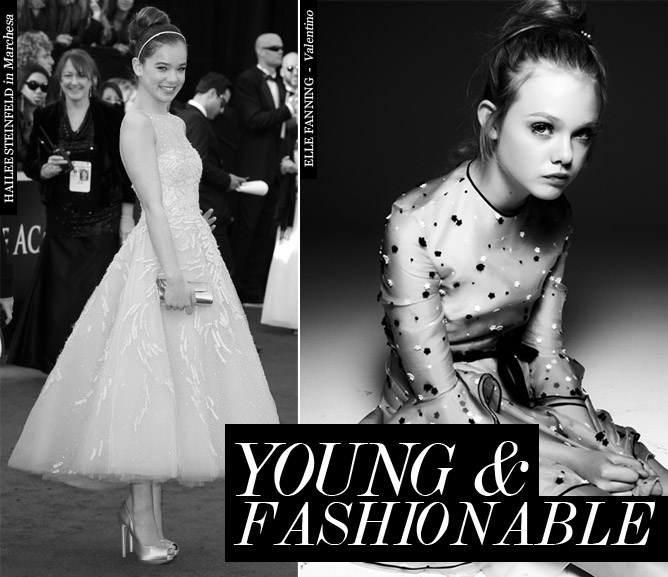 Young, Beautiful & With Impeccable Style…
Choosing from luxury labels such as Valentino, Prada and Marchesa, to name but a few; Elle Fanning and Hailee Steinfeld have already graced numerous best dressed lists for their impeccable red carpet style.
Elle Fanning and Hailee Steinfeld must be two of the most 'in style' teenagers in the world. Age appropriate and also perfectly pretty – their choices have the right amount of edge yet are always classically chic.

Hailee Steinfeld…
At just 14 years of age, Hailee Steinfeld's red carpet style is exquisite. To the 2011 Oscars, Steinfeld wore a divine pale pink crystal embroidered tulle, tea length dress by Marchesa (pictured above).
Accessorised with Ferragamo peep-toe shoes, a silver Ferragamo clutch and a sweet pink headband; Steinfeld looked absolutely perfect. And when I discovered that she assisted in the dress design, I loved it even more! Steinfeld sketched the basis of this dress before taking it to Marchesa to create!
After the event, Steinfeld ditched her ladylike heels for a pair of Converse hi-tops. Aw, how adorable!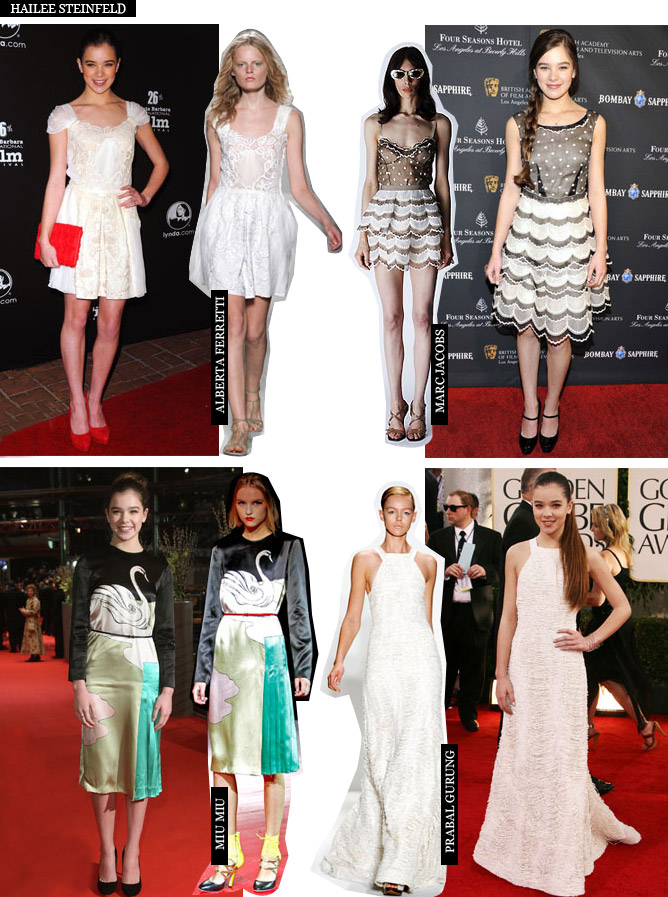 Elle Fanning…
Elle Fanning at 13years of age has style and elegance beyond her young years. Her beauty and innocence translates perfectly to the red carpet where she favours floaty, feminine gowns by labels such as Valentino, Rodarte and Marchesa.
Of her passion for sophisticated dressing she says, "I love fashion! I love clothes! I really like vintage clothes, so in my closet there's a lot of '50s stuff. I go to the stores and shop around."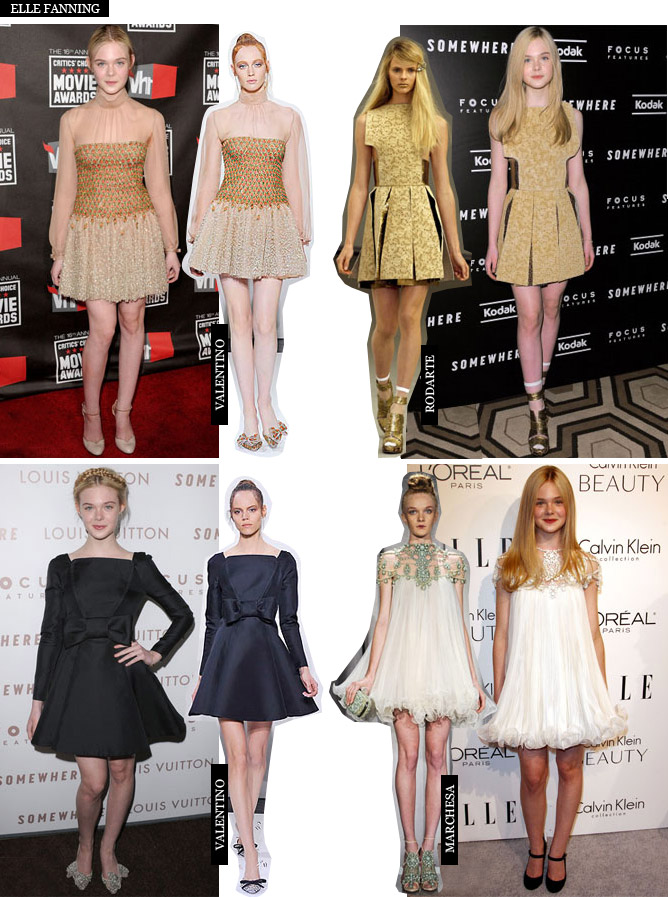 Who Has A Red Carpet Style That You Admire? xx
Photos from redcarpet-fashionawards.com & google images