My Dream Fall Wardrobe…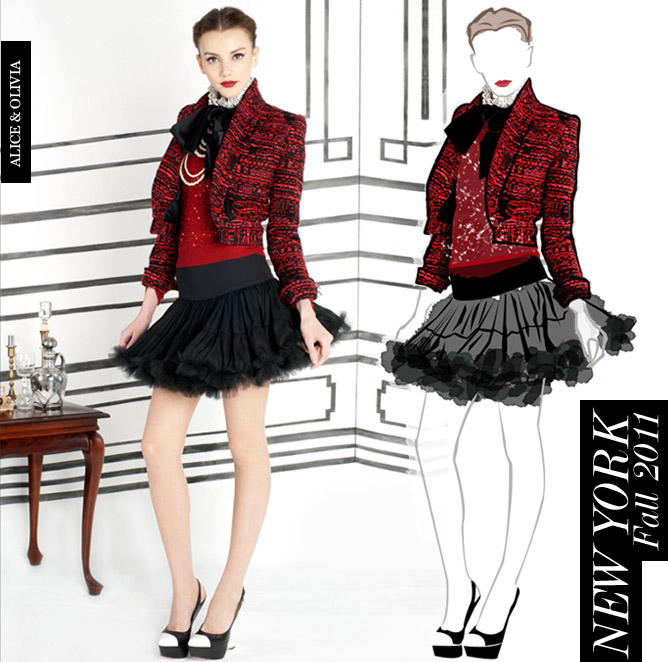 New York Fashion Week has come and gone… tear! Luckily there is still London, Milan and Paris Fashion Weeks to look forward to (including my favourite Chanel!).
New York Fashion Week left us with so many delectable looks it is almost impossible to ingest them all!  From Michael Kors (who is celebrating his 30th Anniversary) to Marchesa, Oscar De La Renta, Rodarte, Anna Sui, Jil Stuart and more – there are so many extraordinary collections to devour.
The too-die-for white feather skirt, delicate top with silver sequins and fur head piece by Oscar De La Renta (pictured line 2, 4th image) is elegance and sweet seduction personified! LOVE, LOVE, LOVE the head piece!  And how adorable are the animal prints at Jil Stuart – especially the foxes below (pictured line 3, 2nd image)? Not to mention, how exactly does Anna Sui always seem to create the perfect balance of feminine charm with an 'i'm with the band', effortless, cool aesthetic? Michael Kors, Erin Fethertson and Alice & Olivia also captured my heart with some exquisite pieces I cannot wait to see next Fall.
Some of my favourite looks from NY Fashion Wk…

P.S. Coincidentally, every one of my favourite looks from New York Fashion Week are dresses! Dresses are my absolute fashion true love! So I guess I will be investing in tights… xx
Photos from style.com
Wonderful White
Nothing looks as chic as white on the red carpet.
White is fresh, sophisticated and youthful. It looks amazing on any skin colour and body shape. When done correctly, white definitely makes a fashion statement!
In the last week, several highly fashionable ladies have worn white with effortless style and finesse. Choosing white dresses from some of my favourite designer houses – from Valentino to Dior and Pucci. I was especially thrilled to see Kate Bosworth wearing a look from Jil Sander's S/S11 collection. The crisp white tee and long mint coloured skirt are so divine! Kate Bosworth's red carpet style is beyond words! LOVE, LOVE, LOVE!
The details…
>> Michelle Williams' mini dress by Dior is ultra sweet! William's wore white to the premiere of her film Blue Valentine.
>> Kate Bosworth was perfection in Jil Sander
>> Jessica Alba wore Valentino to the premiere of Little Fockers in New York.
>> Gwyneth Paltrow chose Monique Lhuillier while receiving her star on the Hollywood Walk of Fame.
>> Lea Michele wore The Row at the Hollywood Style Awards.
>> For the X Factor final Dannii Minogue sparkled in Jenny Packham. (Ok I know this technically isn't white – but this dress is so gorgeous it needed to be included)
>> Making the list for the second time this week, Gwyneth Paltrow wore Pucci.
Who do you think wore white best on the red carpet this week? xx