Michelle Williams
Ahead of the Oscars and her possible win for 'My Week With Marilyn' for Best Actress, today we take a look at Michelle Williams striking style.
From the ethereal beauty of a hand-beaded Chanel couture gown to the epitome of cool-girl chic in Jason Wu, Michelle Williams is never afraid to take a risk on the red carpet.  
Often opting for elegant black and white, Williams has the perfect fashion-forward yet classic style. Elegant yet never fussy, beautiful but never expected. With a love for Jason Wu, Chanel, Erdem, Victoria Beckham and more, Williams is becoming a modern day style icon.
'Elegant yet never fussy, beautiful but never expected.'
Choosing looks to perfectly complement her platinum crop, Williams understands the 'less is more mantra'. Her refined, natural make-up and simple, elegant diamond jewellery evoke a timeless beauty.
A personal favourite: The exquisite Vera Wang saffron gown, worn by Williams to the 2006 Oscars (pictured above). Her relaxed chignon, red lips, and vintage necklace exude 'Old-Hollywood glamour' to perfection.

Do you covet Michelle Williams' style? Who is a modern day style icon to you? xx
Photos from google images
Elegant, glamorous & seductively sexy; red is the crème de la crème of nail polish.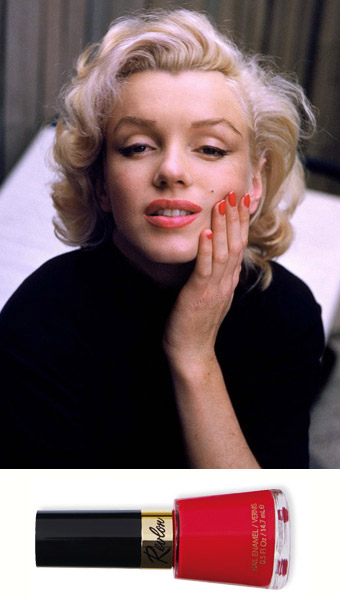 Irresistibly alluring, this classic power colour is a beauty icon. One of the greatest selling cosmetic items of all time, red nail polish is bold, daring and powerful. Associated with dazzling beauties and glamorous leading ladies, such as Marilyn Monroe and Rita Hayworth, red varnish is seductive, dramatic and has the power stop traffic. 
Nail polish as we now know it was first created in the 1920's by the Charles Revson Company (now Revlon). Previously nails were stained with colour; however, working with new technology used for painting cars, nails could be painted with hard-wearing enamel over the top instead. The first Revlon nail polish went on sale in 1932. It initially sold in hair and beauty salons, and was then marketed in department stores and pharmacies.
But it was Hollywood that really gave nail polish its popular appeal. With the arrival of colour movies, audiences could see their favourite actresses wearing alluring red shades. It was the fashion to match your nails to your lips, so luscious red and pink shades were virtually all that was available. Painting your nails was also a relatively inexpensive way to exude some of that 'Hollywood glamour'.
To this day the formula has remained virtually the same – with just a few tweaks and changes to make it last longer and dry quicker. Red is still in fashion and can still give instant 'Old Hollywood Glamour' and striking appeal…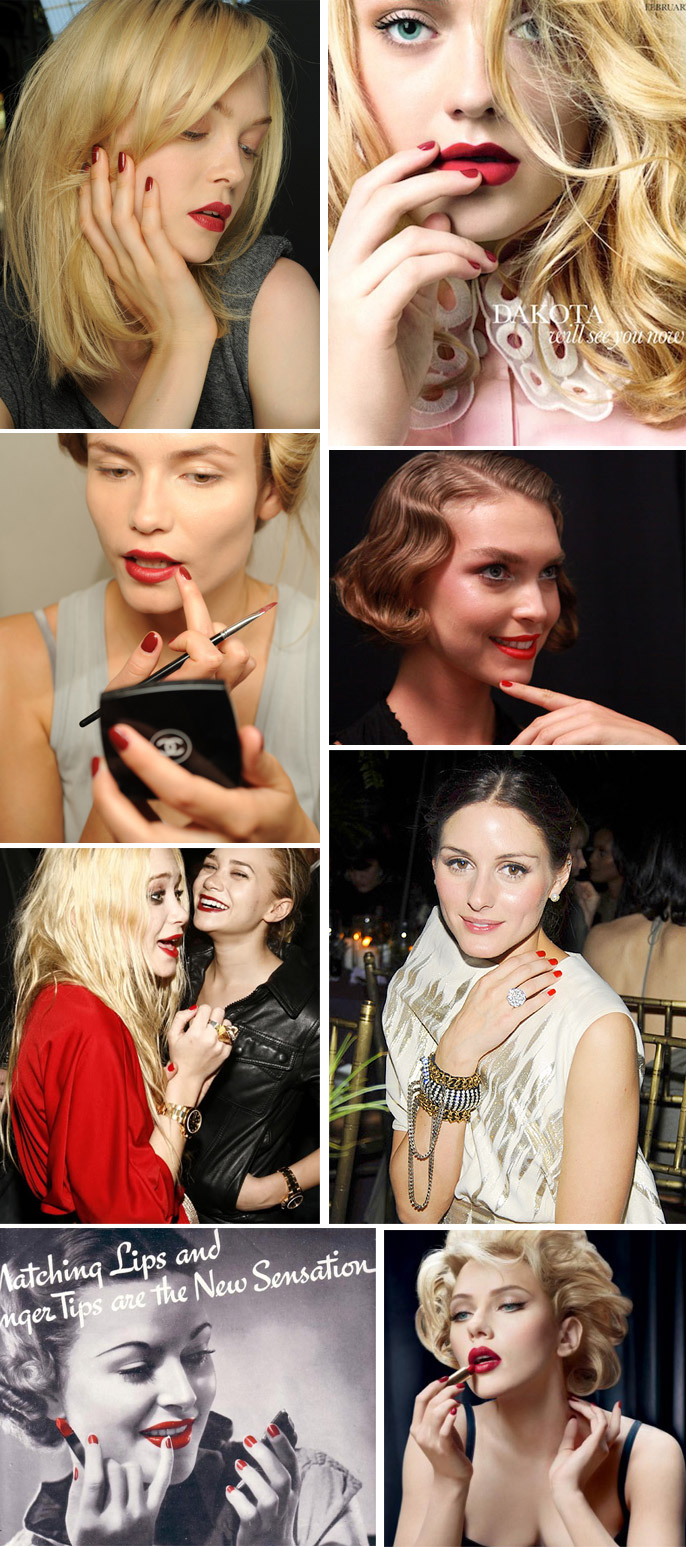 Which is your favourite nail polish shade?
Photos from style.com / google images
This Christmas make an unbelievable entrance with structured architectural silhouettes that scream timeless, sophistication and unmistakable glamour.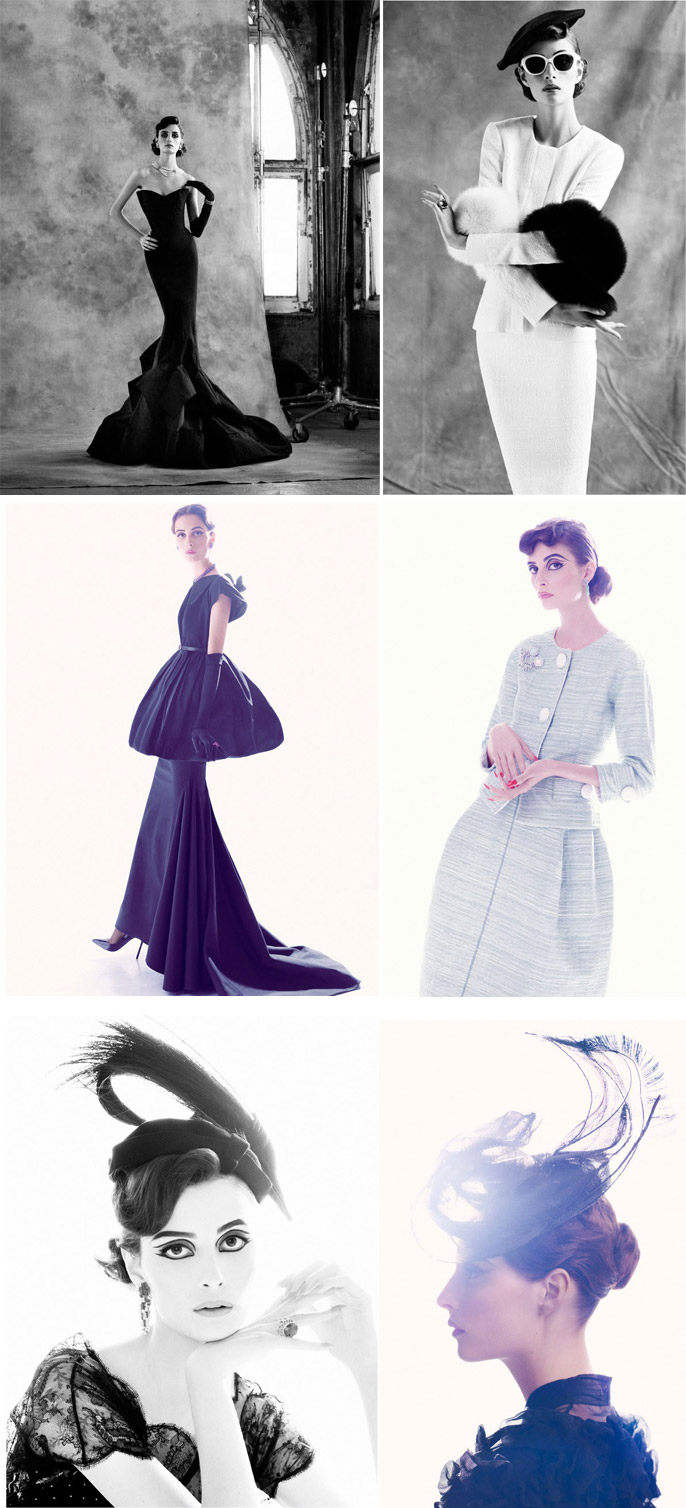 Evoke a timeless bygone decadence this festive season with pieces that will never date; style that transcends time; and ethereal gowns so precious they belong atop a Christmas tree.
This editorial from the January edition of Elle US, transports model Suzie Bird into the effortless style of a 50's belle. With heaven sent gowns and waisted suits by Fendi, Louis Vuitton, Dior and Sportsmax, amongst others; this editorial channels the likes of screen goddesses Audrey Hepburn and Grace Kelly. Bold eyeliner and classic accessories – opera gloves, statement jewels and hats – make for an enchantingly chic fashion moment.
Photos from fashiongonerogue.com