Kate Moss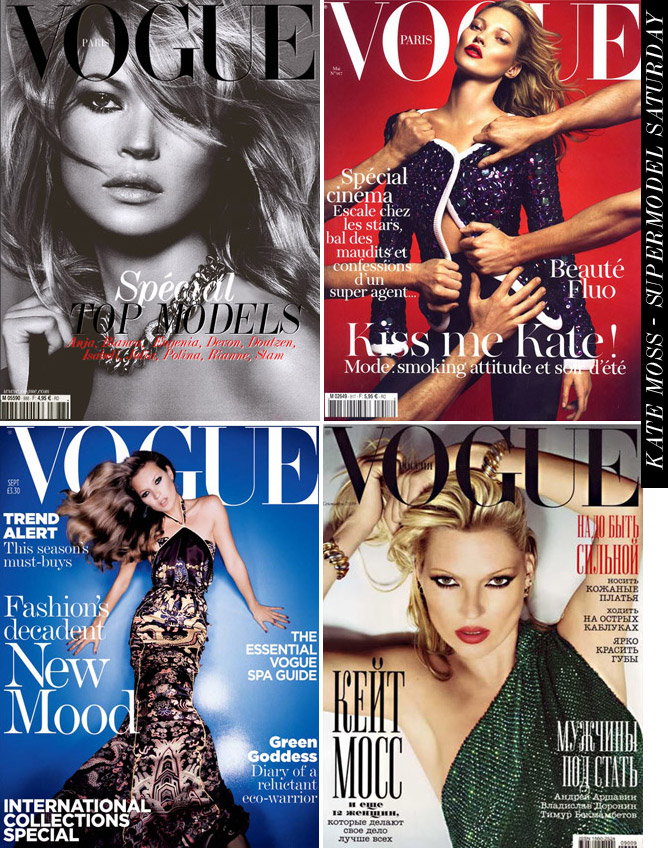 Kate Moss is one of the world's most recognisable models.
She has appeared on 30 British Vogue covers; 16 Vogue Paris covers; 5 American Vogue covers; as well as Vogue Japan, Spain and more.
About Kate Moss
Born in Croydon, England, Moss was discovered in 1988 at the age of 14 at JFK Airport in New York City. Shooting to fame in 1993 with a evocative ad campaign for Calvin Klein; Moss changed the look of modelling in the 90's. She brought into focus the 'heroin chic' look and 'size zero' fashion. Of this Moss said; "It was just the time. It was a swing from more buxom girls like Cindy Crawford and people were shocked to see what they called a 'waif'.
Moss has starred in countless campaigns for high-end labels, from; Gucci, Dior, Dolce & Gabbana, Yves Saint Laurent, Calvin Klein, Chanel, Burberry and Bulgari. As well as having worked with the most renowned fashion photographers in industry, from Mario Testino, to Mario Sorrenti, Steven Klein and Juergen Teller.
Still commanding the runway spotlight, recently closing the Louis Vuitton Fall 2011 collection, Moss has also launched a line of clothing with Topshop.
Kate Moss –
The Vogue Covers…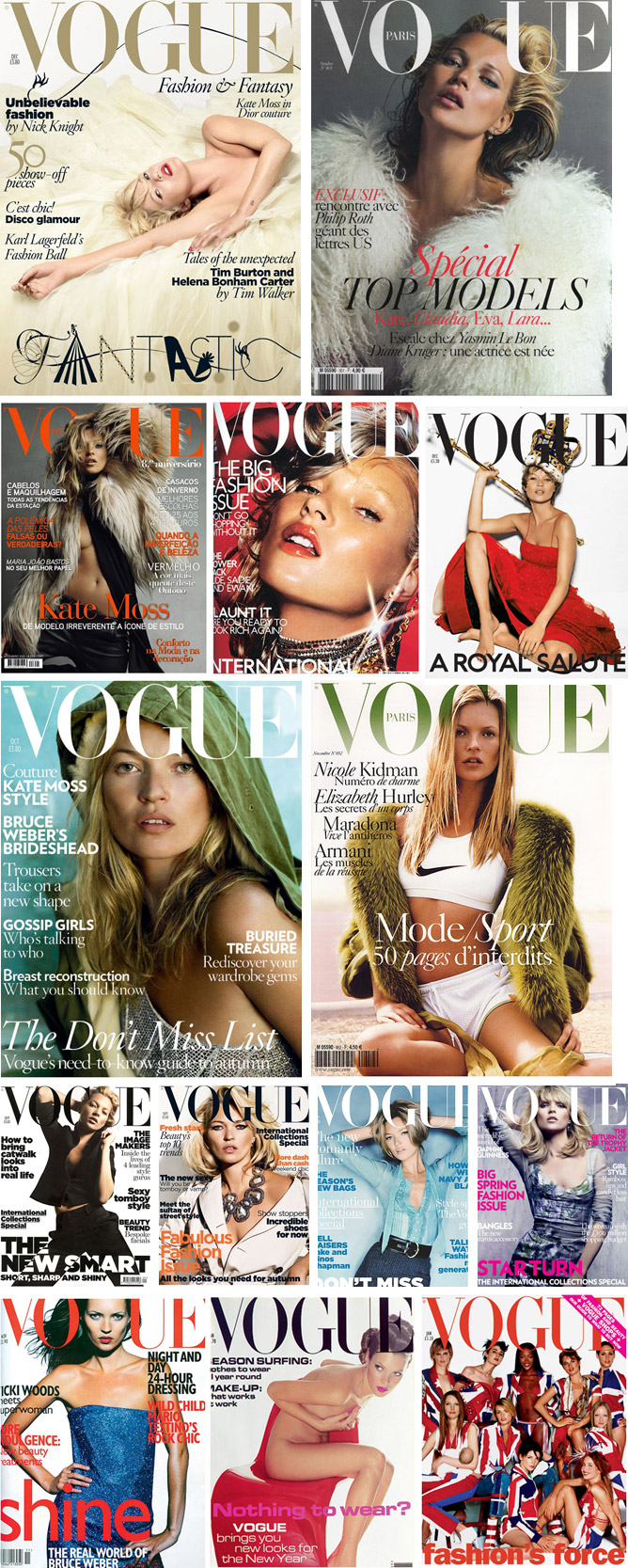 Which is your favourite Kate Moss Vogue Cover? xx
Photos from vogue.co.uk
A Class In Timeless Style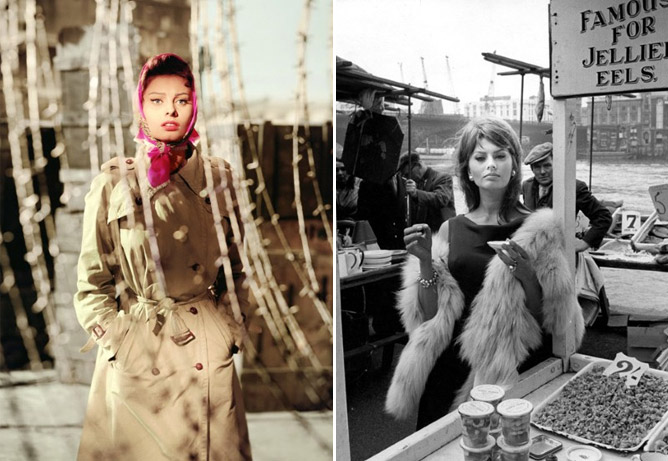 An Espresso Shot Of Style News…
Sophia Loren has been Honoured In Hollywood
Renowned as one of the most beautiful women in the world, the enchanting Sophia Loren has been celebrated in Hollywood. The ceremony was held at the Academy of Motion Picture Arts & Sciences, on the 50th anniversary of her Oscar win.   
Did you know… Loren was the first person to win an Oscar for a foreign-language role? Winning the Oscar in 1961 for her role in 'Two Women', Loren then went on to receive over 50 International Awards. Loren received a lifetime achievement Oscar in 1991 and was declared "one of world cinema's greatest treasures."
Sophia Loren is also a style treasure. Words fail to accurately describe exactly how exquisite some of her photographs truly are.
A style lesson in pictures, starring the sophisticatedly sexy Sophia Loren…

Happy Friday!
Have a stylishly delightful Weekend! xx
Photos from fashion.telegraph.co.uk
Playing Dress Up… Jacqueline Kennedy Onassis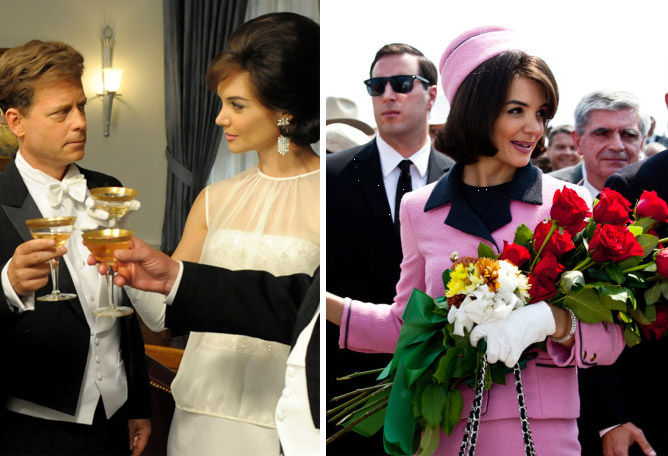 Katie Holmes' has been transformed into the style icon Jackie Kennedy – her wardrobe personifying the late first lady of style…
While the 'The Kennedys', a four-part biopic, starring Katie Holmes and Greg Kinnear hasn't received the best reviews, the costumes and styling is something else entirely.
Kennedy's chic khaki pants worn with crisp white blouses; her sophisticated White House shift dresses; as well as her iconic ballgowns – make a stylish appearance in the mini-series. Giorgio Armani recreated the iconic pink Chanel suit (pictured above left), that Kennedy wore in Dallas in Nov. 1963, the day her husband was assassinated. Costume designer, Chris Hargadon, created over 45 looks for the mini-series, which also sees a beautiful recreation of the black Oleg Cassini suit, worn by Kennedy at her husband's funeral.
Many of you cited Jackie Kennedy as one of your favourite style icons; I would love to hear what you think of Katie Holmes' First Lady transformation? xx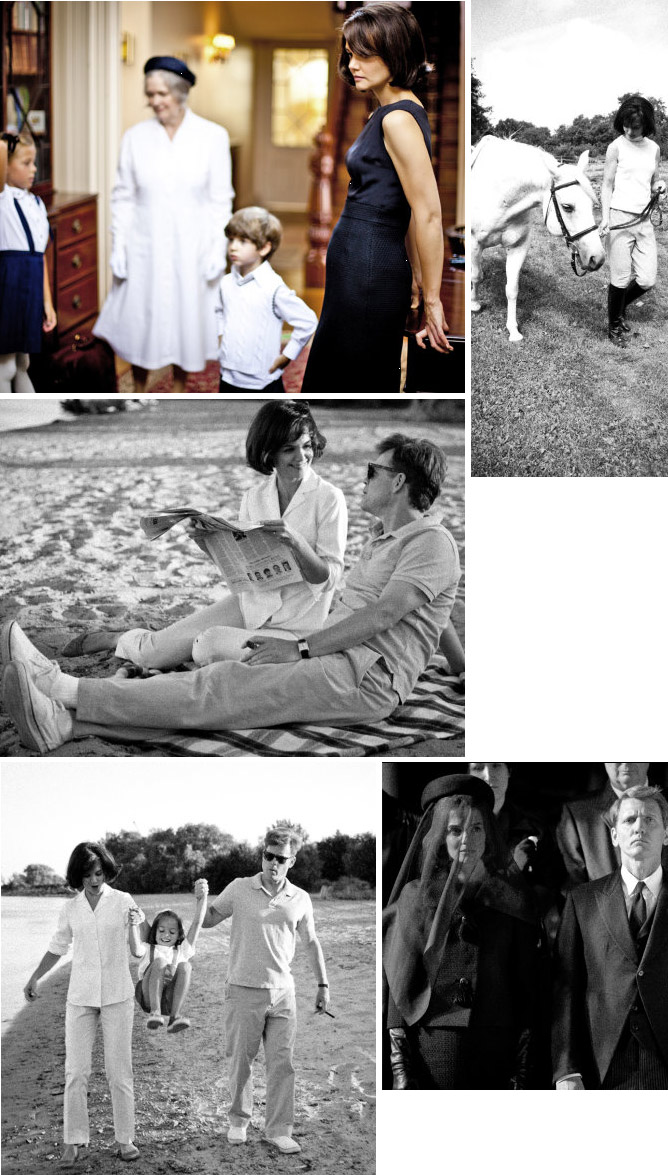 Photos from stylelist.com