Celebrating A Timeless Icon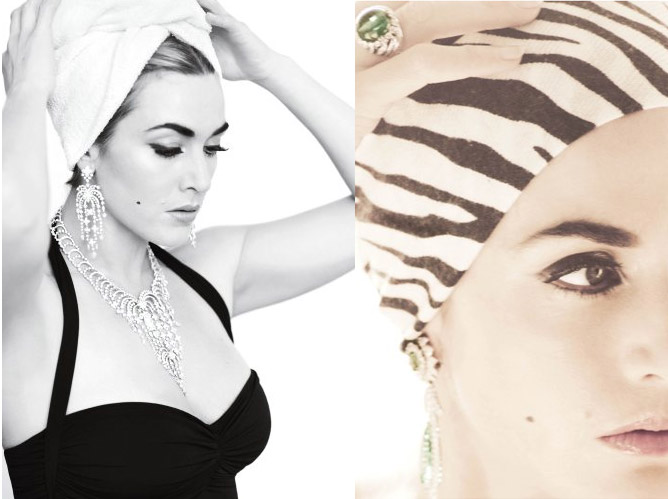 "Big Girls Need Big Diamonds." – Elizabeth Taylor
In the Fall edition of V Magazine, both Kate Winslet and Lara Stone channel iconic style icon Elizabeth Taylor. Shot by Mario Testino and styled by Carine Roitfeld, the imagery is simply mesmerisingly beautiful.
To evoke the screen goddess, Kate Winslet wears scarves and turbans paired with glittering diamonds and gems from Harry Winston, David Webb and Chanel. Lara Stone channels a pink haired Elizabeth Taylor in pin-up inspired looks and even poses with miniature pet figurines…
Très Chic!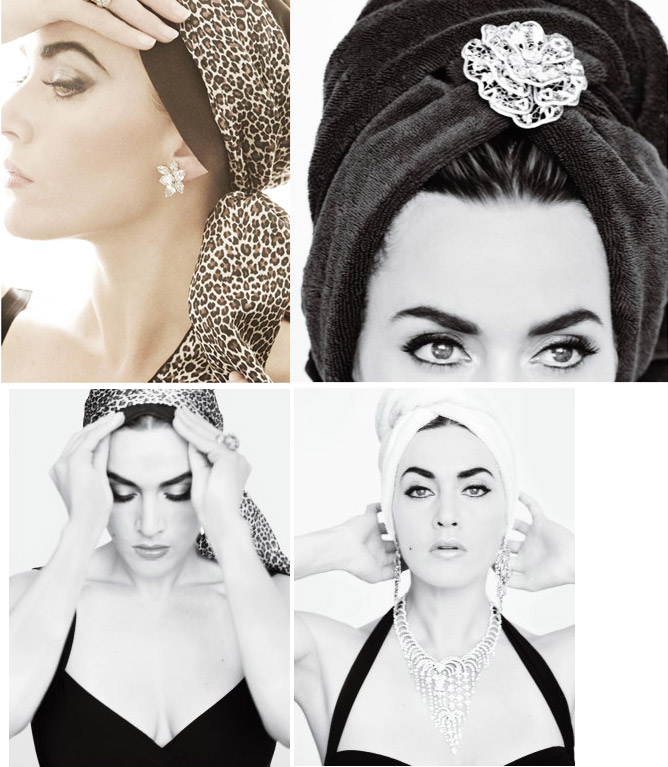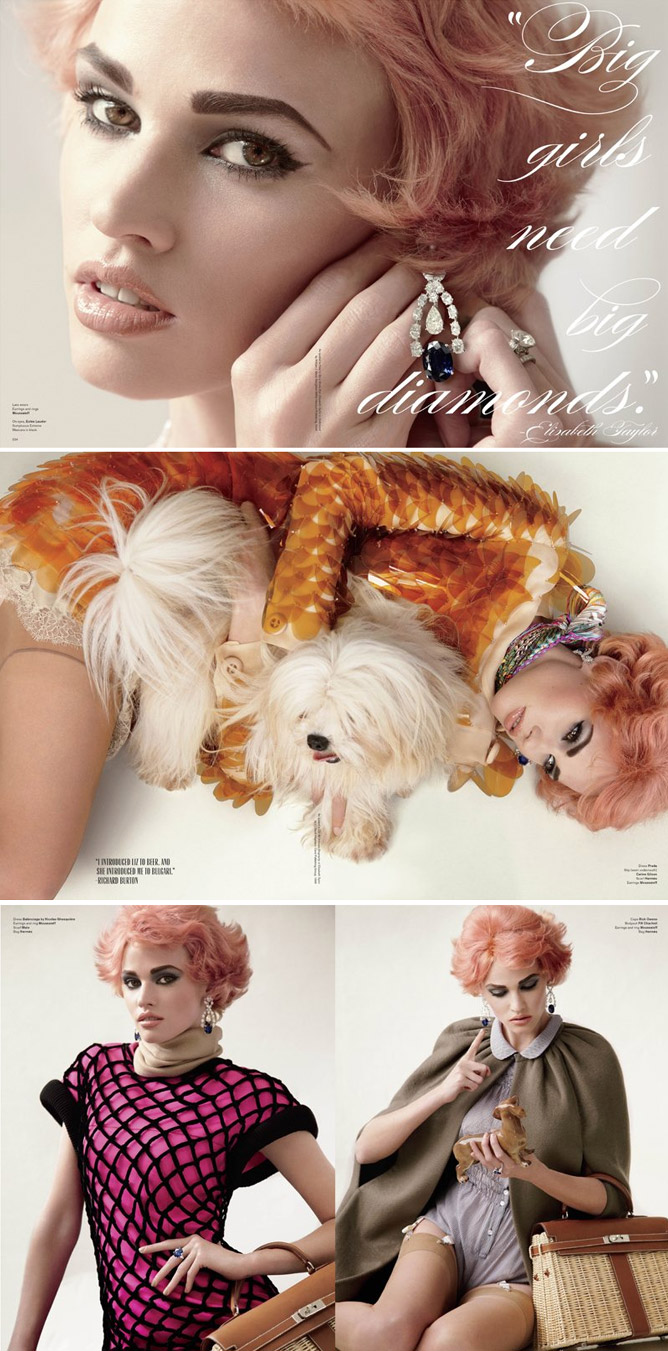 Hope you all have an iconic weekend! xx
Photos from fashiongonerogue.com
Summer Brights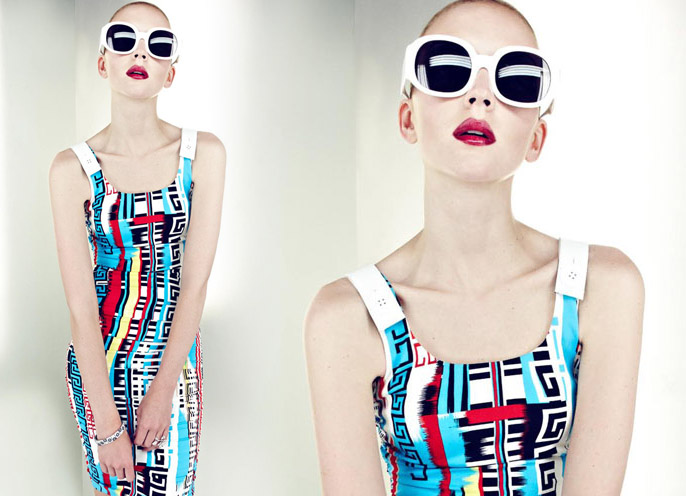 Make a bang this Summer – with cuts, colours & prints that burst with a bold statement…
From Versace to Christopher Kane –the stage is set for a spectacular assortment of looks simply too hot to handle!
Fashion is meant to be fun and what better season to embrace vibrant pieces than Summer. Dress with optimism for unmistakable extravagance…
Iconic Prints: Be Pattern Perfect
From those iconic Prada stripes to Versace's greek key pattern (pictured above) – prints turn the ordinary into the extraordinary. Conjuring images of timeless holiday dressing, prints demonstrate just how fun fashion can be. Embrace a floral fantasy; a classical Parisian inspired stripe; or delve into delicious fruit filled decadence.
Colour Me Happy: Be Colour Confident
The power of a magnificent hue can quite literally render you speechless. Just think of the extraordinary fluorescent lace at Christopher Kane; the high-impact red at Versace; or the jewel coloured hues at Gucci. Combine strong, clear colours for rich, covetable, opulent dressing. Two of the hottest shades right now: tangerine and cobalt blue.
Show A Little Skin: Be Cut Out Chic
Nothing says sexy quite like a cut-out – that glimpse of skin beneath a gorgeous dress. Mark Fast's crochet creations (pictured below) in acid yellow will unmistakably turn heads. For a slightly more conservative take (a la Chanel), choose high waisted shorts worn with a tailored shirt and waistcoat (pictured below).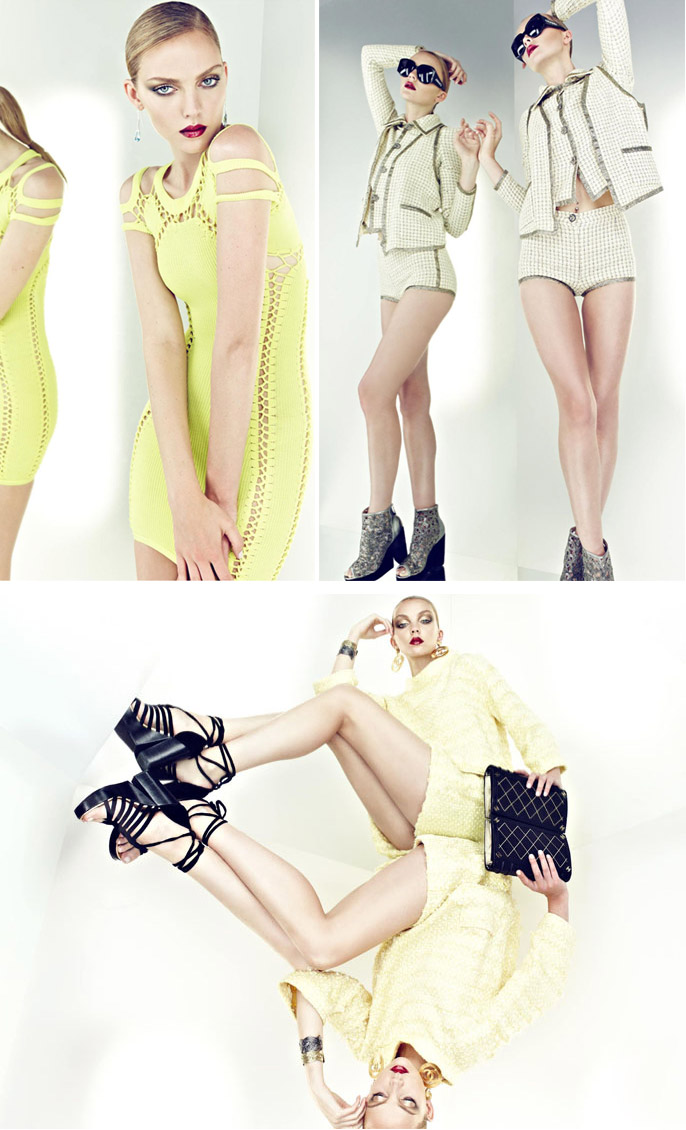 Courageous Dressing: Will you embrace fresh fashion optimism?
Photos from fashiongonerogue.com
Eternal Style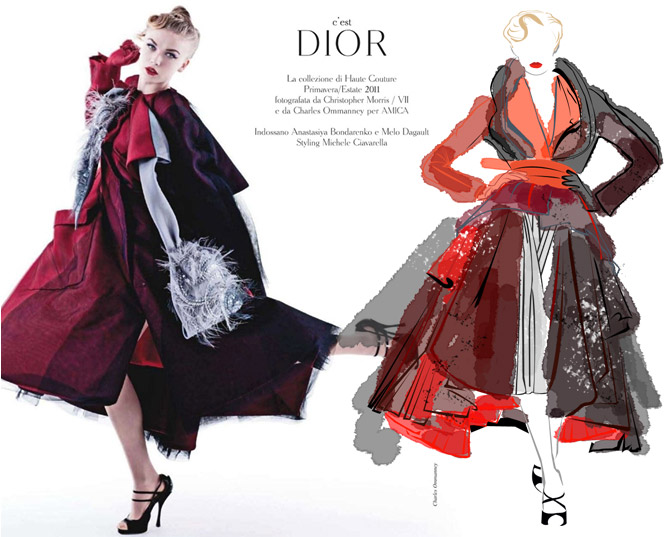 My Sunday inspiration came in the form of Marie Claire Espana's editorial, celebrating the astounding beauty of Dior's Spring 2011 Couture collection.
The idea of 'style' – what it is, who has it and so on – is something that is eternally on my mind. Today there are few people who evoke true style. That unmistakable 'je ne sais quoi', familiar with classic icons such as Audrey Hepburn, Grace Kelly and other timeless beauties.
Marie Claire Espana's June 2011 editorial, featuring Melodie Dagault and Anastasiya Bondarenko, is beautiful, romantic and whimsically nostalgic. With the simple white backgrounds, all focus is placed purely on the exquisite gowns and models' classic beauty. The old-world glamour of this alluring collection is further transfixed by the chic styling – the long gloves; striking red lips; perfectly shaped eyebrows; and elongated feminine silhouettes.
With the models' appearing every part the impeccably polished belles, this Haute Couture collection is the epitome of classic style…

I would love to know, what do you think is the epitome of timeless style? xx

About the Dior Couture Collection
The Dior Spring 2011 Couture collection took inspiration from the elegance, beauty and radiance of René Gruau's illustrations. As the Dior Illustrator, Gruau created a fresh ideal of female beauty and captured a new mood of post-war optimism. Gruau's exquisite illustrations are perfectly reflected in this dynamic collection. The intensity of colour and bold lines, leave me speechless. To view the Dior Couture collection, please click here…
Photos from fashionising.com