Your Fabulous Fashion Scoop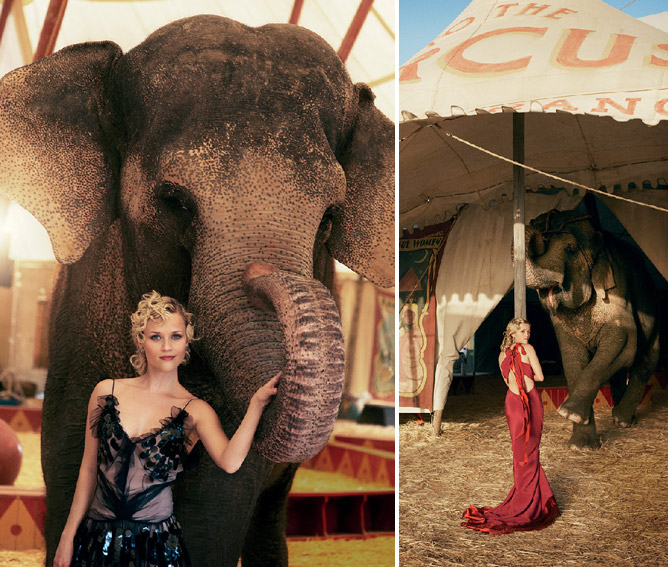 3 Espresso Shots Of Fashion News
Lawsuits, Controversy & the beautiful Reese Witherspoon all feature…
– – – – – – – – – – – – – – – – – – – – – – – – – – – – – – – – – – – – – – –
Reese Witherspoon's US Vogue Controversy
Reese Witherspoon graces the May 2011 Vogue US cover and her feature interview has caused a little controversy online. When interviewer Jonathan Van Meter began asking Witherspoon questions about fashion, it is reported she quickly finished his sentence and her tiny comment hasn't made some of the fashion pack very happy. Van Meter began "People who love fashion often …", before Witherspoon finished "Lack perspective?" – with apparently a "comically judgmental look on her face".
Her photo editorial for this issue is spectacular though. Wearing divine gowns by Dior, Narciso Rodriguez, Dolce & Gabbana and more; I LOVE LOVE LOVE the Old-Hollywood glamour and whimsical magic of the shoot! Simply Darling!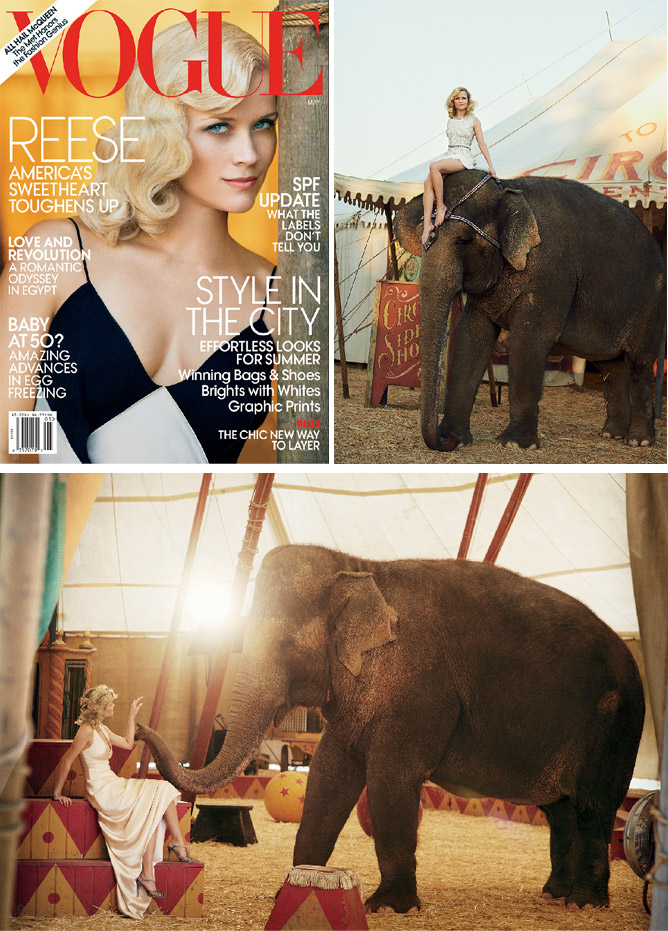 – – – – – – – – – – – – – – – – – – – – – – – – – – – – – – – – – – – – – – –
Christian Louboutin Sues For Use Of Red Soles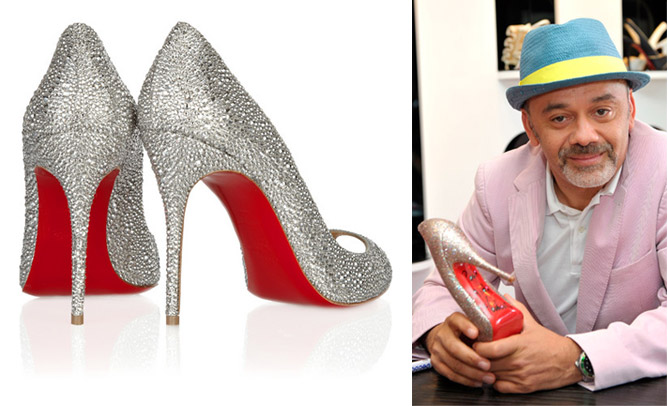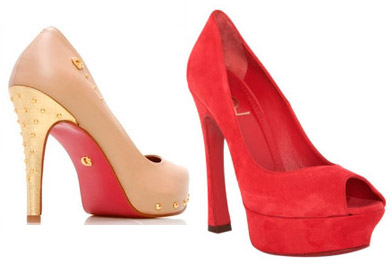 Last week Christian Louboutin filed a lawsuit against Yves Saint Laurent for a pair of YSL red pumps with red soles (pictured far right).  The red suede shoes with matching red soles are apart of the Spring / Summer 2011 collection which also features other coloured soles. Purple shoes with purple soles,  navy shoes with navy soles and so on.
Louboutin began using red soles in 1993 and filed for trademark protection in the US in 2007. In January this year, a lawsuit was also filed against Carmen Steffens of Brazil for the same alleged trademark infringement (heels pictured right).
In an official statement for Carmen Steffens this week it was said, "We are ready to provide unassailable evidence that we have been using coloured soles, especially red, before Mr Christian Louboutin popularised his.". Watch this space…
– – – – – – – – – – – – – – – – – – – – – – – – – – – – – – – – – – – – – – –
Miu Miu's Spring / Summer 2011 Ad Cleared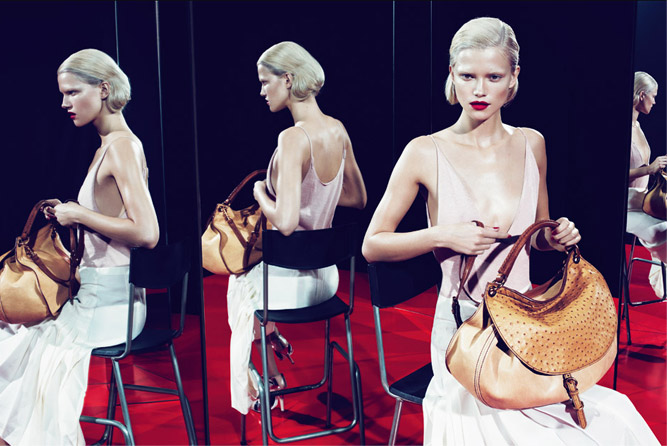 The UK Advertising Standard Authority (ASA) has investigated whether the latest Miu Miu campaign is 'responsible' to be shown. The campaign starring Kasia Struss, was placed in question for Struss' slim frame. Two people had complained about the ad citing that the model was "significantly underweight".
In its official verdict the ASA reported "We considered that the ad was typical of those used for fashion products and that the model did not look significantly underweight. We therefore concluded that the ad was not irresponsible."
– – – – – – – – – – – – – – – – – – – – – – – – – – – – – – – – – – – – – – –
What is your fashion news this week? xx
photos from grazia.com.au / vogue.com / net-a-porter.com / google images
Two British Icons…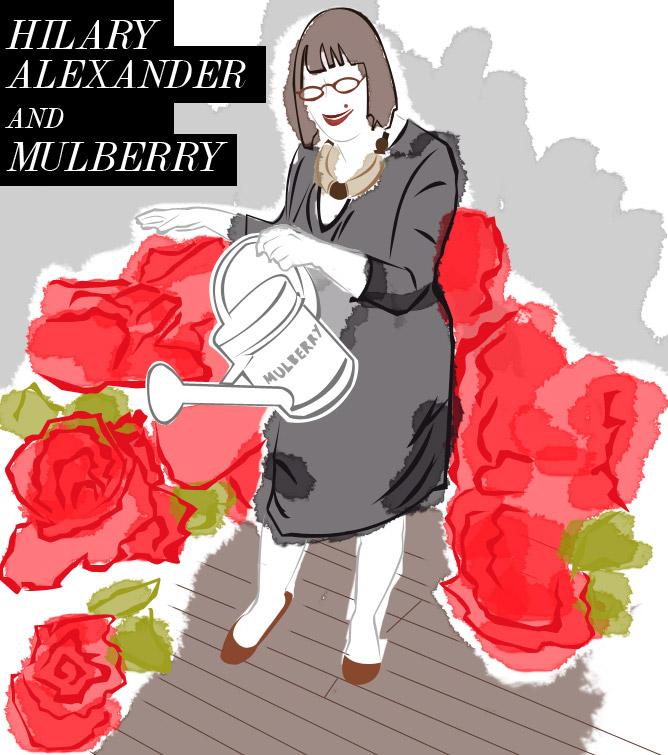 Hilary Alexander
As one of the most influential faces in fashion today, Hilary Alexander needs no introduction.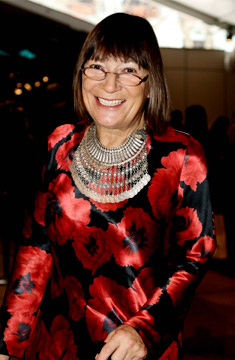 As the Fashion Director of The Daily Telegraph, Hilary Alexander has interviewed the world's leading fashion designers and industry experts. She has attended Fashion Weeks around the world and spent countless hours reviewing collections straight from the runway. Her charismatic, endearing, and candid reviews, all the while have won her a network of faithful fans across the globe all eagerly awaiting her take on fashion.  
About Hilary Alexander
Alexander has been named British Fashion Journalist of the Year twice (1998 and 2003). Her talent also extends beyond the written word into broadcast. Alexander has appeared on countless TV and radio shows, including; BBC 2's Style Challenge, Britain's Next Top Model and GMTV. Her own series Behind The Seams, saw her interview iconic fashion designers: Karl Lagerfeld, Matthew Williamson, Collette Dinnigan, Valentino and more.
Born in New Zealand, Hilary Alexander's warm direct approach has also seen her awarded the title of Visiting Professor by the University of the Arts, London (which encompasses the fashion colleges – Central Saint Martins and London College of Fashion) and the Chelsea and Camberwell Art colleges.
Mulberry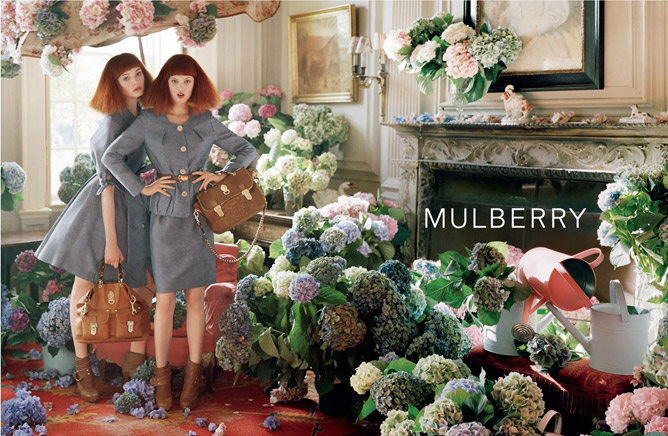 Mulberry is a juxtaposition of British style – cool city chic and the pretty, handcrafted aesthetic of the countryside.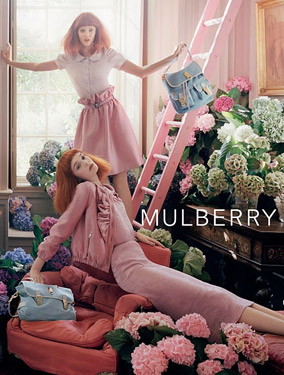 Established in 1971 in Somerset, England, Mulberry is renowned for its fine leather and IT bags. It is the birthplace of the must-have handbags – the Bayswater and Alexa.
Mulberry Spring / Summer 2011
Paper roses floating across a swimming pool, created the enchanting setting of an English Country garden at Mulberry. Larger than life paper dolls, watering cans and roses all immediately drew you into the magic of Mulberry.
Models rocked striking red hair, and even adorable dogs, at the Mulberry Spring / Summer 2011 collection. From shirt dresses with Peter Pan collars to the sweetest of blouses – Mulberry is the epitome of feminine, quirky, elegance. The colour palette of camels, pinks, purples, blues and faded denim added to the adorable factor…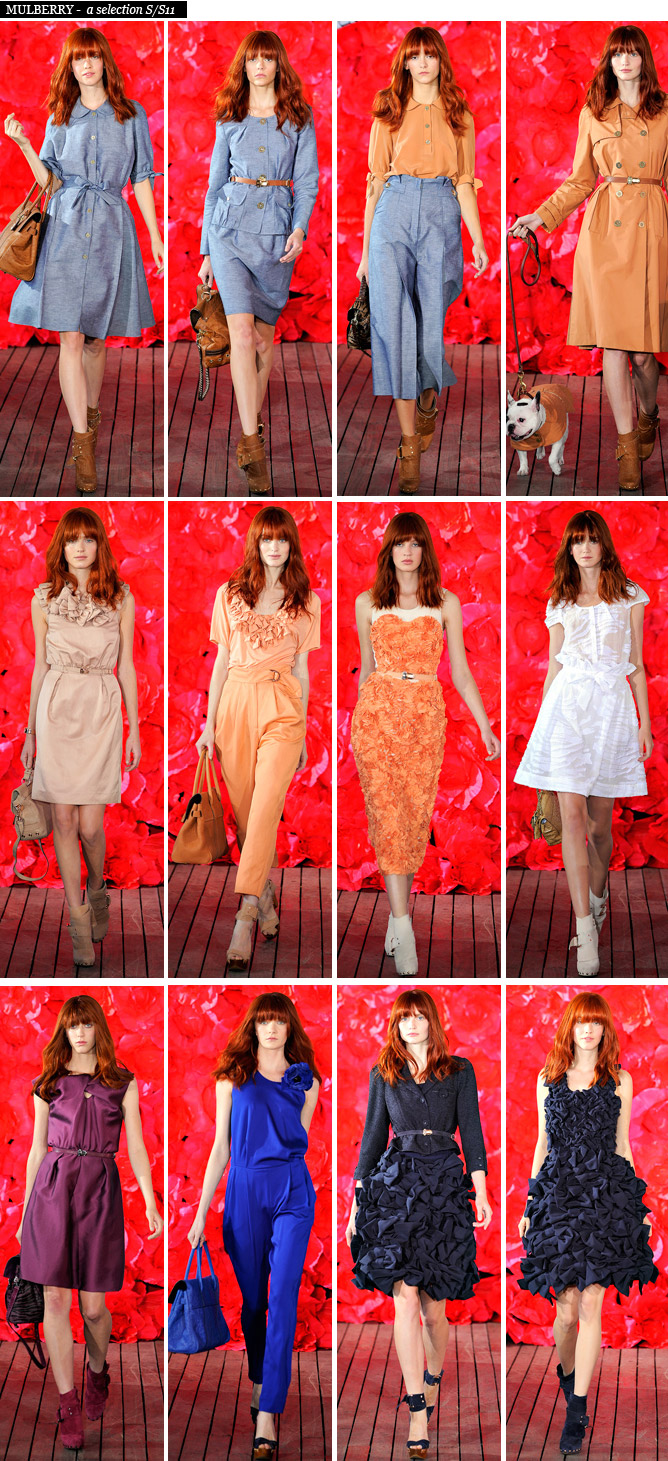 Who Inspires you? Who are some of your favourite people in fashion? xx
P.S. Happy Valentine's Day! xx
Photos from style.com
Striking, Strong, Sophisticated… Stripes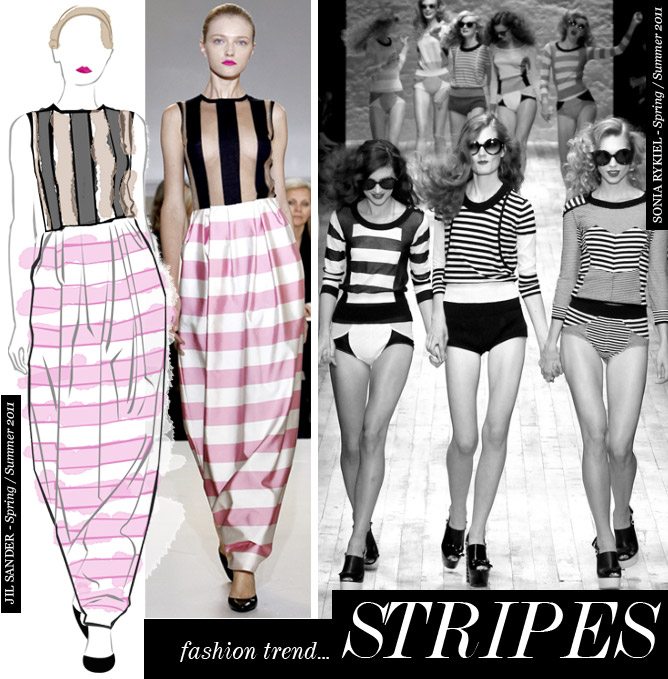 Love your Liquorice Allsorts? Why not wear them too! Choose stripes in an assortment of widths and delicious confectionery colours for pure fashion fun.
From Jil Sander to Prada, the Spring / Summer 2011 collections were a riot of stripes in bold silhouettes and striking colour. Whether you choose vertical or horizontal – stripes will definitely make an impact on your new season wardrobe. Go daring in stripes from head-to-toe or tone them down in the form of a gorgeous striped handbag. Stripes are chic, sophisticated and high spirited.
So give your classic maritime stripes a break and choose a mash-up of playful neon bright stripes…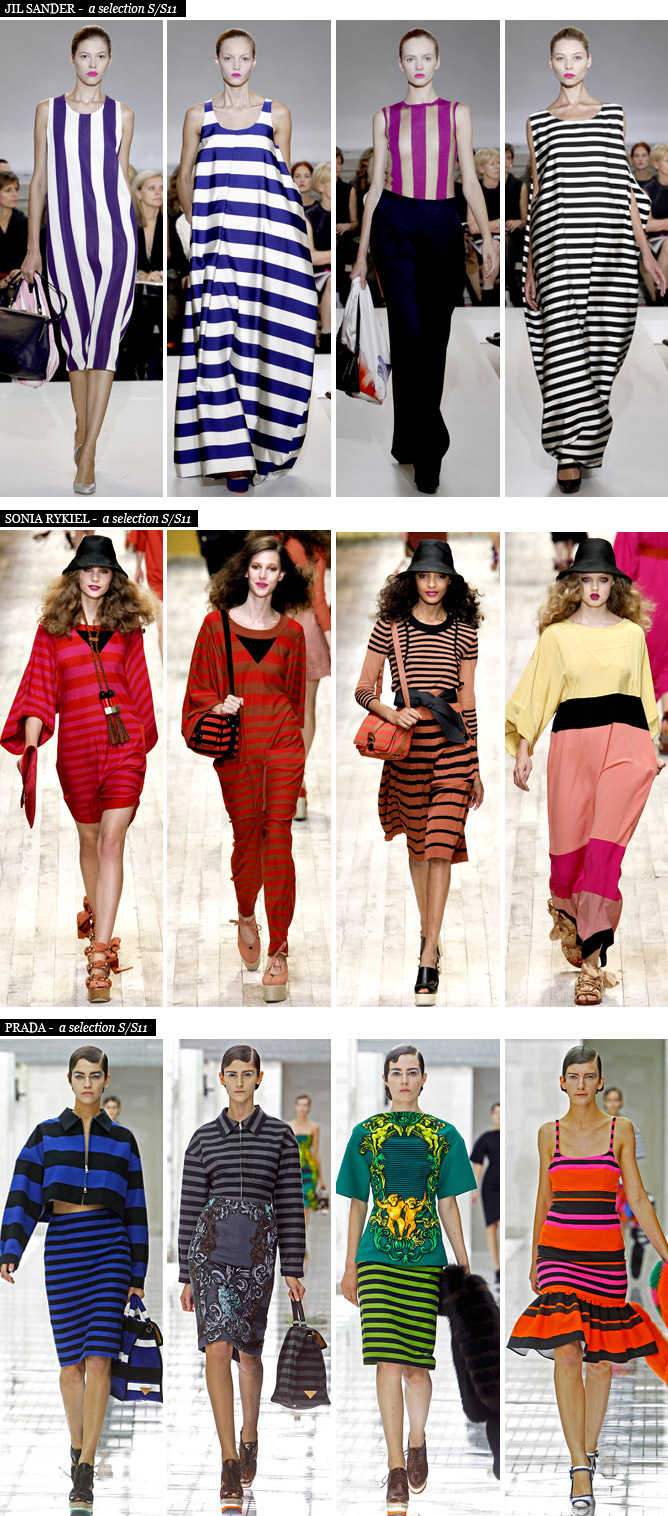 Will you make a statement in stripes for Spring / Summer 2011? xx
Photos from style.com