For Spring / Summer 2012, fashion takes a masterclass from the world of art.
The Spring / Summer 2012 collections were ablaze with artistic references. At Rodarte, Vincent Van Gogh's 'Sunflowers' and 'Starry Night' were exquisitely printed onto 50's inspired dresses, creating breathtakingly beautiful & quite simply stunning result.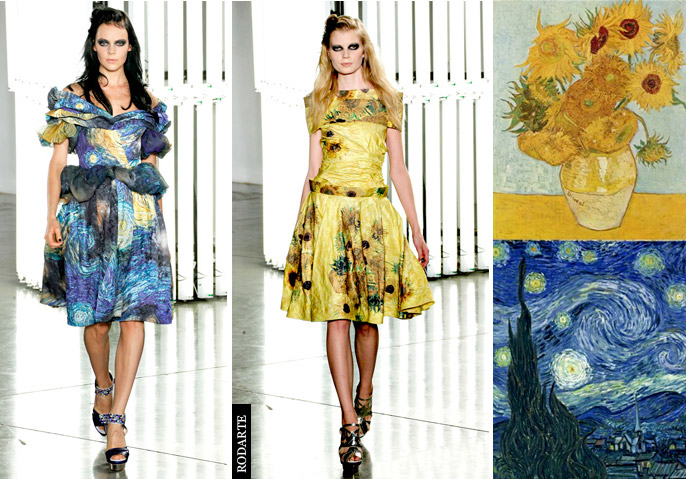 Giles Deacon drew inspiration from Andy Warhol's 'Silver Clouds'. Raf Simons equally created an extraordinary fashion-art moment when he turned to Picasso ceramics for a modernist take on knitwear at Jil Sander.
Sculptors were also a great reference of inspiration. At Burberry, Christopher Bailey found inspiration in the work of sculptor Henry Moore. While Mary Katrantzou explored the work of John Chamberlain's crushed-car sculptures. Aluminium cans substituted for car parts in her beautiful abstract creations. Minimalist sculptor, Richard Serra's metal structures were the starting point for Nicole and Michael Colovos first runway collection for Helmut Lang.
Meanwhile, Dries Van Noten collaborated with photographer James Reeve, using imagery from his Lightscapes series.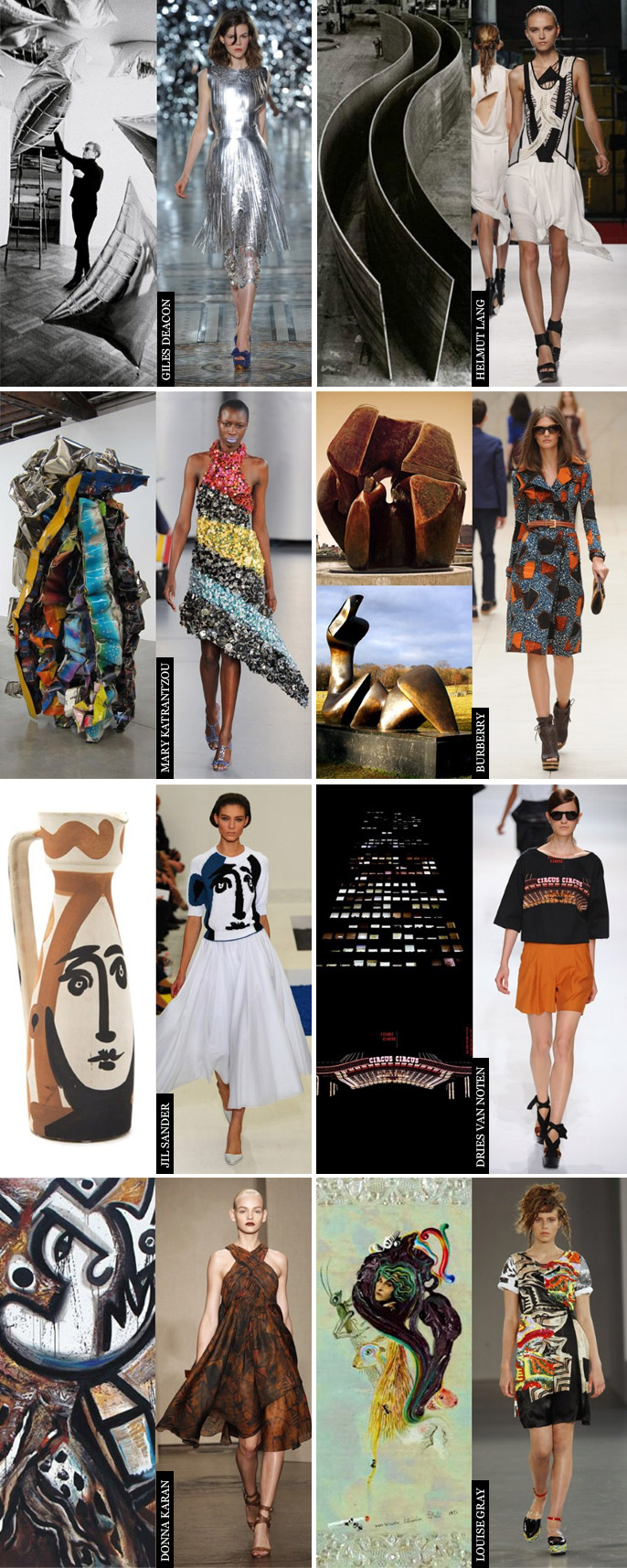 I believe fashion is an art form – especially in the case of Haute Couture. Do you see Fashion as an art form all it's own? I would love to hear your thoughts. xx
Photos from fashion.telegraph.co.uk
At the Critics' Choice Awards gorgeous shades of vivid yellow were the real winners of the day.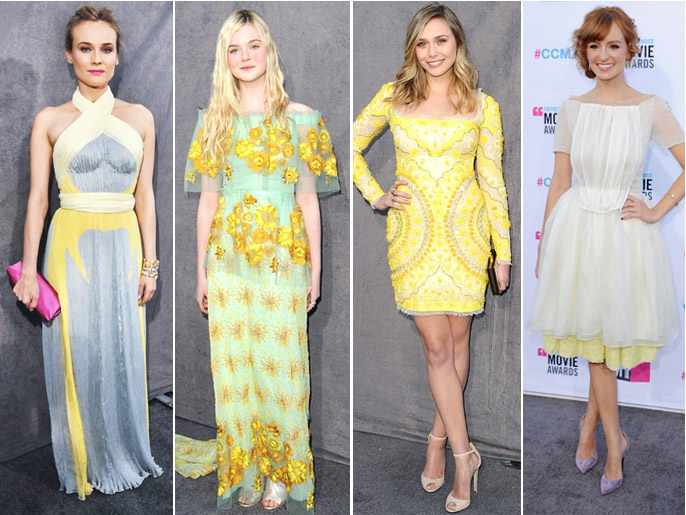 All with sweet yellow accents – Diane Kruger in Prada; Elle Fanning in Rodarte; Elizabeth Olsen in Emilio Pucci; and Ahna O'Reilly in Honor –brightened the red carpet like little rays of sunshine.
And for Spring / Summer 2012 yellow is here to stay. In fact, it is one of the key power players. Perfect in little doses – accentuating your look with a picture perfect yellow clutch (see below) or why not unlock a high impact vault of sunlight with head-to-toe yellow.  
Some Friday Sunshine Inspiration…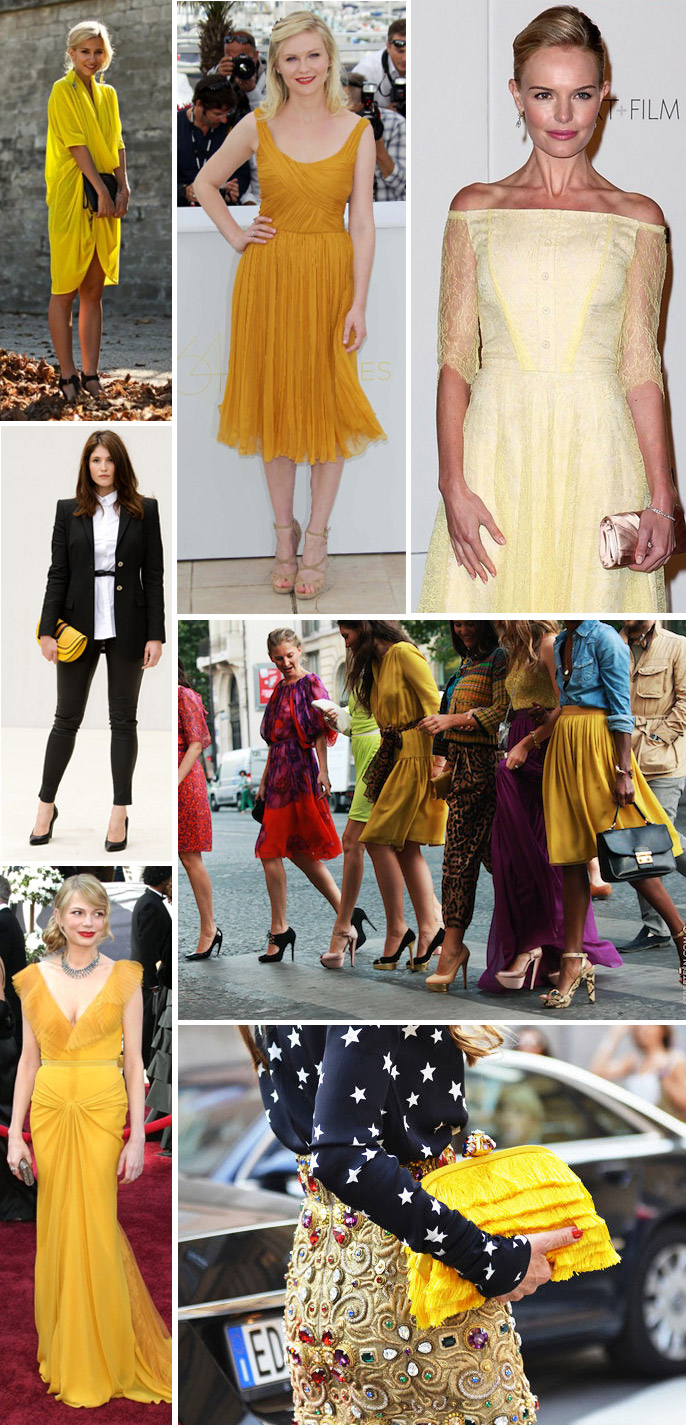 Will you add a little ray of sunshine to your wardrobe? xx
Photos from grazia.com.au & google images
In Rouge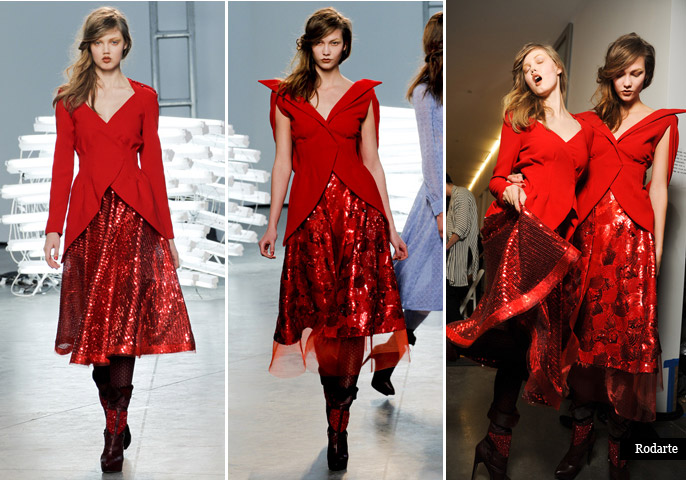 Catch Scarlet Fever…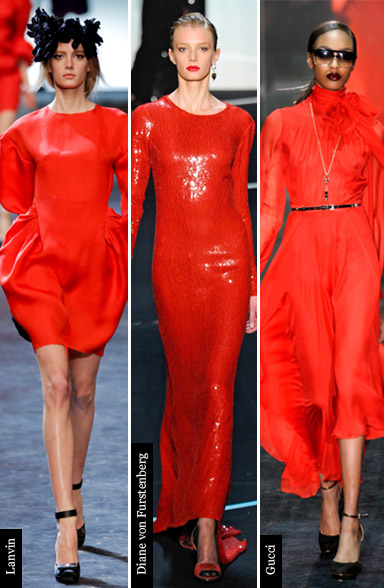 Across the runways designers were feeling a little hot under the collar. Shades of scarlet, crimson, cardinal and vermilion brought an undeniable warmth of sexy, bright, sophistication to the upcoming Fall season.
The House of Valentino has long painted the town red, with the Couturier himself once saying: "Women usually prefer to wear black at events because it makes them feel safe, however, if there's one woman wearing red, she will inevitably be the eye-catcher of the evening. It's as though the room is suddenly illuminated — simply perfect for a grand entrance."
The little red dress made for a dashing statement at Gucci, Lanvin, Jil Sander and Diane von Furstenberg, not to mention countless others. Meanwhile, at Michael Kors' a luxe red fur added the finishing touch to a complete scarlet look. At Chanel a little red jacket also added a dash of colour to a monochromatic collection.
The colour of passion, red isn't a look for the faint of heart. Sizzling sirens need only apply!
Must Have… The little red dress; sensational red trousers; or a statement red fur.
Minimal Chic… Want to dip your toes into this delightful trend? Try a slick of bold red lipstick; sultry red stilettos; or finish your look with a darling red clutch.
Favourite Catwalk Look… Rodarte Red! Love the Rodarte's Wizard Of Oz inspired dresses which feature red sequins in divine silhouettes.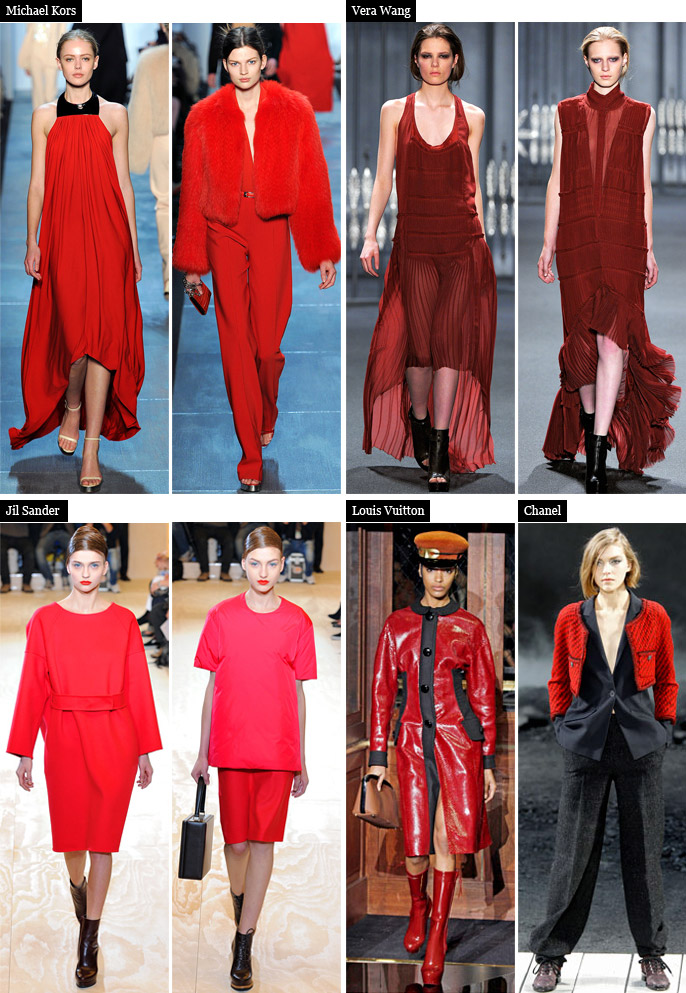 Will you sizzle in radiant red for Fall?
Photos from style.com / elle.com